6. Experienced Nurse Resume
Why this resume works
When you're an experienced nurse with several years of experience, try to demonstrate the different specific responsibilities you've had throughout your career. What kinds of clinical techniques have you done? For example, have you worked with catheterizations, administered particular tests, or worked on diagnosis for specific types of disease?
If you have five-plus years of experience, your work experience must take up the most space on your experienced nurse resume. This means keeping your education and skills section to a minimum. However, with more text, you have to ensure your resume is easily readable and digestible. Our resume builder can help with that.
7. ICU Nurse Resume
Why this resume works
When you're applying for a more specialized nursing role like an ICU nurse position, match your job title precisely to the job title to which you're applying on your ICU nurse resume.
Even if you lack specific ICU experience, any nursing experience can be applied. Some skills in nursing are universal.

Do you provide effective patient care? How have you done it? Those are the essential questions you should ask when trying to write your "work experience" bullets.

As annoying as it can be at times, the ability to write clear, thorough documentation is an invaluable skill to have as a nurse. Can you talk about your experience demonstrating that? This is especially important if an administrator is involved in the hiring decision for the nursing role to which you're applying.
8. Certified Nursing Assistant (CNA) Resume
Why this resume works
As you build your certified nursing assistant (CNA) resume, it's good to include any work experience you have, even if it's not healthcare-related. A job (any job) demonstrates a degree of responsibility that's always desirable in a potential employee.
Much like applying for an RN role, you should include your license right in your resume title (right after or below your last name). This effectively alerts the employer that you deserve an interview as you're qualified for the role.
Do you have any licenses like BLS or CPR? Include these and your CNA in a dedicated "Licenses" section on your resume.
See five more CNA resume examples.
9. Travel Nurse Resume
Why this resume works
As a traveling nurse, you should clarify when talking about your previous work experience whether they were traveling nursing contracts or not. An employer wants to get a sense of whether you have previous travel nurse experience or not.
Your job title should include your RN license.
More likely than not, you don't need a resume objective or resume summary on your travel nurse resume. Leave more room for your work experience. Your goal should be to keep your resume to one page, so real estate is valuable!
10. Charge Nurse Resume
Why this resume works
When you're applying for a new job as a charge nurse, you must have demonstrated an increasing level of responsibility throughout your nursing career. Have you had the opportunity to manage or lead co-workers? Have you ever trained a nurse and oversaw scheduling? Any project or experience you've had in a leadership position should be included.
If you have more than five years of experience, your charge nurse resume can extend to two pages (if you have less than five years of experience, keep your resume to one page). This means you should include all meaningful responsibilities you've had in your previous roles.
11. Chief Nursing Officer Resume
Why this resume works
Your chief nursing officer resume should be written in reverse-chronological order, with your most recent experience listed at the top of your resume. Why?

CNOs have the experience that includes more management, oversight, and financial knowhow than nursing positions typically have. Showcase your career growth and development into leadership roles by highlighting your most recent and likely most relevant job.

Focus on including hard skills in your skills section.

We recommend you include 6-10 skills, with at least 70 percent hard skills. Hard skills, such as BLS, QA/QC, State and Federal Compliance, and Fiscal Health Analysis, are trainable and easily evaluated. They're the skills in which a good hiring manager will know to take time and money to train employees.
12. Telehealth Nurse Resume
Why this resume works
Your telehealth nurse resume could potentially focus on the Covid-19 pandemic.

Showcase your experience and aptitude for dealing with fast-evolving situations, training colleagues, and comfort with telehealth software and HIPAA compliance.

Include your school's name, years of attendance, degree title, and relevant awards/honors. If you have multiple nursing degrees, include all of them. You don't need to include much educational information when you have a few years of experience under your belt.
If you're looking for more resume example inspiration, we've compiled over 250 you can browse, and we're also happy to share our best resume templates for free.
Formatting Your Nursing Resume
Hiring managers normally receive a torrent of resumes from job seekers whenever there's an open position. If you prepare your nursing resume haphazardly, you'll do yourself a disservice. It's important to make your resume readable, logical, and complete to increase your chances of success. It should showcase your skills and experience. In addition to this, your resume needs to be ATS-compliant and should employ the best format: either a reverse-chronological, functional, or hybrid.
Reverse-chronological, functional, and combination/hybrid format
A well-structured resume is essential for your job search because it showcases your skills and experience to employers. BeamJob's resume skills guide gives insight into which skills employers are seeking. A colorful and embellished resume may not be the trick to being called for an interview or landing that coveted job. What matters is the content and how it's presented. Formatting is, therefore, a salient feature you don't want to get wrong. Our free resume formatting guide can guide you through these nuances! You can use reverse-chronological, functional, and hybrid formats to design your resume. These three are touted as the most popular formats for 2022. Below is the outline of their features:
Functional format
Focuses more precisely on your skills

Ideal for a recent graduate or someone new to a job
Reverse-chronological format
The most common format

Lists relevant experiences and skills in reverse-chronological order

Best-suited if you have several years of experience
Hybrid or combination format
Combines functional and reverse-chronological features

Highlights both your skills and experience

Ideal if you have a handful of experience or are re-entering the workforce
The best bet for you would be a reverse-chronological format as a nurse. This is because it helps the recruiter see your upward career progression. If you started as an intern in a given health organization then moved up the career ladder to become a full-fledged nurse, your potential employer will be able to track your progression and assess whether you are fit for the job.
Contact header
It's important to include the relevant contact header information and put it in the right order. If you are a nurse, your contact header should have the following:
Your name—You should indicate at least two names: your first and last.

Phone number—List the number you use most frequently but not from work.

Email address—This should come right after the phone number and be a professional email address, preferably combining your first and last name.

City or state—This is optional but can be included.

LinkedIn—Some employers will review your LinkedIn site. Hence, you can include it, but it's not a must.
The above contact header information should be at the top of the page. Good choice fonts are Times New Roman, Arial, or Calibri, at 12 points. When it comes to color, remain conservative with black and white. If this process sounds challenging, you can access our free resume examples for guidance! Our resume builder can help you strikingly display your contact information just like this header:
Will your nursing resume beat the ATS?
Optimizing your resume for the Application Tracking System (ATS) increases your chances of being called for an interview. Most resumes that are not designed to beat ATS are filtered and never reach the recruiter. Here's what you should know about the role of fonts, font size, margins, header names, logical order, skills, and page length, as far as ATS-friendly resumes are concerned.
ATS-friendly fonts make it easy for a computer to read your resume. Some of the most commonly used ATS-friendly fonts include Times New Roman, Calibri, and Arial. Preferably, they should have a font size of 10-12 points.

Using ATS-friendly fonts and font size goes a long way in increasing the chances of getting shortlisted and eventually being called for an interview.

Using the right margin makes ATS locate your resume. Ideally, margins should be one-inch all around.

Using the relevant skills and header names specified in job requirements can help ATS locate your resume.

ATS is not sensitive to the number of pages, but one page is considered best.
Our resume builder incorporates all these elements to increase your application's chances to get past the filter.
Writing Your Nursing Resume
Putting together an effective nursing resume may seem overwhelming. It may appear to you that this is too much work and not worth your effort. Check out our how-to-write-a-resume guide for quick tips! However, you can also avoid the frustrations by proceeding step-by-step. Our free resume builder is designed to incorporate salient features that will make your resume sparkle. These include the following:
When an objective is most useful on your nursing resume

When a summary can be the preferred choice

How to list your most relevant nursing work history

Adding volunteer work and academic endeavors when work history is light
Do you need an objective or summary on your nursing resume?
When crafting your registered nurse resume, you have the option to use career objectives and summaries.
When to include a career objective in your resume:
You can use objectives when changing or modifying your career. For instance, if you plan to change from a surgical assistant registered nurse to an emergency room registered nurse, you'd use an objective to highlight that you're pursuing a new subfield within nursing.

Use a career objective if you're looking for an entry-level job and lack experience.
When a summary is right for your resume:
Use a summary to highlight your most valuable experience and skills. These are ideal when you have vast experience in nursing. For example, if you've worked in a health setting for five or more years, you can include a summary.

A summary is effective for connecting varied work experiences.
When not to use objectives or summaries:
Skip the objective or summary if you're not planning to customize it to each position for which you apply. It would lack punch and usurp valuable white space.
Example of an unclear objective and why it might flop:

"Looking for a nursing job to apply my skills and knowledge."

Example of a vague summary and why it could fail:

"I am a highly-experienced registered nurse looking for a position in this hospital."

This lacks depth and the hefty work history detail that should hallmark a summary. It's void of substantial expertise, specializations, and skill specifics.
When objectives or summaries are worth including:
Example of an excellent objective and why it may succeed:

"As a registered nurse with a passion for the aged, I aim to leverage my 8 years of client-facing geriatric experience to improve the health of every patient in a compassionate way at Kaiser Permanente."

This objective highlights the years of experience, the specific field of expertise, and names the potential employer.

Example of an excellent summary and why it may succeed:

"Self-driven registered nurse with a myriad of emergency and general experience totaling 10+ years in the specialized care fields of gynecology, renal, direct-patient, and primary care. Proven 7-year record of consistently diffusing high-stress, sensitive situations with niched expertise and compassion."
Nursing work experience?
Don't forget to indicate relevant experience in your resume. While including every job since you were 16 years old is unnecessary and cumbersome, you'll find that some positions require more knowledge, especially if it's a managerial or specialty position. On the other hand, entry-level work requires little or no experience. For instance, a director of care management requires nine years, four of which must be managerial.
Such a position comes with responsibilities and accountability. It's, therefore, no surprise that the employer is seeking a wealth of experience. Conversely, a registered nurse position may require one year of direct patient care. The responsibilities, in this case, are not very demanding. If you lack experience, you can include any academic projects and volunteer work.
Writing your job experience bullet points for your nursing resume
Three examples of poor job experience bullet points for nurses:
Three examples of good job experience bullet points for nurses:
Quantify your impact as a nurse
When preparing your resume, quantify your impact or achievements. No employer wants to waste time reading vague statements about your performance. Instead, they want to see supporting details. For instance, if you say you served many patients per day, a potential employer might wonder about the exact number because 'many' is a relative term.
Examples of how to quantify metrics:
Suppose the nursing job description asks for a training specialist who can train other nurses. In that case, you can indicate the number of training sessions you conducted per day in your previous employment.
Number of clinical training sessions per day

Trained 75% of new hires on pre and postoperative care upward of 20 days per month
Some of the health facilities labor under tremendous pressure. The number of patients you serve per day can help potential employers gauge whether you will cope well under pressure. You can include the number and type of patients you served per day.
Number of patients served in a day

Worked in a setting with a 6:1 patient-nurse ratio, receiving 400+ visitors per day
Top skills for your nursing resume
It's helpful to understand the differences between hard and soft skills. The number of skills you list on your resume shouldn't exceed 10.
Hard skills are those tools you use to do the job. On the other hand, soft skills are more difficult to measure, including interpersonal abilities.
Examples of hard skills:
ERM systems

Medical documentation

Infant and child care

Emergency care

Ambulatory care

CPR certified
Examples of soft skills:
Communication

Patience

Empathy

Professionalism

Positive attitude

Integrity

Compassion
Get noticed! Look for keywords within a job description:
Searching for keywords in a job description will help you prepare your resume for tracking purposes. Many companies use ATS to search for resumes with keywords in the job description.

Include keywords in both your cover letter and resume. The more keywords you use, the better your chances of being selected by ATS.

Avoid appearing irrelevant to the hiring manager by customizing your resume to the job description.

By employing keywords, you'll make your resume relevant and noticeable, affording you an edge over the competition.
Nursing education and certifications
When preparing your resume, include all the elements that will increase your chances of getting the job. You need to indicate your education level and any certifications or licenses. Show if you've ever worked in other nursing environments, and include the organization's name and the number of years worked.
Highlight if you're an RN or APRN, and share your area of specialization. Specialists include registered nurses, certified registered nurse anesthetists, cardiac and clinical nurse specialists. Mention your area of expertise in your resume so that potential employers can determine whether you're the right candidate for the job. It's easy to do and shouldn't take up much space. Simply place certifications and licenses in a short section toward the bottom of your resume: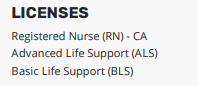 Should you add projects, interests, or hobbies to your nursing resume?
Most nursing resumes won't include projects, interests, or hobbies. However, some can contain them depending on the level of experience and type of role. If you're an experienced nurse, you've likely gained tangible experience your potential employer might find more important than graduate projects you tackled during college. Including projects may not be necessary in your case unless the employer has asked in the job posting. Instead, you can highlight your key areas of experience and show your new employer how you'll impact their business.
In the same token, as an experienced nurse, you may not need to indicate your hobbies or interests unless it's encouraged. Older companies are less likely to be interested in areas outside the main job. However, you can gain an advantage over the competition if you have equal qualifications yet have included hobbies and interests that match the company culture. Our hobbies and interests guide can help you determine whether or not to include these in your resume.
Visit their website and read the "About Us" section to gauge whether they have a unique cultural fit.
You can list hobbies, interests, and projects if you're a fresh graduate seeking an entry-level position. In most cases, a graduate won't have any work experience. However, it's good to review the job description to ensure your project is relevant. Indicating or briefly discussing your projects may be helpful. Keep project lists short and display them at the bottom of your resume.
Examples of hobbies/interests:
Examples of projects:
Organized and led breast cancer awareness campaign for two consecutive semesters

Researched mental and psychiatric issues for semester-long experiment
Adjust your nursing resume for every job application
Remember to customize your resume when applying for a new job. Job descriptions are not cookie-cutter, and there's usually something unique to each position. Consider tailoring the following:
To recap, each job description comes with different skill requisites. Furthermore, remember to note keywords you can use within the body of your resume and cover letter.
Your nursing resume must be error-free
As a nurse, you need to show the hiring manager that you're observant and have an eye for detail. Remember, you'll be working with patients and should demonstrate accuracy and precision. To ensure a flawless resume, have your colleagues proofread it. Our free resume checker is tailored to spot errors that can otherwise cost you the job!
Confidently Land Your Next Nursing Gig
Avoid being one of the many who languish in the job market. Considering the number of nursing graduates produced by universities each year and the fierce competition, you must be creative and savvy to survive the market. We've shared some of the key tips around preparing a power-packed resume, which we believe will go a long way in improving your job opportunities if used well. Lastly, we know you've worked hard to get this far. Congratulations! We wish you all the best as you prepare for your next steps.