At the risk of sounding like your middle school teacher, you might want to consider using one of those pesky writing outlines as it could be a valuable stepping stone when it comes to writing your resume. In addition to ensuring your final resume has a logical flow, an outline can make the overwhelming process of resume writing more manageable to tackle and less of a chore.
Honestly, there's not a ton you need to know about resume outlines, and we aren't here to insult your intelligence. So, we'll get right to it—giving you the info you should have and, most importantly, the tools (outlines) you came for—so you can get going with a strong and successful job hunt.
Downloadable Resume Outline Examples for Any Job
At a minimum, your resume outline should include your contact information and job title, your work experience, education, and skills. Consider adding optional sections, including a career objective, resume summary, projects, activities, and hobbies/interests.
These resume outline examples are great tools for you, no matter your career choice or experience level:
Entry-Level Resume Outline
Download and edit in Microsoft Word.
Edit in Google Docs (choose "File" and "Make a copy").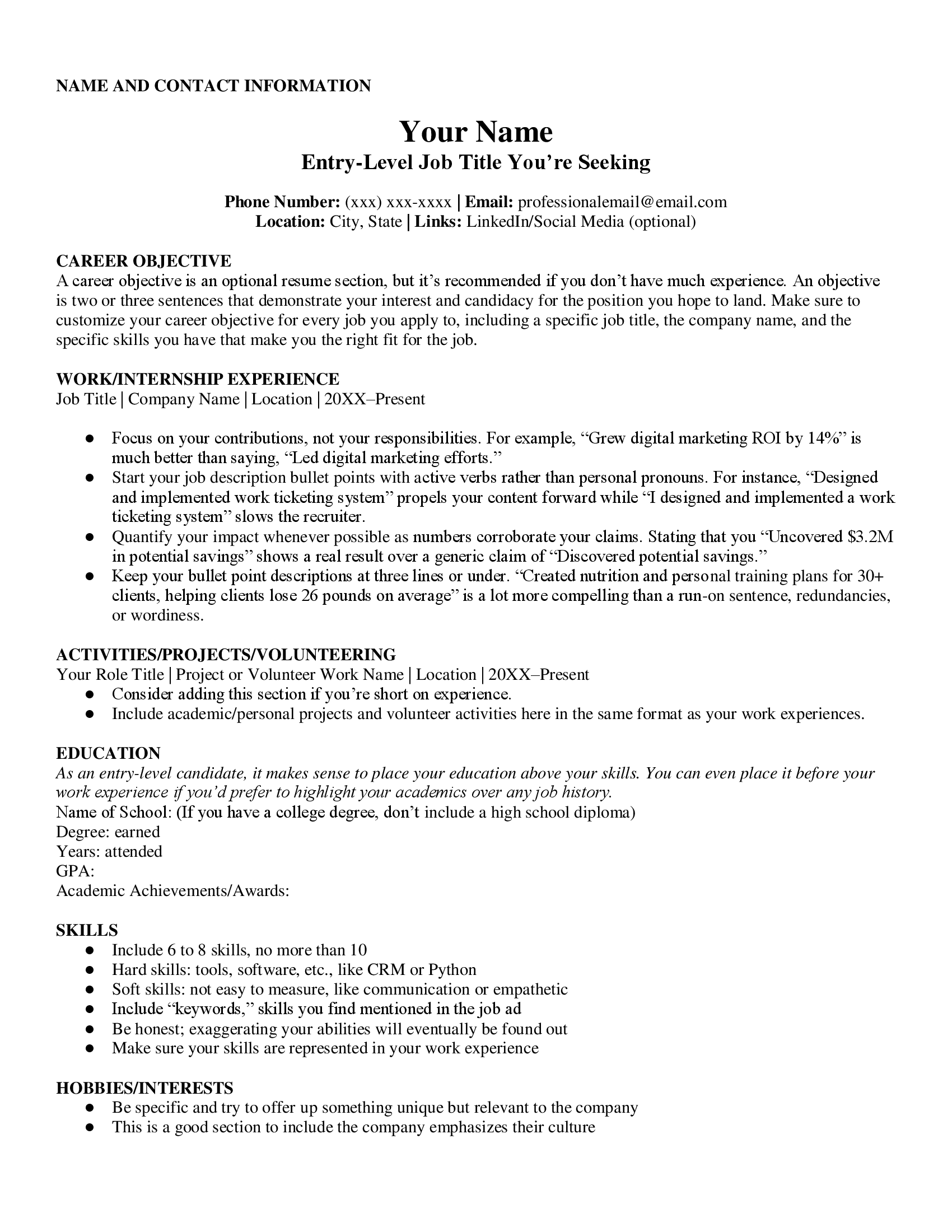 Mid-Level Resume Outline
Download and edit in Microsoft Word.
Edit in Google Docs (choose "File" and "Make a copy").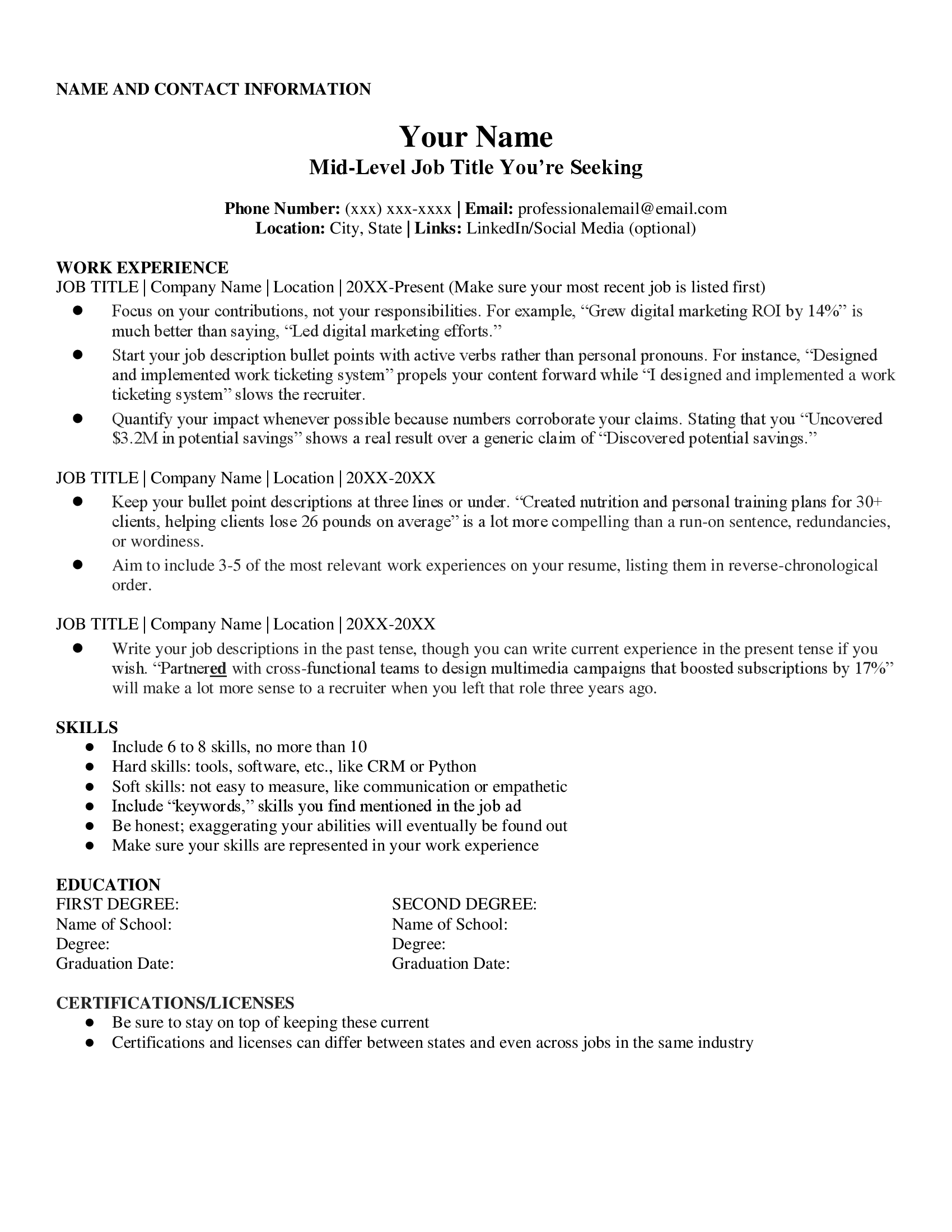 Senior-Level Resume Outline
Download and edit in Microsoft Word.
Edit in Google Docs (choose "File" and "Make a copy").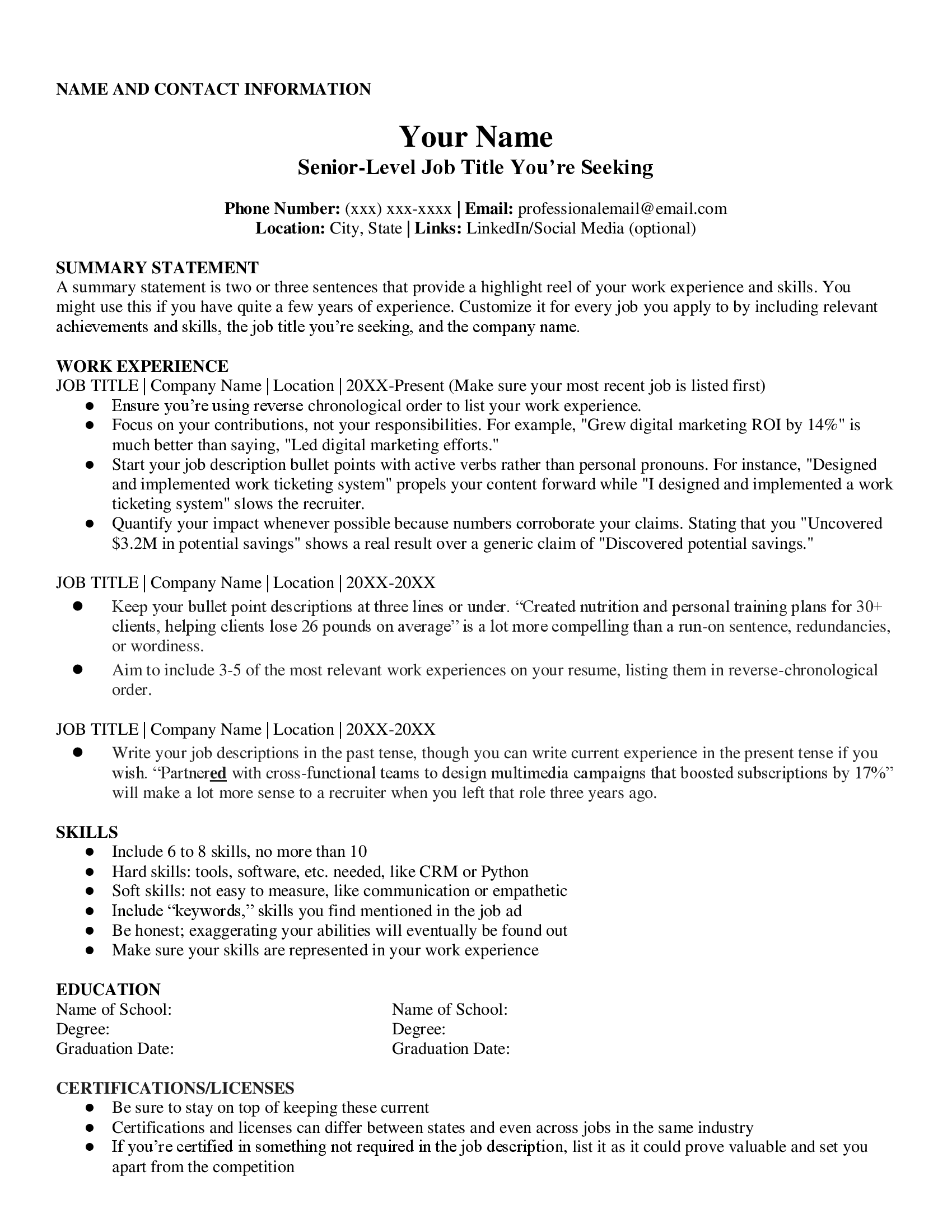 Do You Need to Use a Resume Outline?
Depends.
Are you writing your first resume?

Need a jumping-off point?

Not sure your resume includes all the right parts?

Making significant structural or resume formatting changes?

Just want to focus on content?
If you answered yes to any of those questions, a resume outline might be helpful.
If, on the other hand, you already have a resume template or an older version of your resume, you may not find much value in a resume outline. If you're confident about the sections you'll be including, how you'll order those sections, and what resume format you'll use, then it's time to complete your resume!
Ready to Build Your Resume? Edit this Resume Template Now!
The 6 Sections of Your Resume Outline
All right, you made it this far, so we're committed to helping you understand each part of your resume outline. We'll take a quick peek at every section you'll include (or consider including) on your resume, offering helpful resume tips and writing guidance along the way.
1. Contact info and job title
Since contact information is pretty self-explanatory, chances exponentially increase for mistakes here. We're pretty comfortable writing our names. Until, after we've sent 20 applications, we realize we've misspelled it.
You'll want to include the following, and, of course, don't be that person that misspells their own name (because let's face it, you'll probably just copy and paste what's in your outline onto your resume template):
Your first and last name

The job title for which you're applying

Your email address (something appropriate, not sparklyponyrainbow@email.com)

Your phone number

Optional: LinkedIn and/or any other links to professional social media, websites, or portfolios
2. Summary/objective
You don't necessarily need a career objective or summary statement. In fact, we only recommend including them in certain circumstances. Here's a quick look at the difference between a summary and an objective and when they may be useful for you to include:
Resume objective: a short paragraph (two or three sentences) pitching why you're a strong candidate. Consider using a resume objective if:
You don't have much work experience

You're going through a significant career change
Anyone can choose to include a resume objective, though, as long as it's highly specialized for each job application like this one:

Resume summary: a highlight reel of your work experience and relevant skills. A summary could benefit you if:
You have many years of experience (preferably more than a decade)

You have specific, relevant accomplishments that effectively underscore your work contributions
This summary gives you a good idea of how detailed and tailored yours should be:

3. Work experience
Writing your work experience is a bit of an art form. Lots of us are visual learners, so looking at real resume examples will be your best bet. In our samples, you'll notice that the most engaging, descriptive work experiences:
Use bullet points to break the text up into manageable chunks.

Demonstrate job performance with metrics.

Numbers will catch the eye of hiring managers, encouraging them to slow down and read your resume carefully.

Numbers also help you

show

your value to the company, rather than

tell

hiring managers what you did at your past jobs.

Start with active verbs that propel bullet points forward.

Examples of active verbs include "spearheaded," "designed," "implemented," and "calculated."

Avoid personal pronouns.

Stay consistent.

End your bullet points with or without a period. If you use a period at the end of one bullet point, all bullet points should end in periods. Run your work through our

resume checker

to make sure you don't miss silly things like this.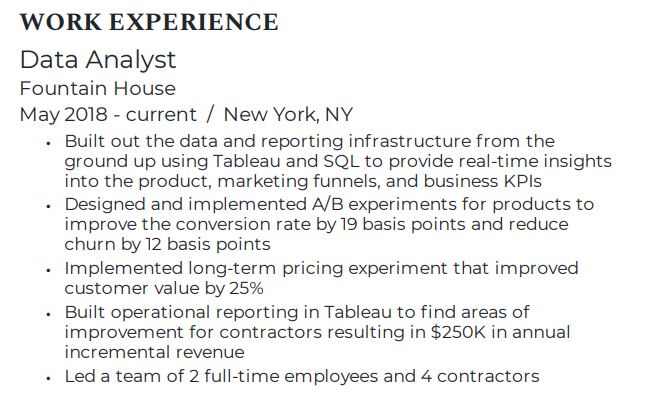 4. Skills
This short section is one of the most important elements of your resume. Customize your resume skills based on the job description and your true abilities.
Include 6–10 skills.

Avoid temptations to stretch the truth (lest you're asked to code in Python during the third-round interview and have never done it before).

Carefully read the job description and note the skills that are emphasized.

Show your skills at work throughout your resume.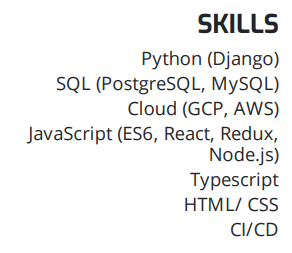 5. Education
It's a small section, but even so, it's easy to forget what you should include. Our free resume templates make it a cinch to ensure you include the following in your education section:
Name of the school you graduated from or are currently attending

If you have a college degree, you don't need to include your high school diploma. However, if you have multiple degrees, include them all.

Degree earned (or are in the process of earning)

Years attended or graduation year

Location (city and state is sufficient)

Optional: honors, academic achievements, and/or awards

6. Optional sections
These aren't required, but each has its time and place depending on your experience level, workplace culture, and specific qualifications that are particularly relevant for the role.
Awards:
The key is that the

awards you include should be reasonably relevant

. Your "Best Mac and Cheese in Northern Montana" award might not be important for the IT job you're hoping to land.

Depending on the award(s), you can mention it within the work experience section, within education if it's academic-related, or within a projects/activities section (more on this in a sec).

Certifications: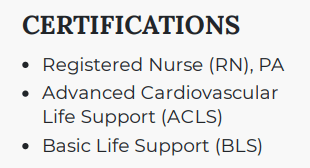 Languages:
Speaking multiple languages is always a desirable skill. You can include another language(s) in your skills section, or if it's particularly relevant for the job, consider adding a "Languages" section.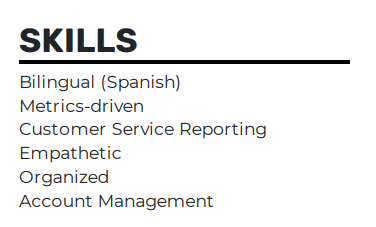 Projects/Activities or Volunteering: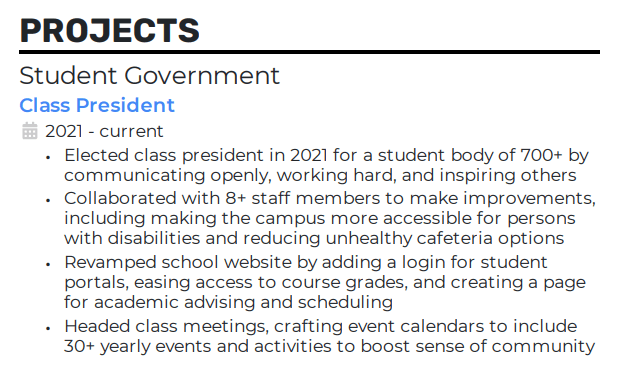 Hobbies/Interests:
Certain companies may find it appealing to learn more about job candidates' extracurriculars.

Consider including hobbies or interests if the job you're applying for is at a casual, modern, or quirky business.

Only include

hobbies or interests on your resume

if they're unique and specific or can demonstrate a quality (such as perseverance or attention to detail) that could be relevant.

How to Structure the Sections in Your Resume Outline
You have some creative freedom when structuring your resume. Nevertheless, there are a few sections where the placement shouldn't change:
Always list your name, job title, and contact information at the top of your resume.

Your resume objective or summary, if you include one, should fall after your contact info.

Your work experience shouldn't be buried at the very bottom.
The rest of your structure will depend on how you format your resume. The most common formats are:
Reverse-chronological order:

your most recent experience is listed first

Functional:

emphasizes skills and a skills summary over work history

Combination/hybrid:

placing equal focus on skills and work experience
Reverse-chronological resume format
After starting with your contact information and resume objective, your reverse-chronologically formatted resume should most likely be ordered this way:
Work Experience

Skills Section

Education

Optional Sections
Functional resume format
The order for a functional resume format will look a little different after the contact information and optional objective/summary:
General Skills

Skills Summary

Work History (if any, you'll include just the employment details)

Education

Optional Sections
Combination/Hybrid resume format
Following your name and contact information, you'll include:
Skills Summary

Additional Skills

Work Experience

Education

Optional Sections
In general, any optional sections should be included at the bottom of your resume or the sidebar regardless of the format you choose.
We will always recommend you use the reverse-chronological format for your resume. It's the most popular resume format for a reason!
This format is the easiest for Applicant Tracking Systems (ATS) to scan.

It enables hiring managers to quickly glean the important information from your resume (which they will appreciate).
Free resume templates you can edit right now
Fortunately, you don't need to start from scratch and deal with the headache of making and formatting your resume outline. Use any of our ATS- and human-friendly resume templates, download our Word resume templates, or make a copy of these creative Google Docs resume templates. Whatever you choose, you can easily replace the information in each section with your own!
Or, skip those decisions altogether. We've made it easy with the following three templates. Choose from a reverse-chronological resume template, a functional resume template, and a combo resume template that you can begin editing now.
Edit a Reverse-Chronological Resume Template
Edit a Functional Resume Template
Edit a Combination/Hybrid Resume Template
From a Resume Skeleton to a Professional Resume
Writing your professional resume outline is as simple as following along with this guide. If you're ready to fill in your resume outline or take your existing resume to the next level, our resume tips will set you up for successful job hunting. If you're not sure whether you want to start your resume from scratch, or if you're looking for some guidance on how to improve your work, you can easily check your resume with our free, AI-powered resume tool. No matter what stage you're at in your career search, we hope this guide gave you a leg up and got you a step closer to snagging your dream job!