You've learned about the steps you need to take to become a dental assistant in your state and possibly already have them completed.
Now comes the dreaded part: putting all of your expertise and experience together in a resume.
If this sounds familiar, then know that the goal of this post is to lift some of that burden and show you exactly what you need to do to build a great dental assistant resume in 2022.
These nine dental assistant resume samples have helped real dental assistants land real jobs, so they're a great place to start.
Dental Assistant Resume
Why this resume works
The requirements to become a dental assistant vary widely by state (check out this site to learn about the requirements in your state). Passing the Certified Dental Assistant exam issued by the Dental Assisting National Board (DANB) is an accepted avenue in most states.
In New Jersey, for example, licensed dental assistants obtain the title of Registered Dental Assistant. Be sure to use the exact title widely accepted by your state on your dental assistant resume.
While it can be difficult to quantify the impact of some of your work as a dental assistant because you're part of a broader team, it demonstrates that you made a difference.
Experienced Dental Assistant Resume
Why this resume works
As you progress through your dental assisting career, there are loads of optional certifications you can obtain that increase your responsibilities and, in most cases, increase your pay.
Certification for dental assistants varies state by state, but nearly all dental assistant jobs require you have either cardiopulmonary resuscitation (CPR) certification or Basic Life Support (BLS) certification. So if you have either, be sure to mention it on your resume.

The

skills section of your experienced dental assistant resume should include just enough to show your specific technical strengths while not looking like a laundry list of all skills under the sun. The most popular skills we've seen for dental assistants are x-rays and 4-handed dentistry.
Inexperienced Dental Assistant Resume
Why this resume works
If you don't have much work experience or recently graduated, feel free to include a hobbies and interests section on your inexperienced dental assistant resume (called "Activities" in this case). Be sure to include activities that demonstrate leadership when possible.
Some states (like Iowa) have dental assistant programs designed for people specifically with no certification. You learn the skills on the job to eventually become certified.
If you decide to include a resume objective, customize it for each job to which you apply. The most effective way to do that is to include the company name, followed by a sentence or two explaining your strengths that mirror some of the job description's language.
Pediatric Dental Assistant Resume
Why this resume works
Colleges around the country offer what are usually 1-year programs in dental assisting, with the goal being certification (often by passing the Dental Assisting National Board's Certified Dental Assistant exam). If you've attended such a program, be sure to include it in the "Education" section of your pediatric dental assistant resume.
The hardest part for many people when writing about their work experience is starting! A tried-and-true template for writing work experience bullet points is to start with an action verb (like "Recorded," "Sterilized," and "Maintained"), followed by an explanation of the work done and the impact of that work.
Oral Surgery Dental Assistant Resume
Why this resume works
Dentistry has loads of specialties (like oral surgery and pediatrics, for example). Don't be afraid to lean into your specialty! If you're applying to a dental assisting job in oral surgery and you have experience in that field, then create a separate copy of your resume focusing on those aspects of your past work.
A little color used sparingly on your oral surgery dental assistant resume can help make it stand out to the resume reader, while maintaining professionalism.
At the end of the day, being a dental assistant is largely about interacting with patients. Your resume works best when it demonstrates that you're comfortable with and enjoy the parts of the job you took the time to include.
Dental Assistant-in-Training Resume
Why this resume works
It can feel especially challenging to apply for jobs titles in which you lack direct experience.

Even if your dental assistant-in-training resume doesn't show prior experience in dental assistance positions, positions like office assistant jobs do a great job demonstrating your capacity to provide quality customer service and vast knowledge of electronic medical records.
Suppose you don't have any related or applicable job titles. In that case, it's also okay to include unrelated job titles (like sales representative, restaurant server, or call center agent), volunteer experiences, internships, class projects, or relevant coursework.

Did you notice that this resume includes numbers in each bullet point? These numbers (or quantitative metrics) provide hiring managers with a clear way to evaluate your job performance.
Orthodontic Dental Assistant Resume
Why this resume works
We talk a lot about quantitative metrics, and we do this for a good reason. Hiring managers are more likely to consider a job applicant who includes quantitative metrics.

Including numbers on your orthodontic dental assistant resume will demonstrate your value on the job and confirm that you're the best person for a role requiring specific job skills, like taking impressions and understanding EMR.

Whatever you do, make sure you don't simply restate job descriptions or roles. Why?

First, that's not very interesting. Hiring managers already know what responsibilities your job titles likely entailed.
Second, a bland description of your job requirements doesn't make a strong sell on why you're a better choice than the competition. Instead, focus on your accomplishments and achievements (use those numbers we just talked about) to show how you provided value beyond the basic job description.
Certified Dental Assistant Resume
Why this resume works
Demonstrate clear growth and increased responsibility in your certified dental assistant resume.

Format your resume in reverse-chronological order, with your most current work experience toward the top of the page. This helps highlight your most recent and, probably, most relevant job title.

This is important because recruiters are likely only to read the top of your resume and may only skim the latter half.

Even for job titles that may not seem relevant, you can emphasize the skills you bring to the table.

For example, if you include a waitressing position from a few years ago, discuss responsibilities that highlight how you were proactive, a strong collaborator, good at customer relations, and skilled at educating customers. It's easy to see how these skills translate to a dental assistant role.
Dental Hygiene Assistant Resume
Why this resume works
When you're writing your dental hygiene assistant resume, you should make sure you're focusing on what matters most.

This means you should not take up unnecessary space with education or contact information. These resume sections can be compact and straightforward.

And while we're talking about what not to emphasize on your resume, it's probably not in your best interest to include a picture of yourself.

Even professional headshots can make a resume look less than professional, and they can even cause bias in the recruitment process.

Even without a picture, your resume doesn't need to be boring. Include tasteful, consistent pops of color for each resume section title and pleasant contrasts in body and header fonts.

Tip: Do some recon to find out the color scheme at the dentist office you're applying to, and try adding a bit of company color to complement your application subtly.
4 Tips to Perfect Your Dental Assistant Resume
Dental assistant job postings reflect the variety of responsibilities this flexible career offers and requires. Since a dental assistant will complete various tasks every day, from patient experience activities to cleanings to providing dental care advice, a strong resume for this position should reveal your abilities and responsibilities on the job. Your dental assistant resume should focus on the quantifiable skills and abilities required for this position and those specified in job postings.
Dental practices typically use Applicant Tracking System (ATS) recruiting software to scan applications for key terms, reducing the need for hands-on application review for the first hiring round. It may need updating to reflect precise information for optimal ATS scanning. When creating your dental assistant resume, attention to these four areas will increase your odds of successfully passing through the ATS and on to the interview process:
Emphasizing specific dental assistant skills

Formatting your dental assistant resume properly

Utilizing an objective and summary

Using quantifiable points
Emphasize your dental assistant skills
When recruiters hire dental assistants, they use a three-step process to weed out candidates:
Hiring directors narrow down candidates for minimum qualifications. Usually, through the ATS, basic qualifications are set for the filters to catch this first list of experience and key terms or phrases.

Next, recruiters look for a set of preferred qualifications. Applicants who meet these criteria remain in the application process.

Lastly, to move to the next round of the application process, employers shortlist and rank candidates based on their fit with the minimum and preferred qualifications.
To pass the ATS filtering and move on to the next phase of the process, your resume should contain key terms and phrases from the employer's job description. The resume skill section is the place to explain your abilities within the scope of the dental assistant job. Show what you can and have done to match the key terms the job application identifies in an ideal applicant.
Expertise can be soft skills, like interpersonal, people-oriented, acquired in all jobs, or hard skills, which are job-specific abilities learned and perfected in specific careers. Include both skill types in your dental assistant resume, and the ATS filter will look for a particular set of skills in the application process for this job. Resumes that reflect the soft and hard skills the employer is looking for will pass through the ATS filter and on through the application process. Some of the top soft and hard dental assistant skills employers are looking for are:
Dental equipment knowledge (hard skill)—shows the applicant can complete basic dental assistant tasks

Electronic Medical Records (EMR) experience (hard skill)—shows the applicant can utilize an online data system for employer

Medical licensing (hard skill)—indicates up-to-date, recognized proficiencies (could be a minimum requirement)

Communication skills (soft skill)—shows abilities with positive patient interactions

Team player (soft skill)— indicates the ability to work with others in the office

Customer service (soft skill)—shows applicant will put patient's needs first

Highly organized (soft skill)—indicates applicant can prioritize tasks and complete work on time

X-ray experience (hard skill)—shows precise (and likely preferred) experience and training

Vital signs (hard skill)—shows future employer ability to complete routine, necessary tasks

Patient safety (hard skill)—indicates the ability to follow required safety steps and policies
Which skills should you include on a resume? Every skill, hard or soft, doesn't have to be on a resume to be a successful application process. Instead, customize your resume to match what a job application indicates an employer wants and needs for that particular job. Each resume should match the applicant's skill set with the specific job listing requirements to best connect with the ATS system's filter to move on qualified applicants through the application process.
Format your dental assistant resume properly
For most job seekers, properly formatting a resume is a huge hurdle. Your resume should show important details like experience in a field, educational background, and applicable skill sets. Still, the way the resume is formatted can also be positive or negative in the job search process.
One of the most important aspects of creating a well-formatted resume is to include the relevant information for a specific job. Still, many job seekers get caught up in creating an unnecessarily-stylized resume instead of sticking to the basics of using a resume template. While many resume format styles are available and acceptable, all quality resumes have a few specific features, or lack thereof, in common. Let's look at the most vital aspects to formatting your resume for a dental assistant position:
Create a resume that is

one page

unless your experience reflects more than 10 years in the field. Usually, resumes longer than one page include unnecessary information or extraneous style choices. Pare down areas using simplified wording, remove stylized lines or graphic additions, delete extra spacing, and remove redundancies.

Use

bullet points

to focus on key topics or ideas and set off important lists like skills, achievements, or relevant work experience.

Avoid using icons or images

. Your resume should only include text. Since it will be scanned by the ATS program that only searches for keywords, icons and graphics will not help the application process.

Include the title of the position you're seeking

on your resume to emphasize your focus or goal.

Check, double-check, and recheck your resume to ensure

no errors

.

Spelling errors and other basic mistakes can be a huge turnoff to a future employer since they highlight an applicant's lack of attention to detail. Send the resume through our free resume checker and have another set of eyes look at it before sending it off in an application.
Decide if you need to include an objective or summary

. If so, prioritize its location on your resume to highlight this standout feature.
Your dental assistant resume objective or summary
For some job seekers, a resume might contain an objective or a summary section in addition to other key content regularly included. Not every resume has either, but you should decide if one is necessary or if it enhances your message. Let's look at what they are and determine if either is needed in your dental assistant resume.
What is an objective? A resume objective is a way to show a prospective employer your job aspirations and what kind of job you're seeking. This section is best for applicants new to a field or with experience that doesn't exactly relate to their ideal position.
In other words, if your goal is to be a dental assistant, but you don't yet have experience, you could use an objective statement. Comprise your resume objective with two to three sentences explaining you are seeking a dental assistant position as your current career goal and why.
What is a summary? A summary is used on a resume when experience in the field can be summarized or restated in a few sentences. A summary doesn't replace listing past jobs but instead provides a bigger picture of career experience within a field.
A summary will help a potential employer see your reflected specializations and skillsets. Dental assistants with 10+ years of expertise will benefit from including a summary section of two to three concise sentences showcasing relevant past jobs and expertise.
Boost your dental assistant resume with quantifiable points
Like in many careers, using specific data is a concrete way to show value. Using details that enumerate your past job achievements or accomplishments on your dental assistant resume can show prospective employers your value. This data, called quantifiable points, shows future employers exactly what you've done, what you're capable of, and what they can expect of you if hired. But what does that look like on a resume?
Here are some ways a dental assistant can show the quantifiable impact:
Explain a percentage increase in patient retention

Convey increase in patient satisfaction

Relay the number of patients seen per shift

Detail the percentage of reduced cavities experienced with patient education provided

Listing the total number of clients assisted in a procedure
Once you pinpoint a valuable action of interest to an employer, quantify the impact you made by identifying the data to which it relates. Here are a few examples of strong job-specific quantified points that might be used as a bullet point on your dental assistant resume: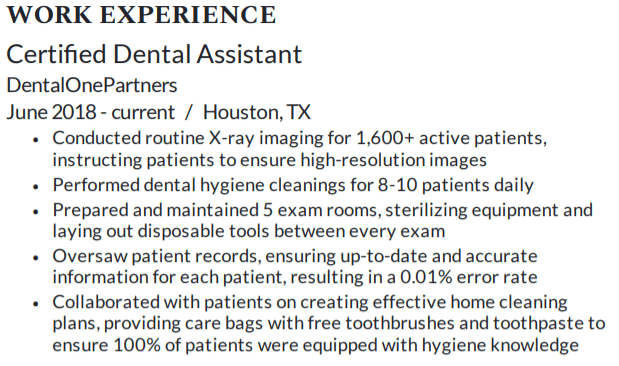 Tailor your resume for each dental assistant job application
By scanning the job posting, you should customize your dental assistant resume to match what the employer is looking for in a candidate for each of these categories:
Objective—rework your objective statement to match the job title for which you're applying.

Summary—rewrite your summary to reflect key qualities or skills the perfect dental assistant candidate would have, based on the job posting.

Skills—add your skills to the resume you've listed on the job posting. Remove any that are not relevant to the job you're applying to make room for those the ATS will identify.

Job description bullet points—some of your quantifiable points should precisely reflect the job position's description.
Dental assistant resume
Once you have some expertise as a dental assistant, you can customize your resume to emphasize your time in the field. This will help you stand out from other applicants. Here are some ways to customize your dental assistant resume with some experience in the field:
List all certifications achieved

Include quantifiable points that show increases in revenue for dental practices

Explain with quantifiable points how past work with office teams has improved the dental office revenue, patient volume, or another valuable metric
You can list your certifications toward the bottom of your resume, similar to this: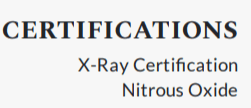 Entry-level dental assistant resume
Everyone starts with no experience, so if you're just entering the field of dental assistance, you'll need to show your capabilities. Here are some ways to customize an entry-level dental assistant resume:
Include basic certifications like CPR, since it's an expectation for most dental practices

List relevant experience highlighting soft skills that can be utilized as a dental assistant

Show hobbies and interests that may indicate leadership or other positive qualities

Mirror the job description in your resume objective, even noting the company name in the career goal
Pediatric dental assistant resume
For a specialized dental assistant resume at a pediatric office, add in some customized details like these to help you stand out from other applicants:
Soft skill experience demonstrating any work with youth or children

Include hard and soft skills that are especially vital to working with children, like patience or safety procedures

List descriptions of excellent customer service provided to patients
Orthodontic dental assistant resume
When customizing your orthodontic dental assistant resume for a job in an orthodontic office, think about adding specifics to showcase your resume:
Show soft skills that demonstrate the high-quality patient care you provided

Include quantifiable points that focus on patient satisfaction or happiness

Add certifications that are valuable in an orthodontic office, like x-ray qualifications
Certified dental assistant resume
When applying for a job as a certified dental assistant, include such customizations to your resume as:
Using numbers to show your value above other candidates

List jobs in reverse-chronological order to focus first on your most relevant job experience

Include past positions that bring relevant soft skills to a potential employer's attention, even if the job title isn't relevant
Your dental assistant resume recap
Congratulations on taking the first step towards your career as a dental assistant! With a little thoughtful crafting, your dental assistant pursuit is within reach when you tailor your resume to each job application.
During the process, use our online resume builder to help you create your most effective product right from the start. If you already have a working draft, feel free to use our AI-powered online resume checker to polish your product for any future job applications.