Though parents and students don't always recognize it, teachers work way more than the 8 to 4 school day. Lesson planning, grading, parent communication, faculty meetings, and students' extracurriculars are just some of what you do beyond classroom instruction.
If you're seeking a new teaching position, it's mind-boggling why a school would ask you for a cover letter along with a resume and application. Your time is already fully committed.
That's why we're here. We've got five teacher cover letter samples plus a how-to guide to aid your job hunt. You can't cover every achievement in your teacher resume or cover letter, but with a little help from us, you'll be on your way to showing principals and departments why they should hire you.
---
---
---
Art Teacher Cover Letter Example
USE THIS TEMPLATE
Why this resume works
When it comes to crafting a compelling art teacher cover letter, don't just linger in describing your artistic endeavors and the tools you mastered. Numbers could be the golden ticket to propel your candidacy ahead

Metrics bring your accomplishments to life, painting a vivid picture of your effectiveness for the role. For instance, Kaito reports a 12% increase in foot traffic to his mural projects.
---
Special Education Teacher Cover Letter Example
USE THIS TEMPLATE
Why this resume works
Taking a look at Mia's special education teacher cover letter, one factor shines brighter than the rest in her intro: her passion.

Passion equals commitment and even success. Not only does this align with the role she seeks, but it's also an excellent trick to captivate the recruiter reading your piece.
---
AP English Teacher Cover Letter Example
USE THIS TEMPLATE
AP English Teacher Resume
Need a resume to pair with your AP English teacher cover letter?
---
How to Write a Cover Letter for a Teaching Job
The key to writing your teacher cover letter can be distilled into two main points: don't be generic and don't let it become a repeat of your resume.

Step 1: Don't skimp on researching the teaching role
Just as you want to tailor your resume to the school where you want to work and to its accompanying teacher job description, you should do the same with your cover letter. Sure, this requires extra research, but what're 20 or 30 minutes when this effort can pay off in dividends? Not only will research ensure your cover letter is relevant—not vague and generic—it'll also prepare you well for common teacher interview questions.
Additionally, leverage your research to demonstrate a real interest in the role you're applying for as well as in the school itself.
Does the job description bemoan the school's state testing scores?

Discuss how your commitment to standardized testing has improved students' performance at other schools.

Does the listing express the need for an educator proficient with Google Classroom?

Share how Google Classroom has transformed your STEM projects.
Step 2: Go beyond your teaching resume
Addressing the specific needs and concerns mentioned in the job description will have the desired effect as long as you go beyond what you included in your resume. Mentioning that you're a rock star at using Google Classroom isn't enough; principals have already gathered that from your resume bullet points and skills section.
This is your opportunity to specifically share what you've done with Google Classroom. Many teachers set up Google Classroom for their students but don't get around to using it. What have you done that sets the standard for every teacher following you? This is when quantifying your experience becomes exceptionally valuable.
For example, perhaps you use Google Classroom to track assignments, projects, and tests.

Demonstrate how this resource has decreased late submissions by 53 percent.

Or, back to our standardized testing example, maybe you successfully raised scores by 12 percent over the course of several years.

What did you do exactly to accomplish such a feat? One-on-one tutoring, an after-school club, unique teaching methodologies?

Step 3: Convey the right message
Beyond specific and descriptive paragraphs in your teacher cover letter, keep your document at or less than a page. Eliminate wordiness and avoid pleasantries. Be sincere and gracious, but, really, no one likes a teacher's pet.
So, consider your tone of voice. Be professional, avoiding clichés, contractions, colloquialisms, and the like. Remember you're applying for a teaching position, not a quirky tech startup.
Consider your tone. Remember you're applying for a teaching role, not a quirky tech startup.
And when you think your cover letter is ready to go, hold up! You're, indeed, almost at the finish line, but what is it you tell your students to do before they submit an essay (which they inevitably never do)?
Yep—it's time to practice what you preach. Invite a few people you trust to review your cover letter and offer constructive criticism while your eyes and brain rest. Then, return to your work, consider the feedback, and scour for any last content issues and spelling and grammar errors. Make revisions, save your document, and send your best teacher cover letter to the principal and hiring department with your resume, application, and any other requested materials.
Your Teacher Cover Letter Format & Outline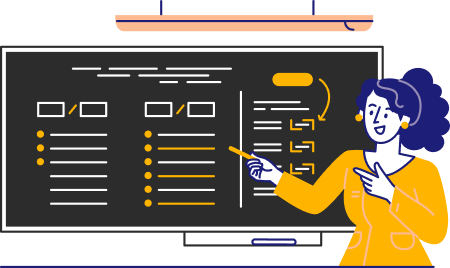 Now, if you're staring at a blinking cursor on a blank document, not sure how to make the examples and steps work for you, don't fret. It'll come together beautifully like a perfectly executed lesson plan.
You just need a comprehensive outline that breaks the cover letter for a teaching position into distinct sections, making it easy to understand what to include in each part.
How to start a teacher cover letter
Your contact info: If you're using a template, fill in the letterhead to suit your needs. Just ensure you replace all filler text and don't accidentally exclude critical information like your name, email, and phone number.
Formatting: If you write a block business letter rather than use a template, including your address is standard. Additionally, while your name will be prominently displayed on a letterhead on a template, a basic but professional block letter should omit your name (the principal will find your name easily in your signature line).
Date: If you write your cover letter today but don't submit it until next week, edit the date, to reflect the day you submit the letter and other career documents for the specific teaching role.
Formatting: Write out the full date, e.g. January 12, 2023.
Inside address: This is the contact information for the principal or hiring department at the school. Name the specific person; then, include the school and position title, e.g., Ryan High School Principal. Complete this section with the school's address.
Formatting: Each piece of the inside address should be on a new line. You'll want a double space between the inside address and the greeting.
Example
Kyndra Marque
Ryan High School Principal
5101 E McKinney St
Denton, TX 76208
Greeting: Your goal is to start on the right foot with your principal, so avoid issuing a generic greeting, also known as a salutation, like:
Dear Principal,
Dear Hiring Department,
To Whom it May Concern:
While it can take some sleuth skills to track down the name of the hiring manager for some jobs, most, if not all, schools have staff listings on their website. You're already researching the school to help you write an amazing cover letter, so take a couple of extra minutes to put a real name to the greeting:
Dear Mr. Thatcher:
Dear Ms. Li:
Formatting: Err on the side of caution and use a colon at the end of the greeting. A comma is more casual while a colon denotes professionalism, which will likely serve you best for a teaching role.
How to write your teacher cover letter
Body: The body of your teacher cover letter should be three to four brief paragraphs that state your interest, demonstrate your teaching credentials, and convey enthusiasm for further discussion. Let's break it down further:
Formatting: The body of your teaching cover letter should be single-spaced although you'll need to double-space between paragraphs.
Opening paragraph: The goal is simple—state your interest in the position and your overarching credentials that reflect your research for the specific role. While the goal is simple, the execution often leaves little to be desired. Too many teacher cover letters start the same way.
Example
I found your posting online and am interested in filling the English III position.
No. Just no. Bore the principal and the English department right out of the gate, and they'll wonder whether you'll hold the attention of your students. Instead, try:
Example
With 12 percent of Ryan High's student population slotted to graduate with honors, I am eager to lead the initiation of the English Advanced Placement program as stated in the job description. With seven years of experience teaching AP courses, I am confident that Ryan High's students will excel in my classroom and beyond.
Not only does this signal that you've done your homework and researched the school's unique standing and areas for growth, this opening paragraph hooks the reader. Clearly, you're interested in the role, offer valuable experience, and with phrases like "lead the initiation" and "excel in my classroom," there's no doubt you're confident and capable.
Paragraphs 2-3: If you can squeeze in the third paragraph, we recommend it as each paragraph is an opportunity to demonstrate indisputable evidence of the credentials and qualifications you boldly state in your opening paragraph.
Each paragraph should not be a repeat of your resume; rather, each paragraph should hone in on one clear accomplishment, be it the results of your teaching methodology, values, or something else. Don't try to tackle multiple topics in a paragraph. Be detailed, specific, and quantify your results when possible.
Closing paragraph: Clench an interview with this final paragraph. Now's not the time to lay your head on your desk and call it a day. Don't let this be your closing paragraph:
Example
I believe I am the perfect candidate for this teaching position, and I look forward to hearing back from you soon.
At best, it exudes laziness. At worst, no one will believe you're actually interested in the job but just need something to put beans on the table.
Instead, demonstrate that your unique values and qualifications align with the school's needs, which will indicate a genuine interest in the role—even if you are desperate to put beans on the table.
Finally, add a call to action that anticipates a follow-up or interview. With the following closing paragraph, it's clear that teaching is far more to you than just a job:
Example
Solving students' pain points is more than acknowledging their existence. To me, pain points are a starting point to discovery. I firmly believe that some of the most challenging endeavors have the power to yield the most fruitful results. If these results speak to you, I am eager to share more of what my non-traditional classroom looks like and what you can expect from Belleville's students and from me as their geometry instructor.

How to end a teacher cover letter
Signature: While you can include your gratitude at the end of the closing paragraph, you can also express thanks when you sign off. Keep it professional, and use your real name here just as you will on your resume and application form.
Formatting: Typically, you'll send your cover letter to the principal's email; however, if you deliver your career docs in person or—gasp—by mail, be sure to quadruple space and sign your name in blue or black ink between your closing line and typed name.
Example
Thank you for your consideration,
Marcus DeWitt
Enclosure(s): This is important, and most job seekers, including teachers, fail to include it. "Enclosure(s)" means that more documents follow your cover letter.
What information would that be? Well, hopefully, your teacher resume, likely the school's application, potentially your teaching license, also your college transcripts, and maybe even a reference letter or two, depending on the requirements detailed in the teacher job ad.
After your signature, you'll include "Enclosure(s)," followed by the exact documents in order of appearance.
Formatting: Use the singular form of "enclosure" if you're only including one document. Also, include each additional document on a new line.
Example
Enclosures:
Resume
Application
2 letters of recommendation
See, including this final section is literally easier than writing your own address. Include it, and automatically set yourself apart from other teachers vying for the same role.
Finish Strong with Your Teacher Resume
Now, that you've got the tools to confidently wow principals and departmental heads with your teacher cover letter, have you considered the current state of your resume? Maybe you've already updated and polished it, and if that's you, kudos to you—you're ahead of the game!
If you're blowing out an exaggerated breath because you've relegated your resume to the nether regions of your mind, we get it. But teacher resumes are judged more harshly than most. Hiring teams don't cut a lot of slack when they're looking for talent who will teach their students to communicate, read, and write well.
So, if it's time to think seriously about re-writing or, let's face it, writing your resume from scratch, take a page from us (literally) and get inspired with our free resume templates and teacher resume examples like the one below.
Elementary Teacher Resume
Need a resume to pair with your elementary teacher cover letter?
Your career documents are a pain in the tush, we know, but think of us as your biggest cheerleaders. With our resume builder, Google resume templates, Word resume templates, and expert-approved guidance, your teacher resume and cover letter are sure to win you interviews and secure your next role, where you just might earn Teacher of the Year at your next school.
---
How do you create a connection with the school?
Every school you apply to will likely have slightly different teaching styles, cultures, and objectives they would like to achieve throughout the year. You can use your cover letter to connect your previous experiences to their mission and goals. For instance, if you volunteered for an early-age reading program, that would be a great experience to connect when applying to a K-5 position where the school wants to improve student reading scores.
What tone of voice is best for teaching cover letters?
Ideally, you want to match your tone to the feel of each school's job description. Does the school have a very formal and knowledgeable tone in the description? Then being more formal and factual about your knowledge and experiences in different teaching styles they emphasize would be a great idea. For example, citing factual information about how you used hybrid learning to create 75% higher material retention in math subjects would work well in this instance.
Who should teachers address a cover letter to?
Try to address your cover letter to a specific person in the school. Typically, this will be a principal, superintendent, or human resources hiring manager that would be reviewing teacher resumes. Check through the job description to see if a specific name is listed who will be reviewing applications, or review the school's website for this information. If you can't find anything, you can simply address it to "[Name of school] hiring staff" or something similar.