Teachers are the backbone of society. You spend more time with the children you educate than their parents do!
An effective teacher is compassionate, intelligent, and organized, among hundreds of other things.
It can be difficult to highlight all your experience and skills on your teacher resume, and you'll want to save the best details for your teacher cover letter.
These eleven teacher resume examples have helped teachers and teacher's assistants with varying levels and types of expertise land jobs in 2023. They're a great place for you to get started building or updating your resume.
Please note that this guide is geared toward educators in the K-12 space. If you're applying to teach at the college level, you'll likely need to write a CV.
Teacher Resume Example
Why this resume works
Most, if not all, teachers have some form of student teaching experience during their education. No matter your experience level, you can include student teaching on your teacher resume!

When listing your student teaching experience, focus on what you contributed instead of your responsibilities.

Administrators reviewing your resume want to quickly understand the types of classes and grade levels you've taught.

Since you want to make the resume reviewer's job as pleasant as possible, clearly state the subject and grades you taught as a resume bullet.

If you've started or supervised any student groups, highlight them in a separate "Projects" section; they're a great demonstration of your initiative and will help you stand out among other job applicants.
Elementary Teacher Resume Example
Why this resume works
The first thing employers check for among elementary school teacher applicants is whether that person is properly licensed to teach. You should include any licenses or certifications you have in a dedicated "Certifications" section on your elementary teacher resume. Our user-friendly resume templates and Google docs resume templates allow you to easily add a section just for certificates and licenses.
When possible, try to quantify the impact you've had in your previous roles as an elementary teacher, like students improving their standardized test scores, reading comprehension, or even classroom participation increases. These can be rough estimates.

For example, "Improved students' passing rates on the statewide annual exam by 13%" effectively shows competency through the use of an estimate.
High School Teacher Resume Example
Why this resume works
The "Education" section of your high school teacher resume should list the different degrees you've earned. No need to list high school education unless you lack time spent in college.
Focus your resume on your accomplishments instead of your responsibilities.

For example, instead of saying "Prepared students for standardized exams," say "Helped improve standardized testing performance by 3%."

For each of the skills you mention on your resume, you should be able to show an example of when you demonstrated that skill in practice.

Say you mention "Conviction;" you should be able to detail a time when you wielded conviction in the face of a challenge.
Teacher Assistant Resume Example
Why this resume works
Your teacher assistant resume should weave specific contributions throughout your work experience. Instead of saying something vague like "Worked with assistants and teachers," say something concrete and specific like "Worked with 2 assistants and a teacher to provide instruction to 60+ 2nd graders with IEPs."
As an entry-level teacher's assistant, consider using a resume objective.

An objective is especially valuable if you're light on experience and need to fill some white space, but it can lose value if it's not customized.
Customize your objective by mentioning the target business by name and sprinkling in some keywords from the job description, so long as they honestly describe you!
Substitute Teacher Resume Example
Why this resume works
If you have a certification as a substitute teacher in your state, include that in a dedicated "Certifications" section on your substitute teacher resume. This will help you stand out from other applicants.
If this is your first substitute teacher role, try to focus your work experience on how you've interacted with children, if at all.
Any prior substitute teaching experience should highlight maintaining a disciplined classroom. One of the toughest aspects of being a substitute teacher is commanding a classroom, so demonstrating your strength will increase your chances of getting an interview.
Another way to impress is by formatting your resume's work history in reverse-chronological order; it lists your most current and relevant experience first, so the employer glimpses your best stuff off the top.
English Teacher Resume Example
Why this resume works
Your AP English teacher resume can include a summary statement if you're a veteran in the industry.

Summaries are short, two to three-sentence paragraphs that can be thought of as a recap of your best self on your resume.

Purely optional, we recommend you include one if you have many years (10+) of experience in your field.

Summaries work best when used to showcase your lengthy years in the industry and any specializations you've honed.
Middle School History Teacher Resume Example
Why this resume works
Your middle school teacher resume can potentially include the following sections: Career Objective, Certifications, Projects, and Activities.

Including a career objective can help explain why you're a strong candidate if you have limited work experience, or if you're undergoing a career change.

Certifications aren't always required qualifications for teachers, but we recommend including any relevant certificates you've acquired.

Projects can be a great place to highlight experience not technically work-related, but still highly relevant to your passion for teaching.

An Activities section is the spot to write interesting, quirky experience or hobbies on your resume; just make sure you can explain why they're relevant when you get an interview!
Collaborative Teacher Resume Example
Why this resume works
Proper resume formatting can help your collaborative teacher resume look aesthetically pleasing, helping set you apart in the sea of generic resumes.


Choose one or two key areas, such as section titles or your header, to include a pop of conservative color.
Use two contrasting fonts to enhance the look of your resume. Just don't pick anything hard to read—remember, recruiters scan resumes within seconds, so it has to be understood at a glance.

If you're short on work experience, you can easily highlight projects that demonstrate your aptitude as a collaborative teacher.


Even if your projects aren't teaching-related, highlight skills you used or developed, like working with kids, collaborating with co-workers, or taking a leadership position.
AP Social Science Teacher Resume Example
Why this resume works
No matter how amazing your resume-writing skills are, you'll need to carefully proofread your AP social science teacher resume. One of the main reasons hiring managers reject candidates is due to poor grammar because it shows a lack of attention to detail.

Ask a friend, colleague, or even a co-worker to proofread your resume. If you're low on time, invest in a spell-check system like Grammarly or run your resume through our resume checker to catch any typos or comma errors.

Keep your resume focused by using sections and subheadings throughout. Essential components like your contact information, work experience, education, skills, and certifications/licenses are the bread and butter of your resume.


You should also consider including a career summary if you have more than a decade of experience. In contrast, if you're light on work history or are changing jobs, try adding a resume objective instead.
Foreign Language Teacher Resume Example
Why this resume works
Make your foreign language teacher resume stand out with the right keywords in your

resume skills section

.

Tailoring your resume for the job description is always a good idea, but how do you do that? Start by customizing your work experience bullet points for the job you want.

If you're hoping to switch over from teaching German to teaching history, you don't need to include many details on your strategies for teaching verb conjugation, for example.
Special Education Teacher Resume Example
Why this resume works
When you've finished writing your work experience and are ready to

format your resume

, make sure you check the following:

Does your resume take up the entire page?

Does it have half-to-one-inch margins? (Either half an inch or one inch is fine.)

Does your resume include separate sections for contact information, education, skills, and work experience?

Details can make or break your special education teacher resume, so don't neglect the little things before you submit it to the world.

Start each bullet point with action words, like "spearheaded" or "brainstormed."

Either end all of your bullet points with a period, or none of them. Be consistent with your punctuation.

Write your work experience in the past tense.

Avoid using personal pronouns like "me" or "I" on your resume. We're pretty sure the employer already knows you're writing about yourself!
How to Format Your Teacher Resume
Formatting is essential to ensure your teacher resume is readable, logical, and complete. Imagine understanding a book without chapter headings or margins and no discernable organization. It would be a nightmare to parse out any information when nothing follows a clear structure and doesn't lend itself to being read properly. It's an extreme example, but it proves the necessity of formatting.
Just as you create your lesson plans to help your class learn best, you need to format your resume so your qualifications are conveyed and understood. We'll cover three important formatting elements in the following sections: resume formats, your contact header, and resume readability for ATS.
Three resume formats
The most popular resume formats for 2023 are reverse-chronological, functional, and combination/hybrid. Here are some of the pros and cons of each:
Reverse-chronological

: This format highlights your career progression in an easy-to-scan list, making it ideal for recruiters and ATS. However, this format exposes time gaps and can be repetitive if you've held the same position at multiple schools.

Functional

: This format focuses on your skills, ideal for limited teaching experience or gaps. However, it's commonly known to confuse potential employers and ATS.

Combination/hybrid

: This leverages an in-depth skills section and a small experience section to accurately summarize why you're the best candidate for the job. However, it's easy to structure this poorly, and it can look like you're hiding a lack of work experience.
We recommend the reverse-chronological format for your teacher resume because it proves you have practical knowledge and a steady career. This format tells the story of your teaching career in under six seconds, which is how long recruiters will take to read your resume.
Include the right details in your contact header
Your contact header should be easy to locate and read. Some suggest not adding contact information in the header, but that's why formatting your contact header properly is so important. With good formatting, none of your information gets buried, and it can distinguish you from other applicants. You should include:
Per industry standards, we'd recommend placing the header in either the top left-hand corner or centered underneath your name. If there isn't enough space, you can remove the optional elements or go down a font size. Just make sure your font is sans-serif and no smaller than your resume's body text.
Per the example below, you can put your header in a color block to grab attention quickly and add personality. It's best not to use obnoxious colors (neon green would be a hard no), and always double-check that the color works well with black body text or white font.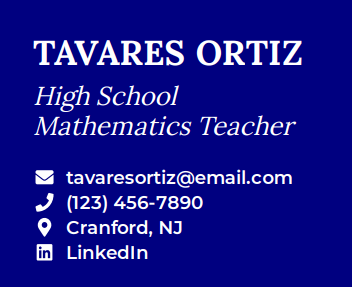 Sometimes, the ATS won't read your resume properly despite having a beautiful header. That's why we recommend submitting it as a .docx (friendly for ATS) and as a PDF (friendly for employers).
We have plenty of excellent resume samples you can peruse for inspiration regarding your header, and if you're rushed on time, choose one of our free resume templates to start and finish your teacher resume in record time.
Ensure the ATS and employers can read your resume
To ensure your resume reaches principals and department heads, you'll need to pass muster with the ATS. The good news is formatting for the ATS also results in a resume easy to read by employers.
Some resume tips to steer you onto the right path:
One page

: Not only is a one-page resume faster for recruiters and ATS to scan, but it forces you to be concise and include only what's relevant.

File type

: Most ATS don't recognize documents in Open Office, Adobe Pages, HTML, or even a PDF (on occasion). The wisest option is to submit your resume as a .docx file

and

as a PDF to give employers options if one doesn't work.

Font sizes

: The standard 10–12-point-font is the best readability range for employers and ATS.

Fonts

: Even at a reasonable size, some fonts are hard to read, unprofessional-appearing, and ATS-unfriendly. Stick to standard sans-serif fonts like Helvetica or Arial.

Margins

: One-inch margins are standard, but you can be flexible. Just avoid going any smaller than a half-inch or larger than one inch to keep your teacher resume professional and tidy.

Header names

: If you have odd header titles, you'll confuse the ATS and the employer. Use standardized language instead to make each section easy to find (and comprehend).

Skills

: ATS use keywords to determine candidate eligibility, including skills matching those in the job description.

Logical order

: If your resume sections aren't in the recommended order, they'll confuse ATS. Yet again, it's best to stick to the standard. Try using our

resume builder

to ensure your structure is logical and readable.
How to Write Your Teacher Resume
Writing an effective resume may feel daunting, but it's far more manageable if you take it section by section. You may even want to use one of our fresh Word resume templates designed just for teachers.
Let's dive into each resume section you'll want to consider:
Does an objective/summary on your teacher resume matter?
Teaching history
Top skills for educators
Listing education, certification, and optional sections
Customize your teacher resume for the job
Revise and edit your teacher resume
Principals and their hiring teams may see hundreds of resumes across a wide array of teaching roles, so it's crucial to showcase your talents and personality quickly. Objectives and summaries can work as excellent introductory tools, but many end up being generic, boring, or vague.
First, consider whether you'll use an objective or a summary (or neither). An objective highlights your interest and qualifications for the role, while a resume career summary distills your specialized skills and lengthy experience in a few lines. Use an objective if you're seeking your first teaching position or if you're switching from teaching one subject to another. On the other hand, veteran teachers may opt for a summary (or no statement at all).
Regardless of your circumstances, if you use either of these introductory statements, you should always tailor your message to the position. Let's look at specific examples to contrast a D+ resume objective with one worthy of an A.
A generic, vague objective tells the recruiter nothing about you beyond the bare minimum:
This objective lacks personality and neglects to mention anything specific. The next objective is focused and tells the principal about the applicant's skills:
Compassionate algebra tutor with 4+ years of experience. Excellent at coaching students in formulas and helping them develop analytical thinking skills and mathematical competency at all levels of ability. Seeking to use my communication and interpersonal skills to build meaningful student relationships and improve their mathematical abilities at Joaquin High School.
Like the visual example below, the above objective works because it details the applicant's experience and how it's relevant to their new goals within the classroom.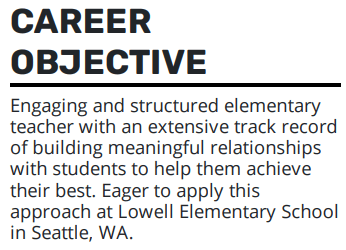 With summaries, it's difficult to narrow down years of experience into one paragraph, so they often end up looking like this:
For starters, repeating "skilled" and "experienced" won't tell employers anything. A good summary should sell your experience and qualifications, making principals wish they'd had the chance to hire you years ago:
Elementary education teacher with 12+ years of experience managing 25-30 1st, 2nd, and 3rd graders' classrooms. I am a patient, personable, and compassionate professional eager to bring my expertise to Sunnyside Elementary. Awarded Teacher of the Year in 2020 and 2021 for creating online individualized lesson plans for over 65 students during the height of the pandemic.
This summary works because it tells the recruiter their specific qualifications, namely personalized lesson plans and classroom management, and their skills (in this case, two awards).
Teaching history
It's tempting to list every job you've ever had to prove you're qualified, but this becomes either overwhelming or redundant. It also means you can't include much about each position, which won't inspire principals to hire you.
Instead, pick two to four of your most relevant teaching positions. Quantify your responsibilities and incorporate skill keywords to improve your ATS score with each.
No teaching experience yet? Add internships, student teaching, volunteering, or other special projects like the example below that can highlight your soft skills like leadership. Certifications and awards are helpful additions, too.

How to write your job description bullet points
Whether you're describing a past job, an internship, or a college project, you'll need to craft your bullet points with care. Every word counts, so use active verbs, definitive language, third-person pronouns, and consistent verb tenses. Pay careful attention to consistency with punctuation—using periods at the end of some bullets while none for others is sloppy.
Based on these resume writing tips, here are some examples of well-crafted bullet points suited for a teacher resume:
Taught mathematics, English, general science, art, geography, and history to 60+ 3rd grade students

Collaborated with parents to discuss student performance and options for an improved learning experience, such as individualized instruction for students with learning disabilities

Hosted annual fundraiser to raise $6,500 for 10+ teachers to attend the RAISE conference and led yearly trips to RAISE meetings, resulting in overall more effective teaching strategies and a renewed passion for academia
These bullet points work because they're descriptive and results-oriented. Strive for conciseness and specificity with your job description bullet points.
Maximize your classroom impact with numbers
From an employer's mindset, metrics cement your abilities by proving that your actions resulted in a desirable outcome. If possible, include metrics on 50 percent of your job description bullet points to showcase the results of your effective teaching.
When talking about past teaching roles, it's a good idea to discuss the following metrics:
Increase in test scores, passing rates, or grade point averages

Number of students/classes taught

Increase in student participation/improved behavior
The following examples use the metric types listed above to describe a teacher's impact further:
Co-founded a S.T.E.M. club with the aid of 4 fellow teachers, increasing student passing rates in science and mathematics by 13%

Established weekly one-on-one student conversation sessions to intentionally build student-teacher relationships, resulting in a 15% overall increase in classroom participation and attendance

Hosted monthly Write-Til-You-Drop sessions for high school students struggling in English and offered expertise for outlining thesis development and argument structure, which resulted in 31% higher essay scores for participating students
Top skills for educators
The skills section of your resume is a quick guide to what you bring to the table as a teacher. That means choosing the right skills for each job is crucial. You might be organized and great at time management, but if employers want to see that you're compassionate and great at lesson planning instead, your resume may be set aside.
Since teachers fulfill many roles, employers will want to see a host of varied skills, including soft, hard, and technical capabilities.
The following list can inspire the skills section on your teacher resume:
Collaboration

Problem-solving

Interpersonal communication

Blackboard

Organization

Classroom management

Empathy

Active listening

Lesson planning

Google Classroom

Communication with parents
These skills demonstrate aptitude and support the responsibilities a teacher will need to complete on the job. Remember that while the above list delineates common and popular teacher skills for your resume, always defer to what the job description specifically is seeking.
Listing education, certifications, and optional sections
You'll need to include different elements on your resume depending on your education level, years in the workforce, and any specializations or concentrations you possess. All teaching positions require a bachelor's degree, and an increasing number of teachers hold a master's. Also, check to ensure you're up-to-date on your state certifications like the California candidate below.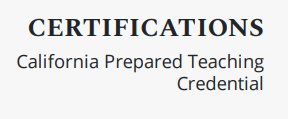 If you hold many certifications, you don't necessarily need to include them all if you're applying for one specific role. For example, suppose you're an ESL-certified teacher with a graduate ESL certificate seeking an ESL role. In that case, you'll need to include that certification either in a summary/objective, in your work experience, or in your education.
This candidate's education speaks volumes with a classic bold font and color.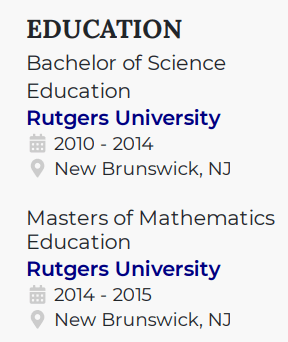 While including education and certifications is a requirement, a projects section is optional. If you're a drama teacher, for example, who's new to directing but experienced with leading drama camps, including a projects section to describe the drama camps you've led or assisted with can add a relevant impact. List and discuss projects on your resume just as you would a paid position.
Additionally, consider adding interests and hobbies to your resume. Most teacher resumes should save room for other information, but it's a good idea to add these sections when the job you're applying for stresses the importance of school spirit and culture.
Choose your interests that reflect the school's values. However, be picky about what you include. Finding every Easter Egg in the entire timeline of Zelda games might be your favorite pastime, but that doesn't mean you should list it on a resume (unless you're applying for Nintendo, in which case this might be appropriate, and you're reading the wrong resume guide).
It's up to you whether you include any optional sections on your resume, but always be sure to be as specific as possible. Your interests should also be specific. "Reading" doesn't say much about you, but "leading classic book clubs" is far more likely to get you a job as an English instructor.
Customize your teacher resume for the job
Generic resumes are easy to spot and will likely get tossed. To avoid the trash, tailor your resume to every position to which you apply. This tells principals you've researched the school and the role and you genuinely care about the position.
To customize your resume, scan the job ad to determine what responsibilities, accomplishments, and keywords to include in your skills section and your bullet points. You should also tailor your objective/summary (if used) to have the school's name and speak to anything unique about the school that particularly interests you. Check your resume against the job description to make sure you're addressing their concerns.
Revise and edit your teacher resume
As a teacher, you already know the pitfalls of submitting drafts before they're revised, so don't let minor mistakes slip through the cracks. Instead, take a break and hand your resume off for peer review. You can also take advantage of BeamJob's free resume checker to get tips from our AI software.
After a day or so, return to your resume and consider the constructive criticism you received. Edit and check for any errors, inconsistencies, or gaps. Read through your resume at least twice more, one for content and one for proofreading. Once you're sure it's free of errors, you can submit it.
Start Setting up Your Classroom (Almost)
Go ahead and celebrate because if you've made it this far, you're well on your way to that A+ resume! By spending more time throughout each phase of the writing process, you're vaulting yourself closer to your next teaching job. It'll be time to start setting up your new classroom and preparing lesson plans before you know it!
If you're not quite satisfied with your current resume, upload it to our resume checker for our AI-powered tips. If it's time to start from scratch, use our resume builder tool to work with our AI from the ground up. We can't wait to see you land your next teaching role!