If someone's out sick, on vacation, or unable to come, substitute teachers step in to fill their place. Substitute teachers have varied expertise across grade levels, curricula, and specialties.
Despite all your knowledge and abilities, it's difficult to write your resume. That's why we've analyzed numerous resumes from all stages and specialties within the education field. We've learned what works to help you get more interviews in 2023 and created seven substitute teacher resume samples to help you build an eye-catching resume that will showcase your accomplishments.
The hardest part of writing your resume is getting started, so use these resume samples to inspire you and write a great resume to get the dream job you've always wanted!
---
Substitute Teacher Resume
Why this resume works
Details are the name of the game for your substitute teacher resume, so before you submit your application, make sure you've checked your resume to ensure a high-quality submission.

Include courses you've taught, grade levels you've prepared, and classroom sizes you managed. The more numbers and details, the better!

To really impress hiring managers, make sure you indicate the results of your work. Showing how you made a positive impact through your responsibilities will 'wow' any employer.

For example, did you help students increase their test scores? Did you improve student engagement? List what you did and how you helped what you did for the best effect!
Just be warned: if something takes up more than one bullet point, include it on your teacher cover letter instead of your resume.
---
Substitute Teacher No Experience Resume
Why this resume works
Any entry-level resume, regardless of the profession, mainly requires you to enlist relevant experience along with any skills that help children learn more easily.

Since you're new, schools will know you're not an expert, so don't stress out! Add details of how you have helped children understand a concept better or taught them a skill needed in the modern world, like Google Workspace. Remember to list how you can handle the behavior of a classroom and make learning fun in your substitute teacher no experience resume.
---
Entry-Level Substitute Teacher Resume
Why this resume works
Writing your entry-level substitute teacher resume doesn't need to be a mystery—your work experience should include any experience you've got, especially if you have teacher's aide experience.

No matter what experience you have, draw attention to the details. Include grade levels, curricula you've prepared, specialties, and classroom size, plus any relevant skills mentioned in the job description. You've got this!

As an entry-level candidate, using a resume objective can help you discuss your relevant experience and why you're a perfect fit as their substitute teacher.

Don't forget to customize your objective for each job. Include the company's name and the job title you're seeking to really impress future employers.
For an extra boost, try to quickly mention how your career goals will benefit the specific school and students.
---
Elementary Substitute Teacher Resume
Why this resume works
An elementary substitute teacher resume should depict your passion for fostering not just a child's grades but also their personality and skills.

List any projects you've developed that have helped children improve their social and academic skills. You can also showcase any programs that you created to help children from bullying. Don't forget to add tools like Google Classroom, that you're well-versed with!
---
Special Education Substitute Teacher Resume
Why this resume works
As a special education substitute teacher, you need to include the specific special needs categories you support and the important life skills you've passed on.
If you have more than a decade of experience under your belt, you may want to opt for a resume summary that tells the story of your career journey.

Discuss your biggest professional accomplishments while also mentioning a few keywords from the teacher job description to create a perfect summary.
---
Long-Term Substitute Teacher Resume
Why this resume works
Having long-term experience is a fabulous way to demonstrate your adaptability and commitment, especially if you can demonstrate the results of your work on your long-term substitute teacher resume.

Be sure to highlight any new programs or initiatives you implemented and managed. Did your efforts improve your students' test scores, engagement, or productivity?

When you're writing your skills and abilities, try to accurately (and honestly) match what is listed in the teacher job description.

Customization is key, so include specific keywords and phrases to build the principal's confidence that you're the right candidate for the job.
Although it might seem like a hard task, customization is easier (and faster) than you think! Once you've written a killer substitute teacher resume, this should only take 15 minutes or so.
---
STIP Substitute Teacher Resume
Why this resume works
It's tempting to make your resume boring black and white to appear perfectly professional, but don't be afraid to add some color to your STIP substitute teacher resume.

Part of being a substitute teacher is having a fun, friendly attitude, so showing your personality can convince schools that you're creative and professional. Add a pop of color and use two types of fonts to make your resume stand out (and actually increase readability)!

Including a resume summary statement can be just the special touch you need to set you apart from other candidates, especially if you have specific highlights to share.

We recommend including a summary only if you have 10+ years of experience. If you include one, don't forget to customize it for each job with the company's name and the job title.
Related resume guides
---
Resume Formatting for a Substitute Teacher
Don't underestimate the importance of good resume formatting. When done well, it ensures that your substitute teacher resume is easy to read, flows logically, and is complete.
When you're formatting your resume, focus on the following:
Using the best resume format option
Ensuring contact info and headers are prominently displayed
Making your resume readable for ATS
Resume format options
You can format your resume in many different ways, but reverse-chronological, functional, and combination/hybrid formats are the most popular in 2023 for a reason. Let's go through each one:
Retail resume format choices:
Reverse-chronological: This format emphasizes your career progress by your most recent job at the top of your resume.
This format showcases your skills, which can be helpful if you have gaps in your job history.
This format lists work experiences in reverse-chronological order while simultaneously emphasizing skills.
Though every format has unique advantages, we recommend using reverse-chronological formatting. It's the most common format, and it's the easiest to read.
Unlike in your classroom, individuality isn't always rewarded when it comes to resume formatting. Instead, use the content of your resume to set yourself apart from the crowd!

Contact info and header
Thought you'd learned all the rules for formatting your resume? Well, it turns out that the overall layout across your resume is critical for creating good flow and helping hiring managers make sense of who you are as a candidate.
To avoid looking like a student who was struggling to meet the minimum page requirement, try using a 10-12 point font for your body text. It's big enough to be readable without being huge (and a space-filler) or too small (to make extra room). For headers, you can go with a 20-24 font, and you can use a touch of color to really make them pop. Here's one example from our resume samples:
Don't forget proper alignment, too! Having 1-inch margins will make your resume look that much more polished.
Of course, don't leave a recruiter wondering how to reach out to you. Include a proper header including your contact information at the top left, right, or center of your resume.
Make sure you include:
Your name
The job title you're seeking (rather than the job title you already have)
Your professional email (i.e. not the email address you made when you were 12, like "RunescapeForLife@hotmail.com")
Your phone number
Your city and state (optional but recommended for local jobs)
Professional links to your LinkedIn, portfolio, or other key links (optional)
There are countless ways you can format your resume contact information and headers. Need inspiration? Check out this picture from one of our resume examples, complete with two links:
If you want more formatting help for your contact information, there are plenty of resume examples you can use to brainstorm. Our top tip: keep this information at the top of your resume and easy to read.

ATS and readability
ATS, or Applicant Tracking Systems, is more than just software; it's the natural nemesis of countless job seekers. Dozens of applicants aren't considered for jobs solely based on the ATS' recommendations.
Luckily, if you know how ATS works, you can unlock the full potential of your substitute teacher resume. Basically, hiring managers use ATS to pre-filter through resumes by matching selected keywords to words used on your resume.
You can help ATS read your resume correctly by:
Using the proper (1-inch) margins
Sticking to basic fonts (no pacifico, please)
Using headers appropriately
Strategizing what goes into your skills section to match keywords
Organizing your resume in reverse-chronological order
Sticking to a single page
If you're getting overwhelmed by all these formatting rules, don't worry. As a substitute teacher who's busy educating the next generation, you don't need to spend your precious time nitpicking over formatting decisions. Try using a resume builder or a really good resume template to do the hard work for you and make formatting your resume a breeze.
Resume Writing for a Substitute Teacher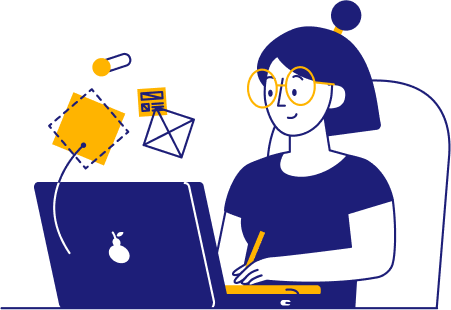 We know that writing an effective resume is a serious challenge, but you can accomplish more (and not feel overwhelmed) by going one section at a time.
Let's go through all the essential (and optional) sections on your substitute teacher resume, including:
The resume objective/summary
Work experience
Substitute teacher skills
Certifications, hobbies, interests, and projects
How to customize your resume
And the value of diligent proofreading

What's the objective/summary all about?
Few job applicants understand the subtle, but important, differences between a resume objective and summary. While both are optional resume sections that consist of two to four short sentences, they serve different purposes.
A resume objective focuses on your eagerness for the job and why you'd be a good fit. Consider using an objective if you're light on work experience (less than two years) or if you're shifting careers.
A resume summary, on the other hand, highlights how you've used your skills over the course of your career. You should only use one if you have 10+ years of experience.
The most important aspect of a good objective or summary is customization. They're only valuable if they're specific, so your statement should always include a specific job title and relevant skills for every job you apply for.
Let's check out some examples:
Poor objective: Several years of experience in education with a passion for children. Wanting to take the next step at a K-12 school.
Poor summary: Patient teacher with many years of education experience with a background teaching students several subjects. Looking for a job at a nearby school to care for students and help them get good grades.

Why these don't work: These statements are broad and unspecific. They don't really add value to your resume, and with real estate so limited, that means they're not worth the space.

Strong objective: Creative substitute teacher with 2+ years of experience ensuring early childhood education during the Covid-19 pandemic. Seeking an opportunity to continue ensuring educational excellence for 5th and 6th grade children at Gollach Middle School by collaborating with primary educators to develop customized lesson plans.
Strong summary: Results-driven substitute teacher with more than 13 years of educational experience managing classrooms of 5-40 students. From discussing student performance with parents and faculty to collaborating with teaching teams to ensure curriculum continuity, I can contribute meaningfully to the educational value students need to return to pre-pandemic testing levels as a substitute teacher for The Friends School.

Why these work: These are both specific, including job titles, school names, and metrics. They mention specific skill sets and highlight why they'd be a valuable contribution to each specific school.
Work experience
We understand that every job experience has value and has likely helped you develop into the educator you are today. Unfortunately, there's just not enough room to include everything.
Plus, hiring managers should only see the very best (aka the most relevant) jobs you've had when they read your resume. So that means your time working as a barista isn't a great addition to your substitute teacher resume.
Instead, focus on your most recent two to four job experiences. If you don't have much experience, shift to including projects, internships, and volunteer experiences (don't worry, we'll talk about these in more detail below).
Writing your job description bullet points
So, how exactly do you write about your work experience entries on your resume (aka the meat and potatoes of your resume)?
First, eliminate lengthy paragraphs. Using three to five bullet points per work experience entry makes it easier for hiring managers to read, easier for you to write, and makes your resume more visually appealing.
The content of your bullet points matters, too.
Focus on using active language throughout. For example, you should say "sorted teaching supplies" instead of saying "the teaching supplies were sorted."
Avoid personal pronouns like "me" or "I." They just take up space.
Be consistent with periods—use them or don't, but don't do both.
Use past-tense for past work experience. You can choose to use past or present tense on your current work experience.
Here are some substitute teacher bullet points that take these tips to heart:
Engaged students by developing team-building activities that enhanced student motivation by 36%
Developed long-term plans for 10 special education students in an emotional impairment classroom
Managed classrooms of up to 35 students for 12+ weeks at a time, leaving detailed weekly notes for teacher's review
These bullet points are good because they're written in past tense using active voice, with consistent punctuation without any personal pronouns.
We know it's a tall order to include all this, so we'd recommend just writing your resume however you want first. Then you can go back and look for these things one at a time. Start by adjusting to an active voice, then look for personal pronouns, and so on and so forth.
Quantify your impact in past substitute teacher roles
You may have noticed one other thing about the bullet point examples listed above: they all include quantifiable metrics (numbers).
Metrics are the key to making your substitute teacher resume successful since they increase readability and credibility. Try including metrics in at least 50 percent of your bullet points.
As a substitute teacher, there are plenty of ways to leverage metrics. For example, take a look at the questions below:
What's the average size of the classrooms you teach? Grade ranges?
Have you been able to improve the average testing grades in your classroom if you've had a long-term substitute position?
Have you received positive feedback or awards for your work?
These examples use metrics to create succinct and impressive bullet points:
Instructed math, art, and English classes (with an average of 22 students per class) from grades K-5
Supported 3 struggling students to improve literacy targets by over 42%
Collaborated proactively with parents, receiving 100% positive parent feedback
If you're worried about specifics, know that your numbers don't have to be perfect—just an estimate will work. The numbers are there, so find them and use them!
Want a good example? Check out this picture from one of our resume examples with metrics in every bullet point:
Top substitute teacher skills to include
It might not be the most exciting part of your resume, but it would behoove you to pay special attention to the skills section on your resume.
This section is an excellent resource for hiring managers to see if you could be a good fit for their substitute teaching job. After all, it's a list of keywords listing your abilities; there's no better place to quickly determine if you're right for the job!
It's also critical that you get this right if you want to pass the ATS scan. Without enough matching words, your resume might never see the eyes of the hiring manager.
Focus primarily on hard skills, which are much easier to demonstrate and measure. Soft skills can play supporting roles to your hard skills. Aim to include six to 10 total skills, such as:
Classroom Management
Lesson Planning
Smart Boards
Special Education
Creative Problem Solving
Bilingual (then list the other language)
Recordkeeping
Test Prep
These are appropriate because they focus more on hard, measurable skills rather than soft, less-relevant abilities.
The key to getting this section right is by reading the job description. Scan it carefully to find repeated keywords that you can highlight on your substitute teacher resume.
Education, certs, projects, interests, and hobbies
Typically, substitute teachers are required to have a bachelor's degree, with many preferred candidates studying early childhood education, psychology, or English. Of course, this varies by school, and some hiring managers may be fine with an associate's degree.
When you're listing your education level, focus on the basics, like university name, graduation year, degree title, and awards. If you have an associates degree or higher, you don't need to include your high school diploma.
Certain states or organizations may require you to have (and maintain) certifications. This calls for a new section, even if you only have one certificate or license. Whatever you have, include it, whether it's a state license in Substitute Teaching or a Special Education Certificate.
Finally, if you've got a bit of wiggle room, you can consider including an optional section to outline your interests and hobbies on your resume. Though most substitute teachers don't need this section, it can be helpful in the following circumstances:
If you're applying to work at a school that is passionate about individuality and creating a unique culture for students to thrive.

Schools like this may be much more interested in your beekeeping hobby than more rigid, regimented schools.

If your hobby or interest is particularly relevant.

Hiring managers may be more interested in your successful 3-episode campaign on Jeopardy, rather than your interest in home improvement projects.

Resume customization for every substitute teacher job listing
Make sure your resume is specifically tailored to each job to which you apply. We've touched on customization throughout this guide, but it's an important enough point that it bears repeating.
Focus your attention on altering your objective/summary (if used), skills section, and job description bullet points for every job ad.
To make your life easier, you can create a master list of your skills, potential work experiences, and drafts of possible objectives/summaries in a separate document. Then, you can pull from this document to make fully customizing your resume less of a hassle.

Edit for a flawless substitute teacher resume
As a substitute teacher, you've probably advised countless students to carefully proofread their essays and exams before they submit them. Although you probably just want to get this whole job application thing over with, it's worth taking your own advice.
Step away from your resume for a day, and consider having friends or family review your work. Once you've had other people look it over, make sure you check your resume yourself one final time. You can even reach out to your alma mater to inquire about resume editing services they might provide for alumni.
Get Your Next Substitute Teacher Job and Celebrate
Give yourself a pat on the back, because you've just taken a major step toward perfecting your substitute teacher resume! Even if you're not yet done editing your resume, you've started your journey by putting in txtra research time.
If you want to see how your resume formatting and content stacks up, you can use our resume checker to get AI-powered tips and tricks. Or, if you want to start from scratch, our resume builder deals with the formatting headache for you and provides AI-powered tips for improvements.
We know you're going to do an awesome job teaching the next generation!