While the more fine-tuned aspects of your job role vary according to which subject(s) you teach, you'll always be on your toes as a middle school teacher! You manage the classroom, circulate assignments, and foster an environment of curiosity.
But you may wonder about what makes the best resume: What should take the spotlight? How can you make your accomplishments truly glow?
No sweat: We've helped teachers like you with their resumes for years! And now we've put together three middle school resume templates plus some handy advice to get you started.
---
---
---
Elegant Middle School Teacher Resume
Related resume examples
---
What Matters Most: Your Skills & Work History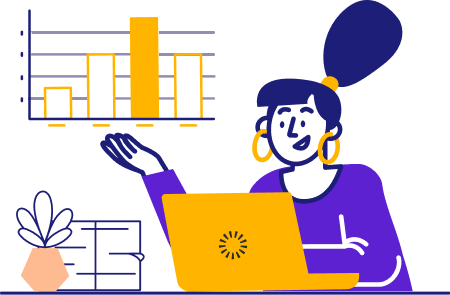 Your teaching skills are bound to overlap somewhat with those of teachers who specialize in other subjects, so try to focus more on what makes you unique. List your general teaching skills, but prepare to set them off later with subject-specific examples in your experience section!
And by "general," we do not mean generic! Be as specific as you can. Specify how you communicate, what kinds of plans you develop, and more.
Include a nice blend of soft skills and technical teaching knowledge, too. Check out these examples to see what I mean:
9 top middle school teacher skills
Subject Mastery
Curriculum Planning
Student Engagement
Student Assessment
Mentoring
Patience
MS PowerPoint
Critical Thinking
Adaptability
Sample middle school teacher work experience bullet points
So, more about those experience points we mentioned earlier: Make sure you take this opportunity to show how you apply your fundamental teaching abilities within your subject niche!
Use each section of your job history to show how good you are at using your abilities creatively; after all, no two days in the classroom are the same. You'll want to provide all kinds of examples of your success.
Make sure you use quantifiable data to back up your claims, too: Providing numerical metrics for your impact makes them way more credible.
Here are some samples:
Increased average final exam grades by 16% by holding material review sessions in the form of in-class games
Worked with the head teacher to leverage curriculum strengths and different approaches to improve student retention by 13%
Introduced individualized history lesson plans to accommodate 11+ common learning and mental differences
Improved standardized testing scores for 28% of students in 2021
Top 5 Tips for Your Middle School Teacher Resume
Really drive home your specialization

If you have a history of specializing in, well, history . . . let it shine! Mention specific programs or activities you designed that made a difference for your students. Do the same for any other subjects you've taught.

Emphasize versatility

You know all about what a rowdy bunch middle schoolers can be! Show that you can think on your feet by including a diverse assortment of accomplishments that highlight your flexibility.

Don't forget those metrics!

Quantifiable data truly is imperative for a teacher's resume. Your field is highly results-driven: Either students succeed to their fullest potential, or it's time to revise the curriculum. Show that you've lived by these ideals by providing numerical examples of increased student success.

Streamline your resume

Make sure your experience points are as concise as possible while still providing all the key info. You want to give recruiters some breathing room in between all the awesome milestones you've surpassed!

Keep finishing touches professional

While you might work with a youthful student base, you still want to opt for a professional resume template. A fun pop of color works great to show some personality! But keep it minimal and stick with clean, readable fonts.
Are there any bad metrics?
Actually, sort of. Avoid any drifting numbers like irrelevant headcounts or project counts unless they further the point that you're quantifying. In other words, don't spend time talking about how many students you worked with unless that number makes your improvement rates even more impressive!
Should I include my own education?
Oh, absolutely! And don't forget to work in any certs you have as well, especially niche or regional ones like the California Basic Skills Test (CBST) certification.
Do I have to fill the page?
No, you don't; it's better to let your resume have a bit of white space than scramble to fill it with examples that are a bit too "fluffy." Stick with the best of the best!