Product managers wear many hats, handling what arises during a product's life cycle. Primarily, you ensure a company's products fall in line with its goals, mission statements, and strategies.
Strong management skills like effective communication, task organization, and collaboration come into play. Analytics, quality assurance, and leadership are also core to a good product manager's skill set. After all, you bridge the gaps between departments and specialists to handle every aspect of production with finesse.
Now, it's time to communicate your value to recruiters, and that doesn't just mean building a jaw-dropping product manager resume. You're not exactly pumped to write a cover letter for a product manager, but we'll simplify the process with these five examples and writing tips.
---
Product Manager Cover Letter Example
USE THIS TEMPLATE
Why this cover letter works
HandStand's job description mentions product design leadership, so Angie describes how she guided production teams to success with departmental collaboration and well-communicated strategies.

Do your homework, and it will show! Angie opens with a line mirroring the job description about rolling up her sleeves and working hard, showing that she's put effort into her application.

HandStand's "About Us" page emphasizes innovation and creativity, so Angie leverages her history to show well-rounded capabilities and an eagerness to create new things.

To connect your skills and abilities to the company, visit its website, look through its blog, or try to find some outside articles about the company that will help you understand its vision and goals.
Based on the product manager job description and the fruits of your research, try to identify the company's most pressing challenges and address
---
Associate Product Manager Cover Letter Example
USE THIS TEMPLATE
Why this cover letter works
A compelling associate product manager cover letter often boils down to showcasing your unique qualities. The real kicker is highlighting hobbies or interests that resonate with the skills sought for the open position.

Suppose you're applying at a bank and love keeping up with the latest financial apps and industry breakthroughs. Go ahead and show how that interest equips you with an understanding of user and market needs, crucial to product management.
---
Product Manager No Experience Cover Letter Example
USE THIS TEMPLATE
Why this cover letter works
Let's talk about formatting your piece. Kick off with a captivating introduction that exudes enthusiasm. Next, even if you lack direct experience, a blend of transferable skills and knowledge gained from projects, internships, and academia will do.

And your product manager no experience cover letter's conclusion? It should reiterate your interest in the role and set the stage for further conversation. And while you must contain your narration within one page, use white spaces for enhanced readability.
---
Technical Product Manager Cover Letter Example
USE THIS TEMPLATE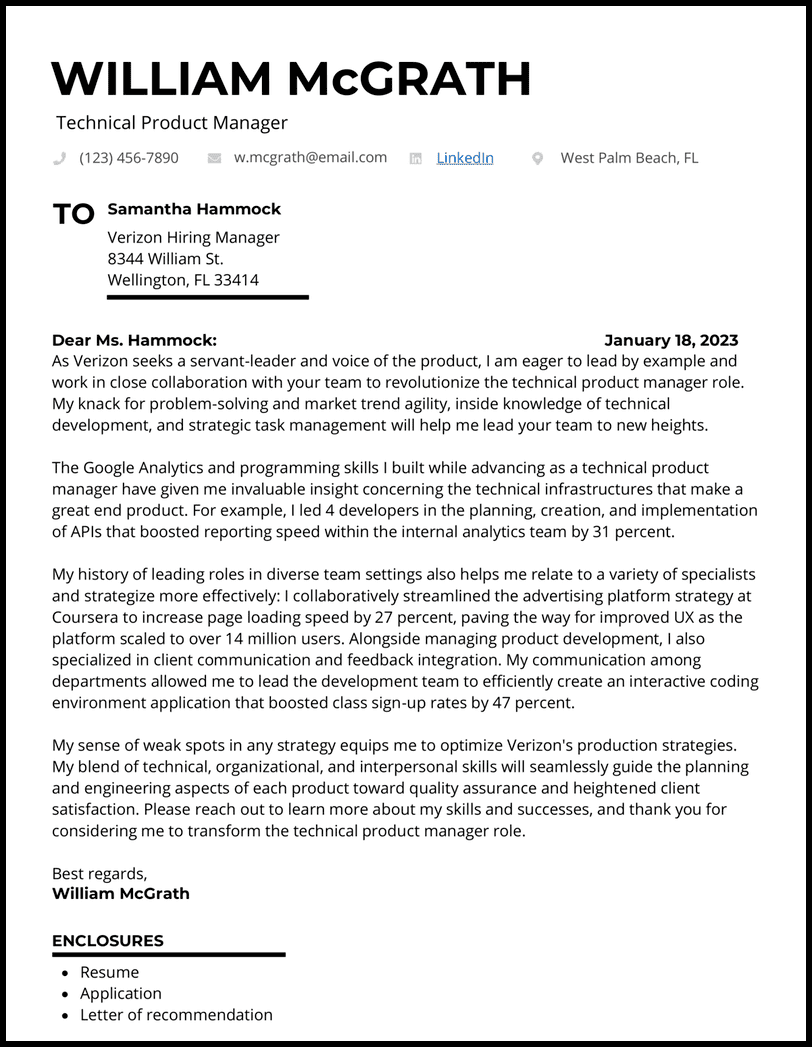 Why this cover letter works
Verizon's job ad specifically requires a "servant-leader" to reinforce the "voice of the product," so William opens with a strong line to show his interest and investment in the company's goals. He then offers examples of key abilities that he'll use to help Verizon realize those goals.

Connect with the company immediately—demonstrating an understanding of their needs, which is your best bet when you're applying to work for a company more corporate in nature.

Verizon wants someone who can use technical skills to unite a team and "transform" the technical product manager role, so William emphasizes how his soft and technical skills complement each other; then, he reflects Verizon's phrasing in his technical product manager's concluding paragraph.

Seek out the company's most important challenges by examining the product management job description and researching the company online.
---
Senior Product Manager Cover Letter Example
USE THIS TEMPLATE
Why this cover letter works
Since IXL's "About Us" page highlights a commitment to motivating struggling students, Tracy opens her senior product manager cover letter with how IXL has supplemented her children's education—underscoring a personal connection to the role others won't have.

If you research the company, you can uncover what they want in a senior product manager as well as their company objectives. This is potential material for a great intro!
Connect with the company right away by showing your interest instead of stating it.

IXL is focused on creating analytics tools for teachers alongside a dashboard project, so Tracy connects her history and skills to both. She pulls examples from past work to show how she's uniquely qualified to fill this role.

Look at the senior product manager's job description and your research to get a glimpse into the company's obstacles and focal points so you can reference them.
Senior Product Manager Resume
Need a resume for your senior product manager cover letter?
---
The Life Cycle of Your Product Manager Cover Letter
Before you start writing, strategize on how to take your letter to the next level. Looking beyond the job description for more information on the company will help you tailor your cover letter effectively. Finally, revising and editing the tone of your cover letter will only highlight what a great candidate you are!

Strategy 1: Research the role
Most cover letters out there are disappointingly generic. Since you want to grab your potential employer's attention, the last thing you want is for your cover letter to blend in with the rest! One of the most important steps you can take toward success is to tailor your cover letter to the exact company where you're applying to work as a product manager.
Dive in by carefully re-reading the product manager job description, scanning for useful keywords that you can use in your letter. Research the organization—especially company values and objectives that you could tie in with your history as a product manager.
For instance, what product life cycles have you overseen that relate to the job description?
Do you have extensive experience working with a particular department they seek to improve?
Answer specific calls from the job description and company goals that you find during your research to tailor your cover letter strategically and polish up an outstanding final piece!
Strategy 2: Narrow your focus
Many hopeful applicants make the common error of simply repeating the contents of their product manager resumes but in a more conversational tone. Don't make this mistake: Your cover letter is a spotlight to more fully reflect your greatest accomplishments in alignment with details from the job description.
Your product manager resume is engineered to save space and concisely delineate your achievements, experience, and background in bullet points. But your cover letter should provide supplementary examples of how you've gone a step further to make a positive impact.
Did you unify your previous company's production team to improve project efficiency?

Make sure you discuss it if you're applying to a company that emphasizes collaboration as a value.

Try describing how you led a well-strategized production plan that tackled the same areas mentioned in the job description.
Or, maybe you used your Google Analytics prowess to create a new quality assurance strategy that the company still uses today.

Strategy 3: Refine your tone
Remember your cover letter isn't a one-and-done task. You'll need to refine and polish it to ensure you're using the ideal nuances and presenting yourself as an excellent product manager candidate.
For starters, glance back at our product manager cover letter examples and notice how they cover plenty of information without dragging. Your letter should be no longer than one page (shorter is better), and it'll take revision to pare down your management abilities and technical skills to only the finest essentials. Make sure you proofread for errors, too!
Glance back at our product manager cover letter examples and notice how they cover plenty of information without dragging.
The tone of your cover letter is also important. If you're applying to an ed-tech startup that needs a strong product manager, your tone should be confident yet personable. Use active words like "coordinated," "led," "developed," and "managed."
On the other hand, if you're applying to work for a long-established company, employers may appreciate efficiency, professionalism, and formalities (like avoiding informal contractions). Ultimately, you make the judgment call, basing it on the company history, goals, and overall vibes.
Grow and Mature Your Product Manager Cover Letter with an Outline
It can be tricky to figure out where to start on your cover letter—that blank page can feel overwhelming! Outlining your cover letter is a great way to make your task seem more manageable and to make sure you hit all the high points.
Let's go over an outline with good examples from the three product manager cover letters you just read, so you can get a feel for how to break things down.
How to start a product manager cover letter
Your contact info: State your name, phone number, street address, and email address (if you're using a templated cover letter). For a business block letter you build in Word or Google, your name need only be in your signature.
Formatting: Just as you must determine the best resume format to use, you'll need to decide the format you want to use for your cover letter. Using a template is simple, but if you use a block format, leave your name out of your address.
Date: Use the exact date you submit your application materials.
Formatting: Write out the full date, e.g. January 12, 2023.
Example
Tracy correctly wrote January 3, 2023, instead of 01/03/23.
Inside address: This is the address of the person you're writing to: include their name, their company and position, and their address.
Formatting: Put each part of the inside address on a new line. Double-space before typing your greeting.
Example
Paul Lee
IXL Learning Hiring Manager
777 Mariners Island Blvd #600
San Mateo, CA 94404
Greeting: Your greeting, or salutation, should make that invaluable good impression by avoiding vague, tired phrases like "Dear Hiring Manager." Address the person directly instead!
Formatting: Applying to work in a place that values individual creativity and innovation? A comma after the greeting may be best. Think you'll be wearing business attire on a day-to-day basis? A colon will suit you better.
Example
Dear Mr. Hoffman,
Dear Mr. Lee:
How to write your product manager cover letter
Body: Your product management cover letter should contain three or four body paragraphs that show your interest, qualifications, and an enthusiastic call to action.
Formatting: The body of your product manager cover letter should be single-spaced although you'll need to double-space between paragraphs.
Opening paragraph: Remember—generic cover letters usually get tossed! Get your foot in the door by making a connection with the company.
Example
Bad: HandStand is a great company. I have lots of skills that would do well there.
Why? Product managers can't sound this bored already! Why would a great company hire someone who provides no examples of their skills or demonstration of interest?
Example
Good: When a former employer purchased your pieceless puzzle mousepads several years ago, I was intrigued by HandStand's innovative ideas. Now, with my successful history of product design leadership, coordination, and KPI tracking, I am ready to roll up my sleeves and work side by side with your sales and marketing teams. My versatile talents and background empower me to optimize every aspect of the life cycle to develop unique, creative, and quality products for the world's top brands, which will only bolster HandStand's remarkable brand reputation.
Why? Angie leads with a relevant anecdote that establishes a personal connection with the company, mirrors language from the job description, and immediately follows up with an overview of how her skills tie in with the company's vision.
Paragraphs 2-3: It's time to substantiate your opening claims! How can you enhance this specific product management role?
Each paragraph should focus on a clear accomplishment, so you can provide details. Stick with metrics that center around each paragraph's theme:
Example
I'm excited to dive into your upcoming teacher dashboard and analytics projects and have always thrived in the challenges of analyzing KPI failures and translating vast amounts of data into usable improvement strategies so that my cross-functional teams could take action. After collaborating with several departments at Outschool, I optimized a SaaS product to improve task and milestone organization that scaled to over 100K users and boosted customer satisfaction rates by 19 percent.
Closing paragraph: Summarize how the qualifications and values in your cover letter offer what the company needs in a product manager. End with an enthusiastic ask that encourages further communication.
Example
Bad: My skills make me a good fit for your product manager role. Let me know if you need more info.
Why? Kudos to the recruiter for not nodding off! The ask is also informal, flavorless, lazy—and, dare we say it—rude.
Example
Good: My ability to think outside the box will enable me to oversee any project from inception to completion, no matter how unconventional. I am eager to apply my experience in SaaS, KPI monitoring, and stakeholder management to revolutionize product development and analytics for teachers implementing IXL Learning. I can also provide overarching guidance and help all team members surpass each new, exciting goal. Please reach out to me with any questions as I would love to show you how I can boost team efficiency and student motivation.
Why? Tracy addresses the requirement details from the job description, such as thinking outside the box and approaching things differently. She also aligns her experience and abilities with company goals—specifically, improved student motivation—and ends with a courteous and personable call to action.

How to end a product manager cover letter
Signature: If you didn't thank the reader in your closing paragraph, do so here. Always use professional wording and your real name.
Formatting: If you're offering hard copies of your cover letter, leave room to sign in black or blue ink by quadruple-spacing after the closing phrase and before your name.
Example
With sincere thanks,
Angie Jones
Enclosure(s): This important detail points out your other materials like recommendation letters and (of course!) your product manager resume.
After your signature, you'll include "Enclosure(s)," followed by the exact documents in order of appearance.
Formatting: Use "enclosure" versus "enclosures" correctly, depending on how many attachments you're including.
Example
Enclosures:
Resume
Application
See, including this final section is literally easier than writing your own address. Include it, and automatically set yourself apart from other teachers vying for the same role.
Next Phase of Your Product Management Job Hunt
Now, that you've got the tools to confidently wow principals and departmental heads with your teacher cover letter, have you considered the current state of your resume? Maybe you've already updated and polished it, and if that's you, kudos to you—you're ahead of the game!
If you're blowing out an exaggerated breath because you've relegated your resume to the nether regions of your mind, we get it. But teacher resumes are judged more harshly than most. Hiring teams don't cut a lot of slack when they're looking for talent who will teach their students to communicate, read, and write well.
So, if it's time to think seriously about re-writing or, let's face it, writing your resume from scratch, take a page from us (literally) and get inspired with our free resume templates and teacher resume examples like the one below.
Product Manager Resume
Need a resume to pair with your product manager cover letter?
Check out our tools, templates, and resume writing tips to put your best foot forward during your job hunt. With a little help from us, your job application materials will be top-notch quality, so every potential employer envisions how you'll oversee the product life cycle seamlessly and successfully.
---
How can I express that I'm an effective product manager in my cover letter?
Zone in on the skills and tasks required of you in the job description, then match them up with your greatest achievements. Don't clutter your cover letter with everything you've ever done—instead, mention instances of surpassing KPIs, meeting targets, and collaborating across many departments to manage a successful product launch.
Should I mention why I left my previous job?
It's better if you focus on what makes you a valuable asset to the company you're applying for. Discuss instances of you leading successful teams and how those skills can translate to product management in your new role. You can briefly touch on why you left your past company during the interview, but focus on the positives, such as seeking career growth.
How to make a connection with the company in my cover letter?
The best way to make an impression is to show that you understand the role and the business well. Go the extra mile in your research and study the product manager job description as well as the company website. Show how its mission is important to you. For instance, you could say that its recent launch of an accessibility app closely aligns with both your professional and personal values.