A business analyst (BA) is an essential role in most companies and often acts as an intermediary between end-users and project managers. They have a wide variety of job requirements that differ across companies, but their main goal is to analyze, evaluate, and improve processes and/or business outcomes.
Any good business analyst will have outstanding communication skills, and since the business analyst role is so varied and leveraged for many roles within companies, it's critical to study up on the job for which you're applying, carefully tailoring your cover letter to the specific company and role.
Once you've done your research, it's time to start writing a highly effective cover letter and business analyst resume that will grab your potential employer's attention and impress them with your strong experience and grasp of their needs. If you're having some challenges getting started, then you've come to the right place! We're here with three business analyst cover letter examples to give you some ideas. We'll also provide you with sound guidance on formatting and wording, and don't miss our free cover letter templates below and matching resume templates.
Business Analyst Cover Letter Example
Download and edit in Microsoft Word.
Edit in Google Docs (choose "File" and "Make a copy").
Edit in block business letter format (choose "File" and "Make a copy").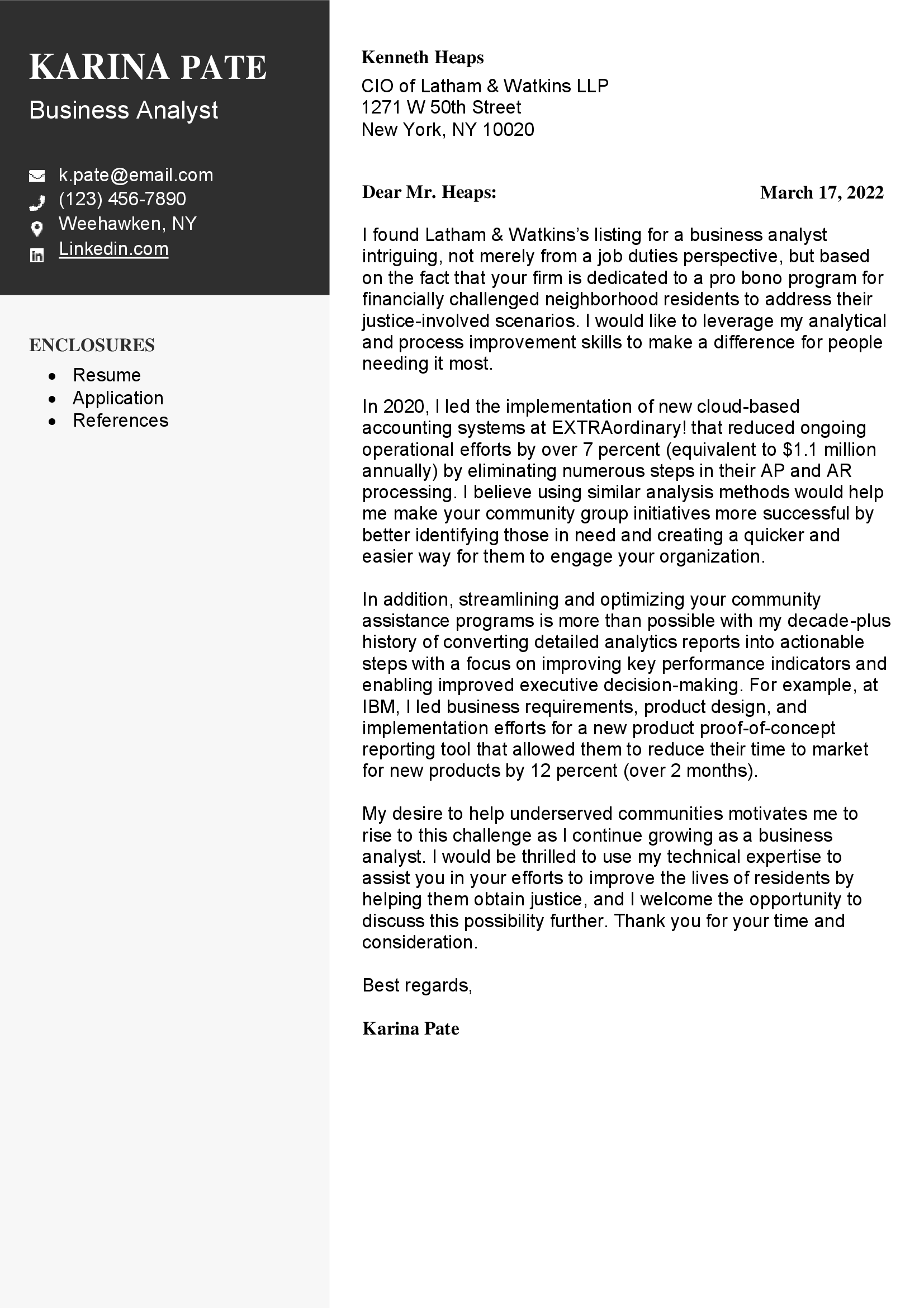 Senior Business Analyst Cover Letter Example
Download and edit in Microsoft Word.
Edit in Google Docs (choose "File" and "Make a copy").
Edit in block business letter format (choose "File" and "Make a copy").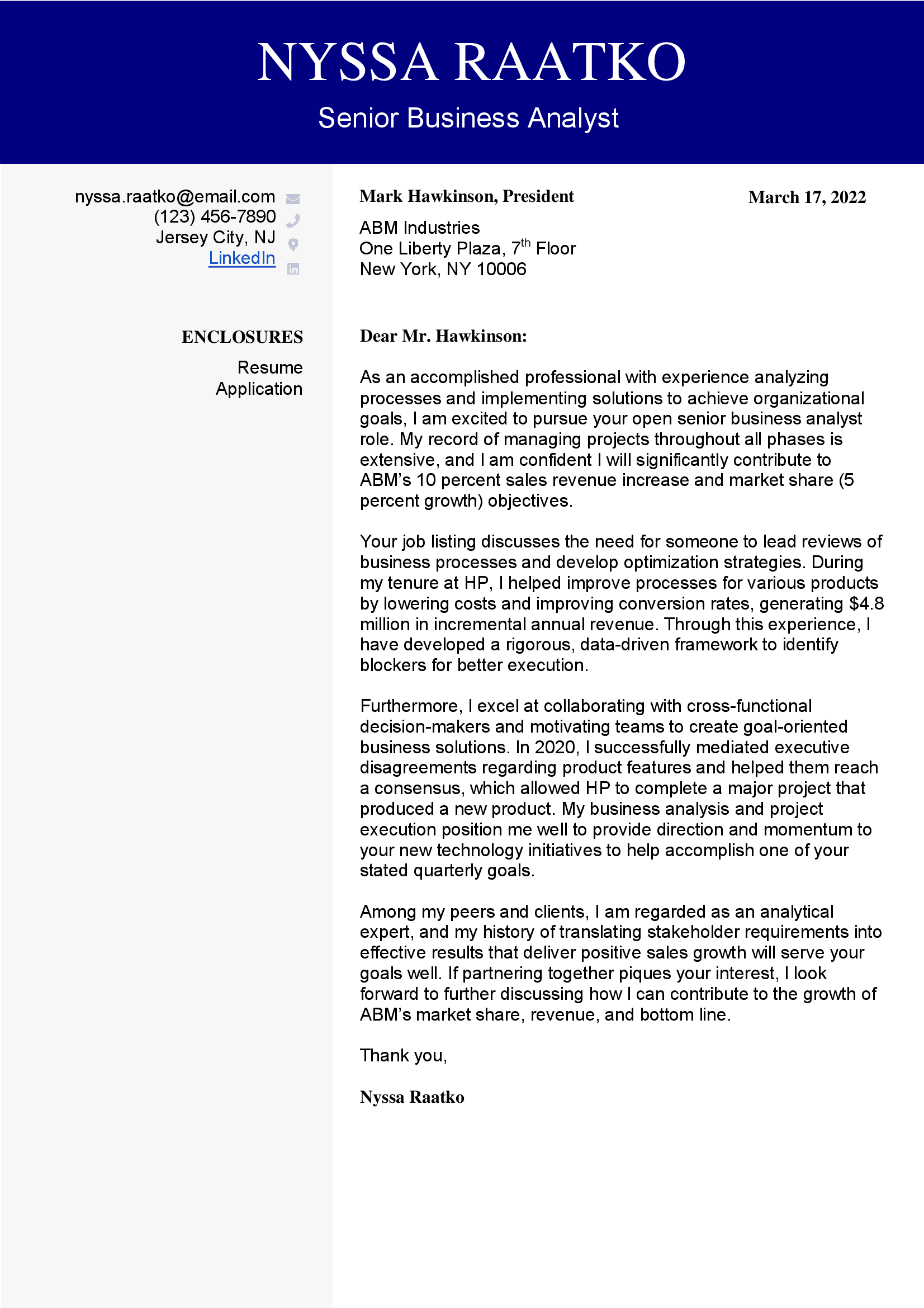 Agile Business Analyst Cover Letter Example
Download and edit in Microsoft Word.
Edit in Google Docs (choose "File" and "Make a copy").
Edit in block business letter format (choose "File" and "Make a copy").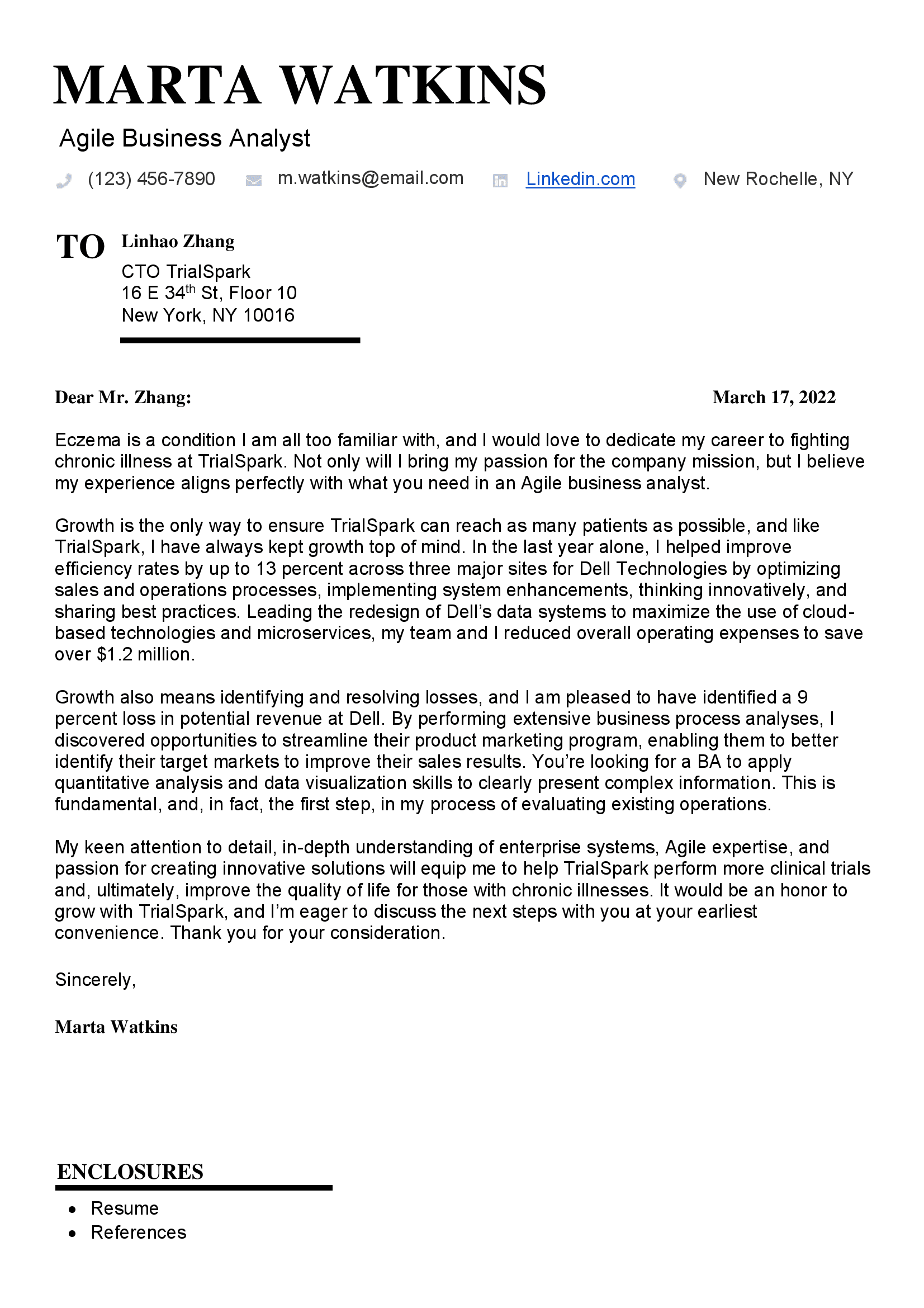 We've got you covered if you need to write a resume, too. You can start editing this resume template right now.
Step by Step: Write Your Business Analyst Cover Letter
Step 1: Due diligence
If you've prepared your resume already, then you know the importance of tailoring it to the specific business analyst job description. This is also imperative for your cover letter. Take the time to research the company and the position. Use this information to ensure your cover letter addresses the unique needs mentioned in the job listing. These efforts will also benefit you when you're facing a slew of business analyst interview questions.
Let your research serve as the foundation that demonstrates your interest in the role as well as in the organization. What does the job description tell you about an initiative the role needs to handle or a gap that needs to be filled?
For example, let's say the company mentions a current project to develop a new product. Talk about how your commitment and/or skills will facilitate their progress. Perhaps they need to improve best practices around business requirements gathering. Discuss your training, background, or certifications related to business analysis and/or project management. Take advantage of anything in the job description where you can highlight your abilities and experience for the specific business analyst role.
Step 2: Hone in on your achievements
Focusing on specific things from the job description that demonstrate you can give the company what it requires in a business analyst is a great strategy. However, avoid merely reiterating the skills or experience you have already provided in your resume. Your cover letter should be fresh, containing additional information the potential employer can't glean from your resume.
Use your business analyst cover letter to share your achievements or progress, which aren't as easily incorporated into a resume. Since a resume must be succinct and objective, you can, for example, use your cover letter to point out something you did that may not have objective measurements.
For instance, perhaps you've used your outstanding personal skills to mentor business process owners and other analysts on how to best use existing reports and databases. The cover letter is a good place to expound on examples of your soft skills that are not always appropriate for a resume that demands your attention to more technical skills. This also offers another opportunity to customize your letter to show your knowledge of the company and its specific needs.
Step 3: Convey the right tone
While your cover letter is a good place to describe some of your skills and achievements that you might not be able to explore in-depth in your resume, you do need to keep your letter to less than one page. Limit it to a few of your best examples. Eliminate wordiness and keep it professional and sincere, avoiding pleasantries and brown-nosing.
Along these same lines, keep it brief and to the point. Don't use clichés, colloquialisms, and filler words. This is a business position you're applying for, after all; they're not looking for a new friend or a drinking buddy. It's acceptable to be somewhat conversational—maybe using a contraction here and there depending on the company—but always be professional.
Not only do you need to revise, edit, and condense your cover letter text (keeping it to one page or less), but it's also critical to proofread. Do this many times yourself throughout the editing process and even after you feel you've completed the draft. Take it a step further and have as many people as you can review your work. Accept feedback graciously, carefully consider it, and make the needed edits.
Once you've completed the above steps, save your file with a logical and professional name (like MWatkins.AgileBA.CoverLetter.2022), and be confident that you have a solid cover letter to send to your prospective employer. Gather your cover letter, resume, and any other supporting documentation you need, and send it off to the hiring department or manager. You're a step closer to your great new job!
Your business analyst cover letter framework
How do you start creating a fabulous cover letter? Well, if you're staring at your screen and having trouble knowing where to begin, then building an outline is a great launching pad. Below, we'll explain each section of your business analyst cover letter. Feel free to copy and paste this into a blank document to use as your framework.
Your business analyst cover letter should contain each of the following:
Your contact info: When using a template, carefully fill in the letterhead to match the job role. Don't miss revisions to any of the generic text or forget to include your contact information (like your name, email, and phone number).
Formatting: Creating a letter from scratch? Including your address is acceptable and typical. Many cover letter templates will prominently display your name on the letterhead; however, a basic but professional block letter should omit your name as it'll be obvious on the signature line.
Date: Hopefully you're writing your cover letter well in advance of submitting it, but don't forget to edit the date to reflect when you actually send the letter.
Formatting: Use the full date, e.g., March 17, 2022.
Inside address: If at all possible, use the name of a specific person. Include their title, full company name, and mailing address for the person/company.
Example:
Kenneth Heaps
Chief Information Officer
Latham & Watkins LLP
1271 W 50th Street
New York, NY 10020
Formatting: Each part of the address should be on a new line. Double space between the inside address and greeting.
Greeting: Start on the right foot with your new employer, so avoid a generic greeting (AKA a salutation) like:
Dear Manager,

Dear Hiring Department,

To Whom it May Concern:
It's often a challenge to sleuth out the name of the hiring manager for many jobs. Many companies use staffing agencies or their HR departments. Do some detective work, look at their company site, and see if you can determine the head of the department you're applying to, or, better yet, if you can figure out who the hiring manager is. A specific name will leave an impression (a positive one!). The extra time you spend hunting down a name does make a difference:
Formatting: Use formal business/professional letter etiquette by using a colon at the end of the greeting. Comma usage is most likely too casual for a BA.
Body: Your business analyst cover letter should have three to four short paragraphs showing your interest in the position, demonstrating your business analysis skills, and conveying your strong enthusiasm to discuss the role. Let's explore in detail:
Opening paragraph: The objective of the first paragraph is simple. Speak to your interest in the job and your experience at a high level (years of experience, profession, certifications, education, etc.) leveraging what's relevant to the role and company.
It's common to see opening sentences like this one:
"I saw your need for a business analyst on Indeed, and I believe I'd be a good fit."
Does that grab your attention, though? It makes us yawn. Don't be boring or waste space.
Stating where you saw the job listing for the business analyst role is unnecessary. They know where they posted the job, and they certainly know what the job is for, so consider something like this:
Eczema is a condition I am all too familiar with, and I would love to dedicate my career to fighting chronic illness at TrialSpark. Not only will I bring my passion for the company mission, but I believe my experience aligns perfectly with what you need in an Agile business analyst.
This makes a strong statement and clearly demonstrates that you've done your homework and researched the company and its industry. You also display interest in the role and offer valuable experience. Tying a personal connection to business objectives shows that you're serious about the job and confident in your expertise.
Paragraphs 2-3: Strive to make the content in your cover letter different from your resume. Focus each paragraph on a single achievement. Include a short (two to three sentences), detailed, and quantifiable (if at all possible) description of how you benefited past employers.
Take advantage of the third paragraph if you can as it will give you another chance to impress upon the reader how valuable your business analyst skills will be to their company. Use factual evidence of your credentials and/or achievements.
Closing paragraph: This is your final opportunity to leave a great impression on your potential employer and land an interview. Avoid clichés, trite phrases, or something like this:
I feel I am the best candidate for this business analyst position, and I look forward to speaking with you soon.
Nope. Just way too boring and indistinguishable from hundreds of other cover letters. If you use something similar, they'll suspect you're using a form letter or just don't care.
You've got to be creative and original. Give them something unique that shows how your values and qualifications align with the organization's needs. Leverage your enclosures to save space and give them additional information. Convince employers that you're not merely looking for a job (even if you are).
Use your last sentence or two as a call to action. Indicate your anticipation of a follow-up or interview. For example:
My keen attention to detail, in-depth understanding of enterprise systems, Agile expertise, and passion for creating innovative solutions will equip me to help TrialSpark perform more clinical trials and, ultimately, improve the quality of life for those with chronic illnesses. It would be an honor to grow with TrialSpark, and I'm eager to discuss the next steps with you at your earliest convenience. Thank you for your consideration.
Formatting: For the best presentation, use single-spacing for all lines with double-spacing between paragraphs in the body of your cover letter.
Signature: Don't forget to say "thank you" if you haven't already done so in your closing paragraph. Always use a professional closing with your formal (legal) name.
Example:
Thank you for your time and consideration,
Bailey Hough
Formatting: If you print hard copies of your business analyst cover letter, quadruple space in this section to have room to sign your name. Use blue or black ink.
Enclosure(s): It's important to include this line because it indicates that more follows your cover letter. Typical things to include are your current business analyst resume, application form (if needed), any technical certifications, and possibly a reference letter or two, depending on the requirements detailed in the business analyst job description.
Example:
Enclosures:
Resume
Application
2 letters of recommendation
Listing enclosures is easier than writing your address and saves space for you to discuss what matters most. Including this with your cover letter will set you apart from other candidates competing for the same role.
Formatting: Use the singular or plural form of "enclosure" depending on how many things you're enclosing.
Do You Have a Winning Business Analyst Resume?
Congratulations on creating an outstanding cover letter that will impress prospective employers. Is your resume up to the same quality standards? If you've already put in the work to update, upgrade, and polish your resume, then good job! You're well on your way to landing a great business analyst position.
On the other hand, if you've left your resume until last, never fear. We can also help you with that! A strong business analyst resume for a highly technical candidate like you is crucial to your job search.
We offer practical tools that will enable you to write an outstanding resume, and our free resume templates keep you from endless, frustrating hours of working in Google Docs or Word (we have those, too, though if that's your preference—free Google resume templates and free Word resume templates).
We even go beyond providing great guidance and examples with our handy resume builder that includes expert-approved guidance. Take advantage of our tools and information, and you're sure to build a superior resume (like the one below) and cover letter that will empower you to win interviews and secure your next great business analyst role.