A company's most valuable resource is its employees, but it takes a great human resources manager to find, manage, and help those employees succeed within an organization.
From hiring to onboarding to benefits, you know how to help colleagues succeed within a company. When it comes to being a successful human resources (HR) professional, you put people first. But although you can spot a great resume from a mile away, building a resume of your own is an entirely different beast.
Our HR resume examples and writing guide have helped HR professionals learn how to write a resume to land highly coveted jobs with companies like Facebook and Lyft. Writing an amazing human resources resume has never been easier!
Human Resources Resume
Why this resume works
Human resources is a wide-ranging profession, so be specific about your HR experience.

If you have more than 10 years of experience, you can add a resume summary (also called a career summary) to list your HR experience and biggest achievements.
Space is limited on your resume, but don't worry—you'll have more room to discuss the context of your experience in your human resources cover letter, so you don't have to try and cram everything onto your resume.

Whenever possible, quantify the scale or impact of your work on your human resources resume. For example, how many employees did you help hire or onboard? What was the scale of the compensation plan you managed? How many disputes did you resolve? Numbers speak louder than words!
Human Resources Manager Resume
Why this resume works
You know that a great resume skills section is essential for getting an HR job, but it's tough to know what to include.

Start by listing your hard skills (the tools and technologies you know) and the areas of HR in which you're an expert, such as Disability or FMLA.
Don't make your skills section a laundry list; only include skills that you can readily demonstrate if asked. Honesty is key!

Hiring managers want to see that you can handle a vast range of responsibilities with ease. So, your human resources manager resume should show a clear carer progression as you accumulated leadership roles.

You can help the reader out by formatting your resume with your most recent experience first. That way hiring managers see your best roles right away, which will encourage them to keep reading.
Entry-Level Human Resources Resume
Why this resume works
When you're looking for your first role in HR, you need to demonstrate you have the right skills and temperament to do the job. How can you do this? By showing you've taken leadership throughout your collegiate career.

Have you started a club, held an internship, or had a part-time job? These can all be valuable on your entry-level human resources resume!
You can also highlight your academic abilities by listing your GPA or any awards you won during college. You can even list relevant courses to really show off your skills!

Some employers prefer resumes in different formats, so check the HR job description if you need to use a Google Doc template or a Microsoft Word template to format your entry-level human resources resume correctly.
Human Resources HR Assistant Resume
Why this resume works
A human resources hr assistant resume objective can strongly increase your chances of getting an interview if you do it right.

Above all, be specific. A generic, vague objective only wastes valuable space. Instead, talk about your qualifications for the position at hand, then mention why you want this particular role with this specific company.

When writing your work experience, do your best to quantify the impact or scale of your work. Specifically, how did your work impact the company at large?

For example, did you help plan an event that brought in an extra $3K in revenue? Or maybe you collaborated with your HR team to develop new onboarding processes that decreased the cost-per-hire by 21%. Whatever you did, find a way to tell the employer why your efforts mattered on your human resources assistant resume.
Human Resources Director Resume
Why this resume works
When you're a human resources director, you must demonstrate a command of nearly all HR functions. As a director, you'll be tasked with building, owning, or leading entire verticals of the human resources department.

Use your work experience bullet points to showcase a variety of skills, like management, collaboration, data analysis, and mentorship. Think of each bullet point as a separate skill you want to showcase.

Your human resources director resume doesn't have to be dull. Comprehensive, yes, but boring? No way!

Using a resume template can help you easily change stylistic elements to suit your fancy, like colors, font types, and layouts. Be creative and go for it!
Human Resources Coordinator Resume
Why this resume works
Hiring managers typically only review each resume for six seconds—want to see if your human resources coordinator resume passes the test?

Set a timer for six seconds. Now, read through your resume until the timer runs out. What stands out the most?

Hopefully, "numbers" was your top answer. Numbers are easier to scan, and they're great at showing how you improved your workplace, so include them when you can!
Try to include rates like ROIs, time and cost per hour, the staff you oversee, reviews, error reductions, efficiency improvements, and employee retention time.

One way to make your resume easier to read is by using a resume outline. An outline will ensure you hit all the points employers want to see without going overboard.

While you don't have to use an outline, we would recommend it, especially if you haven't written a resume in a while.
Human Resources Generalist Resume
Why this resume works
Your human resources generalist resume may include a lot of content, but it doesn't have to be overwhelming.

Use small amounts of color (and different font types) to break up an otherwise-monotonous page of black text and draw attention to section headers.

A customized resume summary is well worth the space, but if you don't have time to tailor it to each job, then leave it out in favor of more work experience.

However, if you personalize your summary by calling out the employer and the role by name, as well as listing your most relevant achievements, you should add it in to help make a great first impression!
Human Resources Representative Resume
Why this resume works
When you're writing your human resources representative resume, you may be tempted to include all your previous work experience.

While that's understandable when you make a resume outline, your resume must be polished and customized to highlight past experience that is applicable to the new job you desire.

In general, we recommend including three to four work experience listings total so you can expand on each. Any more than four, and it starts to get pretty overwhelming!

Want to know one of our best tips? Keep the job listing open in a separate tab as you write your resume.

This way, you can quickly review your resume against the job description to build a customized resume for every job for which you apply!
Human Resources Data Analyst Resume
Human Resources Benefits Specialist Resume
Human Resources Intern Resume
Why this resume works
As a human resources intern, you might be tempted to downplay your work with words like "assisted" or "aided."

Don't be afraid to showcase your work and accomplishments! Use strong action words like "developed", "spearheaded", or "operated" to show hiring managers that you have what it takes to move into roles with more responsibility.

When you're a little light on experience, take the time to write a compelling

resume objective

on your human resources intern resume.

In just two to four sentences, let hiring managers know what company you want to work for, the job title you're seeking, and what specific skills you have that will be an asset to the company.

The key word here is

specific.

A vague resume objective won't do you any favors!
Human Resources Business Partner Resume
Why this resume works
Having decades of experience in your field provides you with the unique opportunity to pick and choose your most relevant work experiences on your human resources business partner resume.

While we're talking about your work experiences, make sure you

format your resume

correctly to showcase your abilities.
Jr. Human Resources Generalist Resume
Why this resume works
Ready to submit a job application?

Woah, cowpoke! Hold off for a minute and use our

resume checker

to ensure your Jr. human resources generalist resume is formatted correctly and that you're using all the gold-standard grammar and punctuation rules.

One of those resume gold standards that can give you a leg up on the competition is the use of metrics.

Leverage metrics about the number of employees at each company you've worked for, the percent increase in efficiency after implementing a new HR tool, the number of new hires you've added, or the increase in qualified applicants you've driven through recruitment strategies
Human Resources Recruitment Coordinator Resume
Why this resume works
Did you know your human resources recruitment coordinator resume can be both engaging and professional?

That's right. Your resume doesn't need to be boring to command respect. In fact, a bold color can demonstrate confidence and individuality, which can make you an even more desirable candidate.

Scroll through some recruiter-approved

resume samples

to get a feel for what might work for your unique style.




A note of caution: While more companies are valuing individuality and personality, there are times when muted colors (think deep navy, slate gray, or hunter green) may be more appropriate. This may be especially true if you're applying to work in HR for a legal or investment firm.
Successfully Format Your HR Resume
Formatting is essential for making your resume stand out for all the right reasons. You could be an employer's dream candidate, but you won't be hired if your resume isn't readable or logical. Our resume guide will walk you through the top resume formats, what to include in your contact header, and how to make your HR resume readable for employers and ATS.
Top resume formats
The top three resume formats for 2023 are reverse-chronological, functional, and combination/hybrid. Each format showcases your aptitude for the job in different ways.
Reverse-chronological

: This format stresses your career progression by putting your most recent job at the top. It's easy to skim, but it can reveal gaps in employment or career changes.

Functional

: Skills are the name of the game with this format, which highlights position-related and transferable skills alike. However, it can confuse ATS and recruiters since it's not common.

Combination/hybrid

: It's the best of both worlds with an in-depth skills section and a work history section, but it can be hard to format and isn't ATS-friendly.
We believe the reverse-chronological format, as shown below, is the best choice for a human resources resume because it's easy for ATS and recruiters to read quickly and tells a consistent, steady of your career.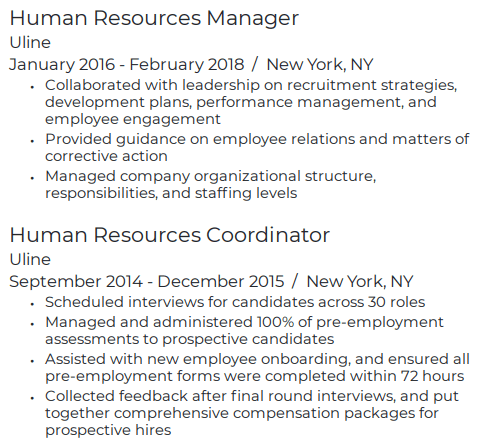 Include the right details in your contact header
Your contact header is where you list (surprise, surprise) your contact information. In this section, you'll want to include the following:
Since your contact header is the first thing recruiters will read, you need to design it carefully. Place your contact header at the top of your resume, either centered or left-aligned, to make it easy to spot. If you're struggling to fit everything, remove the optional elements or go down a font size. Just make sure it's no smaller than your resume body text.
You should also adjust the color, font style, and layout. Giving your name a different font and a color block outline can showcase your personality and desired role. No matter what you do with your contact header, just ensure it's easy to read and looks professionally appealing.
Our resume examples can offer inspiration if you're struggling to format your contact header.
Make your HR resume readable for software and people
HR professionals know the hiring process is complex, so ATS can be a lifesaver when used well. That means that when you write your HR resume, keep ATS in mind to avoid getting the boot.
Our tips on formatting elements can help you format your resume to impress ATS and employers.
Margins

: Avoid margins smaller than half-inch or larger than one inch to give your resume a professional and clean appearance.

Fonts

: Sans-serif fonts are the best for ATS readability, but unusual fonts aren't a good choice. Choose safe standards like Arial, Verdana, and Helvetica.

Font sizes

: Overly large or small fonts are overwhelming and hard to read. Use 10 or 12-point font sizes to keep reading a cinch.

Header names

: ATS systems aren't programmed to recognize creative header names, so stick to industry standards like "work experience" and "skills."

Skills:

Include skill keywords listed on the job description to ensure your resume passes ATS inspection.

Logical order

: ATS and recruiters read resumes quickly, so organize your resume according to industry recommendations. Namely, put your contact header at the very top and put your work experience in the middle.

One page

: Recruiters have limited time to read endless qualifications, so keep your resume to a single page.

File type

: Some ATS won't recognize .dot, .txt, .jpg, or other file types that aren't .docx. Submit your resume as a Word document and PDF to cover all your bases.
Write a Winning HR Resume
Writing an effective resume is an overwhelming process, but human resource professionals can get it done in no time by writing only a section at a time.
In the following sections, we'll introduce:
Using an objective/summary effectively
Listing your HR experience
Choosing the appropriate skills
Writing the education section and adding optional elements
Tailoring your HR resume
Editing your resume for maximum impact
Determine whether you should use an objective/summary
Many people will argue that a resume objective or summary is a waste of space that's "me-centric." Yet, a worthwhile objective or summary can showcase your qualifications and give a snapshot of how you can impact a business.
Good objectives and summaries tell the recruiter why you should be hired in three sentences or less. They should highlight your skills while expressing how you'll use your unique experience in the role for which you're applying.
Objectives are typically used when you're changing careers or just starting out, and they focus on your strengths and transferable skills. Summaries are used for those who have been in their career field for some time, and they function as a snapshot of your long-standing career.
You may not need a summary or an objective, but if you do choose one, always tailor it to each job for which you apply.
For example, generic objectives give nothing more than buzzwords like this:
Talented human resources professional seeking new opportunities. Skilled at hiring, management, and communication.
This doesn't tell the recruiter anything about the candidate's unique experience (or anything about the candidate at all). A good objective is specific and personable, like this example:
Compassionate and detail-driven HR professional with 3 years of experience. I want to use my interpersonal communication skills and conflict resolution abilities to increase employee satisfaction at CORE. My goal is always to foster relationships from the start of the onboarding process, resulting in a 15% decrease in ETR.
Similar to the example above, notice how this savvy candidate tailors the career objective to the target business.

Summaries are excellent tools if you're further along in your career. If you're SHRM-SCP certified or have been in management for years, you should use a summary for your resume. Summaries can be difficult, though, because you have to cram in years of experience, often resulting in something that looks like this:
Experienced HR professional who is organized and passionate about people. I am certified and ready to bring my 10+ years of communication, training, and administration skills to your company.
It's not bad per se, but it's vague and not tailored to the company. The one below gives examples of the applicant's skills and what they'll provide for their employer:
Onboarding and employee training are my specialties as a PHR-certified manager with 10+ years of HR experience. I'm passionate about talent acquisition, coaching, interviewing, and compensation/benefits. I wish to use my skills to increase employee satisfaction and training effectiveness while decreasing time-to-hire and time-to-productivity at CORE.
Like the visual below, the above summary explains goals, specialties, and what the candidate can do for their future employer. When writing your objective or summary, make sure it's detailed and concise to showcase your best qualities.

List your HR work experience
HR professionals wear a lot of hats, so it can be tempting to cram in as many past jobs as you can to showcase your adaptability and skills. This results in a resume that's overloaded without a clear focus.
Instead, list two to four of your most relevant job experiences. Doing so provides a clear story of your career and gives you room to expand on the responsibilities and skills you obtained from each position.
If you lack formal job experience, list internships, volunteer/leadership work, and projects related to your desired HR position.
Write actionable bullet points
Bullet points are the bread and butter of your experience section, so your writing should be as specialized as possible in this area. Use active verbs and targeted language without resorting to personal pronouns to create the most impact. Consistency is key, so match your verb tenses and either use punctuation or avoid it altogether.
Excellent bullet points for an HR resume are distinct and concise. Use the following examples to help you craft amazing bullet points on your resume:
Enforced compliance with federal, state, and company employment laws

Created individualized employee performance reviews in collaboration with management quarterly

Educated employees on company policies, procedures, and compensation during employee training

Established a standard set of onboarding processes, including interviewing, office setup, and software training
These bullet points showcase your specialized skills and highlight your accomplishments most effectively and efficiently.
Harness the power of numbers
Metrics are frequently missed in HR resumes, but they're a huge asset. They're definitive proof that you've done your job well. So, you should aim to include metrics on 50 percent of your job description bullet points.
When discussing your job responsibilities, try to include some of the following HR metrics:
Improved time-to-hire

Increased employee retention

Increased employee satisfaction

Increased employee performance
Below are some sample job description bullet points using the above metric types.
Established improved hiring processes, including quarterly job description updates, sourcing plans, and training/development opportunities for current staff, reducing the time to hire by 7 days

Provided individualized guidance through weekly one-on-one meetings with new staff members, resulting in 13% higher employee retention than in previous years

Distributed satisfaction surveys in meetings and incorporated feedback into procedures over 6 months, resulting in 50% higher satisfaction rates than the previous year

Encouraged employees in weekly meetings with special shout-outs and consistently pointed employees to HRIS records in case of concerns regarding payroll, benefits, or training, resulting in 15% higher employee performance than the previous quarter
Choose your HR skills selectively
The skills section on an HR resume presents your attributes and qualifications in an easy way to read. Regardless of your experience, this section showcases why you're the best candidate for the job because you possess the traits and knowledge the employer is seeking.
This is why ATS prioritizes skill keywords to weed out candidates, so nailing this section is crucial. To ensure you stay on the recruiter's list, choose skills that appear in the job description or those related to similar HR positions.
Below are some good examples of hard and soft skills HR recruiters desire:
Recruiting

Microsoft Office Suite

Legal Compliance

Conflict Resolution

Performance Management

Compensation and Benefits

ATS

HRIS or HRMS

PHR Certification

Planning and Strategy
These resume skills show experience in multiple areas, like recruiting and payroll, while also listing some hard skills like ATS knowledge.
Include education, and decide on optional sections
As displayed in the visual below, you'll need to include education, as most HR positions require a BA in Human Resources Management or associated degrees. Depending on your education level, years in the workforce, and any specializations and certifications, you may need to include different sections on your resume.
For example, if you have multiple certifications, it may not be wise to crowd them all in your objective/summary. Instead, list them in your skills section.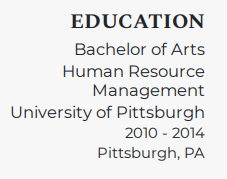 You may wonder if you should add a hobbies and interests section to your resume, but most HR resumes shouldn't include these. Interests and hobbies can be useful in tipping the scale in your favor, but most often, they don't increase your chances significantly.
However, if the job description or ad mentions company culture or the importance of interests, you should include an interests and hobbies section. For example, if you apply for an entertainment company position, including your love of Harry Potter and Star Wars might be beneficial.
Adjust your HR resume accordingly
Every job is different, so each resume you submit should also be unique. Human resources jobs will have things in common, so you don't need to revamp your resume completely. Still, pay attention to the differences with each position. Tailor your objective/summary, your skills, and your work experience bullet points to match the job description or ad for every job to which you've applied.
Edit your HR resume for optimal impact
Although it's tempting, don't submit your resume right away! Even though it's technically complete, there could be mistakes you've overlooked.
Walk away for a day or two and let others read it. Once you've refreshed your mind, come back and check your resume one last time for any errors. Then make the necessary changes until your HR resume is spotless.
Nail the Interview and Get Hired
The last step is to celebrate and prepare for your interview! You can use our resume checker to upload your resume and check it against our AI-powered tips or use our resume builder, which allows you to create resumes from scratch. Just remember, whenever you apply for a job, you'll want to tailor your resume again. Good luck—we're rooting for you!