You're a marketing maestro who knows how to oversee multiple campaigns at once in a way that promotes growth. While many go on TikTok to watch funny clips, you know exactly what type of content drives the most traffic and has the best PPC ratio.
Analyzing marketing insights may come easy to you, but do you know the stats on what should go on your resume to make it as effective as can be? Don't worry—we do!
Save yourself time and frustration, and check out our expert tips on crafting a successful resume using one of our digital marketing specialist resume templates. With our resume examples, you're just a few steps away from a new job.
---
Digital Marketing Specialist Resume
---
Modern Digital Marketing Specialist Resume
---
Professional Digital Marketing Specialist Resume
---
What Matters Most: Your Digital Marketing Skills & Experience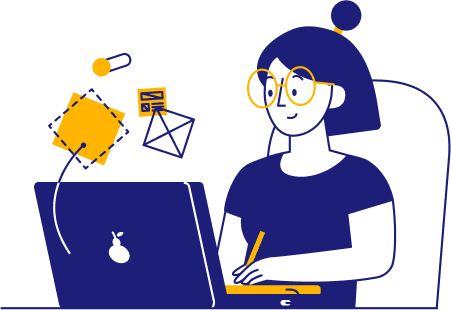 The fast-paced world of digital marketing holds no mysteries for you. Although it feels like there's a new trend in SEO or social media every other day, you manage to stay on top of it all and remain sane.
It takes a unique blend of skills to become a successful marketer, and a lot of these abilities are on the technical side. Of course, it's crucial for you to be a strong communicator who seamlessly collaborates with designers, content writers, and marketing managers, but soft skills leave less of an impression on a resume, so save them for the cover letter.
Given this, highlight the abilities that demonstrate your expertise in digital marketing. This includes social media, Google Analytics, and various marketing techniques.
9 best digital marketing specialist skills
SEO
Google Analytics
Social Media
Google AdWords
Data Analysis
WordPress
Copywriting
SEM
Email Marketing
Sample digital marketing specialist work experience bullet points
In a role that's so results-driven as a digital marketing specialist, data is your best friend. Instead of focusing on day-to-day tasks, use this part of your resume to list your achievements and back them up with numbers.
Talk about your financial wins, successful campaigns, and innovative SEO strategies. Quantify those accomplishments to give them more weight.
For example, instead of simply saying that you've run email campaigns, say that you implemented a new email marketing strategy that increased open rates by 27%.
Here's how you can do this:
Launched new software to develop, test, and review analytics for marketing campaigns, surpassing target KPIs by 40%
Managed and created content strategies that increased year-over-year referral traffic by 63%
Implemented new SEO strategies across multiple channels that boosted organic search traffic by 40% over a 6-month period
Performed in-depth data analysis over the course of 12 months, resulting in refined marketing strategies that improved campaign ROI by 18%
Top 5 Tips for Your Digital Marketing Specialist Resume
Highlight your conversions

Conversions are the greatest measure of how effective your digital marketing strategies are, so show them off. Talk about click-through rates, open rates, sales conversions, and increases in engagement. Don't just pick the biggest numbers, though—mention things you can explain perfectly during the interview.

Discuss your financial acumen

An increase in traffic can mean an improvement in the financial side of things, but it doesn't always have to. To show your success and value as a digital marketing specialist, underscore the budgets you've managed and how well you stayed within their frames. Similarly, an increase in ROI or pure sales sounds even better if you express it in financial terms.

Emphasize your knowledge of software

You know that many different tools are needed in your job, so list the ones you're proficient in. This includes things like Semrush, Google Analytics and AdWords, HubSpot, Adobe Suite, Mailchimp, Canva, and WordPress.

Tip 4

Your role requires a great deal of versatility, but don't just list that as a skill on your resume. Instead, pick out work experience bullet points that express it. For example, mention the campaigns you've spearheaded and the landing pages you've optimized, but also talk about collaborating with internal teams to implement a new social media presence. This shows you can take initiative but also work in a team effectively.

Match the demographic

Depending on the type of company you're applying to, be ready to adapt. As an example, if the company is a B2B corporation that specializes in cybersecurity, you can forego your experience with Snapchat but focus on LinkedIn instead.
Should I include any certifications?
If you have any certifications related to digital marketing, pick a resume template that lets you highlight them. This includes certificates related to things like Google Ads, Facebook Blueprint, HubSpot Content Marketing, or Google Analytics.
What to do if I'm changing careers?
When transitioning to a digital marketing specialist role, emphasize transferable skills and experiences. Jobs in marketing, social media management, content writing, and graphic design all have some overlap.
Can I re-use the same resume and cover letter?
We don't recommend doing that—you'll see better results if you tailor your resume to match the job description. Update your skills, work experience, and career objective based on the advert. The cover letter should always be updated, too.