You've spearheaded marketing campaigns, improved brand recognition, and contributed to business growth, and you've achieved it while staying within budget. It's safe to say that you're a seasoned marketing professional, and your expertise empowers the team of specialists working under your leadership.
You may know all the digital marketing secrets, but how do you select the best resume template to help you level up your career?
We know what's required so you can land your next job as a senior digital marketing manager. Select one of our senior digital marketing manager resume examples, read our tips below, and see how to spruce up your resume before applying.
---
Senior Digital Marketing Manager Resume
---
Clean Senior Digital Marketing Manager Resume
---
Modern Senior Digital Marketing Manager Resume
---
What Matters Most: Your Digital Marketing Skills & Past Management Experience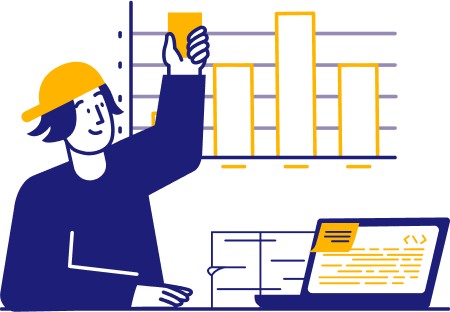 When you're applying for a senior position, the "skills" section on your resume might feel quite restrictive.
At this point in your career, your skillset covers many bases: project management, marketing, analytics, and even a dash of programming. How can you ever hope to fit all of that in any single resume template?
This is actually a good problem to have. It lets you zone in on the skills that are most sought after and pick out around ten that make you shine among other applicants.
Stray away from the very basics, such as "sales techniques," and instead highlight your knowledge of managing large budgets, SEO/SEM, and content strategy.
9 best senior digital marketing manager skills
Project Management
A/B Testing
PPC
Salesforce
Google Analytics
SEO/SEM
UX
Budget Management
Data Analysis
Sample senior digital marketing manager work experience bullet points
Knowing what goes into running a successful digital marketing campaign is significant, but that's not all there is to it. You have the know-how, but how did you put it into action? This is the place to talk about that.
Between managing a team, continuously chasing various KPIs, and collaborating across multiple departments, your role is multi-dimensional and impacts multiple facets of the organization.
Turn the "work experience" part of your resume into a display of your greatest accomplishments. Get specific and quantify your achievements. Lean into percentages and financial figures to showcase your success.
Here's how you can highlight measurable accomplishments to your advantage:
Led SEO efforts and conversion funnels to generate 170,000 monthly unique site visitors and $1.8M in monthly revenue
Trained and mentored a team of digital marketers, including monthly appraisals and setting KPIs, resulting in a 20% increase in team performance
Implemented an A/B testing framework for SEO purposes for all content, improving the rank for targeted keywords by 29%
Spearheaded the implementation of a new CRM system, improving the efficiency of lead tracking, upselling, and sales follow-ups by 37%
Top 5 Tips for Your Senior Digital Marketing Manager Resume
Give credit to your strategic thinking

Your in-depth knowledge of digital marketing finds its culmination in the strategies you come up with and then see to completion. Show it off in your resume by talking about particular campaigns you've started from scratch and the results they brought, such as an increase in ROI or growing the brand's social media presence.

Put your team first

You're not just a marketing maestro—you're a leader who paves the way for your team's success. Emphasize your leadership by talking about the teams you've led and the results that brought. Did you implement monthly coaching sessions to increase employee satisfaction and promote marketing growth? Put that in your work experience section.

Highlight your technical acumen

As a senior digital marketing manager, you've got an impressive set of tools in your arsenal. To get past applicant tracking systems (ATS), include technical skills and relevant software, such as HTML/CSS, JavaScript, Salesforce, Moz, Hootsuite, or HubSpot.

Never send the same resume twice

A senior managerial position requires meticulous attention to detail, so customize your resume to match each job description. For example, if the advert mentions staying ahead of the curve, talk about the courses you've completed or conferences you've attended to stay relevant in the fast-paced world of digital marketing.

Financials are crucial

Running a successful marketing campaign is tricky enough, but you also have to stay under budget. Emphasize the way you were able to meet your KPIs—or exceed them—while saving money. Similarly, talk about increases in revenue, ROI, and PPC.
Do I need a career summary?
You've got years of experience under your belt. A short career summary can be a good way to show that, but make sure to change it to match the needs of every job you apply to.
Should I still include my education?
Assuming your past experience has been in digital marketing, recruiters will be more interested in the campaigns you've run than in your degrees. However, this role usually requires a bachelor's or a master's degree, so education is still useful here.
Which soft skills should I mention?
You don't really need to mention any—technical skills are more eye-catching on a resume. However, it's good to emphasize your creativity, strategic thinking, attention to detail, and project management through your work experience bullet points.