Every great marketing strategy has an innovative mind behind it to make it successful. That's what you do as the marketing director when planning, developing, and implementing procedures to help brands stand out.
But is your resume written for optimal impact, and are you using the ideal resume template?
You don't have to be a resume design master. We'll take care of that with our digital marketing director resume examples to help you stand out in the hiring process.
---
Digital Marketing Director Resume
---
Elegant Digital Marketing Director Resume
---
Clean Digital Marketing Director Resume
---
What Matters Most: Your Digital Marketing Director Skills & Work Experience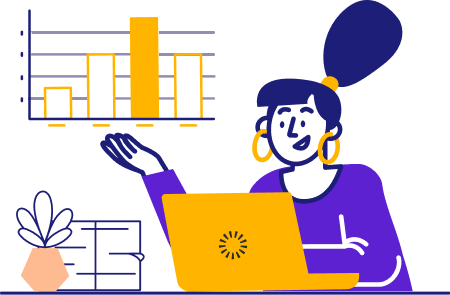 Designing a strategy is one thing, but you also need the skills to make it successful. You can start on the right note by choosing abilities that will get a job recruiter's attention.
Every company takes a different approach when it comes to digital marketing. Some companies emphasize SEO. Others see social media and email as their go-to channels. Tailor the skills you list to what the company emphasizes in their job description.
Here are some popular digital marketing director skills in 2023 to get you started.
9 popular digital marketing director skills
Lead Generation
Google Analytics
Brand Development
SEO
Team Leadership
Google AdWords
HubSpot
Semrush
Mailchimp
Sample digital marketing director work experience bullet points
You'll be off to a good start with your skills in aspects like brand development and designing Mailchimp campaigns. The next step is showing key success metrics in those areas to prove your abilities.
Digital marketing has no shortage of metrics, so try to make the ones you include relevant to the position you're applying to. For instance, if you're applying to a company focused on email marketing, focusing on metrics like open rate, click-through rate, and conversion rates would be essential.
Remember, hiring managers make fast-paced decisions, so making your examples brief is a good strategy. One sentence on how you used Google AdWords to quadruple website traffic and increase sales by $430,000 can go a long way.
Here are a few samples:
Overhauled keyword research strategies to create content that generated 56% more organic traffic and converted at 80% higher rates.
Managed a team of 15 email marketers creating targeted campaigns for 530,000 subscribers, generating $3.3 million in sales.
Led a re-engagement campaign for inactive email subscribers that helped boost engagement rates by 66%.
Re-branded the company website with a more modern and eye-catching design to reduce bounce rates by 53%.
Top 5 Tips for Your Digital Marketing Director Resume
Use reverse chronological order

The digital marketing space is constantly evolving and is likely very different from when you began your career. Therefore, your most recent experiences in current software and strategies like HubSpot and influencer marketing should be listed first.

One page is the best length

A one-page resume provides the right amount of detail for hiring managers to make an educated decision. Keep everything concise and relevant to the position. If you'll be working on social media campaigns, then your knowledge of Hootsuite and paid social ads would be excellent to include.

Use an organized template

You understand the importance of user experience. It's also essential for your resume. Use clear headers with digital marketing experience, education, and top skills. Also, use bullet points for examples of achievements in aspects like SEO and lead gen, with easy-to-read 12-14 point font.

Always proofread

You're applying for a high-level position, so your resume should be accurate and free of grammatical errors. It's the same as how you wouldn't want to present your next marketing campaign on a PowerPoint full of spelling errors and erroneous data.

Measure your impact

It's one thing to say you know how to generate leads, but your examples get really impactful when saying you generated 1,350 leads and converted 65% of them into paying customers. Always use measurable results for the most impact.
Should digital marketing directors use a summary?
Those who have held marketing leadership positions for ten or more years will benefit most from a summary. Your resume summary could include information on how you've built over 12 million followers across company social media channels and generated $40 million in sales over your 16-year career.       
What if I haven't worked as a digital marketing director before? 
Use examples that emphasize your ability to lead and make crucial decisions. For instance, you could say how you led a 50-person digital marketing team on a six-month lead gen campaign that resulted in $2.6 million in new sales.       
What should I put in my digital marketing director cover letter?
A cover letter can fill in gaps that your resume didn't cover. You can explain your passion for digital marketing, why you want to work for the company you're applying to, or how you implement strategies to achieve high conversion rates.