As a social media manager, you handle what's become a vital component of a company's marketing presence.
While curating an online presence seems to be a simple task relegated to just any old Joe, social media managers are particularly essential for companies looking to take their marketing to the next level. Your skills in social networking are in demand almost everywhere, which makes this a versatile position applicable to most, if not all, industries.
Whether you're looking for an advanced position or ready to take on your first role in this niche, most job postings will require you to submit a cover letter along with your application and social media manager resume. Although a cover letter may be necessary, we understand no one wants to spend precious time customizing it to the social media manager job listing when so many other parts of job searching need your attention.
That's why we're sharing three social media manager cover letter examples before we lay out a few tips you can use to make your cover letter stand out.
Social Media Manager Cover Letter Example
Download and edit in Microsoft Word.
Edit in Google Docs (choose "File" and "Make a copy").
Edit in block business letter format (choose "File" and "Make a copy").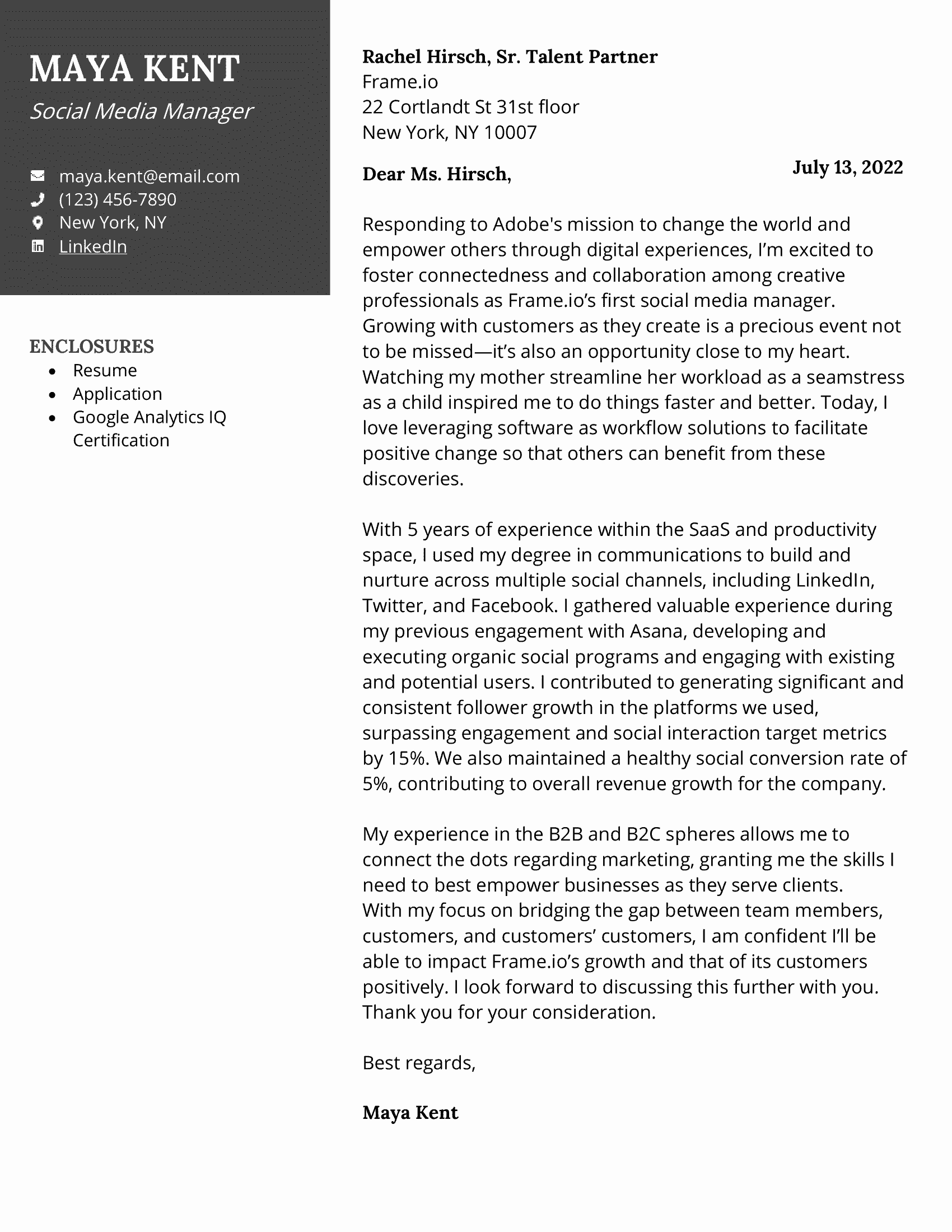 Why this cover letter works
Since Frame.io is an Adobe company, it's natural it would have similarities with its parent company, namely aspects like their guiding principles and company culture. While Maya refers primarily to Frame.io in her social media manager cover letter, she also references Adobe's mission.

Before constructing your social media manager cover letter, research to understand the company you're applying to—essential details like these can help determine you from other prospective candidates.

Adobe's website and job listing note the importance of building relationships between team members and Frame.io's target audience. Maya's cover letter doesn't just illustrate she'll be a good fit for the role experience-wise; it also explains how she plans to support Adobe in empowering video creators within the context of her experience with Asana.
Social Media Marketing Manager Cover Letter Example
Download and edit in Microsoft Word.
Edit in Google Docs (choose "File" and "Make a copy").
Edit in block business letter format (choose "File" and "Make a copy").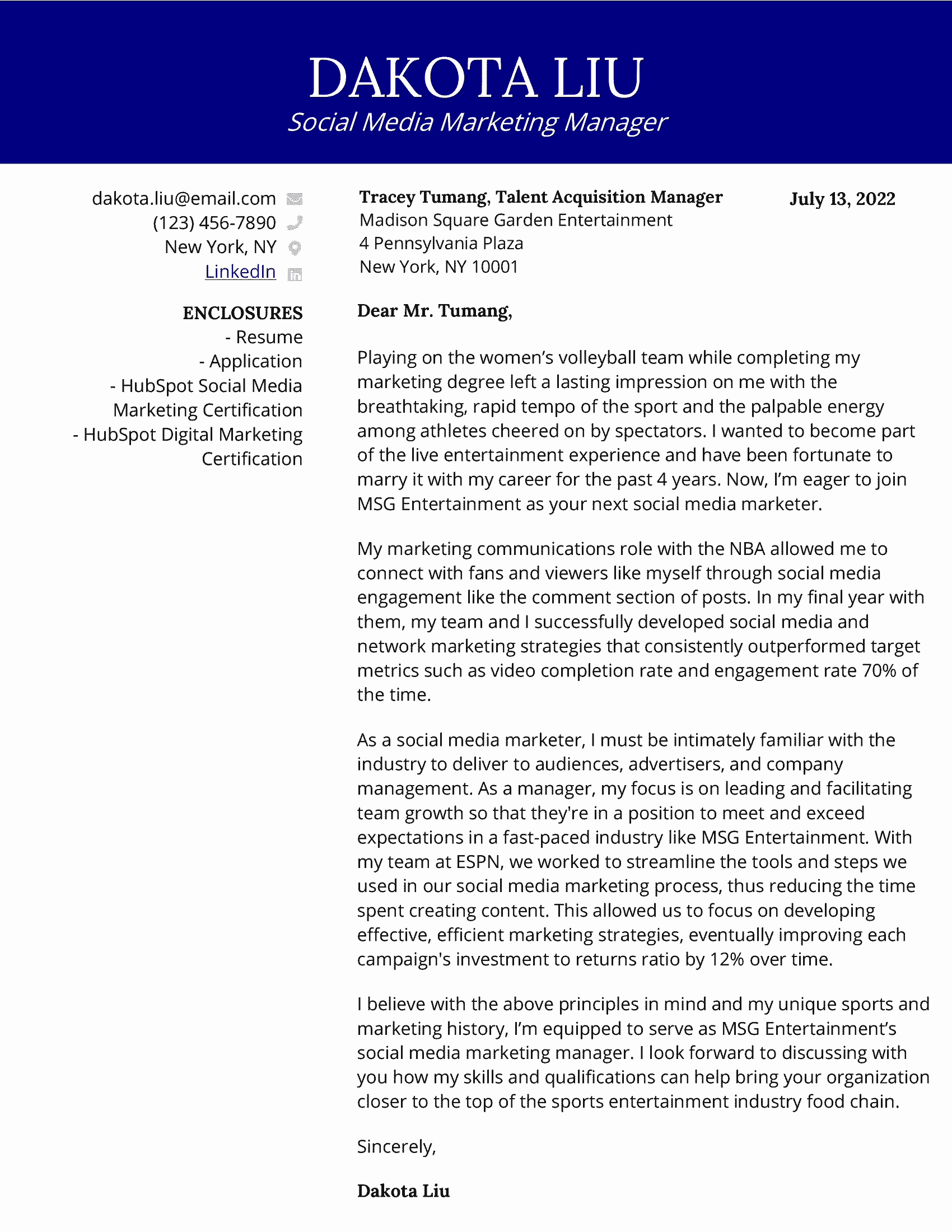 Why this cover letter works
MSG Entertainment's job description focuses on sports, so Dakota references her previous experience in collegiate sports and the sports entertainment industry as a way to establish common ground.

Suppose you have particular experience that aligns with the niche of the company you'd like to work for soon. That's an opportunity to establish a connection, differentiating yourself from other job applicants.

MSG Entertainment's job description mentions a few stakeholders their hire will be working with, including their audience, advertisers, and colleagues. Dakota's social media marketing manager cover letter notes the importance of paying attention to these areas throughout the job role, illustrating her understanding of the company's challenges.

Knowing a company's stakeholders helps you identify the challenges you'll face in your role. As you write your cover letter, showing your ability to predict and prepare for these challenges helps demonstrate you'll be the right fit.
Social Media Strategist Cover Letter Example
Download and edit in Microsoft Word.
Edit in Google Docs (choose "File" and "Make a copy").
Edit in block business letter format (choose "File" and "Make a copy").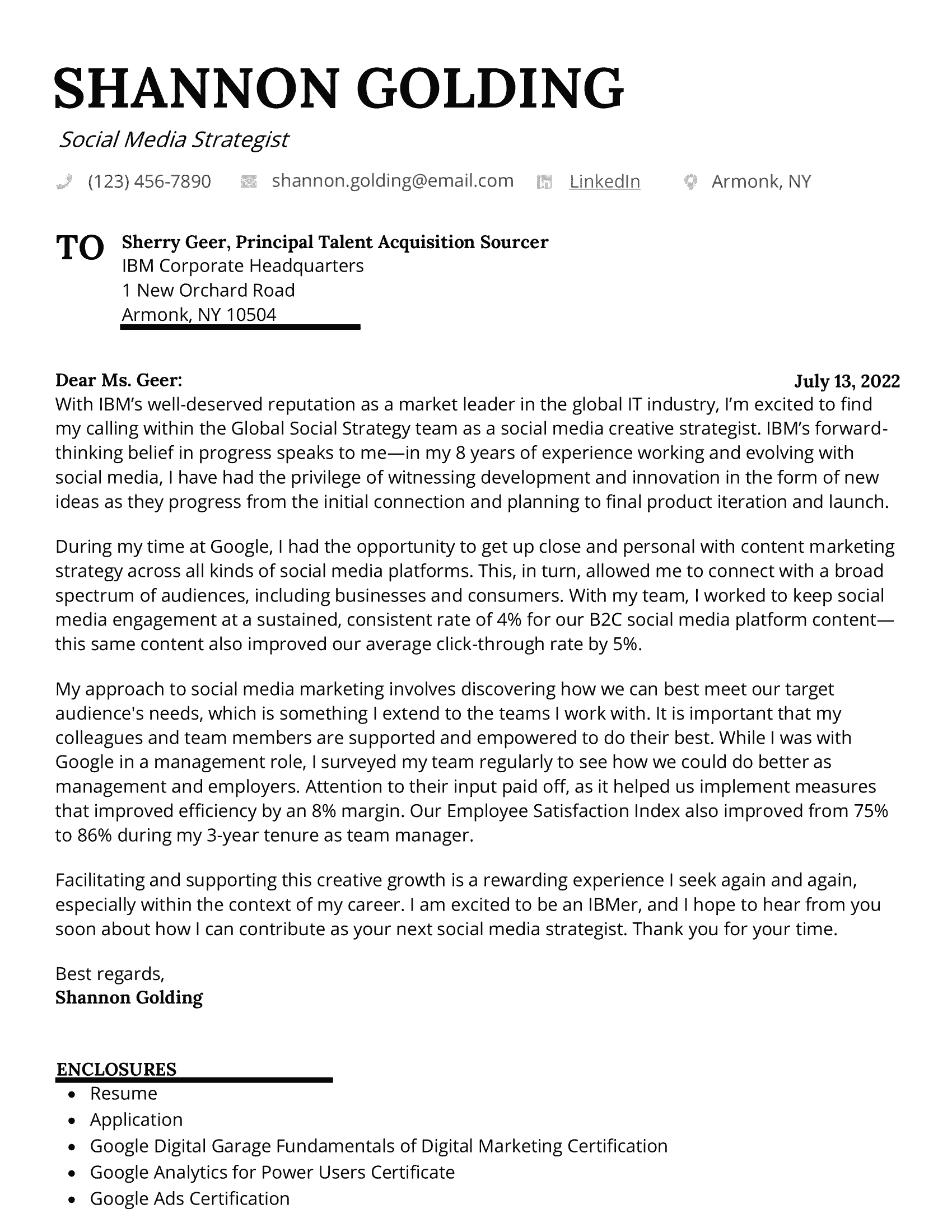 Why this cover letter works
Shannon references being "an IBMer" in her cover letter—using similar descriptive language as seen in the job description—to help establish rapport with the company.

Relevant experience in a company's industry niche can help you get a foot in the door during the hiring process. While Shannon is a marketer first, she also uses her cover letter to showcase her experience with a company in a similar niche to IBM's.

Job descriptions usually outline the basic requirements for a candidate to nab the role successfully. Still, you can go a step further by finding out whether you have any common ground with the company and mentioning that in your social media strategist cover letter.
Is Your Social Media Manager Resume Picture Perfect?
Your social media manager resume completes the whole picture. Formatting your resume is as quick and easy as clicking on this social media strategist resume. You'll be editing it in real time—in no time!
Optimize Your Social Media Manager Cover Letter
You spend your days optimizing your social media posts, engagements, and strategies. With a few quick tips from us, you'll also be well on your way to optimizing your social media manager cover letter.
Tip 1: Get insight into the company and role
Depending on the job, recruiters and hiring managers go through stacks of cover letters for a role. Many are generic. To set yourself apart from the rest, do your research to craft a compelling cover letter that shows you'll be a good fit for the role.
The social media manager job description already outlines the basic requirements you'll need to fulfill while the company website will contain valuable information you can use to tailor your cover letter to the organization. A little elbow grease will help you write a relevant cover letter and will also help you better prepare for common questions you could encounter during the interview.
As a potential hire for the social media manager position, it's worth demonstrating interest in the company:
Who is their target market?

How do you plan to connect with this audience?

Are you familiar with social media management software like Sprout Social, Hootsuite, or Zoho?
Answering questions like these will help you leave a better impression, showing your understanding of the company's needs.
Tip 2: Speak to one or two of your best results
Your resume lists the necessary skills and qualifications you have, but your cover letter expands further on the person they might hire, so it should elaborate on your best social media accomplishments. If you and your team exceeded expectations and crushed target metrics, tell the hiring manager how you did it and what you learned in the process.
For example, if you learned a social media management tool like Buffer, detailing how that optimized your workflow and improved your social media strategy will help provide valuable context beyond a resume skills bullet point that just says, "Proficient in Buffer." Quantifying your achievements will help the hiring manager better visualize how you might contribute to the company as a potential hire.
Tip 3: Submit a selling message
As you write a social media manager cover letter that is both specific and descriptive, keep in mind that recruiters and hiring managers have a limited amount of time allocated to each application crossing their desks. Your cover letter document should end within one page or less. You've heard the KISS acronym, right? Keep it simple—but we'll exclude the last word.
Simplicity doesn't mean a terse tone of voice; however, applying for a social media manager position means the company will be paying attention to how you communicate as you'll be representing their brand presence online. Be professional, sincere, and gracious in your cover letter, avoiding too many contractions if the company is more corporate (but applying them liberally if that's the company's brand style).
Before you submit your cover letter, step away for a couple of days so you can edit and revise it with fresh eyes. This is also the time to get feedback and constructive criticism from a few trusted people to ensure you're putting your best foot forward with this job opportunity. Once you've revised your document and caught any errors, save your cover letter and send it along with the necessary enclosures like your resume and application.
Outline Your Social Media Manager Cover Letter
Starting is the hardest part of any task, but don't worry—we have you covered when writing your cover letter. You're probably already familiar with outlining marketing strategies within your job role, especially if you've had prior engagements in social media marketing. This isn't much different, except that you'll be marketing yourself instead of the company you work for.
Your contact info: Using a template is easy; all you have to do is fill in the letterhead with the necessary information like your name, email, and phone number. Replace all filler text used in the template with the relevant details or omit them entirely if they're not necessary.
Formatting tip: If you're using a block format instead, you'll need to include your address. A template will feature your name on the letterhead, but in a basic, professional block letter, your name should be omitted from your address as it will already be present in your signature line.
Date: Job applications can sometimes take a while, and you might find yourself filling out parts on different days. The date written on your cover letter—and all career docs—should reflect the day you submit your entire application.
Formatting tip: Write the full date, e.g., July 8, 2022. This reduces the chance of confusion due to different regional date formats.
Inside address: In a nutshell, this is the contact information for the hiring decision-maker at the company. Name the specific person in charge, then include the position and the company's name, followed by the company's address.
Example:
Tracey Tumang, Talent Acquisition Manager
Madison Square Garden Entertainment
4 Pennsylvania Plaza
New York, NY 10001
Formatting tip: Every part of the inside address should be on a new line. There should be a double space between the greeting and the inside address.
Greeting: Cover letters are one of the documents used to generate your first impression, so you'll want to get your greeting or salutation right. If it's possible, try looking for the name of the hiring decision-maker, so you're not sending in a generic greeting like:
To Whom It May Concern,
Dear Hiring Manager:
Dear Human Resources Professional,
You can usually find the hiring manager or employer's name listed on the company website or social media.
Formatting tip: For social media manager cover letters, use a comma after the greeting—colons are more formal, but most social media and marketing roles typically lean toward a more casual environment. Instead of "Dear Ms. Hirsch:," try "Dear Ms. Hirsch," as your greeting.
Body: Your social media manager cover letter should consist of three to four paragraphs. These paragraphs should state your interest, show your credentials, and communicate your enthusiasm for further discussion. Let's dive into it:
Opening paragraph: Your first paragraph can make or break your cover letter. Here, you'll state your interest in the position and support your case by noting a couple of credentials relevant to the role. Many cover letters start bland or generic, like:
I saw your job posting online, and I am interested in the social media manager position.
That will bore the hiring manager and cast doubt on your ability to engage the company's target audience. Try this instead:
Responding to Adobe's mission to change the world and empower others through digital experiences, I'm excited to foster connectedness and collaboration among creative professionals as Frame.io's first social media manager. Growing with customers as they create is a precious event not to be missed—it's also an opportunity close to my heart. Watching my mother streamline her workload as a seamstress as a child inspired me to do things faster and better. Today, I love leveraging software as workflow solutions to facilitate positive change so that others can benefit from these discoveries.
This opener draws the reader in with confidence, stating first an alignment with the parent company's values, then showing passion from personal experience and confidence in their ability for the job.
Paragraphs 2-3: The following two paragraphs affirm the credentials and qualifications you noted in your first paragraph. Select one clear, relevant accomplishment to elaborate upon in each section relevant to the needs mentioned in the job description, like social media metrics or content generation process optimization.
When possible, quantify your results and be detailed and specific. It also doesn't hurt to connect your achievements to the company's mission and values, as that's an extra point toward aligning yourself with the company.
Example:
My marketing communications role with the NBA allowed me to connect with fans and viewers like myself through social media engagement. In my final year with them, my team and I successfully developed marketing strategies that consistently outperformed target metrics such as video completion rate and engagement rate 70% of the time.
This paragraph notes the candidate's accomplishment in outperforming target metrics. Still, it also provides a justification that their specific niche experience allowed them to better connect with the target audience, delivering an effective content strategy that showed results.
Closing paragraph: You've hooked them in with your opening paragraph, and now's the time to reel in the catch—wrap it up with a sentence summary of how your values and qualifications can potentially fulfill the company or organization's needs, then finish up with a call to action.
Don't do this:
I think I'll be a great fit for this social media manager role, and I look forward to hearing from you in the near future.
It's bland and disinterested—you're trying to maintain momentum so that you can cross the finish line strong, not flop over it like a dead fish.
Instead, do this where it's clear you're enthusiastic about the chance to take a crack at the social media manager role:
I believe with the above principles in mind and my unique sports and marketing history, I'm well equipped to serve as MSG Entertainment's social media marketing manager. I look forward to discussing with you how my skills and qualifications can help bring your organization closer to the top of the sports entertainment industry food chain.
Formatting tip: Single space for the body of your cover letter, but make sure to use double-spacing between paragraphs for readability.
Signature: If you didn't say "thank you" in the closing paragraph, this is the time to do so. Sign off with a professional close like "best regards," "sincerely," or the like, and use your real name.
Example:
Best regards,
Maya Kent
Formatting tip: Most cover letters are delivered by email these days, but if you're sending them by mail or in person, quadruple space to can sign your name in blue or black ink between your closing line and your typed name.
Enclosure(s): This section is one of the most important in your cover letter but is also the most commonly overlooked. Stating "Enclosure(s)" lets the reader know that more documents are attached to your cover letter, like your job application, resume, and other necessary supporting documents depending on the job description requirements. This is where they'll be if you have relevant credentials like a Google Digital Garage certificate.
Once you've written your signature, you'll include "Enclosure(s)" and list the exact documents attached in order of appearance.
Example:
Enclosures:
Resume
Application
Google Analytics IQ Certification
HubSpot Social Media Marketing Certification
Formatting: Depending on how many documents you're enclosing, use the singular "enclosure" or the plural "enclosures" so the reader knows the number of documents to expect.
Need Insight into Your Social Media Manager Resume?
Now that your social media manager cover letter is done and dusted, and you're confident you've given a good impression to the hiring decision-maker at your company of choice, what about your resume? If you've got it covered, polished, and ready to go, that's great!
If your resume needs some TLC, though, consider our free resume templates and social media manager resume examples to help give your resume a little sparkle and shine. If time is short, you can edit this one right now.
Career documents are much more challenging to work with than content strategy outlines, but we've got everything you'll need to make the job search more accessible, from our Word resume templates, Google resume examples, and expert-approved, industry-specific resume guidance. Equipped with our arsenal of tools, you're sure to conquer your interviews and successfully win a role at your dream company.