Data scientists like yourself don't spend their days simply gathering and analyzing data—this job role is much more nuanced and specific. As a data scientist, you don't just mine and centralize diverse datasets by applying your understanding of a broad range of fields; you'll use your well-rounded industry expertise and familiarity with scientific systems to methodically analyze large volumes of data and pinpoint the results and metrics that matter most to a specific company.
As you look through job descriptions and dream of your next position, we know the last thing you want to spend time on is your data scientist resume and cover letter. Luckily, we've eased the process by writing three data scientist cover letter samples below—complete with handy tips and an outline, so you can get started!
Data Scientist Cover Letter Example
Download and edit in Microsoft Word.
Edit in Google Docs (choose "File" and "Make a copy").
Edit in block business letter format (choose "File" and "Make a copy").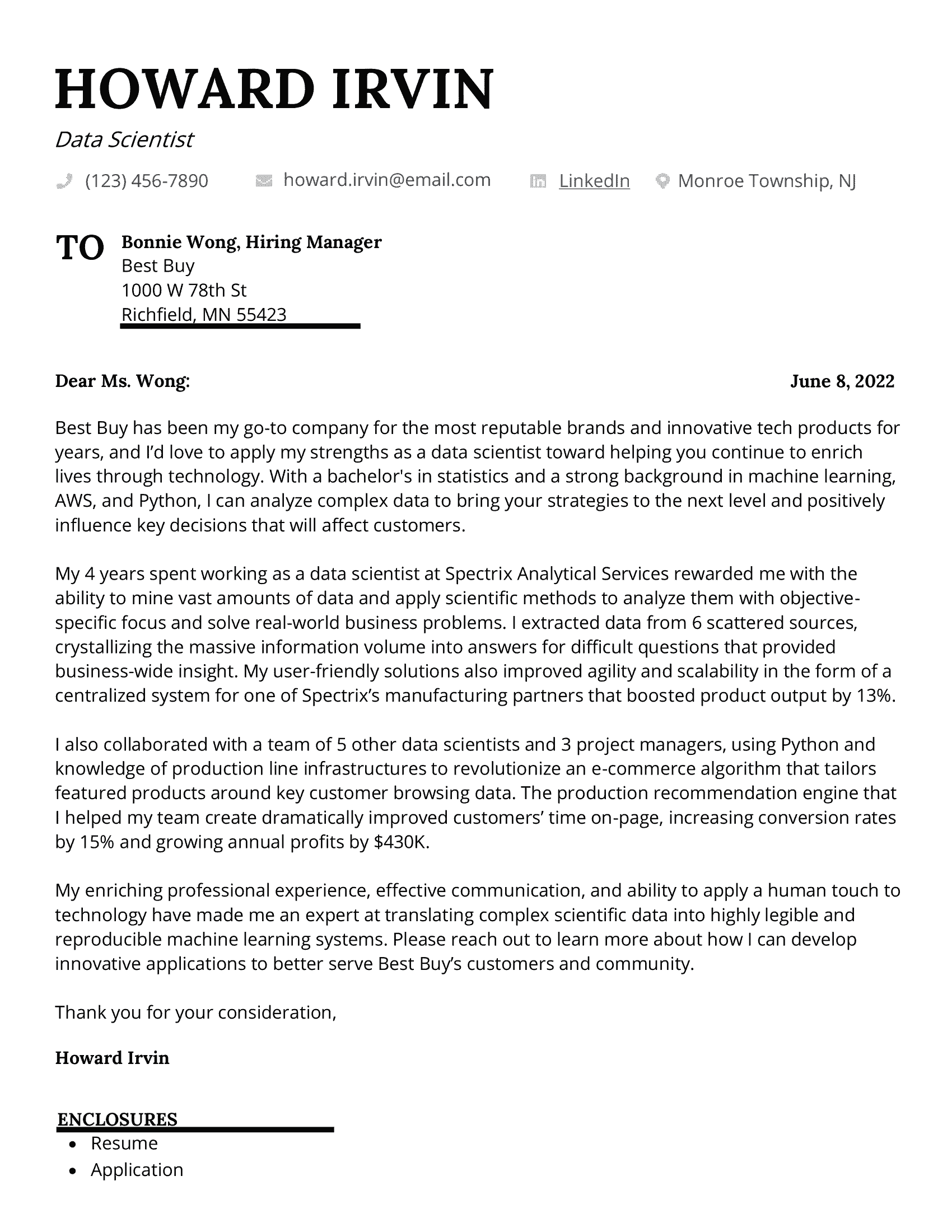 Why this cover letter works
What better way to introduce yourself to a company than by demonstrating your connection with them as a customer? Howard also takes it a step further by promptly offering

job skills

that relate to the company's mission statement, of course!

Howard recognizes areas where his past accomplishments align with the requirements in the job ad, and he details how they make him the ideal data scientist for Best Buy. He also uses many job description keywords and phrases that apply to his background.
Senior Data Scientist Cover Letter Example
Download and edit in Microsoft Word.
Edit in Google Docs (choose "File" and "Make a copy").
Edit in block business letter format (choose "File" and "Make a copy").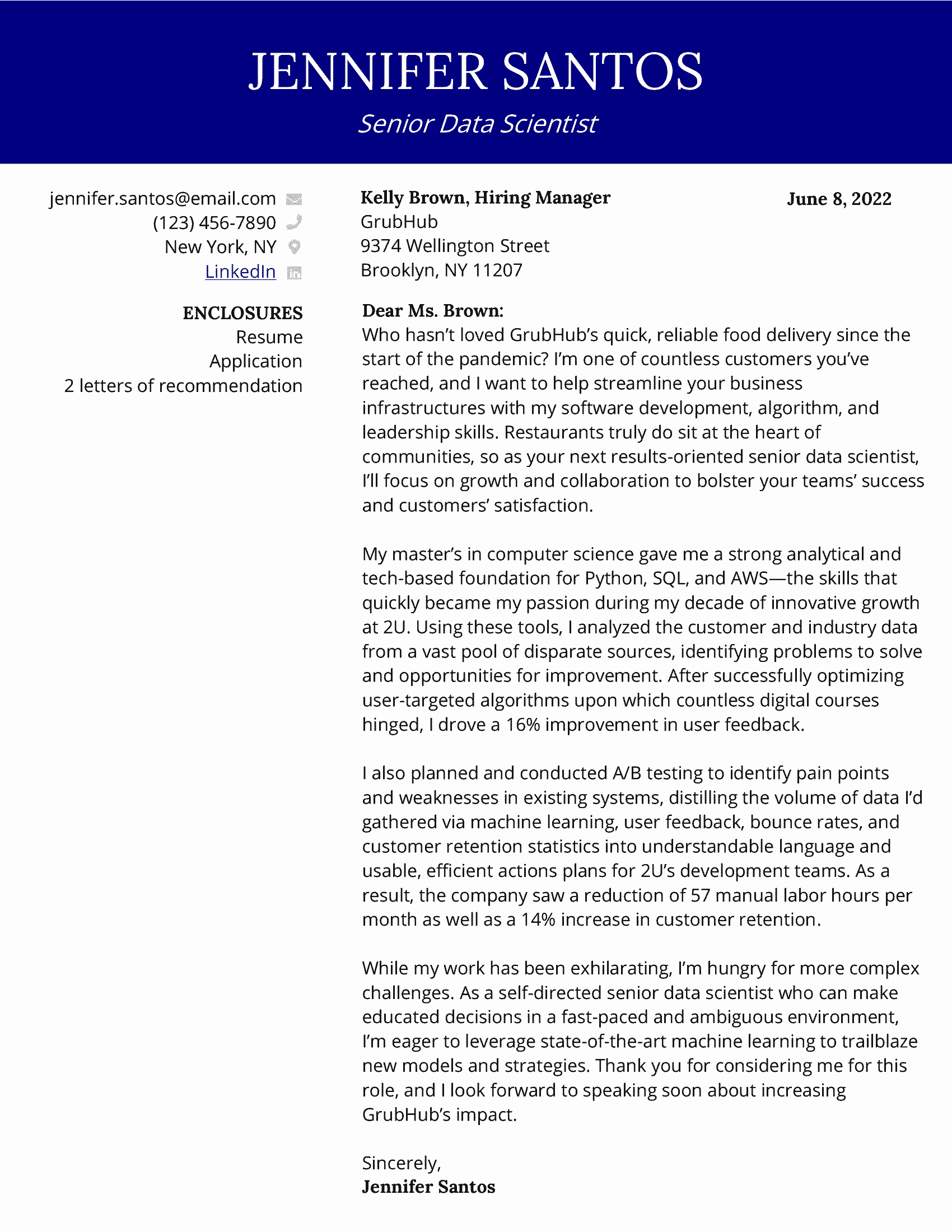 Why this cover letter works
NLP Data Scientist Cover Letter Example
Download and edit in Microsoft Word.
Edit in Google Docs (choose "File" and "Make a copy").
Edit in block business letter format (choose "File" and "Make a copy").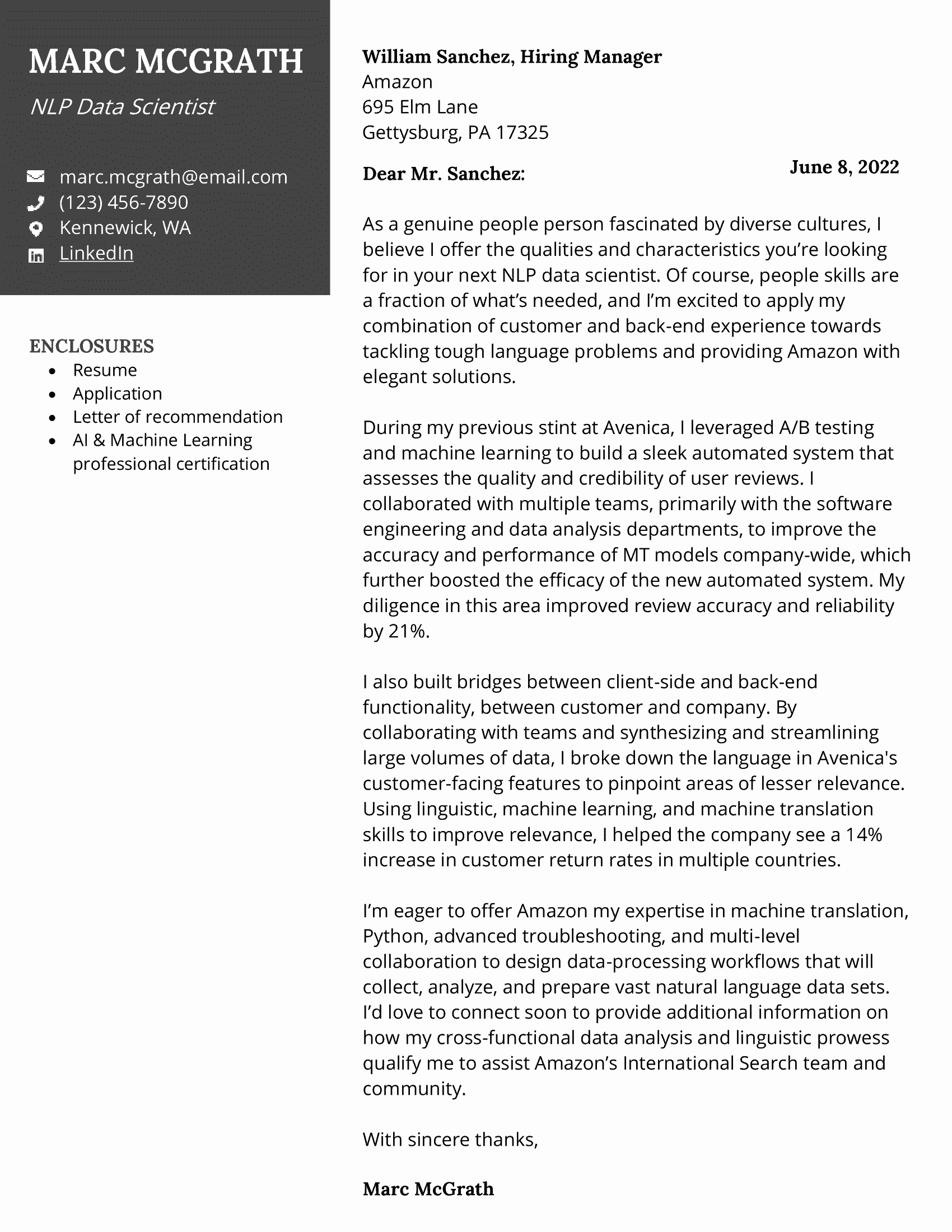 Why this cover letter works
Since Amazon's job ad emphasizes communicating with diverse people, Marc springboards from this before diving into his technical skills that answer Amazon's call.

Focus on technical and collaborative experience with more complex achievements when applying for a more nuanced role like NLP data scientist.

Marc has a lot to cover for this advanced role, but he packs his cover letter with examples inspired by the job description, such as machine translation. He also smoothly works in language from the job description and website to exemplify communication skills that are imperative for an NLP data scientist.

If the job description focuses more on

hard skills

(as it will for a data scientist!), then do the same while maintaining some personality.

Always do your research and pay attention to the focal points in the job description and company site; then, focus your NLP data scientist cover letter on defining traits from your research.
Build Your Data Scientist Resume Next
We know you're well on your way to writing your best-ever cover letter. Your resume is the other half of the equation, but from career objectives to how to list interests on your resume, we've got you covered. You can edit this data scientist resume for free for an easy start!
Write Your Data Scientist Cover Letter in 3 Steps
Keep these key themes in mind while you showcase your best qualities as a data scientist: First, study the job description and research the company to determine which of your achievements are most relevant. Then, proofread thoroughly for tone and accuracy to ensure you're sending the right message.
Step 1: Research the organization and job role
Way too many cover letters leave recruiters nodding off by the end of the first paragraph. One of the best ways to keep your data scientist cover letter from sounding boring and generic is to research the company and pay close attention to its job description. When you read through the website and job listing, look for any specific needs or required skills that stand out as strengths you have or things you've done before.
Fortunately, there's usually plenty for data scientists to work for since the scope of the field is so broad! Look for tidbits like KPIs or testing systems that line up with your experience and achievements. Comb the website for interpersonal values you can demonstrate in your cover letter—especially anything like collaboration, community, or goals that reach across the globe. These will demonstrate your ability to think broadly.
Step 2: Focus on a couple of career highlights
Data scientists are specifically known for their ability to assess massive amounts of data and hone in on the few points most relevant to their company. It's imperative that you demonstrate this ability within your cover letter by picking a couple of career highlights to focus on and backing them up with key metrics.
Your cover letter should go beyond the bullet points in your data scientist resume, but you don't have room to tackle the details of more than one big accomplishment per paragraph. So, pick whatever's most impressive—and what lines up with the company's requests—to keep your cover letter under one page.
When deciding what to write about, ask yourself questions like the following:
What company-wide testing systems did you develop, launch and maintain?

Did you vastly improve sales rates by gathering data via machine learning and translating the information into useful manufacturing improvement strategies?

How did you use data integration to streamline business practices that reduce the company's manual labor hours to this day?
Step 3: Watch your tone
While customizing your data scientist cover letter to the job description and company values will build an excellent foundation for you to showcase your most glowing accomplishments, your cover letter needs a little more. You must convey a cohesive, positive message.
Ensure the feel of your letter is in line with the company culture where you're applying. If you've checked all the boxes by personally connecting with company values and providing concise examples with metrics, but it still doesn't feel right, circle back to the company website and job description to perfect your tone. Is the company culture more corporate and formal, or does it place more value on friendliness, personability, and community ethics?
When you've settled on the right tone, dedicate time for revision:
Eliminate all typos and grammatical errors, and even write a few different versions that highlight different accomplishments to see which ones work best.

Revise, rewrite, and edit as much as you need to. You'll thank yourself for it later when you get the response you've been waiting for!
Build Your Data Scientist Cover Letter with an Outline
There's no need to stare at a blank screen; we've put together an outline for you, complete with examples, that you can use to inspire your own flawless cover letter.
Your contact info: Include your name, address, phone number, and email address (along with your LinkedIn or other professional social media) if you're using a cover letter template.
Formatting: Leave your name out of your address anytime you use a block format.
Example:
9070 Myth St.
Kennewick, WA 99337
(123) 456-7890
Date: This should reflect your exact submission date, e.g., June 8, 2022
Formatting: Write out the full date instead of shortening it.
Inside address: This one's easy—it's just the address of the person receiving your application materials. Always find and include their name, company and role, and address.
Example:
Kelly Brown, Hiring Manager
GrubHub
9374 Wellington Street
Brooklyn, NY 11207
Formatting: Each part of the address should be on its own line. Also, make sure you double-space between the inside address and greeting.
Greeting: Also known as the salutation, the greeting delivers a crucial first impression. As a data scientist, you're a pro at digging and investigating, so put in the effort to find the name of the hiring manager or employer, and don't even think about using generic, tired phrases like "To Whom It May Concern."
Example:
Dear Mr. Sanchez:
Formatting: Don't use a comma after your greeting—use a colon instead for professionalism. However, if the company is notoriously casual, a comma will do.
Body: The body of your data scientist cover letter should include three to four paragraphs that show your interest, credentials and qualifications, and enthusiasm for future discussion.
Opening paragraph: Most cover letters are insufferably generic, so make sure yours shines. Review the following examples of opening paragraphs for data scientist cover letters to see how you can make yours attention-grabbing and effective.
Bad: I've had all kinds of experience as a data scientist, so you'd be crazy not to hire me! I can work with all kinds of people too, so I'd be a great team member at your company.
Why It's Bad: Well, this opener is memorable—but not in a good way! It's far too vague for a data scientist. The whole point of the role is the ability to condense vast datasets into clear points, and this applicant has done the opposite with vague sentences that provide no clear information. The language is also informal, and we see nothing that's company-specific.
Good: Best Buy has been my go-to company for the most reputable brands and innovative tech products for years, and I'd love to apply my strengths as a data scientist toward helping you continue to enrich lives through technology. With a bachelor's in statistics and a strong background in machine learning, AWS, and Python, I can analyze complex data to bring your strategies to the next level and positively influence key decisions that will affect customers.
Why It's Good: This opening paragraph has it all—a personal connection with the company that leads to references and values from the company website. The applicant also follows up with a well-rounded set of qualifications, many of which are specifically called for in the job description, once again tying into the company's goals.
Paragraphs 2-3: The body of your cover letter needs to substantiate your claims that hooked the reader in your starting paragraph. Each paragraph should hone in on one specific achievement from your experience as a data scientist, such as a testing system you created or a specific company KPI you improved with machine learning data.
Example: My master's in computer science gave me a strong analytical and tech-based foundation for Python, SQL, and AWS—the skills that quickly became my passion during my decade of innovative growth at 2U. Using these tools, I analyzed the customer and industry data from a vast pool of disparate sources, identifying problems to solve and opportunities for improvement. After successfully optimizing user-targeted algorithms upon which countless digital courses hinged, I drove a 16% improvement in user feedback.
Why It's Good: This paragraph is off to a strong start with metrics, specific skills, and personal qualities that all exemplify an excellent data scientist. And then the applicant does a beautiful job of concisely explaining how all these selling points tie into a single, results-driven achievement that's parallel to one of the obstacles listed in the job description.
Closing paragraph: Finish strong with a sentence summary of how your values and qualifications align with what the company/organization needs. Lastly, give a call to action.
Bad: I love Best Buy and definitely would like working there. And as you can see, I'm qualified. Drop me a line for more information.
Why It's Bad: Our bad Best Buy applicant is back at it again: At least they mentioned the actual company this time, but this closing paragraph is still too vague and informal. How are they qualified? Get specific!
Good: My enriching professional experience, effective communication, and ability to apply a human touch to technology have made me an expert at translating complex scientific data into highly legible and reproducible machine learning systems. Please reach out to learn more about how I can develop innovative applications to better serve Best Buy's customers and community.
Why It's Good: This is the ideal blend of personal qualifications and personality, language from the job description, and clear alignment with company values that we like to see. One glance at this paragraph tells you that this data scientist is already familiar with the company and role and is eager for advancement.
Formatting: Single-space within each paragraph, but double-space in between paragraphs for readability.
Signature: Thank the reader for their time if you haven't done it yet, and use a professional close along with your real name.
Example:
Thank you for your consideration,
Howard Irvin
Formatting: If you're presenting any hard copies of your data scientist cover letter, quadruple space, so you'll have room to sign your name with blue/black ink.
Enclosure(s): This important piece to include in your cover letter signals the reader that more valuable information comes after the letter itself. A data scientist should always include their resume and application with their cover letter along with any professional letters of recommendation from previous relevant roles or certifications—especially when advancing to a senior position!
Example:
Enclosures:
Resume
Application
Letter of recommendation
AI and Machine Learning Professional certification
Formatting: Use the correct singular or plural form of "enclosure" depending on how many items you're enclosing.
Ready to Land Your Next Data Scientist Job?
A data scientist like you has probably already synthesized all this information so that you're ready to go and start your cover letter right away. And while your cover letter should certainly be outstanding, you don't want your resume template or information to look dusty or pale by comparison. Plus, it's easier to write your ideal cover letter once your resume is already complete!
Our resume tips and helpful tools will help you succeed. If you have an old resume, what better time to refresh it? Check your resume for quality or write your resume from scratch if you haven't started yet. If you're sick of making decisions about your job documents, you can skip the search for the right template and edit this one here.
Doing your homework and putting in the extra effort to make sure that both your cover letter and resume are in peak condition will serve as the first step in demonstrating what you have to offer as a data scientist. Catching your potential employer's attention means you're a few steps closer to landing your ideal job!