As a data engineer, you prepare data for analytical or business uses with the ultimate goal of ensuring it's easily accessible and optimized for the organization's big data environment. Whether providing expertise on data sources and analysis, creating data pipelines to combine information from multiple sources, or integrating, consolidating, cleansing, and structuring data, you juggle lots of moving pieces with finesse.
You've got a full plate, and now you've got to write a data engineer resume and cover letter—a royal pain in the rear. Most cover letters are utter nonsense, but the good news is we have three data engineering cover letter samples to help you write something meaningful and that, most importantly, shines a spotlight on you and your data engineer skills.
Data Engineer Cover Letter Example
Download and edit in Microsoft Word.
Edit in Google Docs (choose "File" and "Make a copy").
Edit in block business letter format (choose "File" and "Make a copy").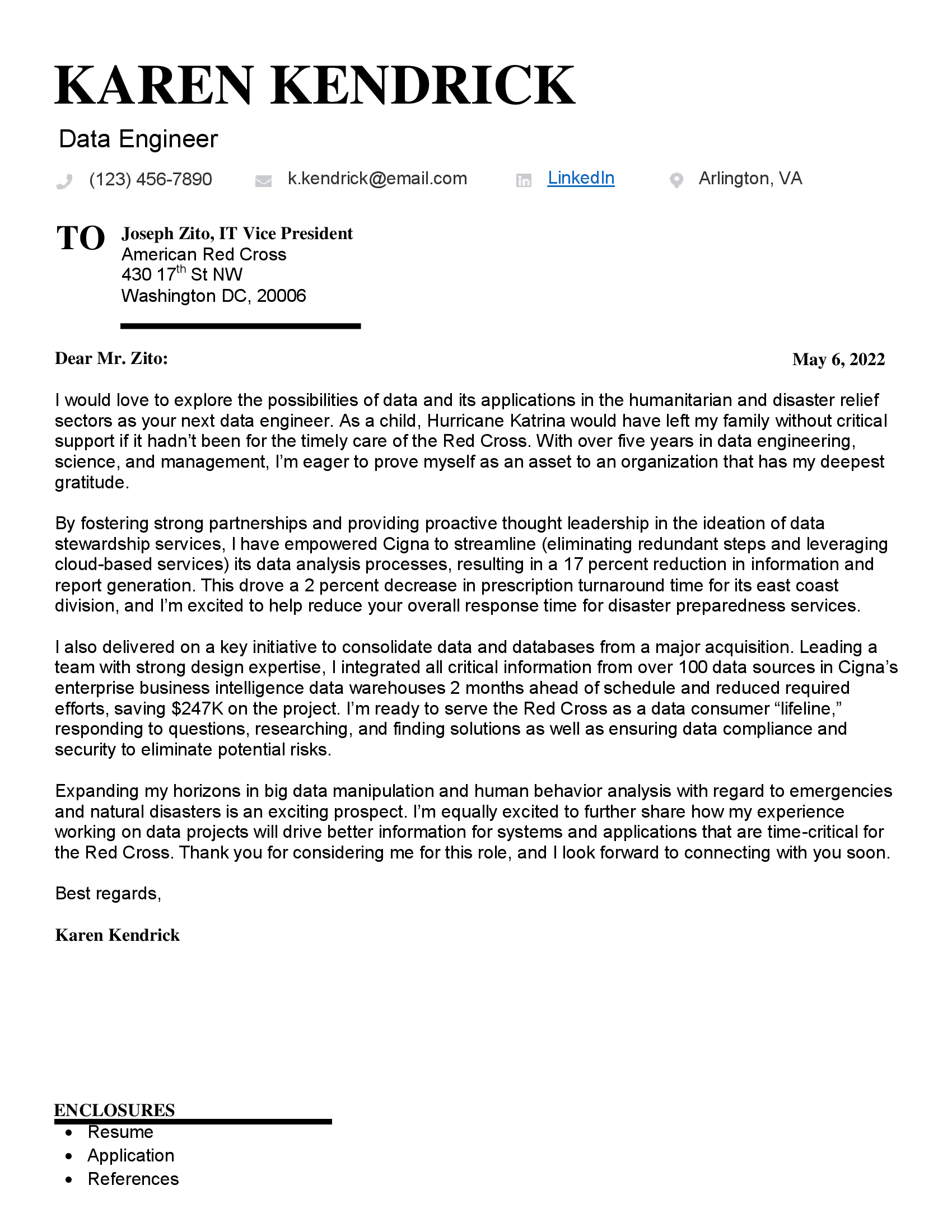 Why this cover letter works
Karen hooks hiring managers in with her connection to the Red Cross, which spurs her enthusiasm for the role.

Leveraging an anecdote is effective when 99 percent of cover letters start with, "I saw your ad on [job board site] and am eager to apply for the data engineering position."

In the body of her data engineer cover letter, Karen identifies key functional needs discussed in the Red Cross' job description, such as response time improvement, cost reductions, and data stewardship; then, she showcases those skills with specific examples—complete with details and tangible results—from her job at Cigna.

Use examples with quantifiable results to demonstrate clear results (not just a bunch of technobabble about what you did).

Maintain momentum in the close with excitement for the role and assurance that you're aligned with the company's goals and vision—just as Karen ends persuasively that she'll "drive better information for systems and applications that are time-critical."
Big Data Engineer Cover Letter Example
Download and edit in Microsoft Word.
Edit in Google Docs (choose "File" and "Make a copy").
Edit in block business letter format (choose "File" and "Make a copy").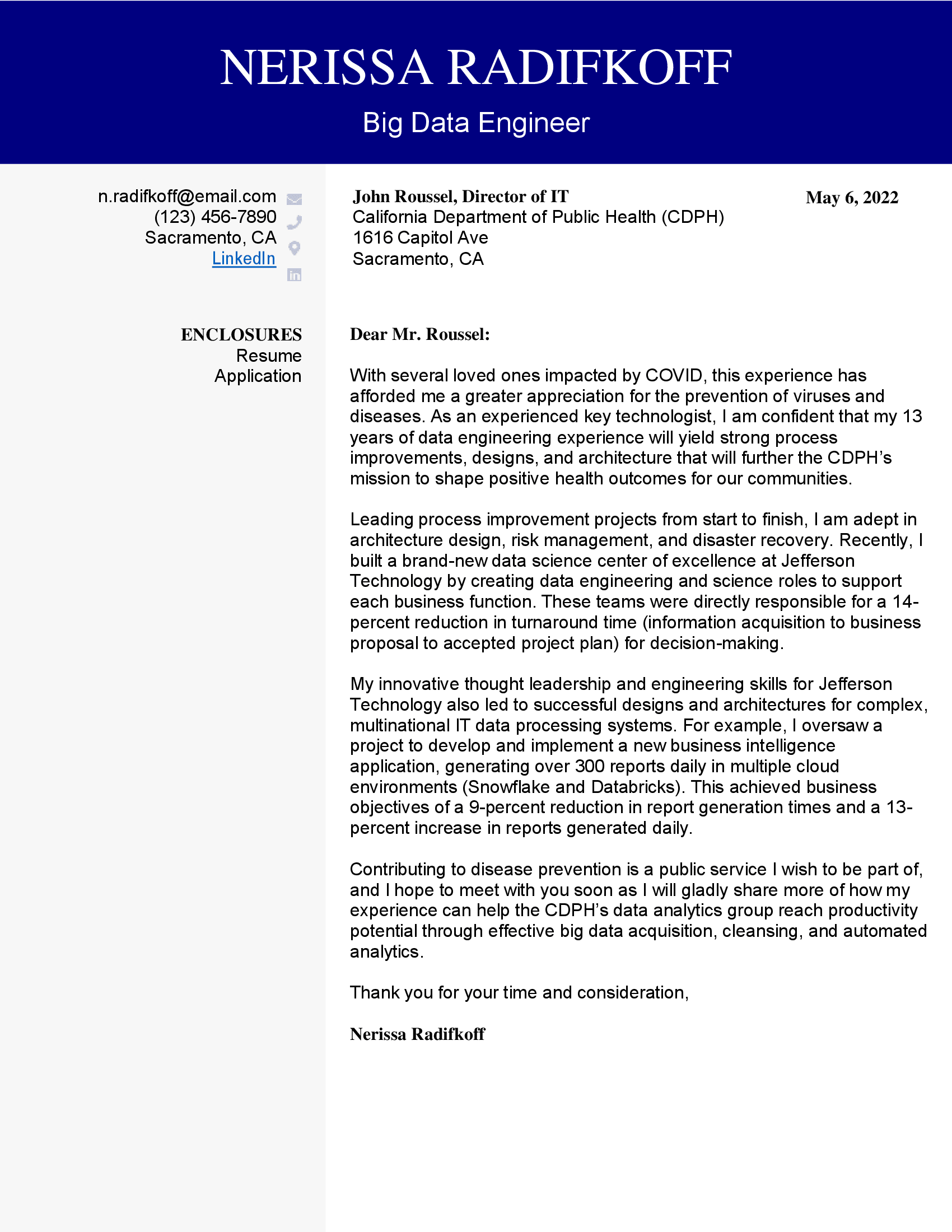 Why this cover letter works
Applying for a role in public health dictates a more formal tone, but you can still achieve this without a sleepy start to your big data engineer cover letter.

Customize your introduction with the help of a little research. Nerissa checked out the CDPH's "About" page as her first paragraph reflects the organization's goals of "shaping positive health outcomes."

Nerissa also leverages research in the body paragraphs, tying her data engineering abilities to the CDPH's needs and challenges outlined in the data engineer job description.

Since Nerissa knows the CDPH is establishing a center of excellence for its data analytics area and that data acquisition and processing times are significant challenges, she expounds on skills and tasks that yielded significant achievements in these areas.

Like Nerissa, close your cover letter by reiterating your enthusiasm for the job opportunity and personal interest in furthering the organization's goals. Though it won't pay to be cocky, do be confident with an expectation of a follow-up.
Senior Data Engineer Cover Letter Example
Download and edit in Microsoft Word.
Edit in Google Docs (choose "File" and "Make a copy").
Edit in block business letter format (choose "File" and "Make a copy").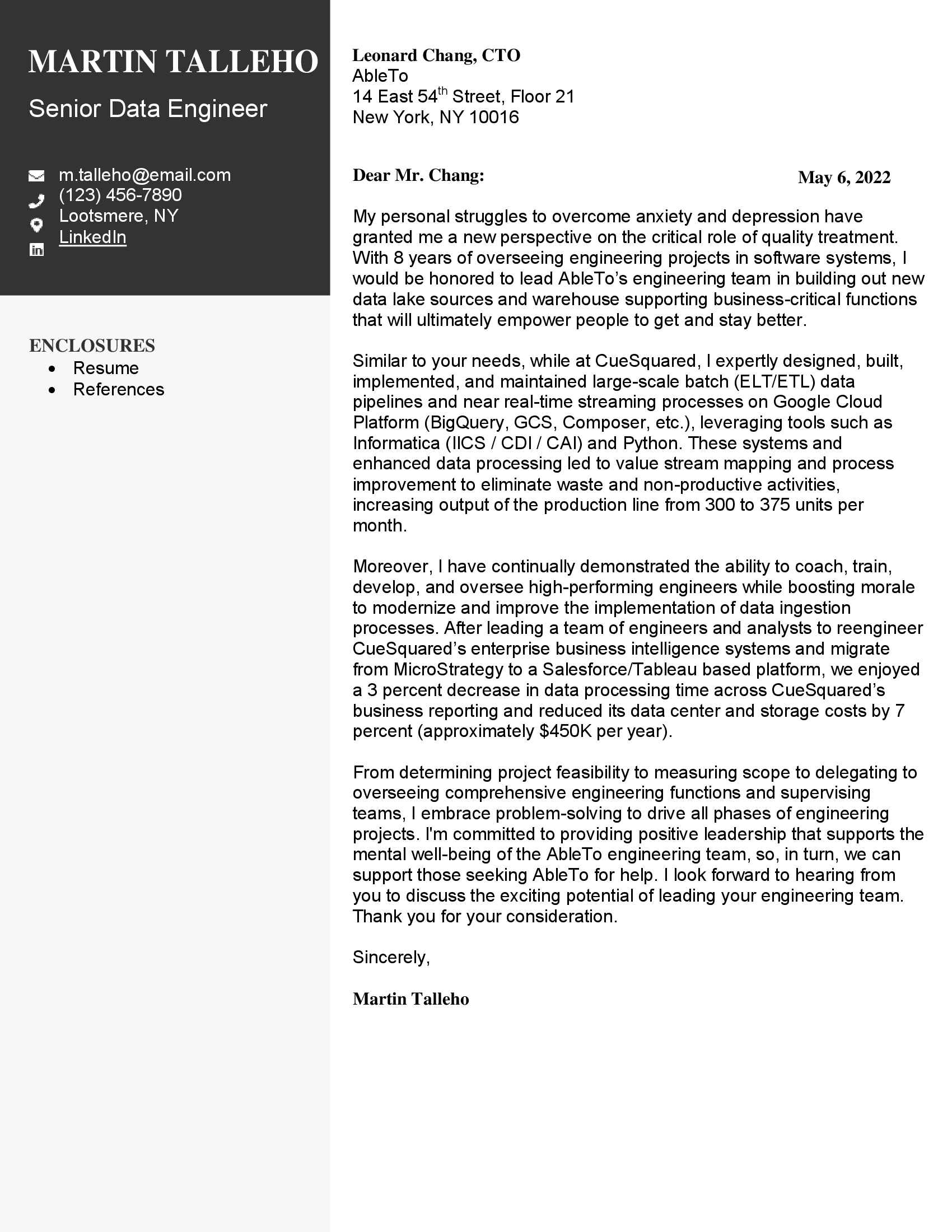 Why this cover letter works
The opening paragraph ties Martin's deeply personal connection to the company's primary mission with his engineering background, which makes him a serious contender for the job.

You don't have to be as personal as Martin does in your senior data engineer cover letter; the key is to research the company, so you can grab employers' attention with a meaningful opener that reflects the company's business objectives, mission, or values.

Don't miss the chance to speak to specific initiatives called out in the job description and how your experience has prepared you for this new role.

Martin links his leadership skills to AbleTo's key business initiatives, such as designing, building, and implementing ELT/ETL data pipelines, and explains exactly how he can further AbleTo's success.

Some abilities mentioned are soft skills, but they match items mentioned in the job description that cement Martin as a well-prepared candidate.
Don't Forget About Your Data Engineer Resume
Hey, maybe you've already taken care of your resume, and if so, awesome. Moving right along.
Whether you're in the process of outlining your resume or looking for inspiration from resume examples, you can edit any of our templates, including this one here:
3 Writing Tips for Your Data Engineer Cover Letter
Tip 1: Take time for research
A good cover letter (and trust us, we haven't seen many of 'em) should be specifically crafted for the particular role and company. Take time to research beyond the data engineer job ad. Check the company site for anything that will inform you about the job, the company's strategies, initiatives that have relevance to data analysis and/or data science, and the company's goals, mission, and values.
Search for anything of benefit from data engineering like marketing campaigns, new product studies, sales analysis (growth opportunities), and general research and development initiatives. These sorts of things can be leveraged in your letter to highlight how your skills, abilities, and experiences apply to the job and company.
Tip 2: Choose one or two accomplishments to discuss
The main section of your cover letter should talk about some of your major accomplishments. Keep in mind that you want to avoid duplicating your resume.
This is where you'll use the information you gleaned from the company website. Choose from your accomplishments and find a couple you can tie to one of the company's goals, objectives, or projects; this will help prove how your talents will benefit the company you're targeting.
If a company is eager to build a data science center of excellence and you've gained strong experience in that, now's not the time to be shy about it. What did you learn from that experience that will drive your success in your potential new role?
Tip 3: Think about your tone
One of the most important things to do with your cover letter is to keep it to a page and, ideally, under a page. No one wants to read a letter that goes on endlessly. Let's face it—no one looks forward to reading a stack of cover letters period. Especially when all those letters are generic and say the same thing. So, if you keep yours brief AND customized, you'll find yourself at the top of the pile.
Data engineering is a technical and detail-oriented role, so while the hiring manager may be expecting a no-nonsense, to-the-point approach, don't be fearful of interjecting a little personality. Once again, if you've researched the company, you'll have a strong grasp of the level of formality you ought to adhere to in your cover letter.
Your cover letter is less restrictive than your data engineer resume. Use this as an opportunity to tie yourself in a personal way to the company or the role. Let's say you're applying to work for a healthcare company. Perhaps you deeply admired and respected a healthcare provider who supported your family during a serious illness. Leverage your interest to present a strong case for yourself. Yes, even a data engineering role can benefit the customers of a healthcare company!
Ok. So, now you have a wonderful cover letter, and it's ready to send, right? Wrong! The most important thing about good writing is editing. But just looking at it yourself doesn't cut it, no matter how great a writer you are and how methodical you are. Get a few pairs of fresh eyes (data engineering eyes would be ideal) to review it for you.
Give your brain a break while others take a look. Some time away from your document will give you some perspective and allow you to better and more objectively process feedback to make your final revision a quick one before finally submitting it to the hiring manager.
Setting up the framework for your data engineer cover letter
There's no need to stare at a blinking cursor on a blank screen. Leverage our cover letter templates above (and try a matching free resume template), or start with this comprehensive outline for your data engineer cover letter that breaks it into discrete sections with clear explanations of what to include in each part:
Your contact info: Data engineers know details matter, so don't ruin a great cover letter with sloppiness by misspelling your name or email (yes, we've seen it) or accidentally forgetting to change any of the generic contact information if you're using a template.
Formatting: If you are using a block business letter, then you can include your address. However, most letterheads (used for resume templates and cover letters) will include your name in a big, fancy font. This is not necessary on a block letter because your name will be in the signature sign-off.
Date: Always date your cover letter for when you actually send it.
Formatting: Use a full date format like May 6, 2022.
Inside address: Direct your letter to the person responsible for hiring. Include their name, position title, and the company's address. Don't be surprised if this takes you the longest to research. Recruiters and hiring personnel are notoriously difficult to track down. Hint: search LinkedIn.
Example:
Leonard Chang, CTO
AbleTo
14 East 54th Street, Floor 21
New York, NY 10016
Formatting: For the addressee and address, place each section on a new line. Double-space between the inside address and greeting.
Greeting: Your salutation (funny word, right?!) should set a positive tone. Do this by directing your cover letter to the person in charge of hiring (see our note about this for the inside address above). Avoid a generic greeting.
These are a no-go:
Dear Manager,

Dear Hiring Department,

To whom it may concern:
Better:
Dear Ms. Kelly:

Dear Mr. Henderson:
Formatting: A colon after the name is the most formal way to do it. A comma is less formal and may be acceptable depending on how "professional" the company is. Use your best judgment based on your company research.
Body: The majority of your data engineer cover letter content will consist of three to four paragraphs describing why you're interested in the job and why you're the best candidate as well as reinforcing your eagerness for future discussion.
Opening paragraph: Start with a bang. Spouting generic statements that you're interested and qualified is frankly boring—and it's what every other candidate is doing:
I found your posting online, and I am interested in the data engineer position you have open.
Very standard and very boring. Zzz. Instead, try something more like this:
My personal struggles to overcome anxiety and depression have granted me a new perspective on the critical role of quality treatment. With 8 years of overseeing engineering projects in software systems, I would be honored to lead AbleTo's engineering team in building out new data lake sources and warehouse supporting business-critical functions that will ultimately empower people to get and stay better.
This candidate immediately establishes a personal connection with the company. He also declares a strong interest in the job with details related to the role.
Paragraphs 2-3: Use the next paragraphs to detail some of your best achievements that are directly applicable to the data engineering role. Don't forget to go beyond your resume. Pick stories with objectives and measurable outcomes like this one:
Similar to your needs, while at CueSquared, I expertly designed, built, implemented, and maintained large-scale batch (ELT/ETL) data pipelines and near real-time streaming processes on Google Cloud Platform (BigQuery, GCS, Composer, etc.), leveraging tools such as Informatica (IICS / CDI / CAI) and Python. These systems and enhanced data processing led to value stream mapping and process improvement to eliminate waste and non-productive activities, increasing output of the production line from 300 to 375 units per month.
The importance of customizing your cover letter is paramount, even more than your resume. While your resume acts like more of a timeline of your past roles, your cover letter should emphasize how a few accomplishments align with the goals and objectives of the company and the role for which you're applying.
Closing paragraph: End your letter on a strong, positive note. Use a sentence or two to show how your values and experience directly align with what their company and/or organization needs. And, very last, before you close your letter, politely but confidently have your ask—yes, you want a follow-up!
This is your last chance to leave a good impression. This will not intrigue a hiring manager:
I am excited about this opportunity and feel I am the right candidate for your data engineer position.
Again, we can't stress enough the need to customize your letter and focus on the benefits you'll bring to the organization. Stay on point and be creative and genuine in expressing your interest in the job. Finish with a clear and relevant call to action:
Expanding my horizons in big data manipulation and human behavior analysis with regard to emergencies and natural disasters is an exciting prospect. I'm equally excited to further share how my experience working on data projects will drive better information for systems and applications that are time-critical for the Red Cross. Thank you for considering me for this role, and I look forward to connecting with you soon.
Formatting: Best practice is to single-space all your lines and double-space between paragraphs.
Signature: Don't forget to thank your reader if you haven't put that in your closing paragraph. Close professionally and use your formal name.
Example:
Thank you for your time and consideration,
Nerissa Radifkoff
Formatting: If you need to print your data engineer cover letter, use quadruple spacing between your closing phrase and your name. This will give you space to include your signature in blue or black ink.
Enclosure(s): Always note additional documents included with your cover letter; it's a professional and logical way to ensure nothing you supply is overlooked.
Be sure to include any additional information the position requires such as applications, references, training, and/or other professional certifications.
Example:
Enclosures:
Resume
Application
Even if the job description does not state that certain documents are required, you can't go wrong by including any certifications or training you have under your belt. You never know when that additional info may come in handy.
Formatting: If you have one attachment, then use the singular form "Enclosure" and if you have more than one, then use the plural "Enclosures." Put each enclosure (attachment) on a separate line.
Next Stop Toward Your Data Engineer Job
Now that you have a great data engineer cover letter, you must have a resume to go along with it. You have updated and upgraded your resume, right? If not, you're in good hands.
Our resume tips will help you customize your resume just as you have your cover letter, so they both fit together seamlessly and are perfectly matched to the job description. For a solid start, choose a free resume template to ease the process of building your resume. You can save even more time by editing this customizable data engineer resume here:
We know that writing and revising your resume is a frustrating and not-so-exciting job, but we're confident that our expert-approved guidance and resources will equip you to make your data engineer resume and cover letter a cut above the rest. Armed with new knowledge, you'll be set and, ultimately, successful in landing that interview to snag your dream role in your data engineering career.