As a data analyst, you turn numbers into insights. You're a modern-day wizard (a bit too far?). Your typical work environment means collaborating with other data professionals (data scientists, business analysts, database administrators) to locate pertinent data, transform data into useful information, generate reports, and create findings to assess business initiatives' success.
A role as a data analyst requires a lot of skills and, if you have any significant amount of experience, will lead to many achievements. While you probably can't fit all your accomplishments on your data analyst resume, the cover letter provides another avenue to provide this information and sell yourself to a potential employer. Hint: This is not the place to be humble.
Creating a good cover letter can be a chore, and it's basically on par with going to the dentist. Nonetheless, it's an important task, and we're here to help you by providing three solid examples with some easy-to-follow expert guidance.
Data Analyst Cover Letter Example
Download and edit in Microsoft Word.
Edit in Google Docs (choose "File" and "Make a copy").
Edit in block business letter format (choose "File" and "Make a copy").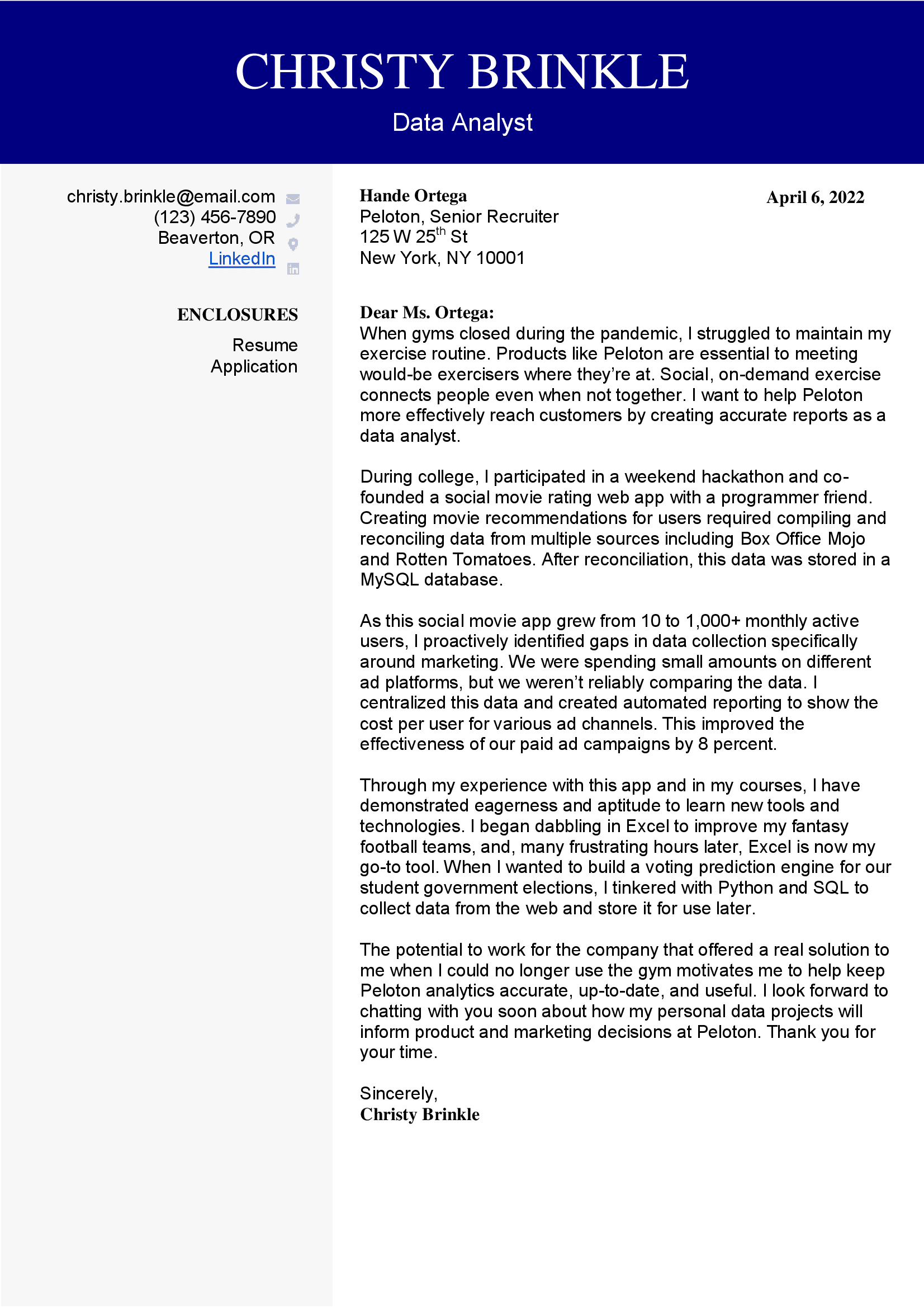 Senior Data Analyst Cover Letter Example
Download and edit in Microsoft Word.
Edit in Google Docs (choose "File" and "Make a copy").
Edit in block business letter format (choose "File" and "Make a copy").
Analytics Manager Cover Letter Example
Download and edit in Microsoft Word.
Edit in Google Docs (choose "File" and "Make a copy").
Edit in block business letter format (choose "File" and "Make a copy").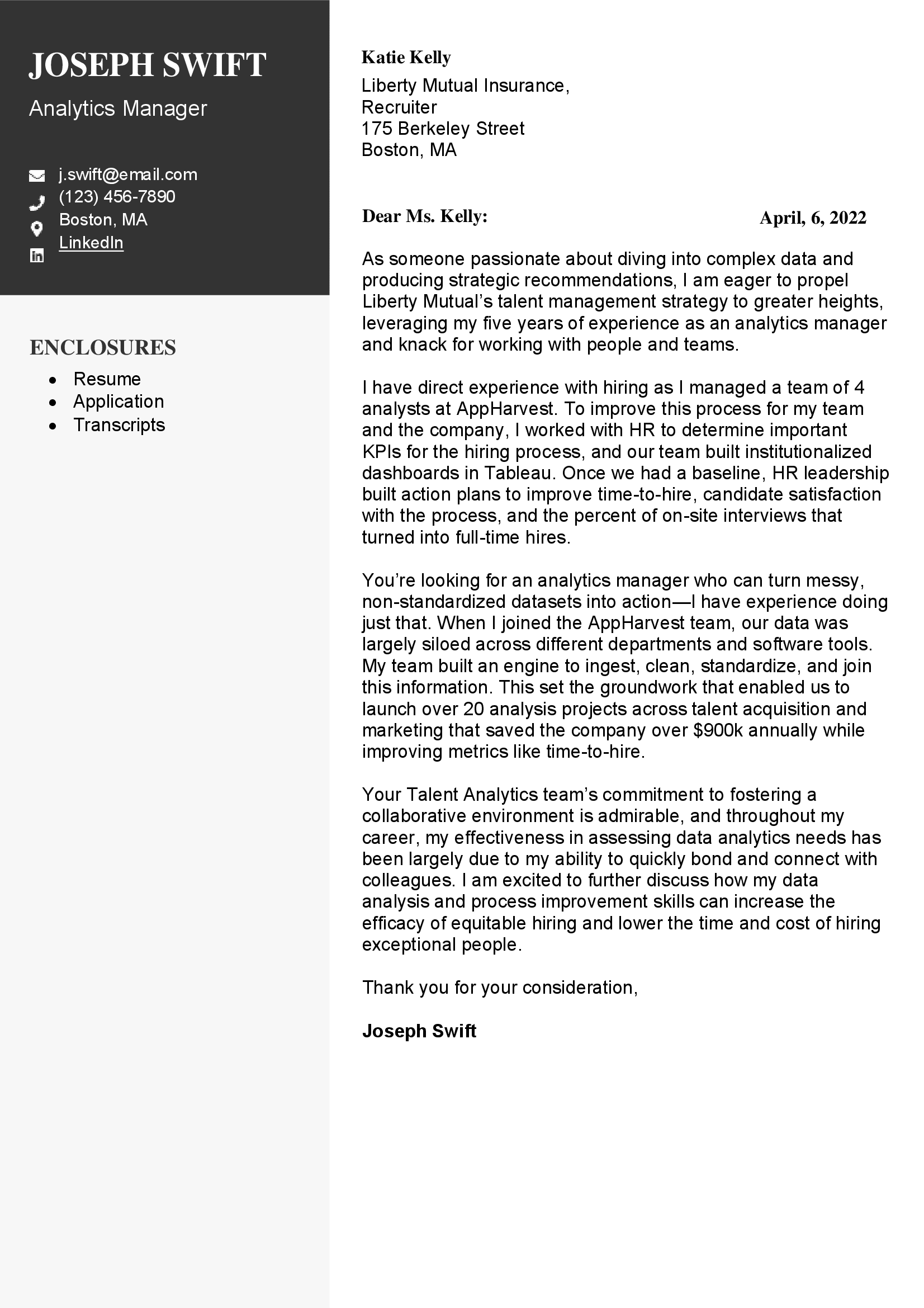 By the way, if you like the looks of this cover letter, try this matching resume (or choose from other popular resume templates if you prefer).
3 Steps to a First-Rate Data Analyst Cover Letter
Step 1: Research the company and position
It's important to customize your cover letter to match the data analyst job description for the position you're applying for, and you'll need to connect the dots between your expertise and the potential role. This requires you to do some research beyond reading the job description. On the company's website, dig deeper for information about the data analyst role, the area you'd be working in, and information related to their data processing and data analysis efforts.
Beyond this, try to understand the company's mission, visions, values, and goals. Tie achievements from your data analysis background (report generation, data acquisition, projects, etc.) to things you've discovered about the company and/or role (goals, objectives, initiatives, issues). You can also leverage this to show you understand the company's challenges and/or plans.
Step 2: Be detailed about your accomplishments
One of the most important things to remember when writing your cover letter is to not duplicate your resume. Focus on telling a story with your achievements rather than regurgitating your job history.
This is your opportunity to address the specific needs or goals for the data analyst role by touting one or two (maybe three) major accomplishments that connect and align with what the company wants and needs. Use your best and most recent work when possible.
Targeting your examples to hit on the information you obtained when you researched the company and the role will impress them and demonstrate how you'll benefit their organization.
Step 3: Communicate the right tone
A key objective you need to keep in mind when writing your cover letter is brevity. You never want your cover letter longer than one printed page. Similar to writing a resume, if you include too much on it, recruiters may feel overwhelmed, grow bored, or, worse yet, skip reading it entirely.
When you're drafting your paragraphs, be specific, clear, and short. Data analysis professionals appreciate direct and clear communication. So, be succinct, genuine, and professional. You want to give the right impression since the job you're applying for is a data analyst and not an actor or a street vendor.
On the flip side, be personable to differentiate yourself from other candidates. This is a bit like a college application—having outstanding grades and academic achievements is great, but extracurricular activities can make the difference between getting in or not.
Now that you've written a great data analyst cover letter, what's next? As with any writing effort, proofread, proofread, proofread! And just when you think your cover letter is ready, have several people review it. Your best bet is to have other data analysis professionals take a look, but at the very least, send it to your mom, sister, or friend—someone with a decent eye for reviewing documents.
Assemble all constructive criticism, and take a step back for a day (or two) to give your creative brain a rest. Then, get back on it, and incorporate the good suggestions you received. Check again for any spelling or grammatical errors. Make final revisions, save your document (something professional!), and send your cover letter to your prospective employer (along with your resume, application, and any other requested information).
Outlining your data analyst cover letter
So, you're starting with an empty page and want to know how to get started. You just need a jumpstart and a structure. Start with our comprehensive outline that breaks down your data analyst cover letter into discrete sections and clearly shows you what to include in each part:
Your contact info: Most people don't write cover letters from scratch. If you're using one of our cover letter templates above, you may want a matching resume template; just be sure to replace the filler text with your information. As a data analyst, you know the importance of details, so don't accidentally leave any of the generic information intact or forget to include your name, email, and number.
Formatting: If you create a block business letter (instead of using a template), then including your address is fine. Many letterheads will have your name prominently displayed on the template, but a block letter shouldn't include your name with the address as your name on the signature line is sufficient.
Date: Hopefully, you're not procrastinating and are writing your letter in advance of when you want to send it. If this is the case, be sure to update the date before sending! Also, make sure that any of your data analyst supporting documentation is up-to-date and has the same delivery date as your cover letter.
Formatting: Always use the full date, e.g., April 5, 2022
Inside address: This is the name and address of the recipient. Include their name, position title, and the company's address.
Example:
Katie Kelly
Liberty Mutual Insurance, Recruiter
175 Berkeley Street
Boston, MA 02116
Formatting: Each section of the address should be on a new line. Double space between the inside address and the greeting.
Greeting: The salutation can set a positive tone or dull first impressions. Whenever possible, direct your cover letter to the specific person in charge of hiring you as a data analyst.
Avoid:
Dear Manager,

Dear Hiring Department,

To Whom it May Concern:
Figuring out who the hiring manager is can sometimes take extensive sleuthing skills. Include figuring this out as part of your research into the company and job role. This is another way to make your cover letter stand out from others:
Better:
Dear Ms. Kelly:

Dear Ms. Ortega:
Formatting: Using a colon after the name is the formal way to do it. A comma is probably okay but will depend on how "professional" a company is.
Body: The main section of your data analyst cover letter will be three to four—maybe five—paragraphs explaining your interest in the job, what makes you a good candidate, and your enthusiasm for future discussion. Here's the breakdown:
Opening paragraph: Think compelling! Don't have generic stuff that will bore the reader. You need to grab their attention. Start with a short sentence or two showing how you came to know about the position and why it speaks to you.
Don't use something like:
I found your posting online and am interested in filling the data analyst position.
That's a non-starter and a snoozer! Instead, try:
As someone who has spent the last 6 years striving to improve my financial literacy, I am intimately familiar with SmartAsset's value. For instance, I used your retirement calculator to set my 401(k) contribution rate after college graduation. Improving financial literacy is the best vehicle to address income inequality, and I would love to help SmartAsset in that fight as a data analyst.
This lead-in demonstrates a personal connection, shows a strong interest in the job, and pulls the reader in. It also demonstrates that you've done your homework and understand how you can contribute to the company's goals.
Paragraphs 2-3: Now that you have their attention, hit them with some facts and figures regarding your great accomplishments. Reminder: don't repeat your resume. This is a good opportunity to expound on a couple of your biggest accomplishments.
For example:
As SmartAsset works to scale growth, I know one of the most difficult challenges is setting up proper marketing attribution to assess the efficacy of each marketing channel. While at Sensio Marketing, I was instrumental in developing real-time dashboards showing the ROI of ad spend across channels. This required coordination between data engineering to create query-able databases, marketing to understand important KPIs, and the testing team to validate different attribution models for the creation of dashboards. This attribution framework helped our team increase paid ad spend ROI by over 29 percent year over year.
We do want to emphasize the interdependencies between your resume and cover letter. Put your strongest and most tangible accomplishments on your resume. However, your cover letter gives you additional space to talk about more of your outstanding achievements in light of what the company specifically needs out of a data analyst.
This also shows the importance of customizing both your resume and cover letter to the specific job you're applying for. Your cover letter should introduce your resume and present complementary information that directly ties to the desired role.
Closing paragraph: This is your last chance to make your case and finish strong. Show hiring managers and recruiters how your values and qualifications align with the needs of the role and the company.
Keep your momentum going and don't end on a flat note like this:
I feel I am a great candidate for this data analyst position, and I am anxious to discuss the opportunity with you soon.
Yuck. This is generic and boring. Nothing at all to make them remember you.
Return to the value you'll bring value to their organization, and creatively reiterate your genuine interest in the job. Include a call to action, stating your anticipation of follow-up communication and an interview. The following closing paragraph shows your commitment to finding a career forwarding role:
I am excited about the prospect of helping SmartAsset reach more people like myself who are struggling with what to do with their finances as early professionals. I welcome the opportunity to share more with you about how my experience can help SmartAsset's marketing team reach more potential users through accurate attribution, product analytics, and automation.
Formatting: Single space your lines but double space between paragraphs.
Signature: Say "thank you" if you haven't done so in your closing paragraph. Use a professional close along with your real name.
Example:
Thank you for your consideration,
Adele Gallia
Formatting: If you print your data analyst cover letter, quadruple space to leave room for signing your name in blue/black ink.
Enclosure(s): Here, you can provide any additional information that the job requires such as applications, references, or data analyst-related certifications.
Example:
Enclosures:
Resume
Application
Copy of certifications
2 letters of recommendation
Including your supporting documentation with your cover letter is always the professional thing to do. Don't make them ask for it.
Formatting: Use the singular or plural form of "enclosure" depending on how many documents you're enclosing. List each item on a separate line.
Next Stop Toward Your Data Analyst Job
With your top-notch data analyst cover letter in hand, consider your resume. If you're looking at your resume, and it doesn't seem up to par, no worries. It's normal to need to revise your resume to match each job position you apply for and, as we noted, you want to make your resume and cover letter work together seamlessly to be perfectly synchronized with the job description.
Never fear, we have many resume tips, and you can get some fresh ideas from our free resume templates and data analyst resume examples like the one below.
Creating and revising career documents is never a fun job, we understand, and we're here to lend a helping hand. Use our resume builder and expert-approved guidance as stepping stones to make your data analyst resume and cover letter outstanding. Before you know it, you'll be interviewing and starting your next role in your data analysis career.