You're no stranger to complex algorithms and lengthy lines of code. From programming to system architecture and networks, you have a deep understanding of computer science that dips into many different niches.
A skill set like yours is in high demand in the job market, but do you know how to make those abilities shine? First, you'll need a tailored computer science resume, and second—a top-notch cover letter.
We're here to help. With our computer science cover letter examples, you'll woo companies right into giving you a job!
---
Computer Science Cover Letter Example
USE THIS TEMPLATE
Why this cover letter works
Note how this computer science cover letter starts from a point of nostalgia and smoothly transitions to competencies that are relevant to the employer. Such an approach shows your understanding of the industry and, at the same time, your suitability for the role.

Also, blending competencies in tools such as Microsoft Azure and TCP protocols add an edge to your skills and give recruiters an idea of what you can offer.
---
Computer Science Internship Cover Letter Example
USE THIS TEMPLATE
Why this cover letter works
Something subtle as showing an understanding of your potential employer can elevate your computer science internship cover letter before others.

Make up for your lack of real-work skills with a combination of staying abreast with industry trends and showcasing your proficiency in applications such as HTML/CSS. It's the little things that make a huge difference.
---
Computer Science No Experience Cover Letter Example
USE THIS TEMPLATE
Why this cover letter works
No experience? No problem. This computer science no experience cover letter proves that you successfully enter the job market without having prior relevant skills. Well, the secret is knowing how to sell your soft skills to a potential employer.

Your adaptability to high-pressure situations and working well in groups would prove vital in landing you your first real-world job.
Related cover letter examples
---
How to Write a Computer Science Cover Letter That Gets You the Job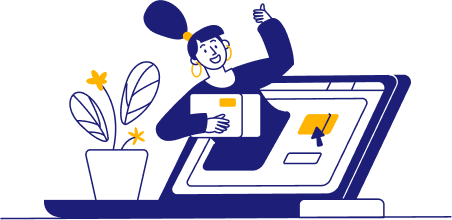 As you work on your cover letter, the one thing to keep in mind is that it needs to feel like you just wrote it for that specific job. That doesn't mean writing a generic letter for every role; instead, write it from scratch or base it on a rough skeleton. Make it as personalized to the job as possible each time to capture the attention of recruiters.
In computer science, this is more important than in many other roles, because there's a diverse range of duties each job may require. For instance, if the job puts a lot of emphasis on backend processes, mention how you're a pro at Python to stand out from the crowd.

Write a strong greeting and intro
The first paragraph can make or break your entire cover letter. No pressure, right? It's okay—here are some ways that can help you get the reader caught in your net from the get-go.
Use your skills in research and digging through swaths of data to find the name of the hiring manager and start with a personalized greeting. If you absolutely can't figure out the name, we recommend using "Dear Hiring Manager" or "Dear [company name] Team," but it's best to address a specific person.
The intro paragraph should establish a connection with the company and immediately mention why you want to work there and not elsewhere.
Think of a career-defining achievement, such as reducing cybersecurity breach attempts or deploying an e-commerce platform, and weave it in here. If you're new to the job, pick a strength you're proud of, such as your knowledge of networks, and mention why it makes you a great candidate.
Take a look at this example below. This opener doesn't explain why the applicant is worth hiring, and it sounds pretty generic—don't do this.
Nope!
I came across this job listing by chance. I like computers, so I think I'm a good fit.
Here's a much better opener that instantly establishes a personal connection and provides some backstory as to why they want to lend their skills to this particular position.
They'll love it!
My first encounter with General Mills was during a high school field trip to learn about the intricacies of food processing. Watching from a safe distance, I was fascinated by the items gliding over winding conveyor belts. I whispered to myself that I would one day work here. Today, I express my interest in the Computer Science Engineer position at General Mills.

Dive into your CS expertise in the body of your cover letter
You know all about the power of data and the way a small mistake can completely ruin an otherwise perfectly good thing. Fortunately, that knowledge is what will help you craft a stellar cover letter.
As computer science can mean anything from straight-up coding and deploying web apps to designing whole system architectures, use the job description to help you cherry-pick the best examples of your work. Support them with quantifiable metrics to show your future employer the kind of impact you may bring to the company.
For example, if the role emphasizes cloud infrastructures, mention how you led the development of a cloud-based application and the resulting 25% reduction in operational costs in AWS that followed. Even if you're applying for an internship or your first role in CS, talk about passion projects or the things you worked on during your education.
Way to go!
I have gained solid experience in implementing and improving TCP/IP protocols, ensuring seamless communication between networked devices and systems. This expertise allowed me to optimize performance in my previous job, which boosted productivity by 43%.

End your cover letter on a strong note
With one more paragraph left to go, impress the hiring manager with a final reminder of your strongest skills and explain how you will use them once you're hired.
Read the job description carefully and determine which skill to lean into here. For example, if you know you'd be working with SQL a lot, you can mention how you hope to leverage your in-depth experience with SQL queries to optimize the company's databases.
Don't forget to come leave a lasting impression by thanking the reader for their consideration. Lastly, mention the company by name and express how much you want to work there.
As far as closing paragraphs go, the below signoff is really not great. It shows that the candidate just wants to have a job and would settle for any offer.
That didn't work…
I've applied to a lot of similar roles and I'm still waiting for a company to give me a chance. I believe I have the basics down and I really want to start right away.
This is a great way to end your cover letter, expressing the most important skills and an eagerness to work at that particular company.
Much better!
As a Computer Science Assistant at Volaris, I am committed to collaborating with the talented team to contribute my skills, passion, and dedication to the company's success. I am confident that my strong work ethic, adaptability, and ability to grasp new concepts will make me a valuable addition to the team.
What should I do if I have no experience in computer science? 
Lean into personal projects and relevant coursework. You can talk about a mobile productivity app you designed and deployed by yourself or the way you used Azure during a group project to migrate from a legacy system to a cloud architecture.
What to talk about if I'm switching careers? 
Treat transitioning to a new career as an opportunity to show that you're a good fit for the role. Talk about transferable skills, such as attention to detail or knowledge of basic math and algorithms, and discuss how your background made you appreciate computer science.
Should I include a portfolio?
Yes, it's great to add a portfolio both to your cover letter and your computer science resume. Technical recruiters often appreciate the opportunity to peek at your code and see the kind of projects you've worked on in the past.