You're passionate about optimizing processes and achieving company goals. Businesses know they can count on you to manage spending, increase sales, and more while on the job.
Have you optimized your cover letter to accompany your stellar business resume for the competitive business space?
While you may be a business expert, creating a great cover letter can seem much more challenging. That's why we've put together some effective business cover letter examples that will land you the job in 2023.
---
Business Cover Letter Example
USE THIS TEMPLATE
Why this cover letter works
Align your business cover letter with the company's mission and show how your skills can contribute to their operations.

Detail specific examples from your life that connect to how the company does business. A personal anecdote can go a long way.
This helps the employer visualize how your skills can fit into and improve their business operations.
---
Business Manager Cover Letter Example
USE THIS TEMPLATE
Why this cover letter works
In your business manager cover letter, highlight your leadership skills and accomplishments in a concrete way.

Don't be afraid to share examples of how you've led teams to success in the past.

Use concrete data to support your claims here. Doing so will emphasize your ability to consistently achieve results and gives your cover letter a more professional look.
---
HR Business Partner Cover Letter Example
USE THIS TEMPLATE
Why this cover letter works
Any HR business partner cover letter you create needs to show how you've served the businesses you've worked for in the past.

Provide examples where your HR strategies improved employee engagement or business performance.

Don't leave hiring managers guessing. Be specific in what you've accomplished and what your skills could bring to the hiring company.
Related cover letter examples
---
Elevate Your Application With an Effective Business Cover Letter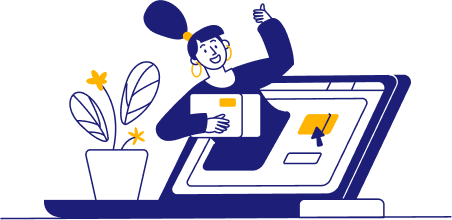 Every business offers different products and services and has varying operational policies. Therefore, your cover letter shouldn't be a one-step copy-and-paste solution for every business-related job you apply to.
Instead, you want to tailor it based on the job description for each company's needs. For instance, if you're applying to a business financial analyst position, you may want to emphasize your knowledge of expense reports and income statements.

Techniques for writing the greeting and intro of your business cover letter
As you would do for a business proposal, you want to lead off with a strong opening for your business cover letter.
The first step is optimizing the greeting with the name of a specific hiring manager since personalization is always a great way to succeed in the business environment. However, if you can't find a contact person in the job description, company website, or LinkedIn, leading with "Dear [company name] hiring manager" or something similar will also work.
You also want to immediately connect the values and skills you bring to the table in the opening paragraph. For instance, if the company provides youth educational resources, you could connect to how you'd be passionate about using your sales skills to promote services that help kids feel empowered within their education at an early age.
The example below is a decent start. That said, it doesn't address anyone in specific or connect with the company or skills needed for the job the applicant is applying to.
Lead with a stronger connection to the role than this!
Hello,
I'm excited to be applying for your business management position. I've had a strong business acumen from a young age, which is why I decided to go to school for business management. I believe I'm an ideal fit for the position.
Instead, go for an opener that connects with the company you're applying to, like the one below, that emphasizes the applicant's passion for eBay's sustainable form of commerce.
Form a relevant connection with the company!
Dear Mr. Iver,
eBay's commitment to enabling economic opportunity and creating a better, sustainable form of commerce resonates deeply with me, making me eager to contribute to your mission. I am excited to apply my skills to the role of business assistant at eBay.

Tips for the body of your business cover letter
You understand the importance of metrics and credentials when making key business decisions. Emphasize those aspects in your business cover letter's body to create a great foundation for your skills and to emphasize why you're an excellent fit.
Some common business metrics you may want to reference include ROI, conversions, or productive efficiency.
If you don't have much experience, you can also lean on achievements and courses from degrees in business management, finance, marketing, or other related fields to show you have the right skills for the job.
Take a look at the example below, which does an excellent job of citing metrics like market reach and increases in sales.
A good body paragraph optimized with business metrics
My most recent position was as the business development manager at Texas Instruments. Here, we faced challenges regarding product penetration in new markets, to which I responded by instituting an evidence-based market research approach. This initiative resulted in a 53% increase in market reach and boosted sales by 33% over a year.

Put the finishing touch on your business cover letter with a strong closing
You know that a solid closing with a CTA can make a big difference in landing the sale. It can also help when writing your business cover letter.
Ideally, you'll want to relate back to crucial characteristics of the position and the company's mission. For example, if you're applying to be a business development director for a company that sells fitness equipment, you could relate back to how you want to use your strategic prospecting abilities to help the company grow and achieve its goals of helping more people live a healthy lifestyle.
The closing below doesn't end as strongly as you'd like since it doesn't refer back to the specifics of the position.
Yikes, too bland!
Thank you for reading my cover letter. I hope to hear back from you soon and would be eager to get started in this position.
Sincerely,
Jessica Sanchez
Instead, aim for a closer that sounds eager and engaged with the role, like the one below, emphasizing enthusiasm about joining ExxonMobil's HR team and their work environment that encourages growth.
An eager and engaged closer for the win!
I am eager to utilize my skills to improve the effectiveness of your HR operations by joining ExxonMobil as an HR business partner. I am committed to collaborating with various teams to foster a work environment that encourages growth, innovation, and satisfaction. Thank you for your dedication to workforce empowerment, and I eagerly await your response.
Sincerely,
Cesar Quispe
What if the job description doesn't request a cover letter?
When you sell or develop products, you want to make every effort to stand out in business. You should do the same in the hiring process and submit a cover letter to showcase your skills, even if it's listed as optional in the job description. 
Should I follow up after sending a business cover letter?
You know that following up on leads can help land a sale in business. It can also help if you haven't heard back a week or two after submitting your resume and cover letter. Just remember to keep a professional business tone to leave a good impression. 
How long should business cover letters be?
The business environment is fast-paced, so your cover letter shouldn't be longer than one page. To condense what you include, try to focus on the primary needs of the position. For instance, if the company needs help boosting sales, you could emphasize your lead generation and cold calling skills in your cover letter.