Sales are the lifeblood of business. Whether selling products or services, you take care of customers as they invest in your company.
Sales mean selling well, and that makes all the difference in keeping clients happy and hungry for what you've got. Every business needs someone with sales skills—it's just a matter of what you're selling and to whom, which makes sales a versatile option for those looking to broaden their horizons.
Whether you're joining sales or a seasoned veteran, you may need a cover letter with your sales resume when job hunting. So, we have three sales cover letter examples, plus tips for selling your cover letter. We've done the heavy lifting to help you present your top job skills at every sales interview.
---
Sales Manager Cover Letter Example
USE THIS TEMPLATE
Why this cover letter works
Trek Bikes sells specialized sporting equipment, meaning its company values and branding align with an active lifestyle. In Natalie's sales cover letter, she establishes common ground by mentioning her interest in biking outside of work hours.

Before writing your cover letter, research the job role. If you're familiar with the products and services the company sells and its target market during the interview, that'll help you stand out among other potential hires.

Trek Bikes' website and job ad reference its mission to change the world. They also emphasize the importance of investing in employees. The second half of Natalie's cover letter draws on these points to show she also cares about the same things they care about.

Your resume tells employers about you, but your cover letter takes it further by telling them how you'll fit in with their work culture. Some things just can't be summarized into resume bullet points, and your cover letter is where you illustrate how you'll apply your previous job experience in a new environment.
---
Digital Sales Representative Cover Letter Example
USE THIS TEMPLATE
Why this cover letter works
ProSites is a web marketing firm specializing in the medical and dental industry, where they help dentists keep in touch with customers. While Charmaine doesn't have experience in healthcare marketing, she mentions her B2B and B2C sales experience with Adobe as a unique perspective that will help her in her role as ProSites' digital sales representative.

You won't be a perfect fit for every role. Still, past experience might offer an alternate perspective to draw on as you write your digital sales representative cover letter.

As a web marketing firm, ProSites' provides healthcare professionals and organizations with marketing solutions that allow them to serve patients without worrying about client acquisition. The first paragraph of Charmaine's letter identifies this and demonstrates how she aligns with its mission.

Company websites and sales representative job descriptions are a treasure trove of information. Just as you'd research a sales lead before pitching, do the research to show a potential employer how you understand and align with the company.
---
Sales Consultant Cover Letter Example
USE THIS TEMPLATE
Why this cover letter works
While Morgan Stanley is hiring an internal sales consultant, industry experience and certification are necessary as the products and services sold are specific to investment management. So, Samantha's investment banking experience, CFA charter holder status, and FINRA certification show she's well suited to the environment and the clients she'll be servicing.

Credentials and experience can influence the company's decision. Even if you don't have exactly what they need, unique proof of results can help make up for what you might lack—or even bring a little extra something to the table.

Morgan Stanley's website and sales job listing note the importance of customer satisfaction. Samantha demonstrates how her approach to sales aligns with Morgan Stanley's values, and she backs that up with her achievements in sales as an individual and within a team.

It's not enough to just understand the company—show the prospective company how you plan to meet the needs of its target market to set you apart from other applicants.
Sales Resume
Sell the package by including a sales resume with your cover letter.
---
Outsell Your Competition with Your Sales Cover Letter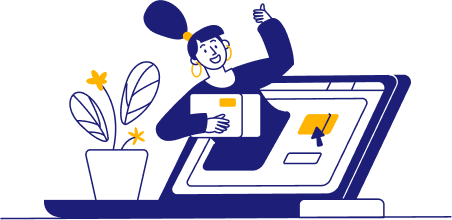 As a salesperson, there are a few things you must do to raise the odds of closing the deal: do your research, show proof of value, and bundle it all up into an appealing package.
Your cover letter is the same—demonstrating that you're a candidate familiar with the company and its requirements is one thing, but if you can back that up with good examples of past results in a neatly presented document, that's even better. All of that makes you downright irresistible as a prospective hire.

Step 1: Know the company and role
Before you apply for a job, consider how you'll stand out from the many applicants crossing the recruiter's desk. Between your sales resume and cover letter, the latter is your best bet at making a unique first impression.
To hunt down a sales role, use the information in the job description and the organization's website to set the perfect bait (we mean your cover letter). Different companies have different values, and tailoring your sales cover letter to address each company's needs will help convince them you're the right person for the role.
Step 2: Demonstrate achievement with details
The format of your resume works like a product pamphlet or brochure; it contains all the specifications you have that will meet the job description's requirements. Your cover letter, on the other hand, functions like a sales pitch that helps convince employers you're the best fit for the job.
Example
If you acquired an industry-specific certification like the CFA charter to boost your credibility as a salesperson, tell the hiring manager how you did it and how it affected your sales performance. If your sales team implemented a different approach to the sales process that positively impacted your win rate, elaborate on how the change helped you and what you learned.
Going beyond resume bullet points helps employers paint a complete picture of your person, so don't skimp on the details.

Step 3: Presentation matters
Like selling products and services, your cover letter will draw more attention if presented in a neat, appealing package. While writing your sales cover letter, remember that hiring decision-makers often process hundreds of job candidates. Your document should end within one page, so reading it doesn't feel like drudgery instead of an application.
On that note, keep your writing simple, professional, and sincere. You're applying for a job, not waxing poetic or jamming jargon into each paragraph. The language in your cover letter should be easy to read. Recruiters will pay attention to how you present yourself in your cover letter because how you sell yourself will often indicate how well you can sell on behalf of the company.
The language in your cover letter should be accessible and easy to read so recruiters can grasp the material.
Once you're done writing your sales cover letter, give it time to breathe before editing so that you can come back to it with a fresh perspective. If you have trusted people who can look over your document, even better—revise your cover letter using their feedback, and catch any errors or typos before sending your application, resume, and cover letter to the company.
Your Sales Cover Letter Outline: Start with Strategy
Now that you're ready to craft your sales cover letter, we're here to help. Let's strategically go about this, much like any sales process you might already be familiar with from previous sales engagements.
How to start a sales cover letter
Your contact info: If you're using a template, fill in the letterhead with your name, email, and phone number. Any filler text in the template should be replaced with the relevant details or omitted if they're not required.
Formatting: If you're using a block format instead of a template, include your address. While a template has your name on the letterhead, your name will be omitted from your address in a block format as it's already present in your signature line.
Date: Sales processes sometimes take a while, and job applications are no different. The date written on your career documents should be the day your entire application is submitted.
Formatting: Write the date entirely, e.g., February 1, 2023. This format keeps the month and date clear and straightforward compared to the DD/MM/YYYY and MM/DD/YYYY difference in regional date formats.
Inside address: In short, the inside address is how you'll contact the hiring decision-maker at your organization of choice. Start by naming the specific person in charge, then list their position, the company's name, and finally the company's address.
Example
David Durfey, Director of Human Resources
Trek Bikes
801 West Madison Street
Waterloo, WI 53594
Formatting: Each part of the address should be on a new line, but you can list the hiring decision-maker's position next to their name. Add a double space between your greeting and the inside address.
Greeting: First impressions count, and a good greeting or salutation can help your cover letter start with a bang. Try looking for the hiring decision-maker's name on the organization's website or social media, as that will add a personal touch to your writing. It also shows you've done your research to find out with whom you'll be working.
Formatting: Commas after the greeting are great for companies with more casual work culture, such as tech startups. If you're applying to a bank or somewhere with a more formal setting, use a colon after the greeting.
How to write your sales cover letter
Body: Your sales cover letter should have a maximum of four paragraphs, where you state your interest, demonstrate your enthusiasm, and show your eagerness for further discussion. Here's where we get to the meat of the matter.
Formatting: The body of your cover letter should be single-spaced, with double-spacing between paragraphs for easy reading.
Opening paragraph: Like your greeting, your opening paragraph is where the recruiter will glean their first impression of you. State your interest in the job and mention one or two relevant credentials. Don't be generic here, like:
Example
I am interested in the sales consultant role at your company. I have three years of relevant sales experience in an adjacent field.
This doesn't tell the recruiter anything they don't already know, and if you're trying to get a sale on the street with this introduction, they'll walk past you without a second glance. Instead, try:
Example
ProSites' focus on innovation and growth in the medical and dental web marketing sphere speaks to me as a digital marketer and salesperson. While some treat sales as just another job to put food on the table, I believe my calling lies in empowering clients with practical tools to bring their business to the next level, and that shows in how I build relationships with each customer I serve.
This opening catches the reader's attention by first addressing the organization's values, then showing how the candidate's approach to work aligns with those values.
Paragraphs 2-3: The next couple of paragraphs are where you'll elaborate on the credentials and qualifications introduced in your opening paragraph. For each paragraph, discuss one clear and relevant accomplishment relevant to the job description requirements. Be detailed and specific, and quantify your results whenever possible like this:
Example
Having developed specific experience in both B2B and B2C sales during 3 years at Adobe, I know how vital it is to foster the business-to-client connection, especially in our current digital age. My understanding of B2C marketing gave me a unique perspective in empathizing with our clientele's pain points to help me exceed target sales metrics by 6% each year. To do so, I habitually nurtured viable sales leads by following up on them at designated intervals and establishing a two-way street by not just listening to their problems but also resolving them whenever possible.
This paragraph tells the reader about specific, industry-relevant experience and links this experience with company values and metrics to further justify the candidate's successful skill application.
Closing paragraph: You've done well introducing yourself and selling your capabilities as a competent candidate for the job; now, finish it with a sentence summarizing how your values and qualifications align with the company's needs. Add a call to action at the end for some extra polish. This is bad:
Example
I think I'll do well in this sales consultant role. Thank you for your time and kind consideration.
It doesn't exactly inspire confidence, and as a salesperson, one of the key personality traits is confidence, both in your product and in yourself. Instead, try something like:
Example
Participating in and supporting client growth is an enriching experience that pushes me to excel in the context of my sales career. I look forward to joining Morgan Stanley, where I know we will achieve great things together. I hope to hear from you soon about how I can contribute as your next internal sales consultant. Thank you for your time.

How to end a sales cover letter
Signature: This is the time to say "thank you" if you didn't do so in the closing paragraph. Use a professional close like "sincerely," or "best regards," along with your real name.
Example
Best regards,
Natalie Walton
Formatting: If you're sending any hard copies of your cover letter by mail or in person, make sure to quadruple-space, so you have room to sign your name in blue or black ink.
Enclosure(s): The sale isn't final until all documents are complete. State "Enclosure(s)" at the end of your cover letter to let the reader know there's more to come. Here, you'll list in order of appearance your job application, resume, and other supporting documents required or relevant to the job description.
Example
Enclosures:
Resume
Application
Chartered Financial Analyst (CFA) Certification
FINRA Series 7 Certification
Formatting: If you're listing more than one document, use "Enclosures" instead of "Enclosure," so the reader knows what to expect.
Snag Your Next Sales Role with a Selling Resume
So, you've figured out how to sell your best cover letter, and you're sure you've cracked the code to get the sale in the bag. But what about your sales resume?
If your resume is as ready to go as you are, that's great! However, if you need to check your resume or use a free resume template, that's why we're here. Pressed for time? Try plugging your details into this one right now.
You're a heckuva sales pro, and you deserve a dazzling sales strategy to match—our cover letter and resume tips will get you on your way to becoming a sales superstar. With our tools keeping you polished and fresh, you're sure to shine at your next interview.
---
What if I don't have any sales experience?
Include as much information as you can about translatable skills and why you want to get into a sales career. For example, customer service is very important in sales, and you can gain experience in it from a variety of previous jobs. Additionally, if you've obtained a business or marketing degree, you could emphasize marketing analytics or lead generation skills that you picked up in your studies.
How can I make my sales cover letter stand out?
You understand the importance of metrics like conversions or customer satisfaction. Aim to include some pivotal metrics from your previous work achievements while relating them to how you'll help the company achieve its goals. Additionally, connecting your passion for the position will help a lot. For example, if you're applying to be a sales rep for a gym, you could explain how you're passionate about getting more membership signups to help others improve their health and well-being.
Do I need to write a brand-new cover letter for every job?
You can keep a similar structure for each cover letter, but you should customize the specifics to connect with each new job you're applying to. It's the same as how you'd tailor your message for each prospective customer's needs when you're on a sales call or adjust your strategies for a specific target market.