You're super organized and can write as well as you speak. No matter how busy a calendar is, you can always find a way to squeeze in an important meeting.
You're an excellent executive assistant. By no means should you also have to be an expert at writing an effective resume in 2022.
We've compiled this list of five executive assistant resume examples that have actually landed people jobs in 2022.
These resumes are a great place to start, and a great way to avoid the dreaded blank page.
⇧ Table of contents
Correct Format for Your Executive Assistant Resume
When you're writing your resume, the format you use is essential because it ensures that your executive assistant resume has a logical flow, is fully readable, and is complete. Without the right format, businesses may not even consider hiring you. Let's take a comprehensive look at the following when it comes to formatting your executive assistant resume:
Reverse-chronological format, functional format, and combination/hybrid format

Where to place name and contact information

Be smarter than the ATS
Reverse-chronological format, functional format, and combination/hybrid format
The three primary resume formats you could use when creating an executive assistant resume include:
Reverse-chronological format:

This format emphasizes your experience and employment, which allows companies to see your career progression.

Functional format:

This format focuses on the skills that ensure you qualify for a job as an executive assistant, which also helps to mitigate issues with employment gaps.

Combination/hybrid format:

This format combines the reverse-chronological format and functional format by placing equal focus on employment history and skills.
While all three resume formats have their advantages, the reverse-chronological format is the top choice for an executive assistant resume. Along with being easily the most popular resume format across most industries, it's also preferred by the majority of employers. The reverse-chronological timeline of your employment history will be easy to skim, which is why this is a favorite format among recruiters.
Where to place name and contact information
Your name and contact info should be the first pieces of information you place in your resume. Your name should be positioned at the top of the page in large font size. If you're building your resume in word processing software, the font itself should be something like Times New Roman, Cambria, Calibri, or Arial. In a slightly smaller font, you'll want to include the title of the job you're seeking. If you choose to include color, including it in your name or job title would be appropriate.
As for your contact details, place these on the left or right side of the page near your name and job title. Use a font size of 10-12 points. The information that should be placed in the header and contact info areas include:
Your name

Executive assistant title

Email

Phone number

Location (city and state is fine)

Possible LinkedIn profile
While the contact information you include in your executive assistant resume is pretty straightforward, you can be creative in how you include it. Browse our 1,000 + resume examples for more inspiration beyond this sample:

Be smarter than the ATS
Many companies receive dozens or even hundreds of executive assistant applications and resumes, which means it's practically impossible for recruiters to sort through every resume they receive. To mitigate this issue, most businesses use applicant tracking system software, which is designed to sort resumes by searching for keywords and by looking at the resume format. Any resume that makes it through the ATS without being discarded will then be reviewed by a recruiter.
Adhere to these ATS-friendly tips when
making your resume
:
Margins:

Use half to one-inch margins on all sides.

Fonts:

Times New Roman, Tahoma, Arial, Calibri, Cambria, Garamond, and similar fonts are a safe bet.

Font sizes:

As a rule of thumb, use 10-12 points for contact info and resume content, but increase the font size to 20-24 points for your name and job title (though the job title should be a slightly smaller font).

Header names:

Section headers should stand out, so consider using a bold font and all caps. Adding a touch of color to your section headers is also an option.

Skills:

Your skills should align with the executive assistant job description. While you don't want anything to be a copy/paste job, do take care to customize this section for the job.

Logical order:

We recommend the reverse-chronological format because the ATS understands it's order. The bulk of your resume should come from the work experience, which should be listed with your most recent experience first.

Page count:

Use only one page for the entire resume, and this should be an exact page.
While you can tackle this yourself in Word or Google Docs, our resume builder will eliminate any frustration involved in formatting your executive assistant resume for success.
Writing Your Executive Assistant Resume Like a Pro
Even though the idea of writing a resume for an executive assistant position might seem like a daunting prospect, you can avoid a lot of the stress of this time-sucking process by taking advantage of our tips. (Do yourself one better, and use our resume maker for an easy-peasy task.)
All right, let's dive in:
Objective or summary

Job history

Key executive assistant skills

Education

Projects, interests, and hobbies

Customizing your resume

Proofread
When do you need an objective or summary?
When writing your executive assistant resume, you could decide to add an objective or summary that allows recruiters to get a good sense of who you are without needing to read every facet of your resume.
Refer to the following definitions when deciding whether you need one of these statements:
Resume objective:

A

resume objective

is two to three sentences you can include in your resume when you want to tell recruiters why you'd like to obtain the role. An objective is best used when changing fields or seeking an entry-level position but can be left out completely. Unless you're going to take the time to specifically demonstrate your candidacy and customize the objective for the particular job, just leave it out.

Resume summary:

A resume summary, also two to three sentences, can be used to highlight your skills and how these skills have helped you obtain quantifiable results over your career history. Summaries are a great way to show your value to the company you're applying to and can be used when you want to tie together years of past work experience. However, summaries should be avoided if you don't have at least 10+ years of work experience. Again, avoid using a summary if you're not interested in customizing it to the job.
The following takes a look at a poorly written objective as well as a poorly written summary.
Objective: Would like to obtain a job as an executive assistant as the next step in my career.
Summary: Have extensive experience as an assistant and receptionist.
These statements are vague and fail to provide recruiters with any value. In fact, they only serve to distract from the core components of the resume and may cause an employer to discard your resume before they've even scanned your qualifications and work experience.
Instead, an objective like the following would work much better:
Analytical and detail-oriented executive assistant with more than 5 years of experience in helping high-level executives within Fortune 500 companies. Searching for a unique opportunity to assist the CEO of Fiori Financial Group in ad-hoc special projects, boosting shareholder value, and enhancing employee efficiency and procedures.
And a summary like this one is effective:
Meticulous and results-driven executive assistant with more than 15 years of administrative experience managing office operations for presidents and CEOs. From data entry, presentations, customer support, scheduling appointments, arranging itineraries, and more, I am eager to share my talent for combining administrative knowledge with business objectives to boost efficiency and conserve time at a proactive financial company like Stockd Group.
These examples succeed because they provide recruiters with metrics and valuable information that they can use when trying to select the right hire. Both the sample objective and summary demonstrate specific skills and are customized to the particular role.
Job history
Your work experience is the most important section of your executive assistant resume. You should include two to four job experiences pertaining to the executive assistant field. However, you don't need to include every job that you've had since you were 16. Focus on the last 10 years of experience. If you have an ample amount of experience in that timeframe, include the experience that's most relevant to the job position. Conversely, if you're seeking an entry-level role, you may be short on experience. In this case, consider adding projects, which we'll discuss a bit later.
How to write job bullet points
Your job history should be written in bullet points, which allows you to focus on the most relevant information. Use active language instead of passive language. For instance, "the cashier sorted the money" is an example of the active voice. This same sentence, phrased as "the money was sorted by the cashier" is an example of passive voice. Which is easier and more pleasant to read? Active voice conveys a clear and strong voice that works well on resumes (and in any type of writing, really).
Avoid using personal pronouns in these bullet points. When it comes to punctuation, you can use periods or skip them; just be consistent. Additionally, make sure that you use the past tense for your work history, though you may use the present tense for current work.
With that, you're ready to write your job description bullet points, but avoid writing bullet points that are vague and underwhelming like the ones here:
Performed customer service 5 days each week

Used different technology and software for documentation

Performed demanding tasks when working for the CEO
These bullet points don't lack quantifiable data and are too short to provide value to recruiters. Beyond that, they don't go beyond typical job duties, and even what's listed is awful blah. You should be detail-oriented with your work experience bullet points:
Completed follow-ups with all contacts made by the CEO, and supported the development of ongoing relationships by making at least 30 calls every week

Efficiently performed various accounting activities that included expense reports, invoices, financial documents, and purchase orders weekly

Improved productivity rates by 23% between 2018 and 2020 by providing continual reports on product issues and operational concerns
These work experience bullet points are effective because they contain verifiable details as well as metrics that tell recruiters how much value you could potentially add to their company.
Add numbers to demonstrate your impact
As touched upon, it's highly recommended that you add numbers and data to demonstrate the impact you've had in previous jobs. Recruiters want to know how hiring you would benefit the company, which is easy to show when you provide quantifiable information about your work experience. These metrics could include anything from boosting revenue by a certain percentage to improving efficiency at a specific rate. The following offers a few examples of how you can place metrics into your job description bullet points:
Performed 10-20 check requests every week as part of accounting activities

Managed all international and domestic travel reservations, which reduced company travel expenses by 15%

Improved office efficiency by 20% by transforming the company's primary filing system, which also resulted in reducing paper usage by 63%
Key executive assistant skills to include on your resume
When you're preparing your resume, the skills section is essential if you want to show recruiters why they should hire you. Keep in mind that the ATS looks at your skills to determine if you're a good applicant. When writing out 6 to 10 skills on your resume, you should include a combination of soft skills and hard skills. Soft skills are universal and can be placed on any resume. However, they're more difficult to measure. Examples of soft skills include adaptability, time management, and communication.
Hard skills are more important for executive assistant resumes because they're specific to the job, easy to define, and measurable. Some of the hard skills you might consider placing on your executive assistant resume include Zoom, Slack, Microsoft Office, Google Workspace, typing speed, and expense reports.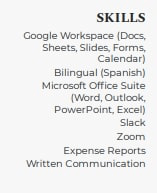 The purpose of your skills section is to quickly show the company what you offer and the technologies you know how to use. Since you shouldn't include a laundry list of skills on your resume, you must search for keywords in a job description ad for executive assistants. You should be able to find the exact skills recruiters are seeking.
One quick word about this, though: Never lie and claim you've mastered a skill when you haven't. If none of the skills in the job description sound like you, it's probably a sign that's not the job for you. Keep searching because there are other jobs that better match your skills.
Education
An executive assistant role is one of those jobs where the education level required can really vary. Some employers may request at least an associate's degree while others will want a bachelor's. Even still, some employers will be just fine with a high school diploma. While every employer has different requirements for the level of education and experience they want from potential hires, some basic pieces of information should be provided on every resume.
When it comes to listing your education, there's no need to give an abundance of information unless you are newly graduated and need to use your education as a means to demonstrate your capabilities. Otherwise, you should just include the university name, degree, and graduation year. If you hold an associate or bachelor's degree, there's no need to list your high school diploma because that'll be assumed.
Should you add projects, interests, and hobbies?
Although most resumes don't include information about projects, hobbies, or interests, there are times when you may benefit from adding this information. If you lack lengthy work history or have just graduated from college, adding projects and interests is a great way to show that you have what it takes to be an executive assistant, even if you don't have the work experience. The key for adding projects or interests and hobbies is that you should be able to intelligently discuss its relevance to the executive assistant role in an interview.
For example, if you listed "backpacking in the Pacific Northwest" or "mastering woodwork" as interests and hobbies on your resume, they may seem unrelated to assisting the CEO; however, backpacking in the PNW demonstrates your ability to plan and organize your own trips and itineraries. Mastering woodwork could showcase your ability to persevere through tedious and challenging tasks, particularly new tasks.
Projects can be treated more like work experience. This could be volunteer work or even a creative project you took on for a friend or family member. As long as it reasonably demonstrates relevancy to the executive assistant role you're seeking, this can be an excellent way to create bullet points that prove your value when you're lacking traditional work experience.
Customizing your executive assistant resume to each role
It's important to customize your resume for the specific role for which you're applying. When you send in a resume for a job as an executive assistant, the information you include shouldn't apply to just any type of assistant or receptionist position.
Recruiters who are searching for the right hires want someone who can handle the extra demands that come with being an assistant to high-level executives and CEOs. If the job ad explicitly states a need for someone who has prior experience assisting executives, can recommend changes to company policy, and handle internal communication and distribution of information, then you'll need to prove this isn't your first rodeo. Tailor your resume accordingly in the objective/summary section, your work experience bullet points, and your skills section.
Scour for errors
Just when you thought you were done, right? This specific tip is the easiest to follow yet also the most overlooked. As an executive assistant, there's no doubt your attention-to-detail and writing abilities are top of the line; however, there's always a possibility that you've made a typo, punctuation, or grammar error. These mistakes are simple to rectify as long as you scour your completed executive assistant resume for errors before sending it in.
Give your eyes a rest for a day or two before proofreading. Additionally, it's a smart idea to have some friends or family members look at your executive assistant resume to gain other opinions and perspectives. You could also take advantage of our free resume checker, which will pinpoint and offer help when it comes to important details that are easy to miss.
Score Your Next Big Break
All that's left is to actually write your executive assistant resume now. Now that you know the right approach when it comes to formatting and writing it, you'll be well on your way to:
Formatting for success and beating the ATS

Writing to prove value in every facet of your resume, which includes everything from your job history to the interests and hobbies you might have

Customizing your resume and eliminating any errors
Congratulations on making it through this guide. We're hopeful, with the help of our resume builder, you'll spend less time creating your resume and more time answering phone calls and emails from recruiters who want to interview you!