Front desk receptionists have a broad range of responsibilities throughout all industries. They're the face of the company and handle office management with exceptional communication skills while wearing many different hats.
Determining what content is important to hiring managers and how to write your resume for this exciting field can be difficult. That's why we analyzed hundreds of front desk receptionist resume samples from all levels of experience and industries. We learned what works to help you get more interviews in 2023.
The hardest part of building your resume is getting started. Our seven front desk receptionist resumes helped land jobs in 2023, so they're a great launching pad.
---
Front Desk Receptionist Resume Example
Why this resume works
As a front desk receptionist, you should prominently display your customer service experience. Specifically, try to tie your expertise with customers to successful business outcomes.

For example, did you help improve the efficiency of scheduling? Did you reduce the errors in billing? Improve customer satisfaction scores?

If you opt for a front desk receptionist resume summary, make it the ultimate career highlight reel.

A worthwhile summary should showcase your specializations and many (10+) years in the industry. Don't forget to customize it by mentioning the target business by name.

If you have industry-specific experience related to the front desk role you're applying for, mention that in your work experience bullet points.

Metrics are the best way to display your impact in your bullet points, as they're concrete, measurable, and help break up chunks of monotonous text.

Don't forget to check your resume score with our free tool to gain the recruiter's attention and increase your chances of an interview.
---
Beginner Front Desk Receptionist Resume
Why this resume works
The career objective for this beginner front desk receptionist resume goes straight to the point by detailing what the candidate has to offer. Gradually, it transitions into achievements in previous roles that align with the position the candidate is applying for.

Weave together your skills and achievements to give recruiters a hard time not choosing you.
---
Entry-Level Front Desk Receptionist Resume
Why this resume works
If your entry-level front desk receptionist resume includes a resume objective, it should showcase why you're qualified and a great fit for the role.

Do you have a specific interest in the position or company to which you're applying? Mention that! However, if you're not planning to customize your objective for each role you apply to, then you're better leaving it off entirely.

When you're trying to break into a career as a front desk receptionist, you may not think your previous volunteer or work experience is relevant. This could not be further from the truth!

All work experience demonstrates some level of responsibility. In addition, any experience you've had interacting with customers applies to becoming a successful front desk receptionist.
---
Front Desk Dental Receptionist Resume
Why this resume works
Dental care is a very delicate niche. Patients expect and deserve the best from experts, especially the customer service desk. To match those patient expectations, this front desk dental receptionist resume highlighted all instances of customer satisfaction.

It also went a step further to show how exemplary customer service led to increased retention rates, and that's good for business.
---
Front Desk Medical Receptionist Resume
Why this resume works
As a front desk medical receptionist, customize your resume by how your work directly (and positively) impacted the office through your exceptional customer service skills and understanding of medical office best practices. Cite specific data-driven examples, including process improvements and patient-centric techniques.
Your front desk medical receptionist resume should highlight the scope, responsibilities, and specific medical office niche (dental, family practice) experience. This will catch the hiring manager's eye looking for that "right fit" for their company.
List any special skills on your resume related to the medical field like medical terminology or medical software. This sets you up for success as employers see you're qualified for the role, especially if the job description prefers candidates with your specific skill set.
---
Hotel Front Desk Receptionist Resume
Why this resume works
Your hotel front desk receptionist resume should include your strong communication skills using sales techniques to improve the customer experience (and hotel revenue). Be sure to indicate your confident communication expertise and customer service experience. This appeals to employers because they see your keen ability to collaborate and meet (or exceed) guest standards.
Mention your leadership abilities, including training new team members or coaching existing team members. Hiring managers will be less likely to question your leadership savvy and more apt to contact you for an interview. Always list the results of your leadership efforts using numbers.
---
School Front Desk Receptionist Resume
Why this resume works
Your school front desk receptionist resume should showcase your ability to manage different projects and responsibilities and handle a high-volume customer service of diverse populations (for example, staff members, school administrators, students, and parents). Discuss your education field's nuances, including best practices and communication channels.
Bonus: Highlight any responsibilities outside of the "normal" scope of a school front desk receptionist (for example, nurses station, reporting, direct administrative support). This gets you noticed.
Related resume guides
---
How to Write a Resume for Front Desk Receptionists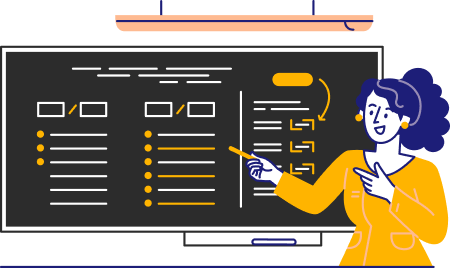 Making a resume is a snap with these four easy steps. You'll make a stellar first impression with these practical and specific tips for building a front desk receptionist resume in 2023:
Choose a professional resume template

Front desk receptionists are the face of a company, so choose a resume template that reflects your professionalism, friendliness, and helpfulness. If you're looking to work for a company that appreciates business casual like a law firm or doctor's office, you'll do well with a professional or elegant resume template, which has enough personality to stand out but still exude class and respect. On the other hand, if you're hoping to help folks get signed up at the gym, organize communication and admin work for a startup, welcome folks into a travel agency, or anything that's a bit more casual, creative templates that use a little more color will be a wise but fun choice.

Weave the right receptionist skills into your resume

Communication—interpersonal skills as well as written communication—and prioritization are among the most important skills as a receptionist. While other job seekers largely take advantage of "communication" in their resumes, this really can't be emphasized enough for a front desk receptionist.

Besides listing communication and prioritization in the skills section on your resume, look for ways to demonstrate those skills in action in your work experience section. For instance, did you serve the front desk while also registering guests, logging requests, and finding resolutions to customer problems? That says you're good at prioritizing tasks—all without ever using the word "prioritize." Pretty cool.

Focus your resume to the front desk receptionist job

Write your resume with the specific industry in mind. A front desk receptionist for an insurance company will have some different responsibilities than in the medical industry. Think about the most important responsibilities required in the role you want. Will you be scheduling appointments for clients, completing data entry, or answering and redirecting calls? If so, talk about past work accomplishments and success where you may have done things like:

◉ Confirmed client appointments 24 hours in advance to reduce no-shows by 22%
◉ Reduced paper use by 36% with data entry of student and testing records
◉ Addressed 80% of client concerns without redirecting or putting the client on hold

Check your front desk receptionist resume

You're a company's ambassador, so it's vitally important that you catch typos and mistakes in your resume. Check your resume a couple of times and even have a co-worker or a grammatical guru friend take a look for you. Since you so often serve as someone's first impression of a company or organization, don't let a silly mistake like the wrong letter in an email address keep you from getting a call for an interview.