Good news: you've found a server job opening, and you're excited to apply!
Bad news: you have to write a resume to apply for the server job description.
Does this sound familiar? When crafting your resume, we know that nothing is more intimidating than staring at a blank screen. It's why we want to help you create a server resume that will help you land a job in 2023.
These seven server resume samples are proven to help servers land jobs, so they're the perfect launching pad for your server resume!
Server Resume
Why this resume works
Restaurants know that having a great server can influence revenue, so showing you care about up-sell opportunities will help you stand out.

This is also a great place to put metrics related to sales. Did your ability to cross-sell result in higher tips? List how much your tip percentage rose. How often did customers purchase high-profit margin items after your recommendations? These are just a few examples of the metrics and sales experience you can add to your server resume.

More than just influencing revenue, restaurants want to know you have other skills to complete the job.

Restaurant Server Resume
Why this resume works
There are multiple resume tips you can use to increase your chances of your restaurant server resume getting noticed.

For example, remember that you can skip the resume objective unless you're new to the industry. You can also consider changing formats based on your experience.

Restaurant owners want to know that you can create a worthwhile customer experience since happy customers tend to spend more money.

Demonstrating your focus on customer experience (with skills like "customer service" and "verbal communication") can increase your chances of being called for an interview.
Server Bartender Resume
Why this resume works
If you decide to include a resume objective on your server bartender resume, be sure it mirrors the server job description.

For example, if the job description mentions they want a server bartender who provides accurate service, mention you have experience doing exactly that in your objective.
If you don't have time to tailor your objective, leave it out to include more work experience instead.

When applying for a dual role like a server bartender, you need to demonstrate on your resume you have expertise in both areas. If the role you're applying for has a stronger emphasis on one of these roles, then so too, should your resume.
Experienced Server Resume
Why this resume works
When you have a few years of experience under your belt as a server, it's important that your resume demonstrates an increase in the level of responsibility you've taken on throughout your career.

For example, saying you led close-out processes and trained other servers are great ways to showcase your leadership ability.

Your experienced server resume not only needs to have good content—it needs to look professional.

Formatting your resume properly means choosing the best layout and adding some of your personality through stylistic elements (for example, your contact header is a great way to add a pop of color).
Fine Dining Server Resume
Why this resume works
Fine dining is about more than delicious food. It's also about the environment and exceptional service. Your fine dining server resume needs to demonstrate your ability to provide a superior dining experience.

You can help create the right "resume atmosphere" by using a resume template to structure your experience according to industry standards.

Working collaboratively is one of the most important skills for a fine dining server. Servers that work well with others are exactly what restaurant owners and managers want in prospective hires.

As such, be sure to talk about your experience working as part of a team, especially if you've worked with a renowned chef.
Banquet Server Resume
Why this resume works
Writing a banquet server resume can sometimes feel like a shot in the dark. How are you supposed to catch an employer's eye when they're sifting through dozens of other resumes?

Luckily, there are quite a few

resume tips

you can use to make your resume a cut above the rest, such as skipping the objective/summary and proofreading your document

multiple

times. With just a bit of research, you can make your resume much more appealing!

When you're looking for a banquet server role, you need to show that you can

serve

(get the pun?) your future establishment by offering more than just the basics.

For example, by mentioning your success at upselling high-margin items, you can show future employers that you care about sales and can increase their revenue.
Event Server Resume
Why this resume works
Many event server resumes sound exactly the same, so you need to get specific when it comes to your work experience.

Even if your accomplishments were all in the server job description, you can demonstrate your abilities by quantifying your results with percentages and numbers.

Beyond serving tables, how did you go above and beyond? Did you increase revenue through successful upselling? Did you collaborate with co-workers to increase serving efficiency or develop something new?

As an event server, you know the importance of professional presentation.

You can make sure your resume makes the cut by using a

resume template

, or at the very least, ensuring your styling choices are consistent for each header and section.
4 Professional Tips to Perfect Your Server Resume
Servers can find employment in different types of restaurant environments, from casual eateries to fine dining establishments. Servers do more than just serve food—they can also have experience as bartenders, cashiers, hostesses, or other front-of-house positions. Many restaurant servers also have prior experience in sales roles or back-of-house positions, such as prep or line cook.
Building a professional resume is a surefire way to make sure employers notice you. Your resume will be ready to make its debut on your next job application when:
You showcase relevant skills

You adhere to Applicant Tracking Systems (ATS) standards

You've quantified your impact across work experiences

You've customized your resume for each server job you apply to (after all, a Michelin Star restaurant will look for different qualifications than a laid-back pub)
Tip 1: Showcase your server skills
Did you know that it's not uncommon for a single job posting to get 200+ applicants? Unfortunately, this often leaves hiring managers overwhelmed and unable to spend significant time reviewing each candidate. As a result, companies turn to recruiters and applicant tracking system (ATS) software to do some of the initial work.
Recruiters and ATS usually work hand-in-hand to sort through candidates. Recruiters are human resources (HR) workers skilled at attracting applicants, screening resumes, and conducting interviews alongside hiring managers. Recruiters configure ATS software to scan for select keywords in your resume. If there aren't enough keyword matches, ATS will automatically remove the resume from the pool of applicants, thus reducing the overall workload for the hiring team.
The downside to ATS is that it can overlook even the best applicants if they don't have enough matching keywords in their resumes. Fortunately, once you know how to beat the ATS, you can rest assured that a person will review your application.
How do you do this?
The number one way to make it through ATS screening is to include a resume skills section. The keywords that recruiters program ATS to recognize are the most relevant skills for that specific server job. ATS scans your resume to determine whether your skillset is a match, so carefully curated skills sections help you ensure you have enough matching skills.
The real challenge is deciding what skills to include. Luckily, the server job description itself should offer up key job skills you can use.
Take a look at these server-specific skills a:
Knowledge of Food Service Regulations

Central Reservations Systems

Bilingual

Wine/beer/cocktail Education

Basic Math

Billing, Receipts, and Cash Register Operation

Memorization

Negotiation

POS Systems
Possibly, your skills section could look like this: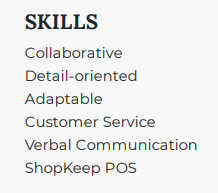 Tip 2: Ensure your server resume format is correct
Not to be dramatic, but resume format is everything. If your resume isn't formatted well, employers will have a difficult time reading it. Plus, ATS won't be able to properly scan your resume (meaning it may never be viewed by recruiters).
The best resume format is one that's easy to read, flows logically, and is ATS-friendly. We recommend you format your server resume in reverse-chronological order with your most recent job experience listed at the top of the page. Here are some other essential formatting tips for making sure your resume is easy to read and passes ATS software:
Resume length:

Keep your resume to one full page as possible. Play around with appropriate header/body fonts, header/body text size, and margins to hit the bottom of the page. Put your contact information at the top so it's easy to see.

Bullet points: Using bullet points

makes your resume look less intimidating and dense.

Icons and images:

Don't

use them. ATS software doesn't handle icons and imagery well, plus there's not much reason or need to include them on your resume when the focus should be your content.
The title of the job position you're seeking:

Taking steps to customize your resume for every job you apply to shows recruiters you care about the job.

Error-free: There's nothing worse than listing something like "attemrion too detail." You're asking a potential employer to hire you, so be professional and proofread your resume.
Use a resume objective/summary (if needed):

You won't always need an objective or summary, but if you do incorporate this section, you'll want to make sure to customize it (more on this below).
In the contact header, you should list your name, your desired role, and contact information like your email address, phone number, location, and LinkedIn profile.

Server resume objective
Many applicants report confusion about what resume objectives are and when they're needed. Resume summaries are also an option, so how are you supposed to know which to use?
Both objectives and summaries are short paragraphs that can be included to enhance some resumes. However, there are a few key differences:
Resume objectives are two-to-three-sentence paragraphs highly specific to each job for which you apply. A thoughtful objective should include:
Your experience and the job title you're seeking

The name of the company you're applying to, and

One to three specific skills that you bring that will contribute to operations.
A resume objective is appropriate for your resume if:
You're making a significant career transition (ex: from working as a sales associate to working as a server), or

you're an entry-level worker with minimal restaurant work experience.
To better understand when you'd want to include an objective, let's go over two examples. First, here's a generic, uninformative objective:
Looking for a restaurant job where my skills would help advance the work environment, and I can grow my career.
Why this doesn't work

:

This resume objective doesn't specify a specific job title, a restaurant, any relevant skills, or how the applicant would positively contribute to the restaurant.
Now, compare this objective with the poor one above:
Observant, disciplined, and energetic high school graduate seeking a restaurant server position at Red Robin. My can-do attitude and amiable personality will serve dine-in customers well, keeping happy diners returning and expanding the customer base with professional service.
Alternatively, a resume summary provides a short overview of your job history and skillset in two to three sentences. A summary is best-suited for restaurant servers who have years of industry experience because it allows them to pull from a lot of information to provide recruiters with key information and core competencies.
However, if you write a summary like this, you're likely to end up in the reject pile:
With lots of years of experience, my skills make me the perfect candidate for the position.
Why this doesn't work

:

Just like the example of the poor objective, there's nothing specific here either. It's vague, underwhelming, and honestly makes us wonder whether the applicant even wants a job.
This job-specific resume summary, however, is likely to snag the attention of hiring managers:
Welcoming and thoughtful server with 12+ years of front-of-house experience at local dining establishments. Throughout my career, I have sought to ensure customers return again and again. Eager to build rapport with regulars and establish relationships with new diners with the utmost care and attention at Glenwood Eatery.
Why this works

:

This resume summary is highly specific. It specifies a job title, the number of years of relevant experience, skills, the restaurant name, and how employment would benefit the restaurant.
Tip 3: Use numbers to quantify your impact as a server
A great resume is not just a summary of job titles, descriptions, and responsibilities. To set yourself apart from the competition, you'll need to highlight how you bring value to the restaurant. You can do this by showing rather than telling recruiters about your achievements and value.
By using quantifiable metrics (numbers), you can demonstrate your impact at previous jobs without rambling about your responsibilities. Furthermore, centering your work experience around numbers will help ensure that each bullet point provides recruiters with clear and concrete evidence that you're an asset to the service industry.
Now that you know why it's important to include quantifiable metrics, let's examine a few ways to leverage metrics on your server resume:
Customer satisfaction:

Can you think of any regulars who came back because of the experience you provide? Did you get exceptionally large tips? Have customers specifically mentioned you in positive restaurant reviews?

Speed of service:

How many tables per hour have you served? How long did it take you, on average, between seating a table and taking orders during peak operation hours? How often did you check on tables?

Memory:

Did you have the menu memorized? Could you advise guests on any number of dietary restrictions? How many orders did you take at any given table without error?

Sales: Were

your order sizes, on average, larger than sales targets per customer? Were check sizes larger than targets? What percent of customers ordered drinks?
Check out a few concrete examples of some server bullet points that successfully incorporate some of these metrics:
Established robust knowledge of 25+ menu items, recommending specific wine pairings for dishes and advising on 6 major dietary restrictions.

Exceeded sales targets by 8% by up-selling appetizers and drinks based on diner preferences.

Developed relationships with regular customers, and maintained positivite attitude while servicing up to 8 tables an hour during peak seasons.
Tip 4: Hand-tailor your resume for each server job
We've said it before, but we'll say it again: you must customize your resume for each job application. Tailoring your resume for each job will demonstrate three things to recruiters:
1. You're committed to the job
2. You're serious about the application process
3. You respect employers' time.
Fortunately, you don't need to start from scratch each time you apply for a job. That would be both depressing and time-consuming! Instead, focus your attention on these three areas:
Resume objective/summary:

If including this section, state the company name, the specific job title you're applying to, and skills unique to this role.

Skills section: Read the server job description. Oftentimes, recruiters will give you hints (or overtly list) on what the most critical skills are for this server position.
Work experience bullet points:

Again, look at the job description. Is teamwork emphasized? Is the job in a fast-paced environment? Think about how you can shift your bullet points (and metrics) to meet the needs of this work environment.
Before we examine a few types of server resumes and how they can be customized for any job, take this bonus tip:
Have a folder on your computer where you can save an expanded bulleted list of your work experience, skills, and skeletons for resume objectives/summaries. Then, pull what works from this list to build a truly customized resume for your next job application.
Server resume
Your server resume should ideally include two to three server positions, but you can include relevant job titles like back-of-house restaurant positions, bartending, hosting, or runner/busser positions.

Emphasize skills like customer relations, sales performance, and multitasking.
Restaurant server resume
Server bartender resume
Experienced server resume
Fine dining server resume
At a fine dining restaurant, most recruiters are interested in providing diners with a personalized and luxurious experience.

Therefore, you should focus on discussing things like:

Wine pairing knowledge

Cross-selling and up-selling abilities for high-margin items

Memory retention concerning prix fixe menu items, such as dish origin/backstory, ingredients, and specifics on dish preparation
Server Resume FAQs
1. What should you write about in a server resume?
Think about the specific server role you're applying for when writing your server resume. If you're hoping to bartend, what you write in your resume should be different than what you'd write if you're applying for a fine dining server position. Write about specific past experience and success that proves you're the right candidate for this new job. So, in the event you're applying as a server bartender, you'd want to write your resume's job description bullet points around your knowledge of mixology as well as your attentive care and food recommendations to guests.
2. What skills do you put in a server resume?
It's pretty common knowledge that servers should have exceptional customer service skills and be attentive to the details, but beyond that, there are some other important skills you might consider including if applicable to the particular business you're applying to (and if you can honestly say you rock these skills!):
Math: Some customers pay in cash and lots of customers leave tips in cash. The ability to count back change is a dying skill, but it's one that will make you quicker on your feet in peak hours!
Memorization: Not only will you need a strong knowledge of the menu, but you may also need to learn weekly specials, ingredients, and—in some cases—the history and origins of the food.
POS software: Jotting down diners' orders is quite soon to be history. Most places log orders through software and if you've used any type of this technology before, you'll have a leg up.
Bilingual: Your ability to communicate in another language is a skill you should advertise proudly! Any restaurant, bar, or event business will be excited to see this skill.
3. How do you make a resume for a server position if you don't have experience?
We all start somewhere. Even if you're in high school or college, we bet you've done some form or type of volunteer work, community service, school or personal project, or odd jobs like mowing, pet sitting, or childcare. Fill your server resume with this type of experience. Hiring managers can see the commitment and care for others through volunteerism. They'll also quickly see you can collaborate and work adaptively on projects. Finally, they'll be able to see initiative and work ethic through odd jobs.