Getting your first full-time job can seem like the classic chicken and egg problem.
Companies want to hire professionals with years of experience, but how are you supposed to gain that experience in the first place?!
Rest assured that it gets much easier to land new jobs throughout your career once you have your first experience under your belt.
To help secure that all-important first job, we've reviewed countless entry-level resumes to find what works and what doesn't when building your resume so you can line up more interviews.
We've created nine stellar entry-level resume samples and some excellent resume-writing tips that have helped candidates across industries get their first break in 2023.
---
Entry-Level Accounting Resume
Why this resume works
What you lack in practical skills in your entry-level accounting resume can be compensated with your strong analytical and research competencies. Your projects and voluntary work can make a strong impression on your abilities.

Highlight your numeracy and research skills and familiarity with accounting tools, such as QuickBooks and Excel.
---
Entry-Level Data Analyst Resume Example
Why this resume works
When you're looking for an entry-level position as a technical person, projects can drastically improve your chances of getting an interview when you're competing against hundreds of other applicants.

These projects don't have to be huge open-source types with thousands of users. Did you ever build a project to scratch your own itch? Then talk about it!

With your projects, be sure to discuss the goal of what you were working on, what technology you used, and the outcome of the project.
If you've had the chance to have an internship experience, then be sure to quantify the impact of that work on your entry-level data analyst resume. Did you save time? Increase revenue? Improve customer satisfaction? Any way to quantify your results will improve the quality of your resume.
---
Entry-Level Engineer Resume
Why this resume works
Starting your engineering career is a classic catch-22. When you're trying to get your first engineering job, employers say you need experience. But to get engineering experience, you have to get your first engineering job. Cue endless cycle.
But although employers "require" you to have experience, what they really want is for you to have the skills to complete the job. More often than not, all you need is a degree and some soft skills like organization and project management in your resume's skills section.
To boost your chances of getting an interview, tailor your entry-level engineer resume.

Tailor it to match the job description's keywords, including them in a few of your work experience bullet points and your resume objective (if you decide to use an objective).
Lastly, if you're freshly out of school, you can leverage any projects you worked on that apply to the listed requirements. They're an excellent way to show your skills and initiative in place of work history.
---
Entry-Level Healthcare Resume
Why this resume works
Creating a new resume or updating your current resume for your healthcare career can be a daunting task, but we're here to help!
If you're light on experience, don't sweat it! All your work history can be leveraged, even when it's unpaid and especially when it's healthcare-related.
---
Entry-Level Marketing Resume
Why this resume works
As a marketer, you know that the most important metric you ultimately need to drive is revenue. If you've had a marketing internship when applying for your first full-time role, you should focus on how your marketing efforts impacted the bottom line.
Volunteering for a local business or charity to help them with marketing is a great way to get some preliminary marketing experience under your belt. You can then leverage this experience into landing your first full-time marketing role.
In the resume skills section of your entry-level marketing analyst resume be sure to state all of the channels (both paid and organic) that you're comfortable with. Since you're looking for an entry-level role, this list doesn't need to be exhaustive! It's okay if that's one to two channels when you start your career.
---
Entry-Level Nurse Resume
Why this resume works
Seize the opportunity to impress a potential recruiter with hands-on skills acquired in and out of class. A tutor role can exemplify your leadership and change-maker potential.

Vividly show your achievements in your entry-level nurse resume as an educator and highlight your voluntary roles to benefit disadvantaged groups.
---
Entry-Level Recruiter Resume
Why this resume works
Lead with your strengths on your entry-level recruiter resume. More often than not, this will be your education.
Hiring managers understand that when you start your career, you won't have a ton of relevant experience with which to write your resume. That's why it's important that you show your qualifications through relevant classes you took in school.

As you progress in your career, your education section will take up less and less space on your resume, but right now, it'll consume a sizable amount of real estate. Starting with a resume outline can help you fill in some of these important details.

Most entry-level job candidates needn't include a resume objective or resume summary.

These statements can, however, set your resume apart from the crowd when customized to the target job:
Great objectives (for entry-level) and summaries (for 10+ years of experience) mention the business by name, use power-packed, concise language, and sprinkle some metrics describing previous job achievements.
---
Entry-Level Sales Resume
Why this resume works
If you've had a part-time job before looking for an entry-level role, you should almost certainly include it on your entry-level sales resume even if you think it's unrelated to the role you're seeking.

Having a job, regardless of what it is, demonstrates responsibility—one of the most in-demand skills for entry-level candidates.

With that said, you should still try to make your experience as relevant as possible to the sales role you're applying for. For example, to be successful in sales, you need effective time management skills. Thankfully, almost all jobs require the ability to manage time, so it's an inherently universal and valuable skill!
---
Entry-Level Software Developer Resume
Why this resume works
It's better to show you're a master of a few skills than a jack of all trades on your entry-level software developer resume.

Listing one to two programming languages you know really well is much wiser than mentioning four to five languages you have novice familiarity with. You'll end up looking foolish—or worse, dishonest during the interview!
If you include a skill on your resume, you should be comfortable answering interview questions about it.
Related resume guides
---
Writing Your Entry-Level Resume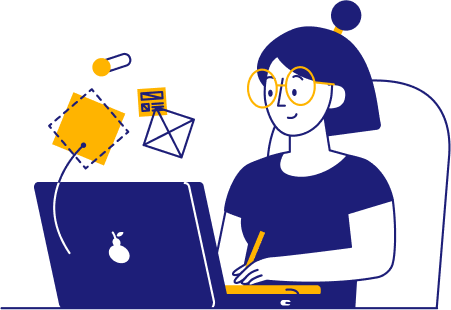 There's no silver bullet when it comes to resume templates. You can use nearly any template and make an effective entry-level resume. Just be sure to follow a few rules:
Make sure your resume is readable. Make the job of the person reviewing your resume as easy as possible.
Keep your resume to one page. Your resume should only stretch to two pages when you have five or more years of experience.
The resume sections you need: work experience, skills, education, and contact info. The rest are optional.
Please, please, avoid spelling and grammar errors. Triple-check your resume; then, have a friend read it.
All of these rules are in service of one goal: make it as easy as possible for the person reviewing your resume to come away convinced that you deserve an interview for the role you're applying to.
Stretching your resume to two pages or inserting big blocks of text goes directly against this goal.
Insert plenty of white space, avoid really small font, and use big headings.

Resume summary or sesume objective?
Have you ever opened a book or article because the title was compelling just to read the introduction to be disappointed?
Think of the resume summary or resume objective as the introduction paragraph to your resume.
Before we dive into how to make an effective summary or objective, let's get some definitions out of the way:
Resume summary: Used for experienced professionals to recap some of their career highlights.
Resume objective: A short statement of a candidate's key skills or qualifications as well as why they're a good fit for a specific job.
As you can imagine, a resume objective is more suitable for an entry-level candidate.
Keep in mind that, unlike an introduction for a book, a resume objective is not required for your resume.
In fact, 95 percent of entry-level resumes should omit a resume objective!
Why? Because most resume objectives don't increase a candidate's chances of getting an interview.
To ensure you write a resume objective in the top five percent of applicants, follow these rules:
Customize it for each job you apply to.
Don't be afraid to be personal about why you're interested in the role or career you're applying to.
Keep it to two to three sentences. Any more and it will be ignored by the hiring manager.
State your top one to two qualifications for the role you're applying for.
I know, this seems like a lot to fit in two to three sentences. To help give you some inspiration, here are a few examples of effective entry-level resume objectives.
Entry-level resume objective examples
"Prospective data analyst who strives to pose and answer questions with quantitative-driven insights. Through the development of personal projects I've learned the importance of having an iterative, hypothesis-oriented approach to analysis and I'm excited to leverage that approach at Acme Corp as a data analyst."
"Recent computer science graduate with a passion for developing scalable web applications and working across the full stack. I've built two web apps from the ground up using React, Node, and PostgreSQL."
"Retail sales associate with experience working directly with customers to ensure their satisfaction. Looking for an opportunity to work for a KPI-focused organization where I can grow like Acme Corp."
"Recent marketing graduate with a passion for developing scale-able acquisition strategies through paid acquisition and SEO. I have experience creating and improving campaigns in the context of a big team and I worked independently to help local organizations start and grow their user acquisition."

Make any experience relevant
What on earth are you supposed to include on your entry-level resume when you don't yet have relevant experience?
The answer, frankly, is anything that you can make seem relevant to the role you're applying for.
I'm a firm believer that any work experience has skills that are transferable to other jobs.
Hiring managers understand that early in your career you may not have a ton of relevant industry experience to draw on.
That's okay! Having a job, whether that's a part-time summer job or an entirely unrelated full-time position demonstrates responsibility.
So don't be hesitant to include any employment you've had in the past. Own it!
Still, there is another way to demonstrate to prospective employers that you're qualified to do the entry-level job you're applying to: projects.
These can be projects you did as part of a class or projects you undertook to satiate your own curiosity. Projects demonstrate a few things to employers:
You have a real interest in the industry you're seeking employment in.
You take initiative (a very desirable trait for entry-level candidates).
A level of expertise in your field.
Projects can truly be anything. To give you a better sense of that, here are some project ideas for different entry-level positions:
Project ideas for entry-level resumes
Entry-level digital marketer

Did you build a social media following for a club or organization you were part of or implement a successful SEO initiative?

Entry-level recruiter

As part of a class, did you build out a comprehensive case study or hiring process for a real or fictional company? Talk about it.

Entry-level software developer

Did you build a web app to help your friends decide on which movie to watch next? What kind of programs have you developed in class?

Entry-level business analyst

Can you do a deep dive on a company you're interested in and build a presentation around a new market they can expand into or a new product offering they can develop?

Entry-level product manager

Can you try to join a hackathon and shape the vision of a product to build? Can you choose your favorite consumer web app and detail any changes you'd make?

Entry-level data analyst

Pose a question you've always wanted to answer; then collect and analyze data to answer that question and put it in a blog post.

Which skills should you include?
When it comes to the skills to include on your entry-level resume, it's better to include a few skills you know very well than a laundry list of skills you kind of know.
Put yourself in the shoes of the hiring manager. Isn't it a little suspicious for an entry-level candidate to be an expert in 10+ skills?
You should include your relevant skills in a dedicated "skills" section on your resume and also include the context in which you used those skills in a work experience or project.
How do you know what skills to list for a given job?
Write down 10-15 of your top professional skills in a document or spreadsheet.

If you're looking for a technical role, be sure to include programming languages or relevant technologies.

Read the job description of the job you're applying to.
Is there any overlap between what's in the job description and your list?

If so, list those skills!
If not, are there skills mentioned in the job description you have that weren't on your list?
It's important to customize the skills that you include on your resume for each job you're applying to because before a human reads your resume, an automated system called an Applicant Tracking System (ATS) will read it.
The ATS is checking whether or not your resume contains certain keywords mentioned in the job description. So it's worth the time to customize your skills section for each entry-level role you're applying to!