With your accurate and detail-oriented mindset and passion for learning about financial processes, you know you'll succeed in the accounting industry.
Is your resume template capable of showcasing your financial knowledge and abilities as you take the first step into your accounting career?
When you're just entering the industry, creating an effective resume can feel daunting. We're here to help with our entry-level accounting resume examples designed to display your skills effectively in today's job market.
---
Entry-Level Accounting Resume
---
Clean Entry-Level Accounting Resume
---
Modern Entry-Level Accounting Resume
Related resume examples
---
What Matters Most: Your Entry-Level Accounting Skills & Work Experience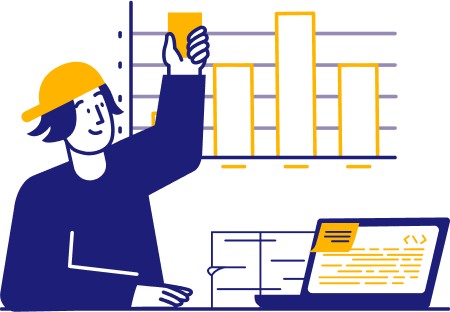 One of the first things financial hiring managers will look at is the top job skills you list on your resume. However, you're probably feeling pretty confused about what you can put here when you don't have much accounting experience.
To start, review each job description to see what skills companies emphasize. Then, consider your education and experiences to determine what abilities you possess that will fit their needs.
For example, you could apply the skills you gained in analyzing expense reports from your accounting courses to show how you'll fit in with a company needing help with accounts payables.
Here are some of the best entry-level accounting skills in 2023.
9 best entry-level accounting skills
Microsoft Excel
Data Entry
QuickBooks
Payroll
Balance Sheets
Expense Reports
GAAP
Income Statements
General Ledger
Sample entry-level accounting work experience bullet points
The next part of the resume that can trip up many entry-level accountants is what you can list for your work experience bullet points.
When you don't have much experience, you still have many options. For example, you could list achievements from class projects or even transferable experiences like how you managed your cash drawer accurately as a cashier.
Here are a few samples:
Used QuickBooks to manage payroll statements with 98% accuracy during an accounting class project.
Created Excel spreadsheets with customer data to improve data accessibility by 55%.
Answered over 30 questions daily in person or over the phone as a bank teller while providing friendly and helpful advice to achieve 97% positive satisfaction scores.
Managed finances while planning a local event for a mental health nonprofit, ensuring all supply expenses were approved before spending to stay $500 under budget.
Top 5 Tips for Your Entry-Level Accounting Resume
Consider using an objective

When you don't have much experience, using a career objective can help you present your career goals and some top skills right away. For example, you could explain how you're a dedicated professional who will use your two years of data entry experience to ensure financial compliance in all accounting records.

Measure your impact

You know that data is key in every business decision. It's especially important when companies are hiring financial staff members. You can make your work experience examples stand out by including metrics like accuracy and cost savings that align with accounting needs.

Fill up an entire page

If you don't have a lot of experience, it can feel challenging to fill in an entire page with relevant examples. However, it's still crucial to showcase enough information. So, include details from your accounting education, an objective, and hobbies & interests, like being the treasurer of your school's student council.

Organize the information

Think of your resume like you're preparing payroll reports for easy review from company decision-makers. You want to keep it organized with easily readable 12-14 point font, clear headers, and bullet points.

Always proofread

One of the best ways for entry-level accounts to showcase the accuracy they'll apply to financial statements is by submitting an error-free resume. Always proofread for grammar and accuracy.
What's the best format for entry-level accounting resumes?
Reverse chronological formatting works best for entry-level accountants. It'll help you display your most recent and relevant skills in data entry and financial analysis as you've grown while obtaining your accounting degree and gaining work experience. 
Should I include my hobbies/interests?
A hobbies & interests section can work well for entry-level accountants who want to fill in with additional relevant experiences. For example, your time spent helping manage the financial books while volunteering at a horticultural nonprofit would help you stand out. 
Do entry-level accountants need a cover letter?
You should submit a cover letter with your entry-level accounting resume. It'll help you showcase your passion for the company's mission and fill in any gaps on your resume. For example, you could write about how you want to use your skills in balancing expense reports to help a company maintain a compliant and reliable brand image.