Working with senior management and large quantities of financial data, you've already built up a nice repertoire as a management accountant. You help high-level managers optimize the entire company strategy based on the performance insights you've gathered.
Still, the thought of making a resume to go after that new job might seem daunting. What should your resume look like, and what should you include?
No sweat: We've got this. Here are three management accountant resume examples with years' worth of knowledge behind them, alongside some resume tips to help you out.
---
Management Accountant Resume
---
Modern Management Accountant Resume
---
Professional Management Accountant Resume
Related resume examples
---
What Matters Most: Your Skills & Experience Sections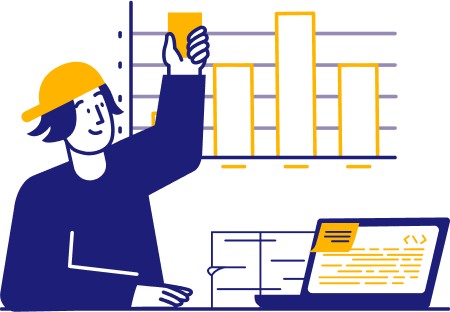 Recruiters want to know what you're good at! Which programs do you use to work more efficiently and deliver better results? What profession-specific tasks are you best with?
It's also important to show when, where, and how you've used those skills in your work experience section. Work your skills into your professional history naturally with organized bullet points and a concise writing style.
Your management accountant skills should include specifics: List programs by name, keep primarily to hard skills instead of soft ones, and avoid anything redundant or subjective.
Check out these examples for inspiration:
9 most popular management accountant skills
Xero
Financial Statements
Netsuite
Policy Development
MS Excel
Trend Analysis
GAAP
QuickBooks
Budget Forecasting
Sample management accountant work experience bullet points
In order to give recruiters a better idea of what you have to offer, fill your experience section with your greatest achievements. This section should demonstrate how you've already proven your ability to excel in the job role through powerful examples.
Speaking of proof, you'll need to back up your claims in your resume. How do you do this? Metrics! Use quantifiable data like accuracy and improvement rates to lend credence to your accomplishments and show the positive impact you've left.
When you put together the building blocks of your experience bullet points, consider precisely what you did and think of how to measure it. After all, your work influences the entire business' financial strategy! Make it clear how you've created success:
Evaluated and updated operation processes, improving project ROIs by 41% and boosting efficiency by 32%
Led account review procedure implementation with 98% accuracy, eliminating 34 hours of additional auditing
Audited and corrected shipping and receiving procedures to improve accuracy by 9% and reduce average shipping times by 2 weeks
Collaborated with senior leadership with Netsuite on $110M work order processes to optimize workflows, reducing work expenses by 16%
Top 5 Tips for Your Management Accountant Resume
Exhibit strong project ownership

Managers need to demonstrate project ownership throughout its complete lifecycle, and so do you! As a management accountant, look at the big picture. On your resume, show this ability by including small company milestones and large-scale projects among your accomplishments.

Show versatility in communication

Management accountants often need to gather financial data from multiple sources and interpret their findings for multiple levels of management. You might need to gear policy improvements toward greener employees, too, so present experience examples that show versatile communication.

Customize your resume each time

Customizing your resume for every job application won't be as exhaustive as you might think! Reference the job description and company vision for ways to show how your financial acumen will improve their particular business strategy,not just anyone's.

Toss the resume summary aside

You've got enough experience under your belt to go without one! Resume summaries are typically unnecessary and redundant when you have plenty of skills like trend analysis and income/expenditure forecasting that flesh out the page and speak for themselves.

Metrics are a must

A management accountant like you can't afford to be vague when you describe your accomplishments. Your work is all about numbers, and your resume should be, too! Describe your achievements with quantifiable data like ROI improvement percentages and budget savings in dollars.
Just how specific should my skills be?
Very! Why list vague terms like "software" or "accounting programs" when referencing your favorite programs by name is much more specific and clear? Make sure you specify individual skills like QuickBooks, Netsuite, and Xero.
How long should I make my management accountant resume?
One page, and one page only, no matter how much cost you've saved previous companies. It won't matter how impressive income from a new product was or how much you saved a business if the recruiter pushes your two-page resume aside in favor of a shorter one. Keep your resume template to an easily skimmable page.
Do I need a certifications section?
If you're applying for a management accountant position, you shouldn't need to include a whole section for certifications like a CPA/CMA. These should be a given at your level!