You're a whiz at numbers, and your accounts are always in order. Financial ledgers and procedures are quickly whipped into shape with you at the helm, and your organizational touch is unmistakable when it comes to reporting.
Is your resume template helping you put your best foot forward when looking for your next role?
We've got your back. Our senior accountant resume examples have helped job seekers just like you find great jobs, so they're a great place for you to get started on the next step in your career.
---
Senior Accountant Resume
---
Clean Senior Accountant Resume
---
Modern Senior Accountant Resume
Related resume examples
---
What Matters Most: Skills and Work Experience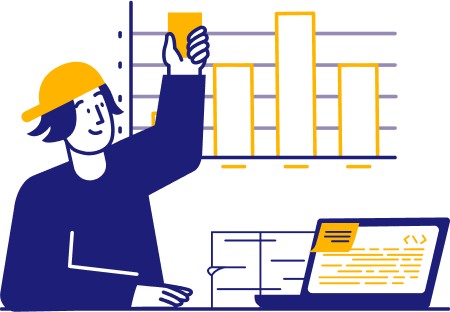 Just as you help others wade through financial information, your resume will serve as a guide to recruiters. Since accountants are a-plenty, your skills and work experience will set you apart.
Your goal is to demonstrate that you have what it takes to do well in the role, so you'll include your top 6 to 10 skills. Add a few mentioned in the sales job description of the role you're applying for, as you need to show that your skillset is relevant to what they need.
Here are some of the best job skills recruiters are looking for in senior accountants.
9 best senior accountant skills
Accounts Receivable/ Payable
Financial Analysis
Certified Public Accountant
Compliance
Financial Reporting
Financial Statements
US GAAP
General Ledger
Invoicing
Sample senior accountant work experience bullet points
Senior accountants are responsible for many things, but recruiters will want to know more about your impact throughout your work history. How did you affect or support the organization you worked with?
The best way to showcase your efforts is by including quantifiable metrics, and you know better than anyone how numbers matter in effective visualization. With measurable results, you'll be able to convince a recruiter that you'll be a great addition to the company.
Here are a few samples:
Established best practices for revenue recognition in compliance with ASC 606 through 37% YoY revenue growth
Partnered with management to drive business processes to improve efficiency of financial reporting by 40%
Led a team of 2 junior accountants, providing mentorship and feedback through weekly 1:1 sessions
Developed and executed internal controls to improve accuracy and reduce error rate by 22%
Supported management in executing on employee equity compensation plan to improve employee retention by 11%
Top 5 Tips for Your Senior Accountant Resume
Emphasize your qualifications

Accounting is a profession that emphasizes certification, and employers will want to know they're putting their valuable financial information in qualified hands. Your skills section should focus on the technical skills and certifications you might have.

Make your career summary count

If you're using valuable resume real estate to include a career summary, tailor it to each company you apply for. Speak about your highest achievements, like removing bottlenecks to financial performance that allow the company to scale.

Don't exaggerate or lie

You might not have a specific required skill or qualification, such as Sage100 or Quickbooks. As long as you're honest, sometimes a company will be willing to take the skills you do have as an alternative or equivalent to what they're looking for—or they may be willing to train you.

Keep your resume short and sweet unless you have more than 10 years of experience

Recruiters are inundated with hundreds of resumes. Increase your chances of success by keeping your resume to one page. It's probably not necessary to include your accounting internship or entry-level accounting job at this stage in your career.

Quantifying metrics isn't always about the money

It's tempting to default to financial facts and figures when trying to illustrate your impact in past roles, but money doesn't make the world go round in this case. Switch it up by trying alternatives, such as the hours you saved or the percentage efficiency you helped achieve.
How should I format my senior accountant resume? 
Use a reverse-chronological resume format to show your upward progression in your accounting career. As a senior accountant, it's essential that your most recent, most applicable work experience is at the top of your resume since you don't want recruiters to have to scan the entire page just to find it.
Should I talk about my certifications and education?
You absolutely should! Accountants work hard to get the professional qualifications they need to practice, and your prospective employer will want to know whether you have the skills they need. Include all relevant certifications and education, such as your CPA and accounting or finance degree in dedicated sections on your resume.
Should I tailor my resume to each job?
Yes. Perhaps one company is looking for someone experienced in manufacturing accounting while another one needs an accountant who specializes in reviewing grant agreements. While you may have experience with both, you'll want to tailor your resume accordingly, proving that you do indeed have that experience.