Without registered nurses (known as RNs), healthcare as we know it would cease to exist. They're the glue that keeps hospitals together, and they serve on the front lines in the service of their patients.
Registered nurses are more in demand now than ever before, but the road to becoming a nurse hasn't changed (aka, it's still difficult). Whether you're currently getting your BSN or working toward becoming a nurse practitioner, a lot of work is required.
You shouldn't have to add "creating a stunning resume" to your workload.
We're here to help. After analyzing numerous resumes from nursing students at all different levels, we're sharing the best resume-writing practices along with five great nursing student resume examples that we've seen succeed in the real world in 2023.
It doesn't matter if you're looking to land your first full-time nursing position or your tenth; these examples are a great place to start before creating your resume.
Nursing Student Resume
Nursing Student (No Experience) Resume
Nursing Student (for Externship) Resume
Why this resume works
If you have any experience in the healthcare space or leadership expertise outside of healthcare, feel free to include them in a hobbies and interests section on your resume (also titled "activities").

Volunteer experience is always a good idea, especially if it's somewhat related to healthcare.

Most people understand the importance of nursing, but that doesn't mean it's easy to demonstrate the direct impact of your work. So how can you quantify your impact on your nursing student (for externship) resume?

If you can, include numbers. For example, how many people did you work with? How many rotations did you serve? Did you increase efficiency or productivity by a quantifiable amount? There are numbers there if you know where to look!
Nurse Practitioner Student Resume
Why this resume works
You likely have plenty of experience as a registered nurse (RN), but remember that you should try to keep your nurse practitioner student resume to a single page.

If you're on the border between one page and two, try some handy resume formatting tricks, like reducing the font size and reducing page margins to fit more content (while keeping an eye on overall readability). Don't make your text too small or it'll be hard for hiring managers to read your resume.

Include it on your resume if you're a licensed registered nurse (RN) and have passed the relevant exam. Also, include the state(s) in which you're certified because sometimes certification doesn't carry over.


However, omit the cert if you're still earning it, whether because you're working toward a master's degree. or haven't passed the certifying exam.
Graduate Nursing Student Resume
Why this resume works
When it comes to creating a great graduate nursing student resume, the little things matter, so make sure you build your resume right by being consistent in punctuation.

When it comes to checking your resume, consistency is key. For example, your work experience bullet points should end the same, either with or without periods.

Some nursing jobs require additional certifications (beyond an RN) but don't assume a hiring manager knows the certifications you have.


Instead, add a certifications section to prove you have an ALS, CPR, or EMT certification.

Do you need a nursing cover letter? Keep reading for a cover letter template you can edit and adjust as needed!
Need Help with Your Nursing Cover Letter?
It's satisfying to finish writing your nursing resume, but don't forget about your nursing cover letter, too! We've got you covered (get it?) with a cover letter template you can edit both in Google Docs and Word.
Download and edit in Microsoft Word.
Edit in Google Docs (choose "File" and "Make a copy").
Edit in block business letter format (choose "File" and "Make a copy").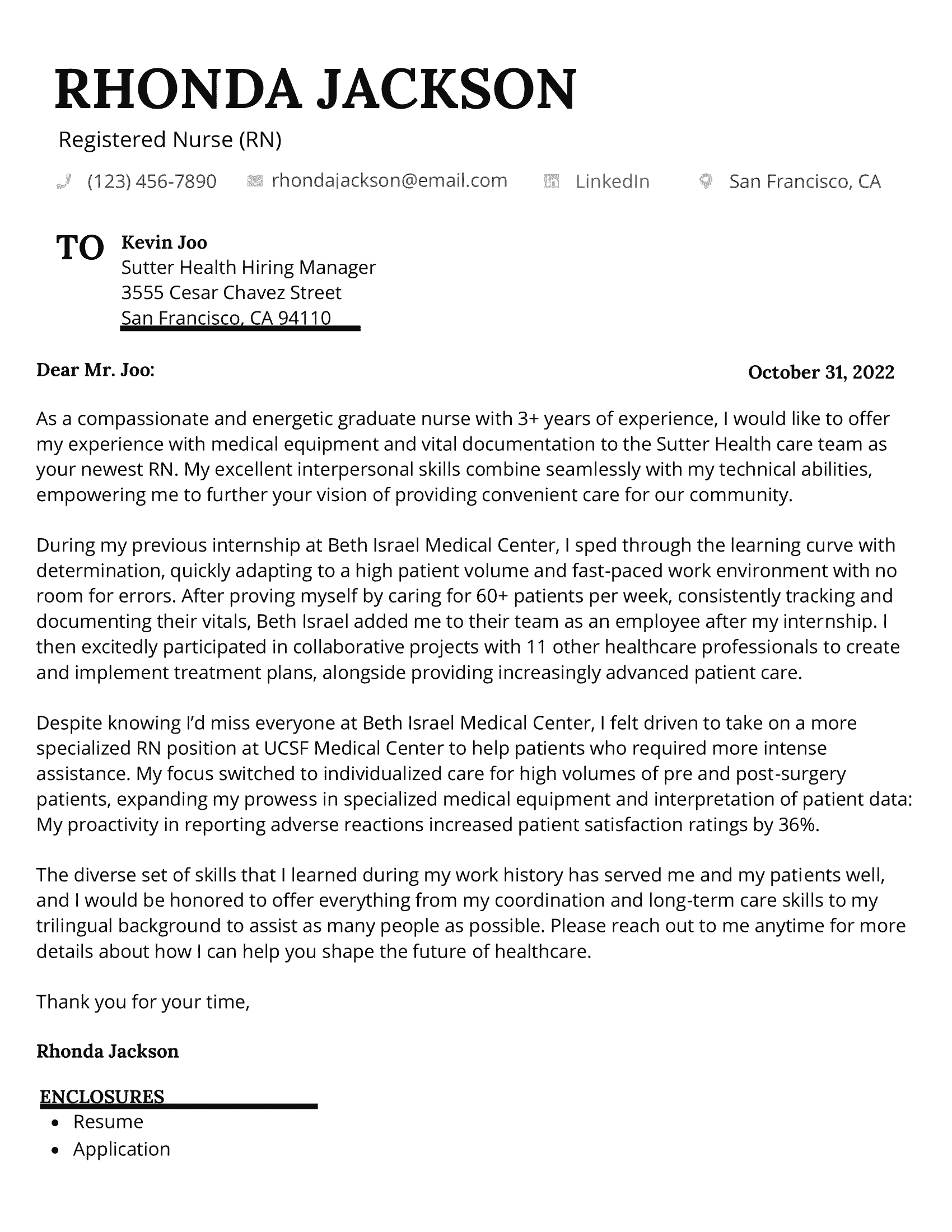 Why this cover letter works
When writing your graduate nursing student cover letter, you want to emphasize specifically how your background will benefit the new company: For example, spotlighting technical specialization and adaptability in high-key work environments is great!

Always tie in your skills with the organization's values by pulling phrasing like "shape the future of healthcare" from their website's mission statement.

If you have stand-out experience, like exemplary bedside manner or familiarity with a specialized area like pediatrics, showcase these.

Always make sure you list your certifications in your graduate nursing student resume, of course—but it doesn't hurt to also mention them in your cover letter, too!

It's also ideal to establish how much experience you have alongside your qualifying certifications at the intro to your cover letter.

An extra resume tip: your resume should be concise, but your cover letter should tell a story about your qualifying background.