You're passionate about branding and the sales strategies that lead to success. With your knowledge of target markets, positioning, and campaign ideation, you're ready to get started in the marketing field.
Is your resume able to pass the test as you apply for marketing internships?
Knowing what skills to list and how to properly format your resume can feel confusing when you're just starting out. You can use our marketing intern resume examples to stand out during the hiring process.
---
Marketing Intern Resume
---
Professional Marketing Intern Resume
---
Formal Marketing Intern Resume
Related resume examples
---
What Matters Most: Your Marketing Intern Skills & Work Experience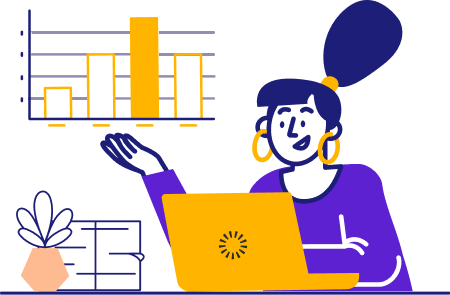 When you're just entering the marketing field, you may not have much work experience. That's probably left you wondering what you can put in the skills section. Fortunately, there's a lot you can include here.
For starters, review the job description to understand what each company is seeking in marketing interns. Then, identify skills you've gained while obtaining your marketing degree or in other fields with translatable skills like customer service or data analysis.
Here are some of the most popular marketing intern skills to get you off to a good start.
9 most popular marketing intern skills
Customer Service
Google Analytics
SEO
Campaign Development
Market Research
Email Marketing
Social Media Marketing
Microsoft Office
HubSpot
Sample marketing intern work experience bullet points
When planning a presentation in your marketing classes, you probably learned that you need data to back up your claims. The same is true for your marketing intern resume. However, this can seem daunting when you're new to the field.
That said, you can still find many examples that showcase your abilities. For instance, you could explain how you designed a campaign strategy for a class project where you scored a 97% overall grade or how you helped promote a local fundraising event where you helped generate 58% more foot traffic.
Here are a few samples:
Attended group meetings and helped generate ideas during a market research class project to help score a 98% overall grade on the final presentation.
Used Google Search Console to identify 27 keywords that could be added to website content to boost organic traffic by 12%.
Designed retail displays with eye-catching visuals to boost revenue on sales items by 46%.
Created social media profiles and unique weekly content while volunteering with a local special needs assistance program, boosting community awareness by 39%.
Top 5 Tips for Your Marketing Intern Resume
Use a resume outline

A great way to keep your resume organized and well-spaced is by using a resume outline. It's the same as what you'd do when writing sales pages to ensure you portray the right information in a way that converts.

Always include a measurable impact

You know the importance of data like conversions, reach, and click-throughs in the marketing industry. You should always measure your impact when listing previous achievements.

One-sentence examples work best

Just like an email that's too long won't convert well, the same is true for the examples on your resume when hiring managers are doing quick reviews. Keep each one to a single sentence so they can easily identify your essential skills in HubSpot and market research.

Stand out with action words

Action words like "designed" or "promoted" will make your examples stand out. It's the same as what you'd do when writing social media content that gets high engagement rates.

Proofread for accuracy

Just like misspelled words in an ad can be the difference between getting the sale or losing the customer's attention, it can also be the difference in landing an interview. Proofread for grammar and accuracy to show hiring managers you have the accurate skill set they need.
Is it a good idea to include projects on my resume? 
Listing projects can be a great idea for marketing interns who don't have much experience. They'll help you emphasize achievements like class projects where you achieved outstanding results, such as an SEO-based project where you identified keywords that boosted website traffic by 38%. 
Should marketing interns use an objective? 
A resume objective is a great idea for marketing interns to immediately emphasize some key skills and career goals. For example, you could write a few sentences about how you're eager to break into the marketing industry and use the campaign development skills you developed in your classes to boost strategic efficiency. 
Should I list hobbies/interests?
While not a requirement, a hobbies & interests section can work well to showcase more relevant skills and interests when you don't have much experience. For example, you could list how you were part of your college's AMA program to show how you've been getting involved in marketing-related events.