In an entry-level role you assist marketing managers with pricing, distribution, and advertising strategies. You're there to support, help, learn, and advance alongside your marketing team members!
But you may have additional questions about your resume. How long should it be? How do you your qualifications to your target audience?
No sweat! We've got this: We've been helping with marketing resumes for years. Try our resume templates and advice to get things moving on the path to success.
---
Entry-Level Marketing Resume
---
Elegant Entry-Level Marketing Resume
---
Clean Entry-Level Marketing Resume
Related resume examples
---
What Matters Most: Your Skills & Job Experience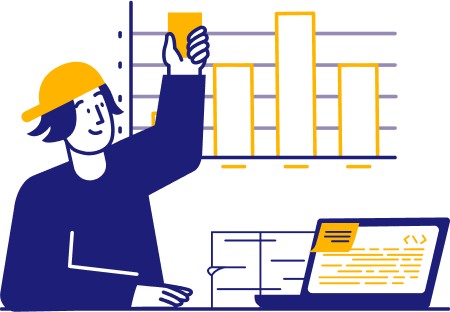 Show off those skills! People who are just entering the marketing field from another career or a graduate program need to show that they have the necessary tools to adapt and thrive in their new role.
Always avoid generic stuff like "people skills" and "communication" that aren't specific at all to your profession. Make sure each ability you list is highly relevant to how you fit into the marketing field.
Be as specific about the skills themselves, too. Hone your list items as sharply as you can to show that you already have some depth of knowledge in your field:
9 Best Entry-Level Marketing Skills
Salesforce
MS Excel
MS Word
Paid Social Media Ads
Google Analytics
SEMrush
A/B Testing
Audience Segmentation
Data Reporting
Sample entry-level marketing work experience bullet points
Experience sections can sometimes be slightly tricky for entry-level roles, depending on your situation. If you've freshly graduated, you may not have many (or any) previous job roles in marketing just yet.
But don't let that discourage you: College projects and internships also count! just make sure that your experience points demonstrate advancement and your eagerness to learn.
You'll also need to choose specific pieces of your history that relate directly to an entry-level marketing role. And you'll need to back any achievements with quantifiable data that measures your impact!
Check out these examples:
Tracked and analyzed advertising costs across media channels, saving 21% of marketing budget
Increased sales from online channels by an average of $3,497 per month by implementing best practices
Worked with local restaurants to grow their online search presence, increasing organic search traffic from approximately 100 to 1K users per month
Created A/B testing for Twitter ad copy, improving ROI by 9%
Overhauled conversion rates by 22% with custom-designed reports in Tableau while streamlining data to decrease manual reporting by 15 hours weekly
Top 5 Tips for Your Entry-Level Marketing Resume
Measure your success!

Metrics really are important, especially for entry-level marketers. You need to provide some quantifiable evidence that you can put your skills to good use and evolve your abilities.

Context helps

Sometimes, listing one percentage after another can sound a bit circular—but you can spice things up by providing the context of what the initiative was about. Talk about how you improved traffic for coffee shops, or mention that your testing was conducted via Instagram.

Highlight your education

Education is important for entry-level resumes. List your degree first and foremost, but think of any independent classes or certification workshops you've taken that might be relevant, too.

Letters can help!

If you have any professional recommendation letters, you can use these to boost your credibility alongside your freshly-polished resume. Include them separately and make sure they touch upon your best traits!

The job description is your friend

If you get stuck, refer to the job description for ideas on what skills and values will appeal to the company you're applying to. Reflect these in your resume to show that you know how to read your audience.
What if I'm really light on experience?
With some creativity, most projects can be spun to your advantage on your resume. Even if you've only had one job in marketing, you can probably think of independent projects or even volunteer opportunities that utilized your marketing skills!
How long should my resume be?
Just one page. It should never go over a single page, but don't worry: You don't have to completely fill the page, either. In fact, a bit of breathing room is nice!
What about color?
A bit here and there is fine, but take it easy! You want to appear as professional and polished as you can. So keep things understated while you express yourself—and put readability first.