You've worked countless hours mastering your craft and building your client base. So when it's time to switch positions, it can be exhausting. At the end of the day, when you've cared for a dozen clients and your feet ache, you shouldn't have to know all the tips for creating a perfect resume.
That's where we come in. We've analyzed numerous hair stylist resumes to learn what makes (or breaks) a resume. We synthesized this information and transformed it into five hair stylist resume samples (plus tips for each one) to help you craft your perfect hair stylist resume.
Use our examples and tricks to make your resume stand out above the crowd and get the job in 2022!
Hair Stylist Resume
Why this resume works
Do you need to include a

resume summary

in your hair stylist resume? Usually, the answer is no.

Resume summaries should only be used if 1) you have at least 10 years in the industry and 2) you can personalize it for every job to which you apply.

A summary that states, "Hair stylist seeking a role at XYZ hair salon" won't communicate anything helpful. Instead, be as specific as possible and emphasize your unique skills.

Include any certifications or extra training in specific areas, such as chemical hair treatment, trichology, hair smoothing, coloring, etc.
Senior Hair Stylist Resume
Junior Hair Stylist Resume
Why this resume works
Don't forget to include your

applicable resume skills

on your resume! It's one of the most under-appreciated sections that is actually vital to getting the job.

The skills section is the first hurdle you must clear in the application process. An applicant tracking system (ATS) will scan your resume for keywords (usually located in the skills section) and determine if your resume will be seen by the hiring manager.

So, get your skill keywords right by reading the job description to see which skills they value the most. Important strengths for hair stylists include creativity, sales expertise, organization, customer service, and of course, technical abilities like blowouts, cutting, balayage, etc.

Want to make sure your resume fits the bill? Run your resume through a resume checker or let a colleague review it first.

You'd be surprised at what mistakes you might have missed, like typos, grammar errors, and passive voice.

Even better, run it through an automated checker AND have a colleague review it, then do one last check yourself.

Need a cover letter to go with your junior hair stylist resume? At the end of our post, keep reading for an editable cover letter template you can use no matter what hair stylist position you're seeking!
Self-employed Hair Stylist Resume
Why this resume works
Having a period of self-employment on your resume can be more helpful than you might think.

Since you'll lack a recommendation from a superior on your self-employed hair stylist resume, include verifiable metrics you can back up with evidence if needed.

Catching the attention of recruiters is essential, so take care when you're building your resume to use impactful language to your best advantage throughout your piece.

Start by using action verbs and active voice (aka where you're the subject, not the object, of the sentence).

Also, avoid personal pronouns (ex: my, I, we) when you can.

Lastly, be concise. Don't add adjectives and adverbs when they're unnecessary; opt for stronger verbs and nouns instead!
Student Hair Stylist Resume
Need A Hair Stylist Cover Letter?
Your hair stylist resume is polished to perfection, but what about your hair stylist cover letter? No worries! You can use our editable hair stylist cover letter templates to make the process easy.
Download and edit in Microsoft Word.
Edit in Google Docs (choose "File" and "Make a copy").
Edit in block business letter format (choose "File" and "Make a copy").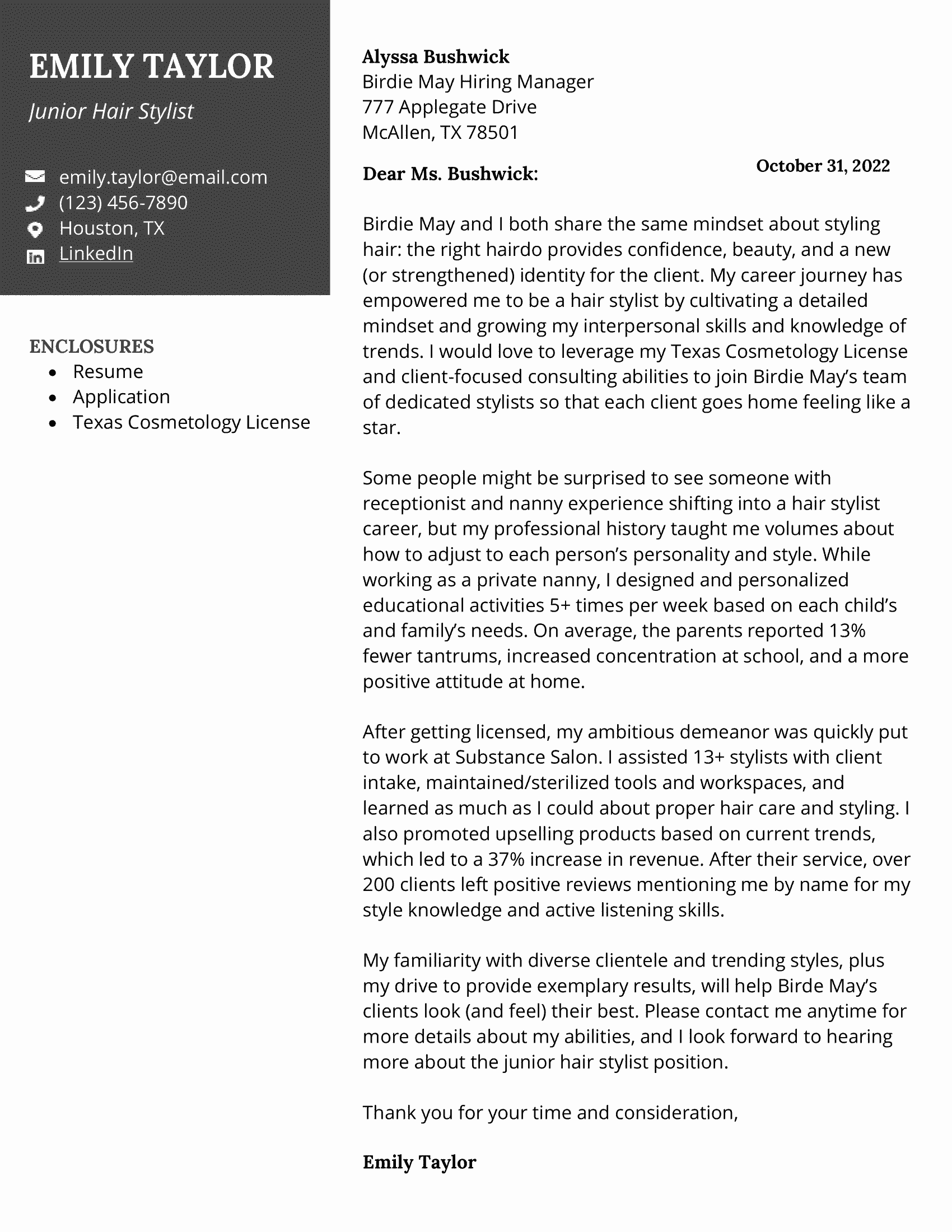 Why this cover letter works
Your goal should be to wow recruiters immediately with how your personal traits align with the job, but how exactly do you do that? Connect your professional history with the company's mission statement by outlining your skills and how they'll serve the company.

Research the company to find details about their vision that you can mirror in your cover letter. Then, spotlight individual traits that fit your dream job role, like a knack for interpreting client needs or the ability to think on your feet.

Many junior and entry-level applicants have a broad professional history that doesn't necessarily include a long list of jobs in their chosen field. That's okay! Highlight abilities you gained from those other jobs that transfer well to your dream salon role.

Seemingly random jobs can still be a boon to your job search! For example, if you worked as a receptionist, mention your awesome customer service abilities and ability to learn office software quickly.