You're up to date with the latest style trends. You're the person your friends go to to help decide if a new hair style will work for them.
You're a really strong cosmetologist, you shouldn't also need to be an expert at writing resumes. It can sometimes be tricky to talk about your experience in a way that demonstrates all you know.
These resume examples use best practices from the worlds of resume writing and cosmetology, and have been used in the real world to land jobs at top salons.
Cosmetology Resume
Why this resume works
If you decide to include a resume objective in your resume, try to customize it for each job you apply to. A very quick way to do this is to include the name of the company you're applying to. It also helps to read the job description and include any important keywords mentioned there.
Nearly all cosmetology jobs require that you have a license. The licenses are generally valid within a single state, so make sure you include the state where you're certified!
Beauty schools offer a range of different programs (like cosmetology, nail technician, and make-up) with different requirements. Generally speaking, cosmetology programs last for 1 year of full-time training which works out to about 1,000 hours.
Cosmetology Student Resume
Why this resume works
If you need to fill out your resume, it's perfectly okay to include relevant hobbies and interests. This is especially true for current cosmetology students looking to land their first job after certification. Be sure to include only relevant activities, which includes those related to your profession (like volunteering at Wigs for Kids) or those that demonstrate leadership.
Some salons hire current cosmetology students as part-time receptionists. These salons often pay for the state certification process at the end of training, which is a great way to save money. If you do a good job you can also then be hired as a proper cosmetologist after certification!
Early in your career it's perfectly okay include roles outside of cosmetology in the "Work Experience" section.
Hairstylist Resume
Why this resume works
When discussing your work experience, you want to demonstrate the impact of your work. Two ways to do this are to start each bullet point with a strong action word (like "Operated" and "Developed" in the resume above) and to use numbers to quantify impact. In this resume, tying the cancellation follow-up program to a hard number of new customers each month immediately shows that there was a positive monetary impact to the salon.
If you have expertise in a certain line of styling products, feel free to mention that. This is usually optional, but if the job description you're applying to mentions a specific product you have experience with then you should certainly include it.
Beautician Resume
Why this resume works
When you become a certified cosmetologist, there are a wide range of areas you can work in. If you're interested in working with the elderly, senior living facilities around the country hire full-time and part-time beauticians to help their residents live in style.
A common question for beauticians is whether to include high school in the "Education" section of the resume. Err on the side of including it, unless you're pressed for space (always try to make sure your resume fits on a single page). Some jobs require high school or a G.E.D. and it never hurts to remove doubt.
Nail Technician Resume
Why this resume works
As you progress along your career, a sure-fire sign of growth is to show increasing responsibility. In this resume, it's clear that the person is entrusted with more responsibility because they're responsible for onboarding and training new hires.

The

skills section of your resume should include just enough to show your specific technical strengths while not looking like a laundry list of all skills under the sun. If you have experience with specific product lines, feel free to include one or two.
Nail technician certification is different than the cosmetology certification in most states (though both are programs offered by most beauty schools), so be sure to include the exact name of the certification you possess.
Your cosmetology resume format
Writing the perfect resume takes a lot of practice. Even if you have an ample amount of experience and extensive qualifications, your cosmetology resume could be skipped over altogether because it wasn't properly formatted. No matter the type of job you're applying for, getting the resume format right is essential to make sure that your resume is readable and has a logical flow to it. A few important considerations to think about when formatting your resume include:
Reverse-chronological, functional, and combination/hybrid formats
Reverse-chronological format: This format aims to display employment history beginning with your most recent job. Because your latest position is highlighted first, employers can gain a quick understanding of how your career has progressed.
Functional format: The functional resume format highlights transferable experience and skills instead of focusing on chronological history. If you are changing careers or have a lengthy gap in your employment history, this format may be right for you.
Combination/hybrid format: This type of resume format combines the most notable elements of a chronological format and functional format to make sure that the recruiter's attention is drawn to the relevant information in the resume. Just like the functional format, skills are listed at the very top of the resume. Work history is also listed in date order, which is the same as the chronological format.
While each of the three resume formats above can help you create an effective resume, the reverse-chronological format is the best option for cosmetology. There are many reasons why this type of format is ideal for a cosmetology resume. For one, the reverse chronological format is considered to be the most popular format among recruiters and employers.
The format allows you to effortlessly link your employment dates, which shows employers that you have a strong work ethic. The amount of experience you have will tell employers that you're a specialist within the cosmetology field. Because of how this format works, your latest job is displayed first, which highlights an upward trajectory for your career.
Your cosmetology resume contact information
The most important information to add to your cosmetology resume involves the header as well as your contact information, both of which should be positioned toward the top-center or top-left areas of your resume. Your name should have the largest font. The remainder of your contact information should have a font size of 11-12.
As for fonts, Times New Roman and Helvetica are good options when creating a resume that you want to be effective. Tahoma and Calibri are a couple of additional font styles that are perfectly readable. At the very least, it's essential that you don't use an ornate font that's difficult to read. If your potential employer can't read your resume because of the font style, it won't even be considered. The information that should be incorporated into a header includes your:
Your contact information could look something like this:
There are a million ways you could format your contact info, and browsing our resume examples will give you some more inspiration.
Will your cosmetology resume pass through ATS?
In recent years, an increasing percentage of businesses have begun to use ATS software to collect, sort, and rank job applications and resumes. Today, nearly all Fortune 500 companies use this software to ensure their recruitment process is more streamlined and efficient. ATS stands for applicant tracking system. This software looks for certain things when scanning through resumes, all of which you should be aware of if you want your resume to be considered. The main considerations to think about when it comes to the ATS include:
Margins

: Aim for about an inch on each side, though you can decrease this a bit as needed.

Fonts

: Generic fonts are best, such as Times New Roman and Arial

Font sizes

: 10-14-point, depending on sections and body content

Header names

: Keep it simple. Don't rename "Skills" to "My Best Features" because ATS won't know what that means.

Skills

: Speaking of skills, you should place them in short phrases, maybe even using bullet points, some of which should match job description keywords

Logical order

: The logical order for an ATS-friendly resume involves the header, contact info, resume objective/statement, work experience, skills, and education

One page

: The most ATS-friendly resumes are comprised of a full single page
If you're finding it difficult to understand how to format your resume, our resume builder will automatically make sure your cosmetology resume is formatted for success.
Writing your cosmetology resume
While writing a resume isn't on your top list of fun things to do, you can easily avoid the frustration that usually occurs when writing a cosmetology resume by using our resume-building tool. Our guide breaks it down for you into seven distinct sections, which include:
The mysterious objective/summary statement

Work Experience

Top cosmetology skills

Education and certifications

Projects, interests, and/or hobbies

Customizing your cosmetology resume

Editing and proofreading
Do you really have to include an objective/summary in your cosmetology resume?
No. You really don't! Not what you thought we were gonna say? Stick with us for a moment because we'll show you why you might want to include one and when you should just forget about it. First of all, you probably should understand that there is a difference between an objective and a summary.
An objective is a short statement that allows you to describe your career objectives and goals. As for a summary, this is—well, a summary—that discusses your qualifications and why you believe you would be a good fit for the position based on your experience and skills. Even though these statements shouldn't be incorporated into every resume, you could think about using them when:
Objective statement

: You can use an objective statement in your resume when your long-term career goals correlate with the cosmetology position you're seeking. If you've spent your life as a nurse, for example, but decide to transition into cutting hair, the objective is an excellent opportunity to demonstrate why you're still qualified for the position.

Summary

: You should write a summary when you want to display your value as an employer, when you want to emphasize core strengths, and when you want to tie together your years of experience in different positions.
There are also times when you should leave these statements out altogether. It's likely that the objective or summary will just repeat what's already clear in your resume. If you don't believe your objective or summary is specific and adds value to your resume, then cut it. Additionally, summaries shouldn't be used if you don't already have a substantial amount of experience. Let's look at a few examples to help you determine whether your objective or summary is hindering or helping you.
A couple of examples of poorly written objective statements and summaries include:
Objective

: To earn a position as a cosmetologist with a high salary.

Summary

: Skilled professional with more than 10 years as a cosmetologist, where I have served many happy customers over the years
The above objective is bad because it's vague and isn't necessarily an inspiring goal to work toward, especially not in the eyes of the recruiter. The point of an objective is to show employers that you have a vision for your career (beyond profit). As for the summary, it doesn't work because that information could easily be understood from a simple glance through the resume. You should also be more descriptive when writing a summary.
These examples, though, are much higher quality:
Summary

: Licensed cosmetologist with more than 10 years of experience in styling, makeup application, and cutting. Have maintained a customer satisfaction rate of just over 98% with a loyal customer base of more than 300. Want to be part of a thriving cosmetology practice at Styled Locks, bringing my customer base and building new relationships and trusts with luxe clients.

Objective

: Customer-focused cosmetologist who wants to help customers feel their best while growing the clientele base at Scissors Salon. Motivated to improve my styling skills and learn more about the cosmetology industry from seasoned stylists.
The above examples of objective statements and summaries succeed because they're direct, to-the-point, and include relevant information. The objective statements tell the employer what you want to achieve by working at their salon. The summaries focus on your skills and highlight your experience.
Writing your cosmetology work experience
Your work experience is the most important information you'll need to include in your cosmetology resume. The ideal number of job experiences to include in a cosmetology resume is around 2-4. If you've had eight jobs since you were 16 years old, you don't need to include info about the earliest ones. When you have substantial amounts of experience, include the jobs that are most relevant to the position you're applying for.
Cosmetology work experience bullet points
Every job experience you include should be written in short yet descriptive bullet points. Make sure you include active verbs and language in your bullet points, which will help you avoid writing vague sentences that don't get your point across. Examples of active verbs include:
Styled

Planned

Managed

Administered

Modified

Expedited

Supervised
You should also stay away from personal pronouns like "I" and "me." Use standard sentence punctuation at the end of each bullet point OR leave periods out altogether. Either or is fine; just be consistent. These are poor bullet points we don't want to see on your cosmetology resume:
These bullet points are far too short and vague while also not providing enough details about your work experience. They also do not demonstrate consistency with punctuation. Three examples of strong bullet points for a cosmetology resume include:
Performed cosmetic services like pedicures, manicures, skincare, and hairstyling for 10+ clients per day.

Performed over 12 chemical hair treatments each week, and documented client preferences to refer to for repeat customers.

Maintained product inventory and ordered supply refreshes at the salon on a bi-weekly basis.
These bullet points succeed because they include consistent punctuation and offer rich details about your work experience. Potential employers can better understand what kind of employee you would be based on these bullet points.
Numbers speak louder than words on your cosmetology resume
It's important that your resume stands out when a recruiter is looking through a stack of potential candidates. A simple and effective way to enhance your work experience bullet points is by quantifying the impact you've had at previous jobs.
You can properly quantify the impact you've had by including metrics in your bullet points. In today's job market, it's not enough to list the experience you had if the information can't be measured. Metrics provide employers with data they need to determine how valuable you would be as an employee. Let these job description bullet points serve as a starting place for your own unique accomplishments as a cosmetologist: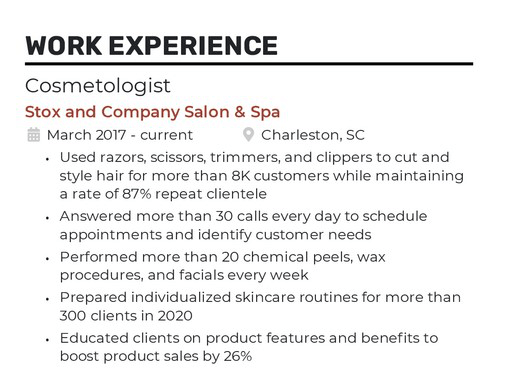 Best cosmetology skills to include
Even though your work experience is the most important element of a resume, the skills you choose to highlight can also pay dividends when applying for a cosmetology job. When you're trying to identify the most important skills to write down, keep in mind that there are hard skills and soft skills to consider.
Hard skills are measurable skills that are easy to define and highly specific to the position you're applying for. Soft skills are inherently more difficult to measure and can be readily applied to most any position on the job market. Examples of hard skills that are specific to cosmetology include:
Hair coloring

Hair styling

Skin care

Chemical relaxing

Tinting and dyeing
Some soft skills you can add to your cosmetology resume include:
Make sure you search for keywords in the job description ad you're interested in. A standard cosmetologist job description could include keywords like "hair styling," "facial treatments," and "anticipating needs." Some of the skills you include should correlate with the keywords you identify. You can include around 5-10 skills in a basic cosmetology resume, but just make sure you honestly portray yourself.
Education and certifications for a cosmetologist
Obtaining a job in the cosmetology industry requires education and training. Along with a high school diploma or GED, you should also look into earning a cosmetology training certificate or an associate's degree in cosmetology. An associate's degree or equivalent program takes around two full years to complete.
The required number of years in the workforce depends on the type of position you're applying for. While entry-level positions can be obtained without any experience in the industry, unique roles like skincare specialist may require two or more years of experience in a spa or salon.
Should I add projects, interests, or hobbies to my cosmetologist resume?
Even though the majority of resumes don't include projects, interests, or hobbies, there are some situations that call for these additions. Depending on the employer you're applying to as well as your level of experience, these additions could help you strengthen your resume. For instance, projects are great for college students, high schools students, and anyone who's applying for an entry-level position.
It can be difficult to fill out a resume if you're fresh out of high school or college and don't yet have cosmetology experience that would usually be placed on a resume. Including projects, interests, and hobbies may make it easier for you to bolster your resume and include relevant information about yourself that the employer could find useful. A couple examples of interests and hobbies that could be placed in your resume include:
Community service

Graphic design
Two examples of projects you could incorporate into your cosmetology resume include:
If you do choose to include a project or two or interests and hobbies, be sure to think about how you can discuss its relevance to cosmetology in an interview. For instance, if you've designed a website with JavaScript for the first time, you can discuss how that experience has taught you patience through the process, definitely a skill you'll need when dealing with people day in and day out.
Customizing your cosmetology resume
Before you start sending out resumes and getting excited for your next cosmetology position, it's essential that you understand the importance of tailoring your resume. Don't make the mistake of sending the same resume to every recruiter. Employers know whether they're looking at a specified, custom document or a generic piece of paper. If you want a prospective employer to believe you're serious about your application, include position-specific information within the objective/summary, skills, and bullet point sections.
Edit and proofread your cosmetology resume
Even though this should be, by far, the easiest aspect of writing a resume, it's also the most overlooked. If you don't correct typos, poor punctuation, and bad grammar in your resume, your prospective employer will almost certainly believe you're inattentive and don't really care about the job. You'll essentially be providing employers with a bad first impression. Along with proofreading your resume on your own, you should also have your friends or family members take a look at your work. Take advantage of BeamJob's free resume checker as well to check for consistency, active voice, active verbs, metrics, and more.
Congrats, you're a step closer to landing your cosmetology job
We know it's a pain, but honestly, writing your cosmetology resume is the biggest task when it comes to the job search.
A recap to formatting and writing your cosmetologist resume:
Make sure you choose the right

resume format

, the best of which is the reverse-chronological method

Position the header/contact information in the right place

Focus on ATS readability

Consider whether you need a

resume objective or summary

Write down your work experience in succinct bullet points

Include your most

relevant job skills

Think about adding projects and

interests to a resume

that's light on work experience

Tailor your resume to each job you apply for

Edit and proofread your resume
Congratulations on completing your cosmetology resume. Now it's time for you to go get the job!