You can whip up a new logo in a flash. You're the person all your friends go to when they need some help with Photoshop.
You're a great graphic designer; you shouldn't also have to be great at writing a resume. Outside of a design portfolio, it can be tough to talk about all of your design skills and experience in the right way on your resume (not to mention your graphic designer cover letter!).
These graphic designer resume examples have helped graphic designers land highly coveted jobs at companies like Stripe and Apple, so they're a great place for you to get started.
Graphic Designer Resume
Why this resume works
Whenever possible, make sure to quantify the impact of your work. This can be tricky for some graphic design roles, so it's okay to highlight your overall impact even if your work isn't the sole reason for improvement.
Portfolios are more or less a requirement for graphic design roles, so make sure to include a link to your own.
If you choose to add a resume objective to your graphic designer resume, try to customize it for each job to which you apply. One way to do this is to match important keywords you find in the job description.
Graphic Design Specialist Resume
Why this resume works
Graphic design is a great skill to have. When you can couple it with other skills like marketing, you'll be leagues ahead of everyone else. Your graphic design specialist resume can highlight work that touches on multiple disciplines.
Including numbers that highlight the impact of your work will drastically increase your chances of landing an interview. Companies often receive hundreds of applications for a single role, so as you craft your resume, keep in mind the need to stand out!
Graphic designers are expected to be proficient with a lot of different tools. However, the standard for the industry is Adobe Creative Suite. So make sure to let employers know if you're skilled at Photoshop, Illustrator, and InDesign.
Creative Graphic Designer Resume
Why this resume works
Graphic design is a very wide-ranging field, so sprinkle your creative graphic designer resume with specific areas of strength. Some of the most popular mediums we've seen are print media, video, website design, and logo design.
Companies are looking for designers with initiative. You should make it clear whenever you have experience leading something from beginning to end.
It's helpful and a sure sign of growth if you show an increase in responsibility throughout your career. For example, mentoring other graphic designers or taking a leadership role over the direction of your team are great ways to demonstrate growth.
Senior Graphic Designer Resume
Why this resume works
As a senior graphic designer, be very explicit about any management or leadership role you held regarding other members of your team.
Demonstrating impact by tying it to hard numbers proves you're a designer who can think about how your work fits into a broader context. How many hours did you help your team save? How much did you help increase revenue or the number of new customers? How many people viewed your designs in the real world?
If you have noteworthy hobbies and interests or demonstrate leadership, include them on your senior graphic designer resume.
Junior Graphic Designer Resume
Why this resume works
Landing your first graphic design role is always the trickiest part of launching your career. Fortunately, graphic design is a very visually-based field. So your portfolio can speak for itself! If you're light on relevant work experience, feel free to include relevant projects.
Internships are a great way to get your foot in the door. Any recruiter reading your resume will treat internships like any other work experience, so be sure to demonstrate the impact of your work with hard numbers if possible.
As a graphic designer, you'll rely on a huge suite of software tools to do your job. In the

skills section of your junior graphic designer resume, make it clear which tools in which you're proficient. You don't have to be an expert to list a certain tool, but generally speaking, only include skills you'd be comfortable talking about in an interview.
4 Tips to a Perfect Graphic Designer Resume
Graphic design is one of the most profitable professions in the freelance industry. It involves utmost creativity. Graphic designers serve as visual communicators who craft concepts using their hands or specialized graphic design software.
Their main aim is to convey ideas to inform, inspire, or capture customers through physical and virtual art forms like words, images, or graphics. Graphic designers communicate with clients, customers, and other creators to ensure that their designs replicate the intended message and excellently express detailed information.
There are about 266,000 graphic designers already in the competitive market, and the number continues to rise. Even if you give it your best shot, your job application may still end up in the reject pile. Why? It's most likely your resume.
The best way to increase your chances of getting hired in this competitive profession is to craft a perfect graphic designer resume. It makes you stand out from the rest as you can showcase the skills for which your client or customer is looking.
When it comes to your graphic designer resume, we've got four critical tips for taking your resume from the trash bin to the top choice for an initial-round interview. When you understand the role of your skills section, resume format, measuring your past job impact, and customizing your resume for each application, you'll be well on your way to landing your next job.
1. Put the spotlight on your graphic design skills
Most recruiters don't have time to go through the nitty-gritty details in your graphic designer resume. They'll likely spend most of their time (mere seconds) examining your list of skills and determining whether they're relevant to their needs.
Recruiters often have a stack of resumes to weed through, so they'll likely depend on an applicant tracking system (ATS) to filter out resumes lacking keywords—skills relevant to the specific job.
This is why the skills section of your graphic designer resume is very important. Because graphic design jobs can differ greatly in duties and requirements, your skills section should reflect your knowledge and abilities in relation to the company or organization. If you properly showcase your various skills, you can easily beat the ATS.
The following is how you should spotlight your skills in your graphic designer resume:
Write them in brief phrases in a bulleted list in your resume's skills section

Use numbers and examples to quantify and demonstrate your skills in the work experience section

Emphasize your most relevant skills in the resume objective or summary
While you shouldn't include more than 10 skills in your skills section, we'll give you a bit of inspiration by discussing some top hard (job-specific) and soft (not as easy to define) skills you could include in your graphic designer resume.
Basic Coding: Coding skills can help you optimize your graphics and communicate well with cross-functional co-workers and teams. Your employer/client will benefit as you help save them time and money. Depending on whether your niche is in UI/UX, web design, or apps, you'll do yourself a favor when you're familiar with HTML, CSS, and one or more of the top programming languages:
2. Formatting your graphic designer resume
Your resume is more than just your relevant experience, employment history, education, and skills. It serves as a marketing tool. Recruiters spend mere seconds looking at a given resume and tend to pass over those with boring basics. Instead, they want to see your accomplishments and the value you can provide the company.
This is a direct ticket to an interview. That's why you should ensure this document reveals the best you to a potential recruiter. As such, you'll want to choose the right resume format for your graphic designer resume. While many job seekers choose skills-based or hybrid-based formats, it's almost always in your best interest to design your resume in reverse-chronological format. Employers will hone in on your most recent and relevant experience, where you can delineate your accomplishments and achievements that impacted your workplace for the better.
Consider these vital points when crafting your graphic designer resume:
1. Format to impress
Your resume's appearance is important. You are a graphic designer, after all. Key principles here include:
Ensuring consistency (layout, punctuation, font, and font size)

Using bullet points to ease readability

Aligning your text left (your contact header is the exception to this)

Proximal allocation of every section
2. Must-have items on your resume
Contact information and job title

Stick to one page exactly

Use a recognized file format (PDF)

Use headers to distinguish among sections

Avoid overuse of color

Decide whether to use an objective/summary
Graphic designer resume objective
Speaking of the objective/summary, perhaps you're wondering whether you need one in your graphic designer resume. First, let's explain the difference between the two.
A summary is a two-to-three-sentence statement that summarizes your skills, work experience, and any specializations. It's best used when someone has been in graphic design for 10+ years.
On the other hand, an objective, also two to three sentences, concentrates on your interests, qualifications, and how you'll add value to the role you're seeking. An objective statement is best used for career changers or entry-level job candidates.
It's not so important to understand the difference between a summary and an objective; it's more important that you write specific sentences in this section. Vague statements and generalizations waste your and the recruiter's time, a sure way to get your resume stuck in the reject pile. If you're in doubt, exclude it altogether.
If you're a graphic designer looking for an entry-level position, your objective can specifically emphasize personal qualities and skills, mention the company by name, and share how you intend to contribute and grow while employed at said company. Check it out: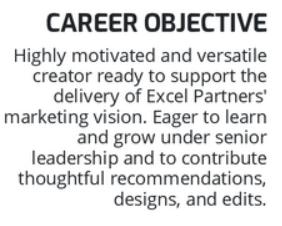 3. How to measure your impact as a graphic designer
Graphic design work impacts every aspect of our modern lives, but it can be tricky to link it to business growth. Don't gloss over this, though; it's well worth the extra effort.
Design becomes a key contributor to success by demonstrating your work's value. And that success is what employers want to see. There are various ways you can measure your impact on your graphic designer resume:
Online success: If you're dealing with digital design projects like a website or email marketing, it's easier to trace before and after charts and engagement. As a result, you get to know the exact measurements of your design's performance. A/B tests may also help you compare particular design details to determine which project performs better than the other.

Event-based analytics: This helps you track your design projects online using product analytic tools like Google Analytics. Such tools will help you clearly understand the details and progress of every interaction.

Improved traffic or sales: Employers may reveal that your design project(s) facilitated an increase in the number of customers received, impacting sales. Higher sales and traffic point to successful work on your end.

Increased customer retention: Your employer may state that your graphic design work greatly impacted their customer's interests. This means that customers loved it. You were directly involved in capturing their attention and creating repeat customers.

Customer reviews and comments: Like any other business, you can quantify your graphic design work using customer reviews. Customers are honest and will tell you whether they loved your product or not.
You may be thinking this sounds well and good, but how do you translate that sort of thing into a resume? It's often best to learn by example. As seen here, your bullet points certainly do not need to be an exhaustive of what you could include, but we think our samples provide you some worthwhile inspiration: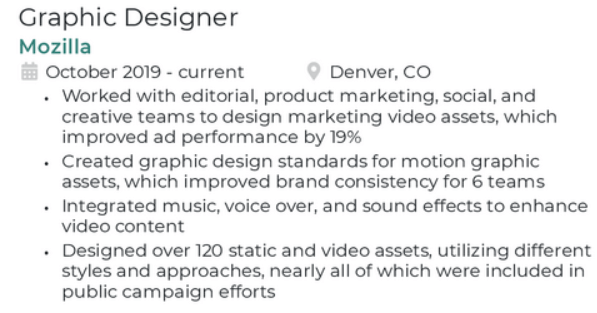 4. Build a custom graphic designer resume
For every graphic design job you apply to, you need to tailor your resume accordingly. Just as we discussed earlier, you'll want to demonstrate your skills and abilities relevant to the role you're applying for in three areas: your skills, work experience, and objective/summary sections.
Experience level matters a lot for most recruiters. Beyond experience level, there are many job titles a graphic designer might take on; therefore, customizing your graphic designer resume not only demonstrates competency but also care and attention to the employer, company, and the specific role. Trust us; there aren't many job seekers taking the extra time to tailor their resumes accordingly.
We have customization tips for different graphic designer job descriptions and titles. Even if you're applying to a job that comes with another title, we're sure this information will still help you write a compelling, specific resume.
Graphic designer or graphic design specialist resume
Creative graphic designer resume
You're most likely involved in the advertising and marketing world.

All graphic designers are creative people, but this job title suggests more. This may also entail a position where you're leading the creative team.
Senior graphic designer resume
If you're seeking a senior role, the most important thing you can do is demonstrate your seniority. This means you must confirm your ability to:

Lead a team

Communicate with cross-functional teams and internal management

Manage projects that are completed on time with the highest quality

Additionally, with this level of experience, you may choose to include a career summary. Don't forget to make it specific to the new role you're seeking.
Junior graphic designer resume
Key points for your graphic designer resume
Now, when it comes to building your graphic designer resume, you'll be far, far ahead of the average applicant. You currently have the insight to craft your resume around ATS-friendly and role-specific skills, format your resume correctly, measure your previous job impact, and customize your resume no matter the job.
Thanks for staying with us to the end. Congratulations on taking your graphic designer resume seriously. You'll be much closer to accepting a job offer with your newly-gained knowledge. The bad news is you still have to write your resume. The good news is that we can help. Upload an old resume or start from scratch with our user-friendly resume maker. You can choose from our best resume templates for an attractive and ATS-friendly layout that's sure to snag the attention of recruiters.
Best wishes! We know your dream job is just around the corner.