You may be your own boss while creating gorgeous visual graphics independently, or you might work at a small graphic design firm while retaining your own clients. Either way, you know just what skills and programs will best help you transform a client's vision into artistic graphic elements they can use to make their ideas pop.
But how do you make your resume stand out similarly for recruiters? Which resume template works best for you and what types of skills and milestones do you include to show that you're the ideal hire?
We've got this! After years of helping graphic designers create excellent resumes, we've put together three freelance graphic design resume examples to help you land that awesome gig!
---
Freelance Graphic Designer Resume
---
Clean Freelance Graphic Designer Resume
---
Modern Freelance Graphic Designer Resume
---
What Matters Most: Your Skills & Work Experience Sections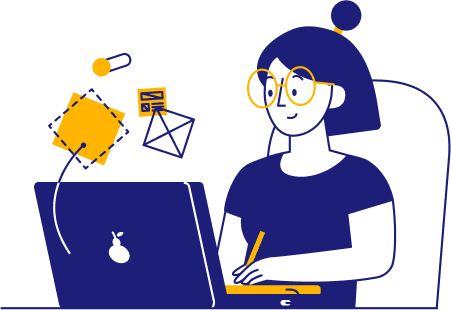 Recruiters value your skills section because they want to know what kind of value you bring to the table! Are you a ninja with Adobe Photoshop? Do you boast an incredible knack for helping clients save money while maintaining excellent quality standards?
Since your job skills are meant to show what a great freelance graphic designer you are, everything you list should link clearly to your profession. You'll also want to lean more toward the technical side, saving some of your soft skills for the experience section later.
And be specific! Don't say "design software" if you mean Adobe Illustrator. And don't say "business" if you can break that down into specifics like "invoicing" and "client negotiations."
9 most popular freelance graphic designer skills
Adobe PS
Adobe Illustrator
MS Excel
Asana
GIMP
Sketch
Unsplash
CorelDRAW
FontSquirrel
Sample freelance graphic designer work experience bullet points
Your skills are looking snazzy! But now recruiters want to see how you've put them to good use. How did your graphic advertisements boost social media engagement for your clients? Did your brochure design improve outcomes for community outreach programs?
Be specific here, just like your skills list, and keep each bullet point to just one or two lines each. Concisely give a bit of info on what you did, why and how you did it, and what kind of positive impact you made!
And don't forget to back those bullet points up with metrics. Recruiters want to see quantifiable data that reinforces your credibility. How much money did you save on that big project with your efficiency? By what percentage did you increase audience engagement?
Here are some examples of what we mean:
Used Sketch to create mockups for Urban Outfitters' mobile app update, which saw a 0.5-star increase in user ratings
Conducted photo editing for product images using Adobe Photoshop, increasing sales by 12%
Efficiently created over 50 post-ready custom infographics for blog posts and social media channels, reducing hours spent on editing by an average of 7 per week
Assisted in the development of an in-store customer feedback system, resulting in a 34% increase in collected feedback
Designed an average of 31 high-quality images per week for social media channels, driving a 42% increase in follower engagement and audience growth
Top 5 Tips for Your Freelance Graphic Designer Resume
Don't go visually overboard

As a freelance graphic designer, you've probably encountered some stubborn clients who really wanted you to include a color or visual element in your designs that you weren't so sure about . . . But one thing we're sure about is that your resume should be understated! Less is more. Use minimal color and highly readable, clear fonts.

Include academic creds if you lack experience

If you're just beginning your freelance graphic designer career, you can include some academic achievements to flesh out your resume in place of the professional experiences you haven't had yet! Did you earn a stellar GPA while earning your graphic design degree? How about any design contests or standout projects you earned recognition for?

Consider an objective vs. a summary

If you're new to the field, you might want to include an objective statement sharing your goals. Why do you want this job, and how are you qualified for it? If you're somewhat experienced already, a resume summary could be ideal for wrapping up some eye-catching highlights to hook recruiters' attention.

Leverage testimonials

You can also attach some testimonials to your application to complement your resume! Maybe you designed signage for a volunteer initiative and transformed its reach in the community or revamped web graphics for a small business. If so, get some professional letters of recommendation!

Always consider relevance

No matter what you include in your experience section, always imagine it totally separate from your resume and ask yourself "Does this make me sound like a top-tier freelance graphic designer?" If not, add a few words of context or even replace the bullet point with something completely fresh.
How long should my resume be?
Stick with a one-page resume! Again, recruiters don't have a lot of time to spend on your resume (just a few seconds on average). So make sure your resume falls at or under a single page to keep it out of the discard pile.
What keywords do I use?
Revisit the job description and see what they really want. Do they list any specific programs, software, or organizations you've worked with before? Just work key stuff like "InDesign" or "CorelDRAW" into your resume to demonstrate your attentive nature.
What kind of tone should I write in?
Wait, don't close that job description yet! Refer back to it and to the company or organization's website to get a feel for how to fit into their ecosystem. Are they super casual and artsy? Is their tone sleek and professional?