Financial analysts have many duties and responsibilities, all of which are based on their organization, industry, and seniority.
It can be a challenge determining what to include in your financial analyst resume, how to format it properly, what data to use, and when to focus on projects so you can attract the attention of a hiring manager or recruiter for your dream finance job.
We analyzed numerous financial analyst resume samples from all stages of analyst careers and different industries to help you land more interviews in 2022. We created seven resume samples to help financial analysts build an eye-catching resume.
Financial Analyst Resume
Why this resume works
As a financial analyst (mid-career), you want to showcase your ability to

gather data and information. From numerous sources for your reports, projects, or industry research for marketing trend determinations, highlighting your solid understanding of where the right data is found will be an important skill to include in your financial analyst resume.

The number one responsibility of a financial analyst is turning data into actionable recommendations. It's time to brag about "how" your role directly impacted the company and its clients. Be sure to add your statistics knowledge throughout your resume-building experience.

Don't forget to include your projections and forecasts! Focus your financial analyst resume experience on how close your projections and forecasts were for the company and "how" those accurate projections and forecasts helped the business.

Run your resume through our resume checker to ensure you include enough stats and answer the "how" for hiring managers.
Senior Financial Analyst Resume
Why this resume works
Your senior financial analyst resume should include leadership achievements, team management, and your team's performance.

Don't be afraid to brag about your team size, project budget, projects completed on time, and of course, how those projects helped the team, the company, and its clients.

Leading large acquisitions or mergers, including due diligence committee leadership, is an eye-catching proficiency to add to your robust senior financial analyst resume. Hiring managers look for senior-level financial analysts who can perform advanced-level analyst responsibilities and drive business through exacting leadership.
Learn how to create a more enticing skills section. Often, senior financial analysts have more experience with various financial tools, including SQL, advanced use of Excel, and other proprietary implements. Don't forget to include the tools of your trade as you build your resume so hiring managers can see your skillset.
Entry-Level Financial Analyst Resume
Why this resume works
As an entry-level financial analyst, you have the terrific opportunity to showcase related and transferrable skills from previous roles into a targeted resume with good experience for your dream job.
If you're a student, discuss the classes you're taking or have already completed as you build your entry-level financial analyst resume. If you're an intern ready to make your next career move, highlight the projects you supported while in your internship.

Do not discount administrative or supportive tasks from your resume. Be proud of your experience; hiring managers understand (and want to see) that we all started someplace.

If you have any hobbies that pertain to finance (e.g., volunteered as a math tutor for schools in your area, participated in math-a-thon events), include these important details in your hobbies resume section.
Junior Financial Analyst Resume
Financial Planning Analyst Resume
Quality Assurance Financial Analyst Resume
Why this resume works
Your quality assurance financial analyst resume should hit all the formatting requirements for a great resume.

Within your bullet points, try to include no more than 200 characters. If you find your bullet points are longer, break them up into two, or make them more concise.

Your resume should reach the bottom of the page without leaving room for awkward blank space or conversely overwhelming the reader and making the page feel cluttered.

Order your work experience in reverse-chronological order, and break it down into four to five bullet points.

Nearly every bullet point should start with an action word, such as "spearheaded," "crafted," "calculated," "tracked," "generated," "collaborated," or "monitored."
Program Financial Analyst Resume
Format Your Financial Analyst Resume
You might be tempted to think that the only thing that matters on your resume is the content, but formatting can be just as important. Even if you have decades of impressive financial analyst experience, it'll be hard for a hiring manager to look past poor formatting. A well-formatted resume will be readable for ATS and logical for hiring managers who only have a few moments in their day to look at your resume.
Let's review some of the most important aspects of resume formatting, including:
Resume format choices
Each of the following formats performs a particular function, highlighting your work experience, skills, or both.
Three resume format favorites among successful job applicants in 2022.
Reverse-chronological format:

This format does what you'd think it would. It orders your work experience starting from the most recent. This format will help hiring managers see your most relevant and impressive job title first.

Functional format:

Unlike the reverse-chronological format, functional formats place the most emphasis on skills. If you have employment gaps, you may want to consider this format, but be aware that hiring managers may be confused or wonder if you're being forthcoming.

Combination/hybrid format:

This format weights work experience and skills equally by combining functional and reverse-chronological formats.
For financial analysts, we almost always recommend reverse-chronological formatting. Hiring managers love that it's easy to read and skim, and you'll love that it showcases your most senior position.
How to include your contact information
When a hiring manager is impressed by your resume and wants to reach out for an interview, it's important to make your name, phone number, and email easy for them to find. Ensure your contact information is highly visible by placing it at the very top of your financial analyst resume.
Use a large font for your name and a large (but slightly smaller) font for your job title. Both your name and your job title should be centered in the header. If you want to try using color on your resume, we suggest using the color as the backdrop for your header, the text for your name, the text for your job description, or the backdrop for your contact information. Professional colors for financial analysts include navy, amber, or dark green.
Below your header, you'll need to include contact information, which should include:
Email

Phone number

Your city and state (optional)

Professional links, such as LinkedIn (optional)
Like the example below, you can do a lot with your header to showcase your creativity while remaining professional. Check out our resume examples if you need further inspiration.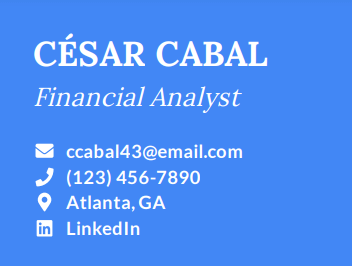 Outwit the ATS
If you're applying to an online job posting, the chances are high that the hiring manager is using applicant tracking system software (ATS) to pre-filter applicants. ATS works by picking up on words used throughout your resume and matching them to keywords selected by recruiters. If you don't have enough keyword matches, your resume may be thrown out before anyone can read it. That's why your resume must be ATS-friendly.
Be careful to adhere to the following formatting guidelines:
Margins:

Use standard margins of one inch, or adjust it down to half an inch if needed to save space.

Font type:

Keep it basic. Using Times New Roman is perfectly appropriate, or you could try fonts similar to Arial, Cambria, or Garamond if you'd like.

Font sizes:

The body of your resume should be a 12-14-point font, but you can make it slightly smaller if needed. Your job title should be larger, around 20-point font, and your name should be about 24-point font.

Header names:

Use colors, bolding, or complementary fonts to help your subheaders stand out throughout your resume.

Skills:

Customize your skills for every job to which you apply. Carefully read the job descriptions to determine what keywords the recruiters will be scanning for while avoiding plagiarizing their job posting!

Logical order:

As we mentioned earlier, reverse-chronological order is the best for your financial analyst resume, and ATS operates under the assumption that your resume is formatted this way.

Page count:

Do everything you can (adjust font and margin, within reason) to fit the page perfectly. Your resume will look unprofessional and burdensome to read if it's over a page. If your resume is a little short, recruiters will wonder if you're inexperienced.
You can do all this work in a Word Document if you want, but you'll find our resume builder is a lot faster, and it can save you the headache of endless reformatting.
Write Your Financial Analyst Resume
Writing your perfect financial analyst resume can seem like a painstakingly difficult task. We know that writing an effective resume may feel overwhelming, but if you take it one section at a time, the process shouldn't be too stressful. You can use our resume builder to speed up the process and remove all the guesswork.
Without further ado, let's dig into the content of your financial analyst resume. Here's what we'll cover:
Using a resume objective or summary statement

Writing about your work history

Key skills for financial analysts

Education and optional sections

Customizations

Flawless editing
Understand the elusive objective/summary statement
The resume objective and summary are elusive because they're both very similar, and there are only a few circumstances in which you'll use either one. They're one of the most commonly misunderstood sections on financial analysts' resumes.
Both are highly job-specific, two to three-sentence paragraphs used towards the top of your resume (often under your job title) to address the hiring manager. An objective is a great place to tell hiring managers why you want the job. We recommend including one if you're just starting in your career or if you're changing fields. On the other hand, a summary highlights skills you've developed, and this kind of statement is most applicable to professionals with 10+ years of experience in financial analysis.
Neither the objective nor the summary is mandatory inclusions on your resume, but appropriate statements can enhance your resume and boost your chances of getting hired. Let's go over a few examples:
Example 1: Professional seeking a job at your office to continue advancing my career in finance.
What could be improved: This is a poorly written resume objective. You should mention the specific job title you're applying to, the company name, and one to three highly-specific skills you possess that will improve or contribute to the company operations.
Example 2: Working in finance with experience in organizing and communicating.

What could be improved: This summary is too bare-bones. It contains no meaningful information and just takes up space on your resume.
Example 3: Financial Analyst with 7+ years of experience specializing in informative and persuasive professional presentations, seeking a role to utilize my depth of ROI and client relations skills as a team player at Spectrum.
What we like: This objective and the example below mention a specific job title, the company name, and the skills they bring to the table. It's short and effective.

Example 4: Data-driven financial analyst with 23 years of business valuation and trend analysis under 3 major Fortune 500 corporations. With skills across many areas of data analysis and presentation, trend forecasting, and financial advisement, I provide a wealth of knowledge and business know-how to companies with which I've worked. I am eager for an opportunity to improve ROI in several key areas to optimize growth at BetterMent.
What we like: This summary and the example below are specific and contain information that makes this candidate an obvious choice. The applicant above also points directly to an area they know they can improve business operations. You want a hiring manager to read your summary and think, "we need this person."

How to include your financial analyst work history
It should come as no surprise to you that the most important section of your financial analyst resume is your work history. It can be tempting to cram every job title you've held since you were a teenager onto the page, but hiring managers prefer applicants who focus on the most relevant and recent work experience they've had. You can share information about older jobs and internships during your interview! You'll want to include two to four job experiences.
Write descriptive bullet points
Your work experience should be broken down into bullet points, which make your resume look more organized and easier for hiring managers to read.
Throughout your bullet points, you'll want to avoid passive voice, which can make text boring to read and unengaging. Instead, use active voice, which exudes confidence and ownership of your work. Adding action words to start each bullet point, like "operated," "spearheaded," and "orchestrated," will further engage readers and break up your text.

You'll also want to be careful to avoid personal pronouns, like "I" or "my." Employers already know you're writing about yourself, and personal pronouns sound unprofessional.

You can choose to end all of your bullet points with or without periods. Consistency is key.

Finally, you'll want to consider verb tense. You can leave your current work experience in the present or past tense, but all of your former work experience must be in the past tense.
Here are a few examples of good bullet points that incorporate these tips:
Oversaw the financial due diligence of a $52M acquisition, including organization and report analysis

Developed an automated process using Excel for the internal team KPI reporting that increased accuracy by 17% and provided data 2 days faster to team leads

Monitored 10+ regulatory developments and industry trends to incorporate into the firm's AML program
These bullet points are perfect for a financial analyst resume. They're written in active voice, using action verbs, avoiding personal pronouns; they're all written in the past tense, with consistent punctuation.
Leverage numbers
Numbers demonstrate your value to the company, unlike words alone. We've interviewed countless hiring managers, asking them what they consider the most important element of a successful resume; almost unanimously, they've reported that metrics made applicants much more likely to get interviews. For the best results, aim to include quantifiable metrics on at least 50 percent of your bullet points. Here are a few ways you might consider adding metrics about your past roles in financial analysis:
Hard numbers:

Discuss the details of your work. What percentage have you increased ROI? What percent have gross earnings increased for the company during your time of employment?

Sales:

Discuss the rate of potential clients converted from your presentations, the number of presentations you provided, and the success of your sales strategies.

Reports:

Have you successfully forecasted trends? Have your abstracts and internal presentations resulted in financial gain for the company?

Collaboration:

Financial analysts need to collaborate across departments frequently. Let employers know you collaborate well with others by detailing the number of people or departments with which you've worked.
If you're having trouble visualizing how you'd use these questions to come up with numbers, don't worry. Here are a few examples:
Provided financial guidance to Business/Functions, contributing to a 19% growth trend by developing strategic long-range planning recommendations for management

Collaborated with 10+ major clients with multi-million dollar accounts

Created forecasting tracking and management reporting systems to improve availability and accuracy of financial data, triggering a 13% increase in accuracy

Evaluated regulatory developments and industry trends to facilitate incorporation into the firm's AML program, reducing time to meet trend demands by 40%
Financial analyst skills to include in your resume
The skills section is an important place to demonstrate your value to potential employers, not to mention it's one of the best places to include keywords for ATS. Unfortunately, many hopeful applicants don't emphasize the right skills. The right skills for your financial analyst resume will depend on the specific job to which you're applying. Generally, we recommend including a mix of soft and hard skills, with the majority being hard skills because they're easier to measure and more job-specific. Aim to include 6-10 skills on your resume.
Use the following financial analyst skills as examples to get you started:
Financial Modeling

Cash Flow Management

Financial Reporting

Quantitative Finance on Python

Electronic Trading Systems Development

Data Consolidation

Predictive Analysis
Why are these resume skills appropriate? We've included a mix of hard and soft skills specific, measurable, and highly desired by most employers. When looking for your next financial analyst job, be sure to read the job description carefully. Often, you'll be able to pick up on which skills are the most important to your hopeful employers. But, a word of caution: Avoid overselling your skills. If you don't know how to do something or are inexperienced, leave it off your resume.
Education + optional resume sections
You probably already know that the financial analyst world can be a tough place in which to get your career started. Though there are no formal educational requirements, most employers will seek applicants with at least a bachelor's degree in a relevant field.
Include the highest education level on your resume, but avoid including too much detail unless you're a recent graduate with limited work experience. If you have minimal experience, you can utilize your education to demonstrate your working potential. Still, if you're a more experienced applicant, you only need to provide your school name, graduation year, and degree.
There aren't any formal requirements for certifications for financial analysts, but you should mention any specialized training you've received, such as a Financial Analyst Certification, Data Analysis Certification, or Certified Software Quality Analyst.
Finally, you may be wondering whether you should include any interests and hobbies on your resume. Generally, we don't recommend including them, but there are a few instances where they're appropriate additions to your resume:
If you don't have a great deal of work experience, it may be helpful to highlight some interesting hobbies or volunteer activities in which you've taken part. These can be a great talking point during interviews if used appropriately!

If you're a recent graduate seeking your first finance job, you likely lack a lengthy work history to share on your resume. In this case, you can use interests and hobbies to convey to employers that you're a hard worker and someone who thrives under pressure.
Tailor your financial analyst resume to the job ad
We've mentioned it a few times, but it's important enough to reiterate. You need to tailor your financial analyst resume for every job to which you apply. Specifically, if used, your resume objective or summary statement needs to be customized with specific job titles and company names. Your skills section should be tailor-made to the job, too. You can do this by referencing skills mentioned in the job description (without ever copying anything from the job posting verbatim). Finally, your bullet points should be tailored to fit the specific needs of each company.
Don't submit a sloppy financial analyst resume
We know it's difficult to take a step back after you've finished working on your financial analyst resume. However, we strongly recommend that financial analysts, and all job seekers, take a step back. Put your resume away for a day or two, and then look it over again for typos. Have friends or family proofread it, and take advantage of our free resume checker.
One Step Closer to Your Next Job
Congratulations! The first step to writing your professional financial analyst resume is research. If your resume is complete, you can upload it to see what AI-powered tips our resume checker has for you. If you haven't started yet, or if you want to start your resume from scratch, use our resume builder. Both our resume checker and builder will analyze your resume and provide specific tips on how you can make improvements.