As an entry-level financial analyst, you use your analytical prowess to translate complex financial data into actionable insights. You have a keen eye for spotting financial opportunities and speak numbers as a second language.
People with your skillset are certainly sought-after on the job market, but you still need a great resume to set yourself apart. But how do you impress employers with one page?
We've helped lots of folks land their dream roles in finance before, and we're here to help you too. Check out our handy entry-level financial analyst resume templates and expert tips to set sail toward success.
---
Entry-Level Financial Analyst Resume
---
Professional Entry-Level Financial Analyst Resume
---
Formal Entry-Level Financial Analyst Resume
Related resume examples
---
What Matters Most: Your Financial Analysis Skills & Experience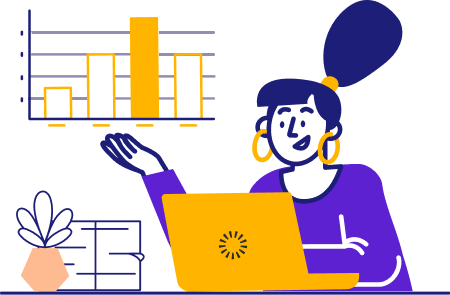 You can already find your way around numbers, data, and spreadsheets that are a mile long. Now, it's time to put those career skills down on paper and let them shine in your resume.
In an entry-level financial analyst resume, your technical skills are your golden ticket. Yes, you're ambitious and know how to work in a team of financial experts, but recruiters want to know whether you're a whiz at Excel and Tableau instead.
Use this section to highlight your skills, and be specific. Each skill should correspond to something you can do instead of a personality trait. For instance, instead of "quick learner," consider adding "data presentation" instead.
9 best entry-level financial analyst skills
Tableau
Financial modeling
Portfolio management
SAP
Risk assessment
Python
Financial reporting
MS Excel
Valuation techniques
Sample entry-level financial analyst work experience bullet points
While your skills tell recruiters what you can do, your work history shows what you've already done. The only problem? You may not have much experience yet!
Don't worry; you can leverage other work to show translatable skills or internships. Just like in all cost analysis and budget reports, data is the key to maximizing the impact of your resume.
Avoid blanket terms like "prepared financial reports for the CEO." Instead, throw in some metrics to showcase how your reports increased revenue, improved the financial strategy of the company, or served to persuade key stakeholders.
Here's how to best show off your achievements, whether from academic projects or internships:
Leveraged Python and Tableau to create data visualizations for 30+ data sets, improving information flow and reducing meeting times by 20%
Spearheaded the valuation of 8 target companies using CCA, PTA, and DCF, identifying an estimated $3M in potential revenue
Analyzed financial statements of 50+ companies, conducting high-level risk assessment and financial projections to find 8 high-potential investment opportunities
Contributed to a 13% increase in portfolio returns over a 7-month period, increasing market share by 4%
Top 5 Tips for Your Entry-Level Financial Analyst Resume
Data is your best friend

As an entry-level financial analyst, the best way to be noticed is to provide precise data about the impact of your work. State how much you could increase the portfolio size and discuss the savings made through your risk analysis. It's all in the data.

Save the soft skills for later

Strong communication and attention to detail are necessary for your line of work, but save them for the cover letter or the interview. In your resume, talk about the technical aspects of your job, such as regression analysis or financial modeling. If you have any knowledge of Python, MatLab, or R, add that in too.

Be flexible

Be ready to shift things around to match the employer. Microsoft Excel is a staple, but some organizations may prefer QuickBooks over SAP for certain tasks. It's okay if you don't know a particular tool—add the ones you know because a company may be willing to train you.

All experience is worth it

You may not have previous work experience. In such a scenario, mention any relevant coursework from college (such as econometrics), internships you've attended, or even industry-adjacent positions. This includes tutoring and accounting.

The industry matters too

Tailor your resume to match not just the skills and the tools but also the industry. For example, if you're applying for a role in banking, talk about things like assisting with a successful merger or calculating the ROI of short-term loans.
How to Write an Entry-Level Financial Analyst Resume
Choose the right template for entry-level applicants

Many entry-level financial analysts can struggle to showcase relevant skills when they don't have much work experience. Try choosing a template that allows space for an objective, hobbies/interests, or projects as needed. That way, you can showcase relevant skills like what you gained from an in-depth research project about the impact of economic policies on the financial market.

Don't forget about transferable skills

If you're struggling to fill out the skills on your resume due to a lack of work experience, consider what can translate from work in other fields. Skills like data entry, cash handling, or inventory management that you may have done at other jobs will all translate well to the needs of a financial analyst.

Lean on your financial education as needed

What you've learned while obtaining your degree in business finance or other related fields should be emphasized on entry-level resumes to show you have the right skills. It'll demonstrate your top proficiencies in analyzing income statements and risk management analysis to stand out amongst applicants.

Keep it to one page of relevant financial analysis abilities

It's important for your resume to have a balance between being too long or too short, just like you'd want to do when writing up findings after a production spending analysis to make it easy to understand. Aim to keep your resume on one page while emphasizing key skills like financial modeling or forecasting.
Should I add certifications to my resume?
An entry-level position may not require any, but you'll stand out more if you add yours. If you have the Chartered Financial Analyst (CFA) or Financial Risk Manager (FRM) certifications, put them in your resume.
Can I use the same resume more than once?
For a role as highly technical as an entry-level financial analyst, we don't recommend re-using the same resume. Check out our easy resume templates to update your resume for each role.
How important is education?
Most recruiters search for candidates with bachelor's or even master's degrees. Add your education, complete with your major, and any relevant projects to your resume for your first financial analyst job.