As a self-employed professional artist, you run your own business. You advertise your art as a product, structuring your own calendar and pricing system, and you choose your own clients.
So how do you structure your resume if you're hoping to work at a freelance collective or art studio?
Not to worry! We've helped plenty of professional artists over the years, and our three freelance artist resume examples should give you some inspiration to start with.
---
Freelance Artist Resume
---
Modern Freelance Artist Resume
---
Professional Freelance Artist Resume
Related resume examples
---
What Matters Most: Your Skills & Job Experience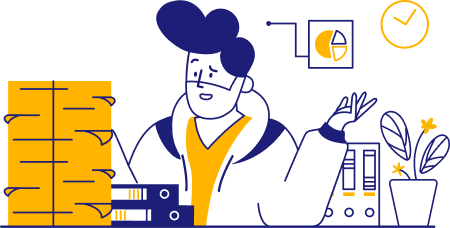 Recruiters want to know all about your skills! What can you do as an artist? What about as an independent businessperson, since you freelance? Do your strongest suits relate to oil painting or glass blowing?
In addition to your technical skills, you'll want to place an emphasis on self-management and organization. It's important to strike an ideal balance between artistic skills like compositional drawing and logistics like payment documentation.
Be specific with this stuff! List programs by name and fine-tune your personal abilities into things like "time management" and "project planning" to show how you make the most of your artistic skills.
9 most popular freelance artist skills
Canva
MS Excel
Google Calendar
Composition
Painting
Time Management
Schedule Development
Design Principles
Color Theory
Sample freelance artist work experience bullet points
Skills are awesome! But examples of your skills in action are even better. How did you revamp your client cataloging system to streamline productivity? What kind of impact did your beautiful drawings have on those studio brochures?
Note the theme here of giving each example some intrigue, but still ensuring that it relates directly to your work as a freelance artist. Make sure every bullet point you include is profession-specific!
And don't forget to bring the numbers! Recruiters want to see metrics for that impact you had: How much did client return rates go up after you illustrated those brochures? Can you give a percentage to quantify that productivity increase?
Here are a few samples:
Budgeted funds and purchased materials for all projects, reducing unnecessary expenditures by 22%
Reviewed junior designer projects and suggested edits, increasing efficiency by 14% and reducing churn by 13%
Communicated with vendors, agencies, and staff regarding client expectations, reducing communication errors by 31%
Designed 82+ graphics and images across platforms using Adobe Illustrator, increasing engagement by 34% and revenue by 6%
Top 5 Tips for Your Freelance Artist Resume
Gauge the right balance

Take another look at the job description to get an idea of whether the venue or cooperative you're applying to emphasizes the artistic or businesslike side of things more. Answer their call with examples of how you work best within their area of focus!

Match their tone

Match the tone of your resume to the job description, too, just like you'd match colors within a palette: If you and the job role just go together, you're bound to make a much better impression.

Context counts!

Always provide a bit of context to breathe some extra life into your metrics. What kinds of brochures did you create? What medium did you use to take your work to the next level and boost client satisfaction rates?

Don't ramble

Recruiters only have a few seconds, on average, to perform their initial assessment of your freelance artist resume. That means you don't have room to ramble, and you'd better get to each point quickly! Keep each bulleted example streamlined and concise.

Readability and professionalism come first

Any artist might struggle to bite back the urge to get creative with colors and fonts on their resume, but we'd advise against going overboard. Keep your fonts plain and modern, and avoid distracting colors. It's all about information delivery!
Do I need a cover letter?
We'd recommend one! Since it's so important to streamline your resume, you don't have much room for the backstory that some of your experience points deserve. That's where your cover letter comes in . . . just don't repeat any resume points!
Does my degree have to be in Fine Arts to sound good?
Nope! Since you're running your own small business as a freelance artist, even business or accounting degrees are well worth mentioning on your resume.
How long should my freelance artist resume be?
Stick with a one-page resume! Again: Recruiters don't have much time to devote to your expertise—yet. Keep them asking for more with a short, punchy resume instead of a two-pager that'll look way less appealing.