As a fine artist, your craft could vary from intricate knitting, glassblowing, or sculpting to painting or drawing. You may even specialize in more than one thing or hybridize classic art forms to create something incredible from concept sketch to finished piece.
But is your resume template as fine a creation as your art?
We've spent years helping people land careers in the arts and we'll do the same for you! So take a breather and look through our three fine artist resume examples we've put together for you.
---
Fine Artist Resume
---
Modern Fine Artist Resume
---
Professional Fine Artist Resume
Related resume examples
---
What Matters Most: Your Skills & Experience Sections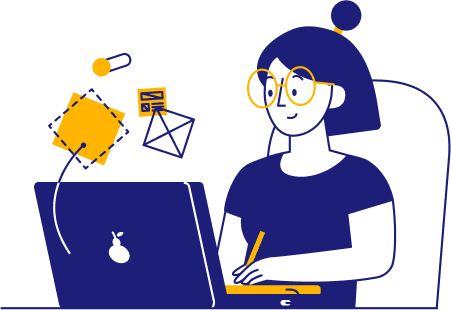 As a fine artist, many of your skills will revolve around the type of art you create and what medium you work with. But you'll also want to include some interpersonal abilities and technical skills to present recruiters with an accurate snapshot of your well-rounded knowledge.
Everything you list should relate directly to how you create each masterpiece. Avoid anything generic like "teamwork" or "organization" when you can, and go for field-specific terms like "color theory" or "kiln safety".
Be specific about each individual skill, too! Don't use flat terms like "communication" when you could list "art presentation" or "art instruction" instead:
9 most popular fine artist skills
Sculpture
Kiln Firing
Art Presentation
Gallery Lighting
Composition
Painting
Color Theory
Project Management
Drawing
Sample fine artist work experience bullet points
Amazing skills are like your artist brushes or sculpting tools. They're wonderful things to have, but you won't have a masterpiece on your hands without a process based in experience and practice.
Provide recruiters with a series of experience points that shows how you've put your fine art skills to good use! How did your finesse increase gallery or show attendance? When did you create art kits that boosted studio profits?
And make sure you pair those accomplishments with metrics! Recruiters need quantifiable data to back your success, like attendance rates, customer satisfaction percentages, and art show ratings.
Here are some samples:
Cross-sold DIY art kits during teaching sessions, increasing revenue by 7%
Collaborated with team of 9 other artists to create virtual events during the pandemic, increasing client base by an average of 6 new clients per week
Spearheaded a FIFO alphabetical inventory organization system based on supply type, reducing supply costs by 28%
Coordinated 3 painter schedules, increasing productivity by 17%
Top 5 Tips for Your Fine Artist Resume
Beautify your layout

Any of our three resume templates will showcase your qualifications nicely, but you'll want to apply the same tasteful eye to your resume as you do to your work. Avoid any overkill with color, and stick with super readable fonts.

Use testimonials

Alongside your resume (and cover letter!), you might want to include some testimonials or recommendations in your application package. Professional references can come from mentors, previous employers, or art peers.

About that cover letter . . .

Whether you're applying for an independent role or hoping to mentor other artists in a studio setting, a cover letter can show more about how you qualify. Give a couple strong examples of your previous achievements—just don't repeat anything from your resume!

Highlight that education

Always remember to mention your Fine Arts degree, or whichever degree shows the highest level of education you've achieved. And don't hesitate to include any other certifications that come from other classes, too.

Don't limit yourself

While you definitely want to demonstrate a cohesive theme throughout your resume, don't hide if you can do sculpture and paintings: Versatility makes any artist (and their resume) better!
How can I customize my resume?
Take another look at that job listing. Does the institution focus more on oil painting or composition and concept drafting? Tailor your resume around whichever specialties or keywords you find in the job description.
Are there any bad metrics?
Some metrics are weaker than others, yes. If you completed a certain number of projects per month, that number will seem random unless it reinforces a snazzier metric like exhibit attendance rates or class profits.
Objective or Summary?
If you have plenty of experiences that form a consistent theme, they may speak nicely for themselves! If you're looking for a way to tie everything together, a resume summary could be for you. If you're making a dramatic move in Fine Arts, try an objective!