You might work in fashion, entertainment, or personal cosmetic settings to transform someone's look with makeup. You might also bring in other elements such as wigs and accessories, depending on the setting, and you can work either independently or in a group studio setting.
But how can you transform your resume into something incredible for recruiters to remember when they need to call their next candidate?
We've got this! After years of helping people like you, we've condensed our knowledge into three makeup artist resume examples for you to try out.
---
Makeup Artist Resume
---
Clean Makeup Artist Resume
---
Modern Makeup Artist Resume
Related resume examples
---
What Matters Most: Your Skills & Work History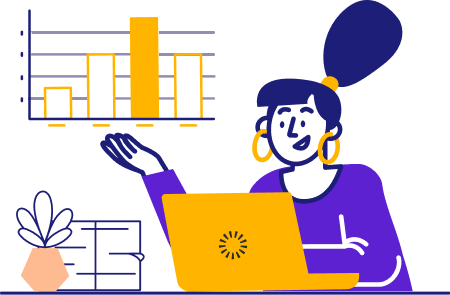 To prove what a skilled makeup artist you are, you'll need to provide, well, your skills! Recruiters want to see what kinds of tools you have in your bag and what qualifies you to work as a top-tier makeup artist.
Think technically about your abilities: Each skill you list should relate directly to cosmetics and artistry, alongside in-studio collaboration or client interactions.
The skills you provide in this section should also be highly specific. Don't flatten abilities like "active listening" and "client consultations" into something generic like "people skills"!
9 top makeup artist skills
Design Principles
Team Management
Social Media Promos
Beauty Trends
Color Theory
Skincare
Beauty Trends
Active Listening
Makeup Application
Sample makeup artist work experience bullet points
That's an impressive skills list! But what have you used those abilities for? Recruiters want to know how you've already created the ideal face for a stage production or polished up the perfect look for a set of professional head shots.
Your goal here is to show the impact you've personally made within your field. How did you reduce supply costs by organizing a better stock flow in the makeup supply room? How did your store event advertisements expand your customer base?
Oh, and give those points some numbers! Recruiters want to see metrics of your success like dollar savings, increased customer return rates, and ratings.
Here's a set of examples:
Applied makeup with 91% accuracy according to store and brand procedures, increasing client satisfaction by 8%
Collaborated with salon owners and staff members to plan monthly salon events, increasing store traffic by 17%
Trained and mentored other makeup artists, decreasing time-to-productivity by 9% and reducing staff churn by 14%
Updated "tips and techniques" manual for new makeup collections, boosting efficiency to reduce weekly labor by 9 hours while elevating client satisfaction by 51%
Top 5 Tips for Your Makeup Artist Resume
Leverage context

A lot of success factors are best measured in percentages, but if you feel like your achievements could use some spicing up, add a few words of context! Mention why you did what you did to reinforce the impact you had. Was it the best move to make as an indie artists? Did you boost your store's brand reach?

Control your color

Just as you want to maintain control over the colors in your makeup palette, you'll want to corral the colors on your resume. Don't use anything too bright or opt for any kooky fonts. Recruiters need readability before anything else.

Assemble those references!

If you've worked with other makeup artists, clients, or studio owners who will vouch for your incredible application and client relation skills, share the details! A couple of professional reference letters can dramatically increase your credibility.

Really hone that impact

Metrics really are important! The most valuable part of your resume is arguably your experience, and you want each example to be as strong as possible. For example: Don't leave out how your SFX work boosted ratings and attendance for a local charity play.

Clarify your specialty

If you're applying to work as a freelance or independent makeup artist, feature examples and skills that relate. If you're interested in doing makeup for professional portraits at a studio, then emphasize qualifications that relate to that niche instead.
Do I need an objective?
If you have ample experience working with makeup, costuming, or a similarly related field, then probably not. But if you're starting out fresh as a makeup artist, a resume objective can really help set off your career goals!
How long can I make my resume?
Limit yourself to one page—recruiters will thank you, and you'll thank yourself when your resume gets a second read! If you're struggling to pare down those fascinating tales of fine makeup artistry, put them in a cover letter.
What if my previous job experience is unrelated?
This is a common one, but it's not as tricky as it sounds. Look for skills and accomplishments that overlap between your previous field and your new role as a makeup artist (think stuff like customer service and promotional projects).