As a content marketing manager, you're both a master wordsmith and an SEO wizard. While you're a captivating storyteller, you know that driving traffic requires more than just a good idea, and you skillfully navigate the fine line between creativity and in-depth analysis.
If you're eager to level up your career in content marketing, you need a compelling resume. Although you've got thousands of words under your belt, finding the right ones to express your diverse skill set might be hard.
We get it, and we're here to help. Our handy content marketing manager resume templates and expert tips will show you how to emphasize your skills and land more interviews.
---
Content Marketing Manager Resume
---
Clean Content Marketing Manager Resume
---
Modern Content Marketing Manager Resume
Related resume examples
---
What Matters Most: Your Content Marketing Skills & Writing Experience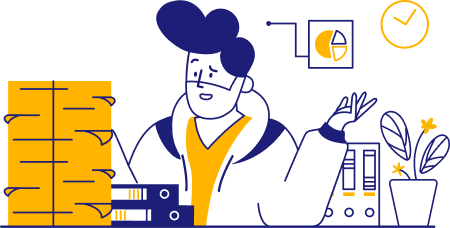 You're an expert at creating content that gets clicks and engages the reader. You oversee the process from a mere pitch to a published piece, but your job doesn't stop there—you stick around to see the results and learn from them.
A lot of skills go into a job like yours, from impeccable attention to detail while copyediting to in-depth analysis of complex traffic data.
Similar to content marketing, writing a good resume is about finding and naturally integrating the right keywords. That's why it's usually better to stick to the technical side of things.
SEO is a must, but you can dig a little deeper into that by including the software you use for keyword research. Don't forget to mention the various CMS you're familiar with and the other tools that aid the content creation process.
9 most popular content marketing manager skills
SEO
Salesforce
Google Analytics
Market Research
WordPress
Content Strategy
SEMrush
Data Analysis
HubSpot
Sample content marketing manager work experience bullet points
In a job that's as driven by results as yours is, the "work experience" section is actually the best one of them all. This is where you can show how, under your watchful eye, your projects grew and improved over time.
Just like you track various KPIs, hiring managers like to see impressive numbers in your resume—so back up all claims with quantifiable metrics.
Include a good mix of achievements. Talk about how many pieces of content you've produced, the writers you managed, and the content marketing innovations you've implemented in order to drive more traffic.
Swap your work experience bullet points in and out based on the scope of the role. For example, if there's a larger focus on managing a team of writers, highlight hiring freelancers and using Asana to oversee various deadlines.
Here are a few examples:
Produced 600+ blog posts, SEO articles, guides, social media copy, short videos, and influencer interviews over the span of 2 years
Managed a team of 5 staff writers and 14 freelancers, overseeing content from pitch to publication
Utilized SEO strategies, including keyword research, on-page optimization, and backlink generation, to improve organic web traffic by 37% over 6 months
Conducted regular market research using Google Analytics and SEMrush, leading to a 19% increase in targeted traffic over 9 months
Top 5 Tips for Your Content Marketing Manager Resume
Showcase your management skills

Elaborate on the management part of your job by talking about hiring freelancers or implementing a style guide to help your staff writers improve content quality. These things show your leadership skills, so mention them in your work experience and back them up with numbers.

Spotlight consistent growth

Put growth front and center. For example, mention using Google Analytics to analyze the effectiveness of your content strategy, but also talk about how implementing a new CMS improved the efficiency of the entire writing team.

Emphasize keeping up with trends

Marketing trends change in the blink of an eye, so show that you're keeping your finger on the pulse. Highlight how you incorporated new trends into your content strategy, such as prioritizing TikTok over Facebook for social media growth, and the results that move delivered.

Show off your writing skills

You're not just a marketer and a manager—at the heart of it all, you're also a writer. Pick out some of your best pieces and put them into a portfolio. Add the link at the top of your resume to show your writing chops.

Talk about your toolkit

Show recruiters how tech-savvy you are. Mention working with WordPress, HubSpot, Mailchimp, Asana, Hootsuite, Canva, and any other relevant software.
Should I include soft skills in my resume?
Instead of listing them in your skills section, include them in your work experience bullet points. You can do this by mentioning collaborating with other departments or managing an editorial calendar.
Which certifications should I mention?
While not required, certifications are a great addition to a resume. Some of the most relevant ones include Google Analytics, HubSpot Content Marketing, or Copyblogger Certified Content Marketer.
What to do with no relevant experience?
If you have writing experience, you can emphasize skills like SEO and content creation. If not, focus on transferable skills from your past positions, be it data analysis or graphic design.