As a web developer, your role is pivotal in the digital landscape. You shape the online world, creating websites and applications that empower businesses and individuals. Your daily tasks span from coding and debugging to optimizing user experiences, ensuring seamless navigation.
You're a master of algorithms and languages, but crafting a compelling cover letter may seem like uncharted territory. We understand—it's a different kind of code to crack.
We're here to guide you through it with our web developer cover letter examples and tips to help you stand out in the competitive tech field. Our resources are sure to make your writing journey a lot smoother!
---
Web Developer Cover Letter Example
USE THIS TEMPLATE
Why this cover letter works
Web development is highly technical, demanding HTML, CSS, and/or Javascript prowess. However, soft skills like problem-solving and communication are at the helm of the role's requirements.

Including instances in your web developer cover letter where you trained and mentored teams showcase your versatility as a team player and potential leader in the field. After all, the recruiter fancies a candidate worth their salt.
---
Web Developer No Experience Cover Letter Example
USE THIS TEMPLATE
Why this cover letter works
Even without formal work experience, clever analogy and genuine desire for continuous learning demonstrated in this web developer no experience cover letter will no doubt pique the recruiter's interest.

However, don't hesitate to highlight skills and outcomes from internships, volunteer work, and academic projects. As for the outcome, focus on tangible metrics like bounce rates, website responsiveness, and user experience.
---
Junior Web Developer Cover Letter Example
USE THIS TEMPLATE
Why this cover letter works
You can't afford to undervalue the power of genuine praise and admiration for the prospective employer, paired with eagerness to enhance its success and engage its community.

In the body of your junior web developer cover letter, capitalize on past experiences to position yourself as a well-rounded individual with what it takes to deliver tangible outcomes in the industry.
Related cover letter examples
---
How to Write an Effective Web Developer Cover Letter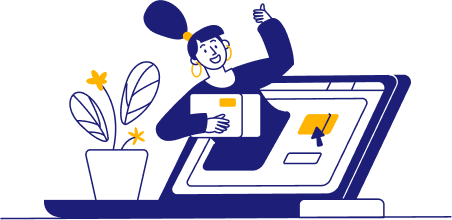 To truly impress potential employers, you need to demonstrate all the meticulousness and passion you have for the role that may not have come across in your web developer resume. But how can you convey this in a concise letter?
The key is to analyze the job description and incorporate its key elements into your cover letter. For instance, if the job posting emphasizes proficiency in JavaScript, highlight your extensive experience with JS frameworks.
If the company is seeking someone skilled in responsive design, show off your expertise in creating mobile-friendly websites. Tailoring your cover letter in this way not only showcases your qualifications but also demonstrates your commitment to meeting their specific needs.

Hooking your reader with the intro
To make a lasting impression in your web developer cover letter, begin with a personalized greeting whenever possible. Address the hiring manager by name, which you can often find through LinkedIn, the company's website, or by making a direct inquiry. In cases where you can't find a name, you can use a generic greeting like "Dear Hiring Manager" or "Dear [Company] Team."
Following the greeting, seize the reader's attention with a captivating opening paragraph. Showcase your genuine enthusiasm for the position and your strong alignment with the company's values and mission.
Highlight aspects like your passion for creating user-friendly websites, your admiration for the company's innovative projects, and your expertise in specific programming languages or technologies relevant to the role.
The example below lacks enthusiasm, fails to establish a connection with the company, and doesn't provide any compelling reasons why the applicant is a suitable candidate.
Uninspiring…
I came across your job listing for a web developer position. I don't have extensive experience, but I'm interested in applying for the role.
Effective cover letters should always be engaging and personal, and clearly demonstrate your qualifications and passion for the job—like this next example.
Outstanding!
When I read about your incredible achievements, such as developing an iPhone app before the App Store even existed and demystifying "the cloud" for clients in 2008, I knew I had to apply for the junior web developer position at SmartLogic. Your trailblazing spirit, coupled with your diverse range of expertise in over 150 custom applications, resonates with my passion for pushing the boundaries in the technology field.

Building your case in the body paragraphs
In the body paragraphs of your web developer cover letter, it's time to elaborate on the promising foundation you've laid in the opening. These paragraphs should delve into your professional journey and the notable accomplishments that make you an ideal candidate.
Highlight achievements like creating responsive and user-friendly websites, optimizing page loading times, or implementing security measures that protect sensitive data. Don't forget to back up your claims with quantifiable metrics. Share numbers that reflect your impact.
Some ideas include the percentage increase in website traffic due to your optimizations, the successful completion of projects within tight deadlines, or improvements in website performance scores.
By tailoring these paragraphs to the job, you show a clear understanding of the company's needs and how you can contribute, making your cover letter even more persuasive and relevant.
They'll love it!
During my internship at The Tech Group, I collaborated with a team of developers to create a responsive web interface that resulted in a 19% increase in user engagement. My proficiency in Node.js and understanding of APIs allowed me to integrate data from various sources and optimize the application's performance.

Signing off your cover letter with confidence
Now it's time to seal the deal. Take the opportunity to demonstrate that you've done your homework by referencing specific aspects of the company or job description that resonate with you.
For example, if you're applying to a tech startup known for its innovative projects, you could express your excitement to contribute to its cutting-edge web solutions and mention how your past work aligns with its vision.
Convince the hiring manager that you're the perfect fit by emphasizing your unique coding skills and projects you're most proud of, be it a website or a mobile app.
Here's how not to do it—this closing line is unprofessional and drags down everything that came before it.
Terrible idea!
I look forward to working with you. Keep in mind that my compensation should be at the top end of your pay range.
It's much better to keep things professional and not mention any kind of negotiation or salary topics this early on. Focus on convincing them you're crazy about the position and that you're the best person to take it on.
A perfect example!
I am eager to continue learning and applying skills gained from such experiences as an entry-level web developer at ONE Gas. I look forward to discussing how I can contribute my technical know-how and collaborative skills to support the growth and innovation of your company. Thank you for your consideration.
What should I do if I don't have any web development-related certifications?
Focus on showcasing your job skills and work experiences through personal projects, freelance work, or coursework. Highlight any self-taught coding languages, frameworks, or technologies you're proficient in. Then, provide examples of how you've applied them.
How can I build a connection with the company?
​​Dive into the company's mission statement to understand its core values and objectives. Discuss how your passion for web development aligns with that mission and how you can contribute to achieving their goals.
Do I need to mention every job I've ever had?
Focus on highlighting the roles and experiences most relevant to the web developer position you're applying for. Emphasize the jobs that utilized the most relevant programming skills. For instance, if you're applying to be a front-end developer, focus on your knowledge of JavaScript instead of back-end languages like Python.