You've got planning skills that could put even the most organized people to shame, and you supplement them with boundless creativity that helps you set up successful events. From juggling a tight budget to negotiating with various venues, you're always on top of it all, delivering superb experiences to all attendees.
Applying for a new job is a bit like setting up an event—it can be time-consuming and it requires meticulous attention to detail, but if you ace it, your career will flourish.
We're here to make the whole process easier for you. Have a look at our event planner cover letter examples. We'll show you how to emphasize your strengths and wow potential employers!
---
Event Planner Cover Letter Example
USE THIS TEMPLATE
Why this cover letter works
This event planner cover letter sets the tone with an antidote that infused storytelling but, most importantly, showcases the candidate's problem-solving prowess.

Note how the candidate carries on to highlight her event planning experiences, enriching them with quantified wins while paying specific attention to relevant skills like negotiation, crisis management, and strategic decision-making.
---
Corporate Event Planner Cover Letter Example
USE THIS TEMPLATE
Why this cover letter works
Aligning your passion with the hiring company's mission right at the beginning of your corporate event planner cover letter is highly commendable.

But again, expressing your enthusiasm and the fact that you researched the company isn't enough to land you an interview. Solidify your capacity and credibility, citing specific examples of positive outcomes from your past interventions.
---
Event Planner No Experience Cover Letter Example
USE THIS TEMPLATE
Why this cover letter works
Even without formal experience in event planning, that shouldn't deter you from showcasing enthusiasm for and understanding of the job and company in your event planner no experience cover letter.

However, highlighting proficiency acquired through internships or volunteer programs and their impact is an excellent way to compensate for the lack of professional experience.
Related cover letter examples
---
How to Craft an Event Planner Cover Letter That Gets You the Job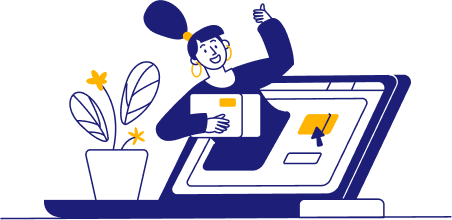 When it comes to event planning, no two job descriptions are exactly the same. You might be applying to help couples set up their dream weddings, but you could also spearhead high-level corporate events or product launches. Each of those jobs calls for a particular skill set.
To show employers that you're ready to go, make sure to always tailor your cover letter to match the role. Emphasize the skills and achievements most relevant to the job—it shows that you're dedicated, an essential trait in your line of work.

Impress them right away with an exciting opener
Much like the events you've planned in the past had to be thrilling from start to finish, your cover letter needs to open on a strong note for the hiring manager to keep on reading it. Apply all of your creativity to hook the reader and show that you're paying attention.
For starters, the greeting should be personalized, so address the recruiter or hiring manager by name if at all possible. If you've tried everything and still couldn't find the name, a "Dear Hiring Manager" or "Dear [Company Name] Team" will do.
Next, establish yourself as an expert event planner. Pick a skill or accomplishment that you're most proud of and express how excited you are to use your expertise to make an impact at that particular company. Don't be afraid to write a few versions of this paragraph before you settle on one that underscores your background in event planning the most.
Here's what not to do. The opener below doesn't speak to the candidate's strengths and instead focuses on their lack of experience.
Better not!
I've never worked as an event planner before but I have been to a few weddings so I pretty much know how things work.
This is much, much better. The applicant instantly drives a personal connection to the company and paints themselves as a seasoned professional.
That's impressive!
My foray into event planning began when I assisted a friend with a wedding in New York. The symbiosis of meticulous planning and strategic decision-making emerged when a sudden venue cancellation necessitated a swift acquisition of an alternative that aligned with the budget and aesthetic prerequisites for the event. With seven years of field experience, I am eager to leverage such acquired proficiencies at JNR Entertainment.

Show off your skills in the body paragraphs
This is where you can expand on what you've talked about in your event planner resume and discuss how your background and skills contributed to running successful events.
Don't make the mistake of listing your daily tasks here, though. Use this space as a galore of your greatest accomplishments, complete with added metrics, and update it as needed to pick the achievements that closely align with the job listing.
Talk about success stories, such as how many events you've planned and of what kind. Discuss how your excellent financial management helped you stay under budget each time, saving the company $250,000 annually, or how your unique approach to destination weddings increased your client base by 48% over 2 years.
Amazing!
My aptitude for overseeing technical production has shone, particularly in complex environments. At Adobe's annual creativity conference, I was deeply involved in setting up and managing technical system logistics, utilizing proprietary event management software to assess and proactively upgrade event features. This strategic enhancement attracted an unprecedented increase in engagement by 37%.

Leave a great impression with your closing paragraph
You've contributed to events that will be remembered for years. When it comes to writing the final paragraph of your cover letter, aim to conjure a similar sentiment in the reader—you want them to walk away feeling that you're the person they need for the job.
Use this space to circle back to what makes you a great fit—for instance, if the role involves planning conferences for software engineers, mention how your connections in the tech space help you reach out to relevant speakers for various keynotes.
Express how much you want to leverage your background to bring a positive outcome to every event, and mention the company by name to make more of an impact.
The example below doesn't really do the job—it's generic to the point where it could apply to any role.
That didn't work…
I can start working anytime and will be available on all weekdays apart from next month because I'm going on vacation. Thanks for reading. Please call me to set up an interview.
This applicant shows genuine excitement for working at that particular company, so their signoff is far more impressive.
Well done!
Collaborating with such an innovative company as Zoom to deliver event experiences that meet strategic corporate objectives while exceeding attendee expectations is a prospect that deeply excites me. I am keen to discuss how my expertise could be valuable to your team. Thank you for considering my application.
How to find the name of the hiring manager?
Use some of those strong research skills you've honed during your career as an event planner and do a bit of digging. LinkedIn and the company website are both great resources, as is the email address of the person you're sending your application to. As a last resort, don't be afraid to email or call the company to find the name.
What to talk about if I'm switching careers?
There are many transferable skills that can be useful for an event planner, so lean into those when you discuss your past experience. For instance, if you were a stay-at-home parent before, you could talk about how your ability to run the household and make various appointments made you develop some next-level planning skills.
What tone should I use in my cover letter?
Let the job description and the company website be your guide. For instance, if you're applying to become a corporate event planner, keep things formal and respectful. However, if you're hoping to plan concerts and other large-scale entertainment events, a dash of casual enthusiasm often won't hurt.