Being a stay at home mom is exhausting. It takes determination, patience, focus, and is an all-around challenging (and sometimes thankless) job!
What can be even harder is getting back into the workforce after being a stay at home mom. If it's been a few years since your last formal job, you might be struggling with crafting a great resume to land that dream job.
Fortunately, we've helped thousands of stay at home moms score interviews and find the perfect job for them. This guide is the culmination of everything we've learned over the years, starting with 3 stay at home mom resume examples!
---
Stay at Home Mom Returning to Work Resume
---
Modern Stay at Home Mom Returning to Work Resume
---
Professional Stay at Home Mom Returning to Work Resume
Related resume examples
---
What's Most Important: Your Skills & Work Experience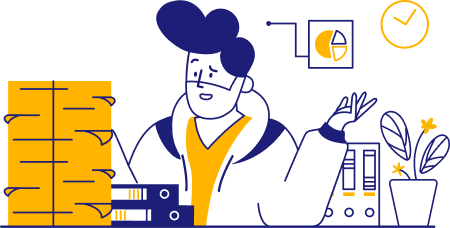 As a recruiter skims your stay at home mom resume, they want to see how your skills and mindset will make you a good fit for the job you're applying for.
That's why you need to hone in on any skills you've picked up or finessed as a homemaker (budgeting, leadership, organizing), while also including skills from any previous jobs you had.
You can also include skills from any volunteering stints you had, like social media marketing or networking. If there are skills your potential employer includes on the job description that you have, make sure to include it. You'll be one step closer to landing that interview!
9 Best Stay at Home Mom Skills
Research
Teamwork
(Digital) marketing
Communication
Problem-solving
Time management
Customer service
Microsoft Office
Project management
Sample Stay at Home Mom Work Experience Bullet Points
The work experience section of your resume as a stay at home mom is designed to translate your skills into impact. To do that, you want to demonstrate the positive outcomes of your actions throughout your career.
If you have previous work experience before becoming a stay at home mom, mention that as well. However, you shouldn't hide your time as a homemaker and leave an employment gap, so make sure to let that experience shine!
Here are some examples of ways to showcase your prior career experience, while demonstrating impact:
Identified cost-saving opportunities for a household of 2 adults and 3 children, reducing monthly budget by 15%
Created a positive shopping atmosphere for customers, leading to an average $8,000 in sales per day
Created and grew an Instagram and TikTok community for single moms with over 30,000 followers in 18 months
Chaired monthly community meetings to discuss security issues within the neighborhood, passing 5 HOA bylaws to 95% approval
Received "Employee of the Year" award for regularly exceeding company goal of onboarding 5 employees each month
Top 5 Tips For Your Stay at Home Mom Resume
Don't try to gloss over your employment gap

Being a mom is a challenging job. Don't skim over it and leave a gap in your employment history! Instead, own your experience and use any skills you've picked up to your advantage. Whether you learned Excel or Quickbooks in your spare time, or sharpened your budgeting and time management skills, put it down. Confidence is key!

Make your career objective personal

As you transition from a stay at home mom back into the corporate world, you may want to highlight how your past and current experience makes you a good fit for the role you're applying for. However, it needs to be 100% tailored to each job: mention the company by name, and focus on relevant skills you have that they want. If it's generic, you'll lose the recruiter's attention.

Focus on your strengths

Everyone has something that makes them unique. Maybe you learned French in high school, or you could have a knack for data analytics. If it makes you stand out, put it down!

Include courses and volunteer experience

If you haven't had a lot of prior work experience, you can include extracurricular or online courses you've taken. Plus, add any volunteer experience you've had. When possible, quantify your impact, like we mentioned earlier.

Less is more

While you may want to overcompensate on your stay at home mom resume if you feel it's lacking, you don't want to write a resume as long as a James Joyce novel! Instead, keep it to one page. Conciseness is key!
How should I format my stay at home mom resume?
The most important thing is that it should be easy to read for both a human and applicant tracking system (ATS). That means lots of white space, no fancy graphics or bullet points, and a maximum of one page. If possible, save it as both a Word Doc and a PDF file.
What if my resume isn't a full page?
It's better to have a bit less than to overdo it. If you've included your relevant skills, work experience, contact info, volunteer work, and a personalized career objective, then you've got everything that needs to be there. Don't ramble pointlessly!
Do I need to customize my resume for each job?
You betcha! Don't worry, it's not that complicated. You just want to make sure any skills the job description asks for that you have is included on your resume as a stay at home mom, and that your work experience reflects the mindset and skills they expect of you.