Whether you took a sabbatical or spent some time caring for a loved one, returning to the workforce usually means a resume update. Your skills and experiences might have changed since the last time you were employed, and you might want to change your resume formatting to emphasize your skills over the gap in your work experience.
Whatever the reason behind your return, we'll help you put your best foot forward. Get ready to roll with our returning to workforce resume guide.
---
Returning to Workforce Resume
---
Clean Returning to Workforce Resume
---
Modern Returning to Workforce Resume
Related resume examples
---
What Matters Most: Skills & Work Experience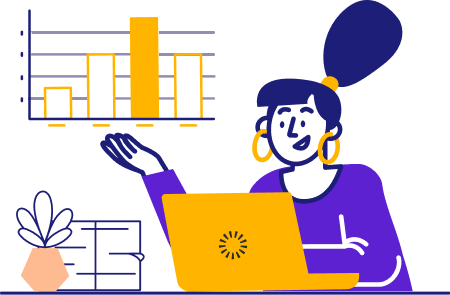 While the role you're applying for matters, hiring recruiters looking at a returning to workforce resume will want to know whether you applied yourself during your time away.
You don't have to disclose every sordid detail – all you need is to demonstrate that your skills are relevant to the job, whether new or existing.
Here are some of the best returning to workforce skills recruiters are looking for.
9 Best Returning to Workforce Skills
Customer service
Project management
Organization
Time management
Problem-solving
Microsoft Office
Communication skills
Active listening
Patience
Sample Returning to Workforce Work Experience Bullet Points
Filling in the blanks with any volunteer, freelance, unpaid, or part-time work you might have done will help dispel any assumptions made about your resume gap.
Although you shouldn't feel like you have to go into specifics about your career break (especially if it's sensitive or personal), adding quantifiable metrics whenever possible can help potential employers get a better idea of what you did with your time.
Here are a few samples:
Advised and assisted the family of 5 in planning healthy meals, purchasing, and preparing foods
Created, assigned, and scheduled various housekeeping duties for 3 children ages 4 to 12, according to their capabilities
Kept track of the grocery inventory, making sure items moved on a FIFO basis, saving the household $4,000+ a year in grocery shopping expenses
Provided 24/7 in-home care for my mother during treatment for a medical condition until she made a full recovery within two years
Traveled to 8 cities in Asia, Australia, South America, and North America to gain personal and professional perspective
Top 5 Tips For Your Returning to Workforce Resume
Keep your resume to one page

If you're returning to the workforce, chances are that the career experience you had might not be as relevant to the current job market, even if you have more than 10 years of experience. Unless you have been actively keeping up with your skills while you were away, it's better to keep only the important details in your resume.

List your work experience in reverse chronological order

Start with your career break, then record your most recent jobs. This filters out any employers who might prefer complete career histories and addresses your resume gap early on, allowing the reader to focus on the rest of your work experience and what you can contribute to the new role.

Update your contact information

You might have moved or had a change in relationship status leading to a different last name. List your most recent contact details at the top of your resume, and consider adding any career-related social media you might have.

Consider expanding on your skills and moving them upwards

Depending on the position you're applying to, you could benefit from a skills section that details how you applied your skills in a quantifiable and measurable way. You can also highlight your skills section by moving them so that the recruiter reads it before your work experience.

Change the specific dates in your work experience to years

Listing your work experience in months and years can make the gap in your career stand out. Changing to using years only will help recruiters focus on the time you spent employed, shifting their perspective towards your career instead of the lack thereof.
Should I include my education in my returning to workforce resume?
Yes, especially if you're having trouble filling out the blank space in your resume. You can also link your education with any studying or application you did during your time off – the key here is to demonstrate how your skills and experience are relevant to the present job climate.
What kind of jobs can I apply for if I'm returning to the workforce? 
Any job will do as long as you're qualified for it and it appeals to you! Some people choose to change career paths when they return, while others get right back to the industry they previously worked in. While you're job hunting, consider getting an entry-level job in the meantime to fill out your resume.
Should I include a career summary in my resume?
While we don't usually recommend including a career summary if you have a lot of relevant information to include in your resume, adding one can help break the ice and mention your resume gap within the context of your career. If you choose to write one, make sure it's tailored to the job you're applying for.