Company growth is the key to success. You help achieve that through effective strategies, managing teams, and creating a great customer buying experience.
Is your resume prepared to help grow your career in the sales field?
You're excellent at creating promotional strategies, so all you need to do is harness those skills while building your resume. Our senior sales manager resume examples will help by acting as an organized template to display your top skills.
---
Senior Sales Manager Resume
---
Formal Senior Sales Manager Resume
---
Elegant Senior Sales Manager Resume
Related resume examples
---
What Matters Most: Your Senior Sales Manager Skills & Work Experience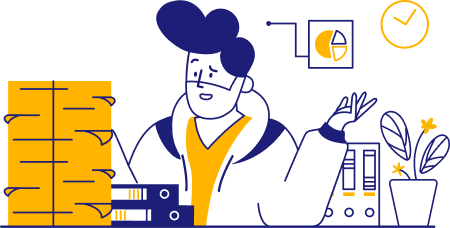 As an applicant for a senior-level position, you'll likely have a wealth of skills you could list. The problem can be knowing which skills are the right ones to include.
Mixing leading sales management skills with key aspects emphasized in the job description will help.
Is the company looking for help with market forecasting? Then, including your data analysis skills in HubSpot and Salesforce would be ideal.
Let's look at some of the most popular skills for senior sales managers to include on their resumes. 
9 most popular senior sales manager skills
Account Management
Client Relations
HubSpot
Zendesk
Microsoft Office
Negotiation
Team Leadership
Market Analysis
Pipedrive
Sample senior sales manager work experience bullet points
Listing skills like team leadership will have you off to a great start. However, you still need more information about how you've led sales teams effectively to create a well-rounded overview of your abilities.
Your listed work accomplishments should be measurable with numbers to back everything up. For instance, you could explain how you used Pipedrive to manage data about leads, boosting administrative efficiency by 42%.
You should also aim to keep all examples concise and easily understandable. One sentence about how you use consultative selling to boost client relations can go a long way toward showcasing your abilities.
Here are a few samples:
Used data from HubSpot to identify 23 new market segments, increasing company market share by 26%.
Communicated customer feedback to the engineering team to create fundamental product changes, resulting in 34% more sales and 75% more recurring customers.
Put together sales presentations in Microsoft PowerPoint with detailed product data to present to 42 high-profile clients, resulting in $1.7 million in sales growth.
Led a 30-person sales team during a company expansion, opening 68 new client accounts and generating $979,000 in revenue in the first 3 months.
Top 5 Tips for Your Senior Sales Manager Resume
Use reverse chronological formatting

Once you've made it to a senior management position, you'll have tons of experience. Putting your most recent experiences first will showcase your most relevant skills in current technology like Pipedrive and help hiring managers look back to see how you've worked up the ladder over time.

Organize the information

You would use an organized template when presenting information about a company service offering to potential clients. Your resume should be the same way. It should have clear headers, bullet points whenever possible, and easy-to-read 12-14 point font.

Both leadership and technical skills are essential

Senior managers are responsible for the intricacies of managing an entire sales team. You should include leadership and technical skills in your examples, like how you led a 17-person team to generate 3,760 new leads using new cold emailing strategies.

Use action words

Saying you "know how to manage top-performing accounts" sounds bland and loses a hiring manager's attention. Instead, lead with action words like "performed" and "communicated." For instance, explain how you "communicated product benefits to top-performing accounts to make 27% more sales."

Consider a resume summary

Senior managers with a lot of experience can benefit from a resume summary. For example, you could include a couple of sentences about how you've managed 153 regional accounts in your 15-year career, consistently generating $2.6 million or more in sales yearly.
How long should a senior sales manager's resume be?
Aim for a one-page resume full of relevant information to the position's needs. Getting as job-specific as possible is a good idea. For instance, if you're applying to a company in the fashion industry, including previous sales efforts for clothing products or jewelry would help you narrow in on your most relevant abilities.      
What if I haven't held a senior management position before? 
At this point in your career, you've likely held a sales team management or regional manager position previously. Including any information from those experiences will show you have the necessary skills, like how you taught your 43-person team new up-selling strategies to boost sales by 49%.     
Should senior sales managers list their education?
While your work experience will be the most important, your education in marketing, business management, or related fields should still be included. It helps show your background and well-versed sales skill set.