A business can't succeed if nobody knows about what they have to offer. That's where you thrive in creating effective promotional strategies, overseeing sales teams, and handling customer needs.
Is your resume up to the task as you continue growing your sales career?
Deciding how to fit all your sales and leadership abilities in a one-page resume can be challenging. That's why we put together our assistant sales manager resume examples that you can use as templates to showcase your top skills successfully.
---
Assistant Sales Manager Resume
---
Formal Assistant Sales Manager Resume
---
Elegant Assistant Sales Manager Resume
Related resume examples
---
What Matters Most: Your Assistant Sales Manager Skills & Work Experience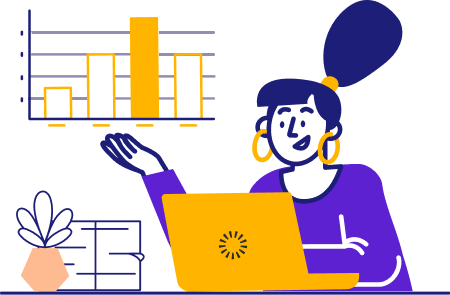 If you're just getting started as an assistant manager, you'll find the application process to be a bit different since companies will be looking at more than just your selling abilities. You'll also need the skills to lead a team.
Aim to include a good mixture of the top industry sales assistant manager skills and what the company is looking for in the job description.
Does the company need help with client relationship building? Then your lead nurturing and customer service skills should be included.
Here are some of the best skills for assistant sales managers to put on a resume.
9 best assistant sales manager skills
Customer Engagement
Project Management
Cold Calling
Solution Selling
Marketo
HubSpot
Customer Retention
Freshsales
Scheduling
Sample assistant sales manager work experience bullet points
When a company brings you on as an assistant sales manager, they'll want to know what results they can expect from you. That's where your work experience bullet points will help you stand out.
Think of ways you can blend your leadership and sales skills in examples. For instance, leading a five-person sales project that brought in 42 new clients shows how you used both.
Also, remember that hiring managers formulate a first impression in about six seconds, so keeping your examples succinct will help your primary skills, like project management, stand out.
Here are a few samples:
Reduced company costs by 65% by finding a market for used machinery and conducting 11 local sales campaigns to sell it for the best value.
Encouraged the sales team to follow up on over 3,000 leads, increasing sales by 49%.
Conducted monthly training sessions to ensure the sales team was knowledgeable about company products, boosting conversion rates by 73%.
Implemented a solution-selling approach when pitching services to clients to generate an additional $254,000 in revenue.
Top 5 Tips for Your Assistant Sales Manager Resume
Include a measurable impact

Every example you list should have a numerical impact. For instance, how you used Freshsales for lead tracking to make follow-ups 54% more efficient.

Short descriptions are the most impactful

Short descriptions help showcase clear, actionable ways you've made an impact. For instance, one sentence about how your new email marketing strategy boosted recurring purchases by 62% will go a long way.

Include action words

You can emphasize your impact with action words like "conducted" and "produced." For instance, you could say you "conducted market research across 15 regional markets and adjusted sales strategies to boost customer engagement in those areas by 67%."

Use an organized template

Everything on your resume template should be well-spaced and easy to read using clear headers, bullet points, and 12-14 point font. It'll help hiring managers locate your top skills in team leadership and project management with clear examples of how you've used them.

Proofread before submitting

A cold email campaign with several grammatical errors probably wouldn't convert well. The same can be said for your sales assistant manager resume. Proofread it thoroughly before submitting it.
How long should my sales assistant manager resume be?
One page is an appropriate length. Everything should be concise and highly relevant to the position's needs. You don't need to list every detail about your cold-calling abilities. Simply saying you used solution selling to convert 56% more cold calls will effectively showcase that skill.       
What if I'm applying for my first assistant manager position?  
While you may not have been in a leadership position before, there are likely still ways you've showcased leadership in the past that you can use as good examples. For instance, if you trained seven new sales reps in your last position, that would be an effective example to include.    
What's the best format for assistant sales manager resumes?
Reverse-chronological formatting will be the best fit. Sales strategies are always changing, so listing your most recent experiences with current software like HubSpot and techniques like consultative selling will be the most relevant. It also helps hiring managers look back to see how you've grown your career.