Compliance and accuracy are always your top concern. You ensure clients get the best results with detailed analysis of financial reports, thorough audits, and accurately following all laws and regulations.
Does your resume template allow you to provide a similarly thorough report of your top skills?
You don't have to be a financial pro and an expert at creating an effective resume. You can use our public accounting resume examples as an easy template for success that will impress hiring managers during your job search.
---
Public Accounting Resume
---
Formal Public Accounting Resume
---
Elegant Public Accounting Resume
Related resume examples
---
What Matters Most: Your Public Accounting Skills & Work Experience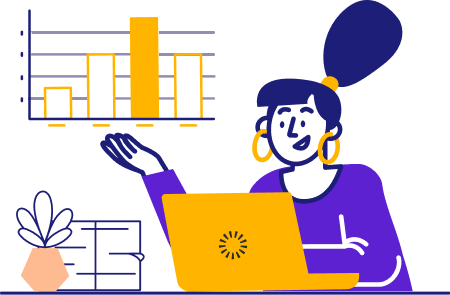 Public accountants can work with many types of clients, from general consumers to large corporations. That leaves many wondering which skills they should list on public accounting resumes.
Ideally, you want to tailor the skills you list to each job description. For instance, a business looking to optimize its financial plan for future income projections might want to know about your revenue forecasting skills and how you'll help estimate future tax expenses.
Here are some of the most sought-after public accounting skills in 2023 to get you started.
9 top public accounting skills
Auditing
Account Reconciliation
Tax Preparation
Financial Forecasting
GAAP
Risk Management
Quickbooks
Oracle
Sage 50
Sample public accounting work experience bullet points
Any organization hiring a public accountant will want to see how you'll help achieve the best and most compliant results when managing their financial books.
A great way to optimize your resume is to include examples of previous work achievements with popular accounting metrics like invoice cycle times, reductions in direct costs, or compliance scores.
You also want to keep examples straightforward so hiring managers can easily identify the top skills they're looking for, like audits or tax prep, in a quick review process.
Here are a few samples:
Led a process redesign that implemented a new chart of accounts using Sage 50 that helped reduce invoice cycle times by 54%.
Oversaw the fixed asset system and performed monthly audits to calculate depreciation values 65% more accurately.
Provided variance analysis with easily understandable visuals to boost strategic planning efficiency by 67%.
Reconciled 12 company rent accounts to boost compliance with lease requirements by 47%.
Top 5 Tips for Your Public Accounting Resume
Use an active voice

If you were presenting variance analysis findings, you'd want to use an active voice to keep the attention of company decision-makers and let your key points sink in. Using an active voice with action words like "reviewed" or "reconciled" in your public accounting resume will have the same effect.

Measure your impact

Each example of work achievements on your resume should use numbers to show your impact. For instance, you could include metrics like how you reduced cash burn rate or increased working capital through cost reduction measures.

Limit it to three or four jobs

You want to avoid listing too many jobs on your public accounting resume since it'll lose a hiring manager's attention. Keep it to three or four that are most recent and relevant to key skills the company is looking for, like using the Oracle Accounting Suite or performing tax prep.

Always proofread

Ensuring compliance with GAAP, SEC, and the IRS requires accuracy in all your daily accounting practices. You can show hiring managers you maintain high standards for accuracy by submitting an organized resume free of grammatical errors.

Use reverse chronological formatting

Aspects like payroll compliance laws and popular accounting software like Sage 50 are continuously evolving. Therefore, you should emphasize your most recent and relevant public accounting experiences to hiring managers by using reverse chronological formatting.
How long should my public accounting resume be? 
One page is the best length for public accounting resumes. You want to keep it concise and relevant to key skills the company is looking for, like account reconciliation or financial forecasting. 
Should public accountants use a summary?
A resume summary will work well for public accountants with ten or more years of experience. For instance, you could write about how you've managed corporate accounts valued at $4.3 million, helping implement cost reduction measures that reduced cash burn rates by an average of 43% over your 12-year career. 
What should I write in my public accounting cover letter? 
Your cover letter should relate to the organization's mission and ways your public accounting skill set will fit in. For example, you could write about how you'll use your streamlined financial forecasting practices to help a tech company ensure better decision-making within its modern team environment.