The accounting department has many clerical needs that must be handled with high levels of accuracy. Your skills are an exact match for those needs, with your outstanding ability to handle filing, bank records, and expense tracking to keep operations running smoothly.
Is your resume template capable of helping you prepare a resume to make a smooth transition into your next accounting assistant job?
Our accounting assistant resume examples can assist in the process. They'll help you display your professional skills in the right way to reassure companies that you'll be the right match to assist in their financial operations at every level.
---
Accounting Assistant Resume
---
Clean Accounting Assistant Resume
---
Modern Accounting Assistant Resume
Related resume examples
---
What Matters Most: Your Accounting Assistant Skills & Work Experience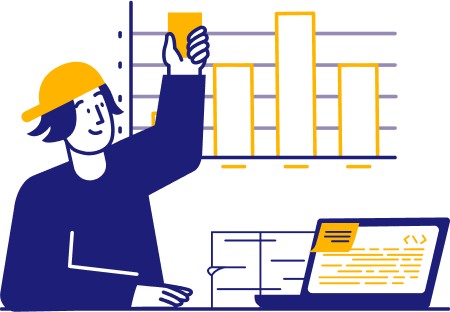 As an accounting assistant, you may help several departments with their needs, from payroll to vendor management. That probably leaves you wondering which skills will be the best fit to list within the 6 to 10 you'll have space for on your resume.
Ideally, you want to tailor the skills on each resume you submit to the company's needs based on the job description. For instance, if the position requires assisting the payroll department, you may want to focus your skills on organizing employee time-tracking data and payment processing.
Here are some of the most popular accounting assistant skills to get you started.
9 most popular accounting assistant skills
Payroll Administration
Tax Reporting
Quickbooks
Microsoft Office
Cost Control
Invoicing
Vendor Management
Accounts Receivable
Accounts Payable
Sample accounting assistant work experience bullet points
Listing your top skills is just the start. You also must show hiring managers how you've used abilities like tax reporting or invoicing successfully.
You can use your numerical analysis skills to your advantage in your work experience bullet points by adding accounting-related metrics to each one.
For instance, you could use examples of improving direct costs, margins, or process efficiency within your role.
Here are a few samples:
Reviewed quarterly sales tax reports and reconciled any mismanaged data to improve compliance ratings by 57%.
Processed over 1,000 monthly invoices and recorded them in accounts payable systems within Quickbooks to ensure 99% of payments were made on time.
Checked incoming emails every hour to answer client questions or concerns quickly, reducing problem resolution times by 33%.
Coordinated with vendors to establish routine payment schedules and invoicing processes, reducing the number of late charges by 46%.
Top 5 Tips for Your Accounting Assistant Resume
Reverse chronological formatting works best

The accounting field is ever-changing with new compliance needs and software like Quickbooks always being updated. Therefore, listing your most recent skills first is a great idea to present a relevant skill set to financial hiring managers.

Always proofread

One of the best ways to stand out in a financial position that requires accuracy while performing tasks like cost control analysis is to submit a resume that's accurate and free of grammatical errors. Always proofread before submitting.

Short examples are more impactful

While there are several steps to manage tasks, such as accounts receivable reporting, hiring managers have many resumes they must review. You'll make a bigger impact with short examples that grab attention in that process, like how you used the Quickbooks metrics analysis feature to make accounts receivable data 60% more accessible to decision-makers.

Use action words to stand out

Action words like "reported" or "analyzed" will make your examples stand out in the accounting field. For instance, rather than saying you "can manage invoicing effectively," you could say you "analyzed monthly invoices to ensure 99% reporting accuracy."

Limit your resume to three or four jobs

When applying to an accounting assistant role, you want to ensure everything you put on your resume is as relevant as possible to business financial needs. Limit your resume to three or four most recent jobs relevant to key skills like accounts payable or vendor management.
Should accounting assistants use an objective?
A resume objective will work well if you don't have much experience as an accounting assistant. For example, your objective could explain how you're a dedicated professional eager to apply your 18 months of payroll administration experience to the role. 
How long should accounting assistant resumes be?
Your accounting assistant resume should be one page in length. It's important to keep it concise and relevant to key skills like tax reporting or Microsoft Office while including enough relevant metrics, like how the Excel spreadsheet system you created helped boost reporting compliance by 54%. 
Does my resume need to be unique for each job? 
Accounting assistant resumes should always be tailored to each role you apply to. Companies in different industries or with varying financial processes will all have unique needs. For instance, a manufacturing company may be very concerned with cost control measures during operational processes.