You're a resourceful financial pro that any business will benefit from having on staff. You keep financial records updated, reconcile bank statements, and prepare accurate reports with careful consideration while on the job.
But is your resume template capable of presenting your most relevant accounting skills in an optimal resume layout?
Our accounting clerk resume examples are built to help you succeed in 2023. They'll provide an easy template for success so you can create a tailored resume for the financial needs of each company you apply to.
---
Accounting Clerk Resume
---
Modern Accounting Clerk Resume
---
Professional Accounting Clerk Resume
Related resume examples
---
What Matters Most: Your Accounting Clerk Skills & Work Experience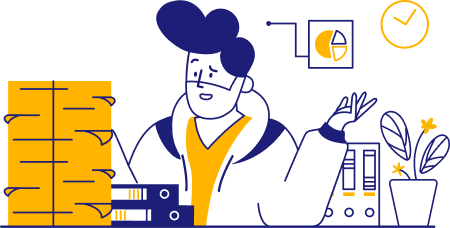 Accounting clerks may handle many financial tasks depending on the needs of the business, so it's important to tailor the skills you list to each job description.
For example, one company may use Quickbooks for all their bookkeeping needs, whereas another uses Xero or FreshBooks.
Here are some popular accounting clerk skills that are likely to impress hiring managers in 2023.
9 popular accounting clerk skills
Account Management
Bank Statements
Xero
Intuit Quickbooks
Regulatory Compliance
AR/AP
SAP
Payroll Management
Tax Reporting
Sample accounting clerk work experience bullet points
You know that numbers are crucial in accounting to help companies make accurate decisions. They're equally important in the hiring process by showing what you've achieved in previous roles.
Each example you list should include a number for the impact you had. Consider key metrics like invoice processing costs, days payables are outstanding, or cash conversion cycles to help you optimize for success.
Also, remember to keep your examples short and simple, just like you would do when outlining findings in financial analysis reports to assist in easy decision-making processes.
Here are a few samples:
Tracked over 200 monthly vendor invoices and input them into automated payment systems in Quickbooks to reduce the number of days payables were outstanding by 44%.
Implemented a new POS system using Stripe to reduce invoice processing costs by 57%.
Prepared and emailed 850 invoices for accounts receivables each month, keeping track of correspondence history to improve cash conversion cycles by 56%.
Reviewed bi-weekly payroll statements and fixed any mismanaged reports, boosting regulatory compliance scores by 76%.
Used SAP to streamline expense information from bank statements, helping identify 23 areas where costs could be reduced by 39%.
Top 5 Tips for Your Accounting Clerk Resume
One page is an optimal length

Your resume should be concise and highly relevant to company needs, just like you would do when preparing financial reports. It'll help hiring managers easily identify the top skills they're looking for, like SAP or payroll management, during a quick review process.

Use an organized template

If you were to outline spending data for process improvement measures, you'd want it to be easy to review with clear headers, make it well-spaced, and use an easily readable font. You should format your resume with those same details in mind.

Optimize with action words

If you want to make your examples more engaging, action words like "reviewed" or "processed" will help. For instance, you could say you "reviewed sales tax reports and corrected any errors to boost compliance rates by 45%."

Use reverse chronological formatting

You've probably gained many new skills as you've grown in your accounting career. Therefore, listing your most recent experiences first will help you showcase your best and most relevant abilities in aspects like managing accounts payable and receivables.

Focus on technical skills

Accounting clerks have many technical skills needed on the job, from software like SAP to detailed tax reporting processes. You should emphasize those technical abilities while tailoring them to the needs of each accounting role as much as possible.
Is an objective a good idea for accounting clerks? 
Resume objectives can work well for accounting clerks who don't have much experience in the field to present some essential skills immediately. For example, you could write about how you're a detailed financial professional with two years of Quickbooks experience, managing accounts payable records with 99% accuracy. 
Should I list all my previous jobs on my resume? 
Accounting clerks should limit their resumes to three or four jobs. Aim to include positions that are the most recent and that involve the most relevant skills to key tasks like managing bank statements or using Xero for financial records to impress hiring managers. 
What if I'm struggling to limit my resume to one page? 
Experienced accounting clerks may struggle to narrow down which positions and skills to include. To help, focus on the primary skills and needs of the job. For instance, if you were applying to be an accounting clerk at a bank, you may want to focus on skills involving managing ACH payment systems and performing account reconciliations.