On the road is where you do your best work. You're timely on your routes and get everything from point A to B safely and without problems.
Does your resume outline the dependable skills employers need?
We're here to help. Our long-haul truck driver resume examples have helped plenty of transportation professionals land their ideal jobs, so they'll be an excellent resource for you to get started.
---
Long Haul Truck Driver Resume
---
Clean Long Haul Truck Driver Resume
---
Modern Long Haul Truck Driver Resume
Related resume examples
---
What Matters Most: Your Long-Haul Truck Driver Skills & Work Experience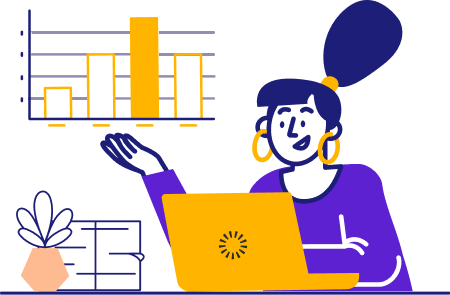 Companies put their assets in your hands as you transport them across the country. You want to show the right skills and experience so job recruiters know you're the right fit.
Some drivers find it hard to think of enough skills to include in a resume. But remember, a lot of detail goes into your position.
For instance, think back to everything you had to learn to get your CDL. Drawing on that knowledge and looking at the company's desired skills listed in the job description will help you decide what's best to include.
To help you further, here are some popular skills employers seek in long-haul trucking professionals.
9 most popular long-haul truck driver skills
Route planning
Roadside maintenance
Time management
Customer relations
Order picking
Cargo safety regulations
Route logs
Logistics planning
Heavy equipment
Sample long-haul truck driver work experience bullet points
As a long-haul truck driver, you have a lot of responsibility to handle things independently out on the road. You'll want to outline the positive impacts you've had to show job recruiters you're the best fit for their needs.
Thankfully, you have the skills needed to do that successfully. Take the skills you use to plan routes and make fast decisions and apply them to your resume. You'll be surprised at how quickly you can assemble some awesome stats that showcase your abilities.
When listing past achievements, emphasize the impact of each. See what we mean with some points from good resume samples:
Used the PTV Navigator logistics app to plan routes effectively, which improved the efficiency of deliveries by 17%.
Drove 42,000 miles in 1 year while transporting hazardous waste to treatment centers with no issues due to following all proper safety protocols.
Maintained 98% customer satisfaction scores by delivering 97% of orders on schedule and always ensuring customer needs were met.
Monitored vehicles using routine maintenance procedures and reported any issues to supervisors to reduce truck malfunctions on routes by 52% in 1 year.
Top 5 Tips for Your Long-Haul Truck Driver Resume
Use numbers to describe your impact

Using numbers whenever possible will emphasize your expertise. For example, you could say you had zero incidents over 92,000 miles driving across the country.

Show a well-rounded skill set

You spend a lot of time self-managing out on the road using technical skills. However, other skills like customer service are also essential. Find a professional resume template where you can showcase all those aspects to stand out to employers.

Keep your descriptions brief

Your descriptions should be brief to make them easily understandable. For instance, you can explain how you made your route more efficient by reorganizing your deliveries to reduce total miles traveled in one sentence.

Limit your long-haul truck driver resume to one page

Short and relevant resumes are more impactful. Getting job-specific will help you find what's most important to include. For instance, you could list experience related to the specific type of truck you would be driving in the position, such as a flatbed, refrigerated, or tanker truck.

Proper truck driver resume formatting

Long-haul truck drivers will want to use reverse-chronological resume formatting. This puts your most recent experience in trucking at the top so employers can quickly identify your most relevant achievements.
Should long-haul truck drivers include a resume summary?
If you've been driving for over ten years, including a summary of qualifications could help. You could list eye-catching accomplishments like being accident-free after driving hundreds of thousands of miles.      
What if I don't have previous truck driving experience?
Even if this is your first trucking job, you can still find experiences to help you stand out. Listing things like prior work experience providing customer service or being in a self-managed position can help.   
What should I include in my cover letter?
Use your cover letter to give more insight into the details within your resume. You can make it more personable and talk about why you chose trucking as a career path and what made you interested in driving the long stretch for the company or position you're applying to.